6/19/2017
Tuesday, June 13, 2017

WJFD, 97.3 FM, Portuguese radio, New Bedford and check these guys out! Mendes and Joao So, on youtube, Mersey/folk, 1965-ish duo, one guy plays a Gretsch. info in Portuguese, all i could read was 1978, so a Portegei version of the Korps but jangle-pop? "aint got no designs on any kind of fish you like?" Good stuff! WZBR 1410 AM listen to Ralph Tresvant, New Edition show; he plays a lot of slow jams and guys agonizing over "lovin' yo' ass is my fiasco", very soulful songs AND the women's point of view too! (though none as tough as Koko Taylor's "Never trust a Man"!). After buying Gee Julie some Somalian treats at Butterfly, Tremont Street, I walked up Mission Hill still jammin' The Bass (1410) on my i-phone 5, listening to Tupac and what-not; he WAS a Gemini, Tupac, just like Ken Kaiser, who will now drink a SIX-pack! (Genesee Beer). Lastly, BBC crime dramas: For King and Country. May 1988, which was a BLUE moon and this Denzel Washington movie was a "flop"! British soldier comes back from fighting in the Falklands to London's east end, his homeboys back home have all become gangstas BUT background music (ca. early '80s of course!) was a good reggae toon in the pub....need to research that OR head into Mattapan to go to Taurus Records, blue hill avenue, they have reggae 45s! (as does Mystery Train, Gloucester). If I gain any more weight, I'll be KING TUBBY".....

Wednesday, June 14, 2017

Vanity search/Vanity Fair ("hitchin' a ride"; seen that Archcriminal Jay Allen cover it!): 2017 Gizmos and in French! Anachronique: The Gizmos (proto punk cheesy); shouldn't that be fromage? Still In Rock is the facebook of le blog, (damn all this high tech talk I'm more Kim Kommando than Kim Kane!)...it's the same ole '70s tale, in French, but "that's cool"-"rock and roll classique!";"amerika first", they even mention Donal Trump (no relation to L/Cpl Donal M Buckley USMC OR Mister President) and I wrote it during Gerald Ford; and "we're gonna rumble", 1972, brockport NY high school tenth grade, "les rockabilly before le Cramps"; Gee Julie translated it well and "now her kids are finally famous and cool". SO sunday 23 july 17, Gizmos, Chicago with MOTO (Paul is from Chi-town, like Hound Dog Taylor!)...well this made MY day but yesterday on youtube (what? me pay for cable?): APRIL CAPTAINS. I was in the mood for Portegei drama and NOT Miguel D'Amour. so this'un, wikipedia, IS factual, 24/25 april 17 there was some leftist versus fascist Portegei revolt by the Army BUT, in THE WEEK THAT WAS, Solomon Gruberger (nephew of Madonna's guru Philip Berg!) AND i SAW NY Dolls/Suzi Quatro, Bottom LINE NYC and since it was written in our fanzines, go to cornell and check 'em out! (Next tyme I google Gruberger, I'll give you sight....is the Boston Groupie News archived like the Gruberger 'zines?!?!?!? only chris stigliano, blog to comm, would feel Gruberger AND Zimmerman deserve a Nobel Prize!"......

Thursday, June 15, 2017

"Club Linehan-ago-go practice. wednesday 14 June 17 (Dad's mother, my seventh cuzzin, Frieda Maxine Highland born south lyon michigan this date 1914!). "Future/Gigs right now.....if you're willing to pay the price": Father's Day out of blue gallery with the Kenz which will be history when you read this plus McGann's Irish Bar, North Station, near Chet's friday 23 june 17 (my parents met in '53 on 24 june; Hall and Oates at Garden! larger audience than Highland and Kaiser at out of the blue!!!). Highlight of many new songs tried though and ALAN BAASE sleeps content, coz Greg Shaw mailed us Rock On boys a 45 of this when it came out: Hawkwind's "silver Machine"!!!! G/A/C/D then D/C kinda chorus, the Southie boys holdin' down the rhythm as I do all Kindsa Beck-cum-Hendrix feedback/pull-offs (Truth meets Yarwdbirds live at anderson theatre). But John Keegan is DA MAN, YO: Andy MacKay sax then "twin cities of the mind" wind tunnel thingie and other effects making him Martin Swope meets Brian Eno; I have an Eno ancestor, as does my grandmother so maybe we need "Be More Flamboyant" clothes? I tossed in some Phil Manzanera too (my facebook friend!). Rumour is John Keegan wants to start a Hawkwind cover band; maybe Ken Kaiser will "lemmy a fiver" til payday or I can pay him Til Tuesday for a Gruberger (marketing scheme: The GRUBurger! we only use hallal meat! Oy gevault! where's my cigar?".....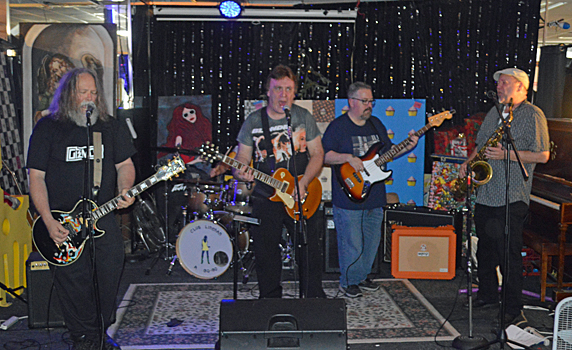 Club Linehan a Go Go at Out of the Blue Gallery