6/20/2016
Monday June 13, 2016
"TWO pleas for dough: Gizmos 40th Anniversary World Tour in September (Midwest actually) visit the GoFundMe page!! AND: WJIB!!!! Bob Bittner and I been emailing about early '70s Brockport NY, he spun records at THE HIGH BRIDGE plus was station manager of WADD, Brockport, knew my radio class teacher and let the students on the air; he left there last week 1973 (when I saw Gene Simmons light his hair on fyre) so I missed him in '74. Saturday morn Ken and Gee Julie heard "snoopy vs. the red baron" and "return of red baron", Royal Guardsmen first "group" I ever liked (note war planes on music to kill by...)...also January '71 first heard Terry Stafford's "suspicion" on a Brockport station but Bob Bittner was at WCMF. friends and lovers of WJIB facebook, send money to: WJIB PO Box 308 bath maine!!!".....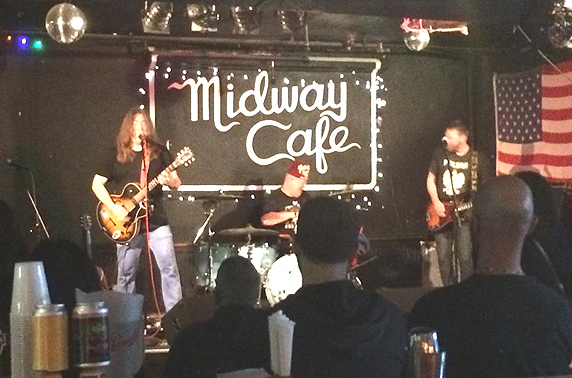 Fireking
Photo:Paula Worsely
"Saturday midway café: Smitt E. Smitty, Fireking, sans FEZ (13 points!) "cherry picked" a buncha bands in dee-troit and he drumming in all of them including SCOTT MORGAN (my facebook friend! bought my Rationals 45 in '73!) doing "respect"( I had to do charades to remind him of the vagrants). $5 got me: universal narrows, two acoustics and a Neil Young electric; First Supper: "this is a song Johnny Thunders never wrote" and it was "muff divin' " riff in E! plus "this for the balladers like velvet underground and real kids"...who IS this guy?; Big Giant had a cars-type synth sound almost echoing the Rings and WMFO's Paula Worlsey agreed it was "just what SHE needed"; lastly Fireking: Worsley to the left of me, Jim Janota to the right, here I am...stuck in the middle with Giroux"...I told that Underachievers drummer: "they're like cheap trick meets the MC5" and first note he agrees "VERY Cheap Trick"...now "he's a believer"! AND, that former Lyres drummer pointed "this sounds like "I want to help you ann" BUT Smitty in fez with cowbell; me trash-talkin' to that Bags drummer: "can you do that in a fucken WIG?!?!?!??!??"....ALL AROUND a GREAT 'every day is a Saturday"!"....
"reading Gee Julie a list of facebook event options; Armenian festival watertown saint james church; her: 'at least the food'll be good". though it sold out fast, they had kabobs and stuff. good Armenian MERCH also, cds tempting....BUT music and dancing outside! a sextet, clarinet, oud, vocals-percussion, electric bass, percussion again and tambourine; vocalist/percussion HAD played the middle east restraunt. they're Lebanese but you get the feel; total Jim Condon pipes of jajjooka or whatever that brian jones record is (or Page/Plant! I even heard a Moroccan Les variations riff!) I WAS "dancing with micelf", gee Julie saying "a Viking has invaded!' but how the hell this one woman danced in six inch stilettos...oh I get it....she was a Khardashian! otherwise doppelgangers of Cher and George Noory abounded! fun in sun!"....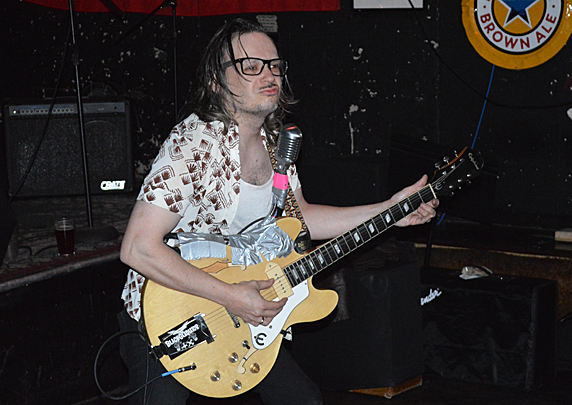 Andy California at the Monster Bash
Photo:Blowfish
"and then that dynamic duo Ken and Gee Julie took the Gizmobile into JP for midway and MSPCA and mike's monster guitars. Baluchaterium had rockabilly Yobs in plaid shirts and truckers hats; i liked 'em! but even more down home was Judd Williams meeting John J. Pusateri! a lot of Rochester Scorgie's rock to be discussed....John roadied for Catherine Capozzi and Axemunkee just like the mod Marc Feld "I carried Eddie Cochran's guitar!" an honour for both! Andy California was Iggy as delta blues, confrontational and in-your-face and I loved his open tuning. lastly jay allen and arch criminials, Gee Julie now a fan.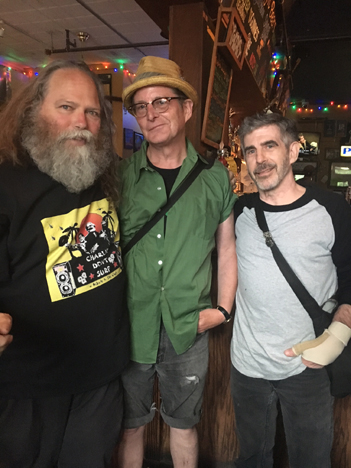 Upper Staters:Kenne, Judd and Jon Pusateri
Photo:Miss Lyn
"Jay's Mosrite playing was somewhere between the Ramones and Solomon Gruberger; I liked his subterranean heroes (is that ramones album?) leads and his schtick is totally Jay Gruberger! ("stop busting my balls")....an in-tune version of O. Rex with afrika korps overtones, what better praise could Ken Kaiser and I give you?"....
Wednesday, June 15, 2016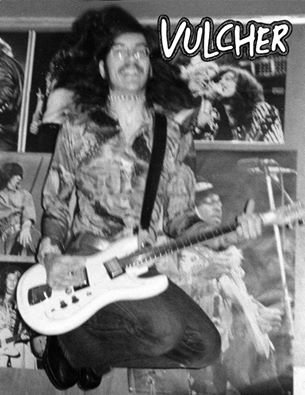 Vulcher
"Vulcher magazine (LIKE them on facebook!) now out, Gizmos drummer Kelsey Simpson edits with Eddie Flowers, lotsa Gizmos writing in there like Gulcher '76...good reading!"...
"whilst waiting for a new pair of orthopedic sneakers had the morn to "play" with ancestry . com . my nephew getting married next week so my obsession today is LYDIA LUNCH: the Rochester years. I have her mother's line back to Sicily, shan't bore you with that unless I need filler OR if requested BUT: Lucy Geraldine Vicari whom married Leonard Koch listed in 1957 Rochester NY di-rectory on 880 Clifford avenue, rochester; Lydia writes of the Rochester race riots SO since SOME GIRLS know I'm a map geek: Thalia Zedek plays Albany Thursday 23 march 16, my bus has a layover; 0500 i'll be at Rochester greyhound. Lydia's nanna lived in Rochester's NE quadrant, 8th ward, 1.4 miles from greyhound south. go north 2.6 miles you hit the House of Guitars where Greg Prevost remembers her as goth teen. head west and when she mentions AM radio 1967 during riots, I lived 20.5 miles west in Brockport NY. Kim Gordon childhood home brighton NY, Wendy o. Williams Webster NY AND when they tried to get Lydia "Koch" to straighten out, they sent her to her Vietnam protesting, Mothers of invention-listening Furferri cousins whom opened Empire Comics which, going west to the home of Rock On, is 15.8 miles east of 8452 ridge road...I COULD use google maps for john j. pusateri and Greg Prevost if they didn't want".....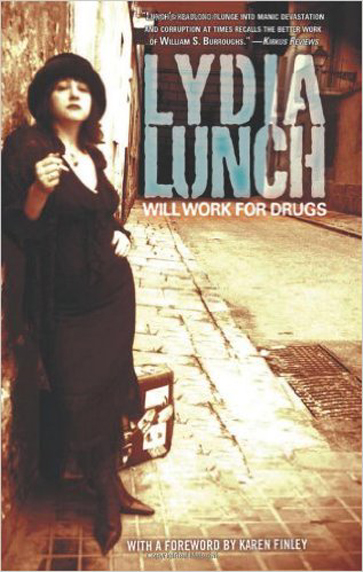 Thursday, June 16, 2016

"accepted a facebook friendship off a chap who says there was Gizmos airplay on WTBS/WMBR told him of current shows! may as well plug the next: sunday 10 july midway afternoon show with Tokyo Tramps and also Drew Townson (Pittsford NY; east of john pusateri, south of greg prevost and Lydia lunch and way east of me on ridge road, clarkson NY). also that Friday is dawn kipphut memorial cantab. other shows, other months, thing to do in wake of club shootings is, like Plan 9/Human Beinz: "gotta keep on pushin'", hopelessly obscure opened up june '84, Rat, youtube (all I could find was May 1984-ed.) and I read the "dealing with the dead" poem (on midnight records, NO royalties for me)".....

"eddie flowers shares a youtube of Uriah heep's "easy livin'" on my wall...FANS whom chime in sound like 2014 Gizmos tour! me, rich coffee, craig bell, mike rep hummel, mike rippy....oh wait, that's all stoner dudes"....

"ok, so my "Head's in '72"(!) and reading google book Lou Gramm bio coz he DID play my high school....decided to research THIS sentence: "I went down to New York to see Free with edgar winter and doctor hook" (?!?!?!?)....I THINK I found a doctor hook tour site (!!?!?!?!?) and sure enough 6 may 72 edgar winter/doctor hook/free academy of music NYC and also a review in the 20 may 72 Billboard, also google-able. Louis GRAMMatico was such a FREE-eak he followed Free to Syracuse/Rochester/buffalo, i BELIEVE, in a lil VW bug. ok, since Jim FOLEY understands this (pun on FULLY), memorial day '72 heard procol "bore-um" (Solomon gruberger quote) doing "conquistador" on AM radio (WBBF prolly) and I DID have a copy of the Sonics reissue put out by mark shipper of flash magazine (Flash had all kindsa '71 metal reviews by Metal Mike Saunders!). September '72 picked up first black oak album from some SUNY Brockport kids for a buck coz of metal mike review in Fusion, out of Boston...oh hey! met John J. Pusateri in a printing class with...ALAN BAASE!!!! BUT didn't tell John about edgar winter group with Ronnie Montrose on "tobacco road" nor "here's a new song we got called "Frankenstein"...Lou Gramm on WCMF with Black Sheep march '73 as I wrote Eddie Flowers "hey this guy's got a good voice'...and Lydia Lunch claims she had the GOTH look in '73, DO read Lydia's WILL WORK FOR DRUGS, i "get" ALL the Rochester references...another good site: rockin' Rochester 1970s, whole lotta shakin' radio show...and to think after the stones got shut off in '65 (Grammatico in audience!) Keef said Rochester was a "hick city" or some such...at least I didn't fall outta no coconut tree!!!!! "and the Monkee speaks his mind"".....

Friday, June 17, 2016

after Cleveland won game six NBA finals (I have an app on my MC5-i-phone five!) and discussed with Bim of Obnox and Ma of Kelsey Simpson (buy Vulcher: INDY (napolis) GROUPIE NEWS!), this was WEEI (Red Shea from southie of whitey's gang usedta lissen to it in the joint....what the fuck...)...switched to WRCA 1330 AM (I have an app!!!) for chrystal's tyme machine which was stellar! '50s...feature artist Buddy Highland (I usedta look like that til I joined the marines and learnt how to kill people; now I'm better off killin' a whole pizza!). lotsa Phil Spector 45s. "rescue me" by fontella Bass ALMOST= gizmos "muff divin'": a to D, then G to E; Ken Kaiser should try it on his ukulele! BUT, lastly for Kaiser via Jay Gruberger: chuck berry's "rock and roll music" ($1.57 copy of chuck berry's greatest hits, mono, chess march '70, greece NY town mall, pretty sure, due east of Lydia lunch's cousins buried in Holy Sepulcher cemetery) AND...bo diddley's "who do you love"!!!! I bought Go Bo Diddley same day I bought stooges funhouse October '71, vince's record store, main street Brockport NY about a block from panther's den where the Humans and royal guardsmen played back in '66, i'll be (facebook group) REMBERING BROCKPORT next week, so until then...let's say Cure fans and Cleveland fans are happy but I am happiest hearing chuck berry and Bo Diddley in mono, man"....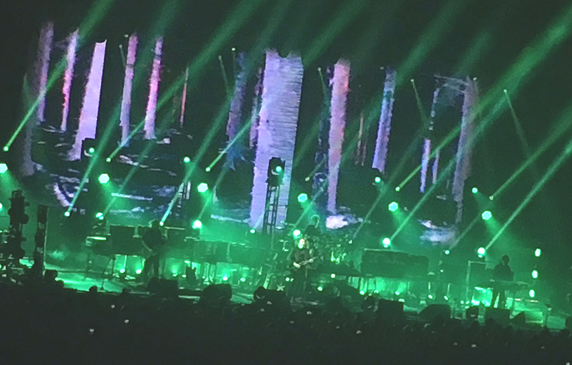 The Cure at Againis Arena
Photo:Miss Lyn