6/21/2021
Tuesday, June 14, 2021

"S-A-T-U-R-D-A-Y Night!" 12 June 21. Mad painter practice for that 31 July 21 Jungle gig with kaleidoscope. Schmel Herbie Hind started jammin' on Chicago's "Beginnings" and I LOVE playing that descending bass lick. Whilst in high school with Phil In Flash, Al Hendry drummed in a horn band! (BST/Chicago et al) while I was still struggling with Kinks/Stooges barre chords while Alex Gitlin on keys was barely born. During the song "mad Painter" we all stopped on a DIME with silence; that's the "celebration day" bridge that echoes Shitana's "soul sacrifice" (Solomon gruberger DID liken it to "wipeout" tho despite his 1973 "shitana' reference). Then for a field trip, drummer Al Hendry and I (two WILD and KRAZEE guys!) went to the Burren to check kaleidoscope. Five dollar cover for that back room where well-behaved Greeks watched rebetika (Gee? who went with me?) this was "fuck off frat boy and leave me alone' territory (oh, "babes"... "Bar", SO true!). my notes say they did Tom McPetty's great Byrds number "Amerikaner Fraulein" (Ich liebe!) and Carrie Underwear's "when he cheats' sound even MORE like Aeroshit's "Dream On" (they have an '80s "shredding' guitarist who basically adds licks to the ballads like I did in Club Linehan-ago-go). "LIKE" Kaleidoscope on facebook, there's a video of them doing Zeppelin's "ramble on' and lady singer does Percy like Ann Wilson woulda (Heart in 1978 Cal Jam: SO fuggin' good, this is a youtube of something I watched THEN at ken Kaiser's house in Teaneck NJ. Also, Ann's grandmere, I believe was of Quebecois descent, so if you put that Miss Lyn photo from Big Star next to mid-70s Ann Wilson, there IS a resemblance!). Sadly, after Al and I almost got slam danced by frat boys (this is elder abuse!), we got back to Groupie Towers II before the Witching Hour; and Coast to Coast AM! (BEST part of lockdown! bring back lockdown! Too many arschlocks out partyin' like it's 1999!"....

Wednesday, June 15, 2021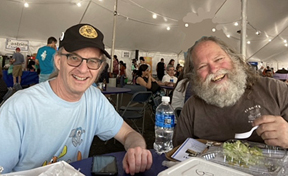 Matt & Kenne @ Greek Fest

"sONNTAG 13 June 21. Ken, Gee Julie and drummer Matt Burns of Nightland go to Arlington Greek festival. No live music or merch table but the food was excellent! No take-out like the Armenian church, same day and 1-5 pm tyme (they had an oud player and a merch table also; MAYBE in the year 2525). Next up Gee Julie drove Matt and I to "Tend her garden', (photos by Gee Julie) though I'd rather listen to said song on James Gang Rides Again. BUT heard a dude playing a vintage Strat "on the banks of the River Charles"; a Boogaloo Swami (saw them on other side of river in '89) whom said "kenne Highland?!?!? I've heard of you? I used to read about you in the Noise!" of course it's not Ugly Things 57, BGN or even channel five sports report, but hey!".....

Thursday, June 16, 2021

"day of Wodin 16 June 21. a LOT of mad Painter news. www.redfiveradio.co.uk played some mad painter; LIKE Mad painter facebook page for more world-wide airplay. BUT with redfiveradio, the selector was a bloke name Trevor Hensley. brother was KEN H. of Uriah Heep so is a long way from 8452 Ridge Road in '72, looking at micelf in the cover of the Heep's LOOK AT YOURSELF (Metal Mike Saunders, Flash fanzine, summer '72 review). 'long strange trip' indeed! ALSO mad painter has FOUR gigs! Union Tavern (P.A,'s Lounge) day of Thor 15 July 21 at half-nine. I LOVE gigs I can walk to! See you there!"....


Friday, June 17, 2021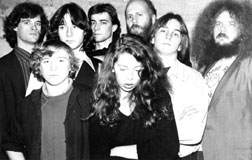 Plan 9

"day of Thor 17 June 21. This just in. Losing Eric Stumpo from Plan Nine was like losing Jerry Garcia from this "punk grateful Dead" (did Stanton Park GizMogul Aram Heller coin that phrase? Ugly Things Kenne interview part two in issue 58; "I don't remember. I was drunk"). Still Brian Thomas and other ex-Nines have gone FURTHER "playin' in the band" with PSYCH 9! Brian and Company at TeensoundsRecords. bandcamp.com . Psych Nine: THE TRIP GOES ON 12 inch vinyl (Eric Stumpo was a MAJOR record collector) on Teen Sounds records. I downloaded the "bus" song coz it were free and despite only TWO guitars versus a Gizmos-esque four, what is "da madda-fucken ballz" is the Spirit-cum-Quicksilver late '60s West Coast psych double guitar leads, that YES! I DO emulate on the Kenne Highland Air Force record (like them on their FB page even though nothing is posted yet! - oh and here is his YouTube page- ed) ; Eric Stumpo big influence on my lead guitar playing (plus we were/are/is Blodwyn Pig fans since 1969!). Don't ask who's gonna carry on MY torch when I jam with Stumpo/ Leslie West and the Gruberger brothers but Brian Thomas doing a damn fine job on one of the top ten records of 2021! ("winner by elimination" coz I aint heard nuthin' else! still: "Try Some Buy Some"- Ronnie Spector!"....

Saturday, June 18, 2021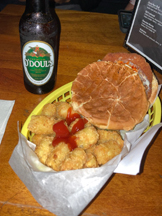 Jungle Tater Tots and sammy

"Freitag 18 June 21. I had to piss like Secretariat/ Smarty Jones and Steppenwolfer combined, so I paid my ten dollar cover and ran to the Jungle's loo. Gee Julie in the kitchen and like that Linda I DIDNT marry (McCartney) she's the "Cook of the House"! (picture of my supper). I LOVE early shows! (7 pm! anything later is ELDER ABUSE!) I quite liked Carissa Johnson; "don't believe the hype" that she's Joan Jett Jr; Gee Julie and I BOTH agreed '90s-era Julianna Hatfield (Blake babies opened once for Richie Pah-sons Big Huge as a drunk me sang "Pretty vacant'...that's Juliana Hatfield opening for me....when Reagan was president!). Carissa DID almost win the four hours of acoustic. barre chords that I did at rat balcony in '80s drunk (acoustic Angry Samoans? you bet!). Well, like Procol Bore-um, I'm "About tp Die" or like that Jerry Garcia bluegrass album: Old and in the way!). So, YES, I'd see her again, she was good, long may she rock, long may ALL these REAL kids rock, like oasis "don't wanna live forever" (but fear not! living, I can be more of a pain in arsch than morte!).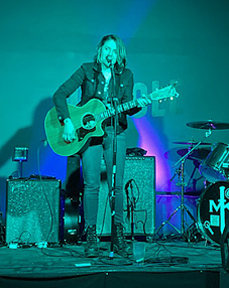 Carissa Johnson

Tashawn Taylor was here to make John Surette feel old! "Hi I'm Tashawn Taylor, i'm 24 years old, I'm from Cambridge and I like to talk shit over ole hip hop records"...did my gozintos and his release pretty well equaled the Slim Shady album! Let me know the jungle's 'story" posts clips of performers and he was a good rapper! Carissa Johnson ('punk-folk"?), a rapper and, also from "story" Monkey Knife Fight (whom have a market basket protest song!) mixed rap/computers and a dude in a PFunk t-shirt playing John Keeegan-type free jazz! Another eclectic Jungle mix and that's the week; lemme listen to The Who- Tommy (super deluxe edition 2013) on youtube or is that Dad rock? Still sounds as great as 1969 to me! Lemme get back in my "Time machine"".....

Bonjour world! this just in...Laurent Bigot who interviewed me for issue 57 of ugly things: "just bought the Grovellors 45 in paris today" ; late '80s Dave Bass and I recorded Love covers, Stanton Park release...when folks are buying my records in Parr-ee...mange le' merde! un mort!"...