6/23/2014
June 18, 2014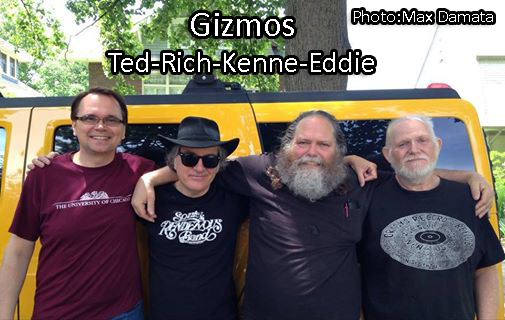 Gizmos Tour Diary, to best of my ability, day by day: left Boston 10 pm Monday 9 June 2014 ("Stardate....stardate, take me.....take me where i wanna go"...)...Gee Julie brought me treats from Chinatown whilst waiting after work and "I can find a good-tyme gurl in Chinatown"...bus broke down outside of Philly at a rest stop starts with an E; either way, 22 miles from Reading, PA; told this to Eddie Flowers and we both agreed; the Gruberger Brothers (on Rerun records!) wanted to go along on tour....yes, I cannot forget my first high school band, Gizmos is second and college-era.
Wheeling, West Virginia and all the Ohio towns very depressing and Rust-Belt looking, but hey I seen 'em...anyway, a lil late BUT, Beatles had all them screamin' fans at airport in '64; 50 years later I come off the white-trash Greyhound (tuesday 10 june 2014 by way) to Mad Max of Sonic Daze and...."Ken do you know who this is?" a feller last looked like a red-headed stepchild, now lookin' like Edgar Winter: it was Stenson Eddie Flowers! BIG trip down Memory Lane since saturday 9 april 77 and John Cougar.
Our host in Bloomington, a splendid gent name Yo Yo Ba with a room full of records....and a Buddhist shrine!
more later, i think we tried phoning into some interview but reception got cut off on max's cell;and the other Gizmos WILL tell their tale!".
June 19 , 2014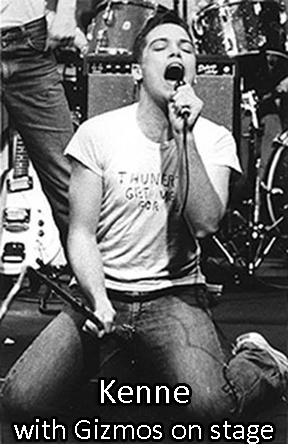 Wednesday 11 june 2014: Mad Max picks up me and Stenson Eddie for a trip through downtown Bloomington; thank God Max was an Andy Warhol chronichler on this, so lemme renembuh: Caveat Emptor was STILL there since '75, same owner, usedta sell Zap Comics and we used to consign our promo albums there. Walked into Landlocked Records and they were playing Flaming Groovies Teenage Head album and ALWAYS good to hear "Dr. Boogie", covered by Martha Hull's Slickee Boys. Photo ops holding Gulcher products, lotta record GEEEKS!!!
Practice at Magnetic South (named for a Mike Nesmith album!), this is nephew of Zero Boys. Meet JT on drums and Ian, both from Walking Ruins. a good practice and had borrowed an Ian guitar. I THINK next was a radio interview, everywhere I turnt was people/interview/autograph...and BeBop Shepherd from NPR and THEE TSUNAMIS was at radio station....gettin' tired just writin' this! My days started at noon, ended at closing....rock star hours! Love it to Death!"........
June 20, 2014
Wednesday 12 june 2014. thank God Richard F. Coffee documented this in Rich's Rants and Raves (Which you can visit here )
So...practice, meeting Rich Coffee since sunday 10 april 77, the "magic" still in our Rossington/Collins-cum Kramer/Smith lead guitar attack ("Rossington-Coffee, quip I?") we had TWO Richochet Reynolds on rhythm, Ted Niemiec and Ian Brewer (Panics (Gulcher)); he and I jammed on Hollies "King Midas in reverse", then he started riffing on "Friday on my Mind" so did my best Pinups vocal; great guy/great player!
We had a packed club, as in sold-out, met a lot of Facebook "friends" (soon to be "frenemies": they don' know me yet!) (haha, smiley face). Daryl Frazier from Pelican Rapids, MN, plus Gizmos Mach II Dale Lawrence and Tim Carroll from Nashville. Mykul Xul (Gizmo My Way-Gulcher); Jason Ross (Re-Run Records St. Louis, Gruberger Brothers lp)....a lotta record geeks MALE, who obviously pumped to Playboy! a sold-out club was Revenge of the fanatical record nerds! and folks singin' the choruses! (scary). Bob Richert of Gulcher from Orlando, F.L.A.; Pierluiggi of Hate/Vulcher, Roma...if i remember more, will write, there IS youtube (Here's Human Garbage Disposal 6/12/14) and MY soundcheck on guitar/amp borrowed from Ian was "Cat scratch fever" so did a lot of 1975 Indianapolis Forum Aerosmith leads;better to play than write about it and THIS is what happened to my Teenage Dream. REAL good meetin' folk AND autographing vinyl AND a John Cougar t-shirt!"......
June 22, 2014
saturday 14 June 2014. it's been a week now...read Rich Coffee's rants/raves and here's me as Kerouac....On the Road!
Meets Stand By Me, Ken/Rich/Ed/Ted in Ted's Hummer travelin' to Dayton, Ohio from Indy with my oldest living friends (Gruberger Brothers AND Alan Baase, RIP!).Richmond, IN, stopped for dinner at a chain called FRICKER'S and had some GREAT fricken food, saw a lotta bikers, watched sports or as Eddie said "am ah back in alabama?"; watch the Cincinatti Reds here and have a fricken burger and a fricken beer, America First AND bikers!
Dayton is funky but chic; porno theatre,"adult" store, record shoppes and besides a $15 Lenny Bruce GREEN vinyl album and Gizmos (we autographed!) poster, AJ Shaner custom ampfliers, (everyone was Andy Warhol meets Gy. Sgt. Byron Highland, Last Reflections on a Tour!). met a couple of fine, fine ladies who had a plan (and met the boys in the band!) who a) drummed for Columbus, Ohio's The Girls AND M.O.T.O and daughter of a marine and b) a librarian record collector with a Fugs album who files her records using Dewey Decimal system!!!! (west virginia ancestry, so daughter/cuzzin!).
The Columbus, OH crew also had Cheater Slicks drummer and an O. Rex fan! met Ken Katkin from Cincinatti radio (interview yesterday!) plus a Cincy dude whom puts up Barance Whitfield when he comes to town down there; also two dudes drove 10 hours from Mississippi to see us! we got cut short, too many bands, Rich Coffee, drunk and pissed off, ditto Stenson Eddie Flowers ("the Indian of the group" through his Grandma Blackwell, who also has Belfast ancestry....hmm, Irish/Indian/alcohol mix....sounds like our editor!) (and me...)....seriously, Eddie on WARPATH and rightfully so...but the positive was this skinhead IN MY FACE, shaking his fist and singing along, a guy trying to slam-dance (to the Gizmos? did i invient hardcore, shaved head and camoflauge, USMC?) and when they cut us short, was almost a RIOT, club making threats....fuck it i got paid!
Rode back with Mad Max plus the Walking Ruins portion of Gizmos (and jamming with them on "happening ten years tyme ago", JT on drums: Hot smoke and sassafras Jethro! back to Magnetic South, Bloomington, 6 AM, a great tour but tired as shit BUT.....there's MORE!!!! (tomrrow, like Scheheazade, who told tales, or the Sultan, like GG Allin, would say "gimme gimme gimme gimme gimme gimme gimme your head".....
Trash Flow Radio has website and Kenne Cincinatti radio interview!:
Download: Trash Flow Radio June 21, 2014- (Kenne Highland Interview) - Part 1 of 2 (70 mins | 64 MB)
Download: Trash Flow Radio June 21, 2014 - Part 2 of 2 (62 mins | 57 MB).
Playlist for Trash Flow Radio June 21, 2014-Playlist June 21.
Also you can check out the Gizmos World Tour Facebook page for photos, videos and comments