6/24/2019
Monday, June 17, 2019
having a wild weekend part one. friday 14 june 19. Club Bohemia - mad Painter went on 8 pm and were totally on Fyre, like Deep Purple's Made in japan played at 78 rpm. A Randy Pie cover was done, half of Glider sang along on "Mammy blue", which I know as a Stories song and "to love somebody" has really become a Small faces tour-de-force. The Legendary Cazbats, as usual, channeled 1966 garage-rock excellently, great choice of covers, as usual. I think "are you gonna be there at the love-in" got me goin'; DMZ did it but we need a new DMZ these days doin' these songs. also from "that" era, Stigmaics sound more and more Real Kids every tyme; is it Pete MacCormack's vocals or his Richenbacher. Glider ended the night, fast Ramonesy punk plus Bob Roos (Cazbats/Stigmatics) filmed me channeling DMZ in "you're gonna miss me" (too many DMZ moments this night!) plus Captain Easychord changing into Tom DePraved for Sonics "psycho" BUT: tour-d-force: Cal Cali singing/drumming Zimmerman's "positvely fourth street" as an encore and guitarist Scheml Herbie Hind soloing, feedbackedly forever....imagine Mouse and the Traps jammin' on "sister ray"! A great tyme had by all!".
Tuesday, June 18, 2019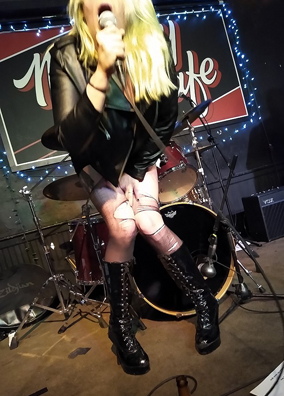 Stabitha LaThrills

Having a wild weekend part two, in two parts saturday ides of june 2019. midway cafe three pm club linehan-ago-go; all i remember is we did a kickass "crosstown traffic" ,I did bousouki licks in "venus in furs" and either MJ Quirk or our John keegan claims I quoted "happenings ten years tyme ago ago" twice....I usually get into a trance onstage and get a floating feeling channeling a shaman maybe? Next up Billy Connors was rockin' like Rockpile, as usual as birthday (16 June) Claggers Joe Quinn and Lady Caroline (and ALL her kin; built-in audience!) had cake and what-not for double birthday. A Bunch of Jerks (I keep calling them All Kindsa Jerks after the Real Kids, please correct me) were loads of great fun. Their guitarist was in the Skeletones so after "little willy" and "born to be wild" with CLAGG, MJ Quirk joined them for "Strutter", then Stabatha La Thrills called out for me to sing "No More Mr Nice Guy". This was like Bennett and GAGA dueting and after the burlesque outfit she was wearing, the crowd DID know she was mine and Wendy O Williams love child! (it's a Rochester NY thing....)....there HAS been interest in the band in Dayton Ohio so I'm trying to piggyback them to my midwest Gizmos connections which I encourage ALL to do! ("we're all in this together"-Cal Cali;

"let's sing this song all together" MY Satantics Majesticness Requests!). Lastly, Fighting Fish were excellent and somebody (senior moment!) said Radio Birdland/Deniz Tek. I always felt Andy Excuse channelled Jello Biafra but he accepted the Birdland comparison! onto sally o' briens,ok,quick one-liners....Chelsea Curve: Frigate with a meltaway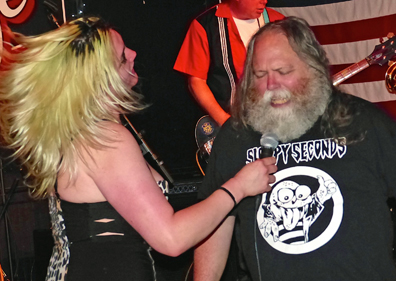 Stabitha and Kenne

on drums! Linda Bean MIGHT be Suzi Quatro BUT after a note-perfect cover of Jam's "in the City", she IS Bruce Foxton on bass. so sounding like the Jam in 1978 is a VERY good thing! Justine and the Unclean keep getting tighter and rocking more, probly coz half the band was Swank/Malachite and other half was Rock Bottom maybe...rockin' like Rock Bottom fo' damn sho! Lastly, Day Lilies to catch Decibel Dennis cousin Ad frank whom I met in '80s in Miles Deathmuffin days....a lady from maine sings good emo/Garbage, those kinda bands, Adam does some nice effects on guitar that had me gazing at my shoes AND two guys (drummer also) in this band were Permafrost! If Mikey D was alive he'd have booked this night at the kirkland. Long-ass day,seven bands ALL good "7 plus 7 IS"!!!!"!!!"

Wednesday, June 19, 2019

GRAND FLAMBOYANT FINALE of Havin' a Wild Weekend, 16 June 19, das ist Sonntag und Pater's Tag but i havent celebrated that since 1966 so it "doesnt mean shit to a tree" (RE-USE! not RECYCLE!). A family reunion as my "niece" Justine sang with her country band. At Arlington Mass porchfest A mad painter, a Gizmo and a Legendary Cazbat walked into a street...i was sold immediately by the Charles River Valley Boys (88 cents daw's drug store in 1969 brockport NY) bluegrass version of Beatles b-side "i dont want to spoil the party". Just like Xanna Dont career began sunday 12 april 87 at chet's last call with her lookin' fer people to play patsy cline with (I offered my services ONLY coz of that B-104 hairdo she had), Justine and Johnny Scascia were Everly Brothers, USMC fans. They even did a three-fer! Maybe the Cazbat heard Wanda jackson in justine's previous Joan larkin rasp but attitude wise (we DID co-write her theme "My Fuse is Short"!) she's more Loretta Lynn ("Fist City"/"Squaw is on the warpath"/"You aint woman enuff to take my man"). other highlights; Lee harrington of the Peytons doing 999 "the boy cant make it with girls" and Jay Allen doing Ray Charles "unchain my heart". I DO play the next Mess Around with my "niece", details as they come; check my cal Cali calendar! Gee Julie was dancin' down the street goin' to Central Square Greek Festival. I DID hear a run that I'd done the previous day on "Venus In Furs"; in '90s i used to drink Mythos beer,hear the pentatonic drones and say "this sounds like the Velvets banana album man"....DJ Chris Ewen (Figures on a Beach) was there with some Heroes people (in the sunlight?!?!) and my joke; Chris, you shoould dj HERE and call it GYROS! I think he countered with "Gyros just for one day"....fuck! Cal Cali's like the godam energizer bunny! off to Tavern end of world open mike; I cobbled a band of me, acoustric,Cal singing, trick Wallace on a electric Tele maybe....velvets covers sounded like Modern Lovers, bless us Saint Asa! (I got a blessing from the Greek priest too, so I'm good to go!). mid-period beatles executed well and (highlight), mid-period Dylan (roots of mott the Hoople!) "i want you' but bringing up NATALIE FLANAGAN!!! to duet with Cal on "postively fourth street"; maybe my favouite Zimmerman toon JUST for the opening line (cf. J. felice and "you aint no friend of mine"). Again, "postively fourth street",Ken/Cal/trick/Nat like the dsays before cellphone videos; to quote Ozzy "you missed it!""..

Thursday, June 20, 2019

Til Tuesday 18 June 19. Nyalas band plays Ethio-jazz hits of the '70s. The Lilypad $10. Their poster all over Inman Square, so Curiosity Killed the george....fucken loved it! Sitting in 1369 coffee house with my REUSE coffee mug (Martin) Mulling this column, the "Guv'nor" of Addis Abbaba music was Russ Gershon whom went from The Decoders and Sex Execs to Either/Orchestra. Ethiopia was happenin' in '70s; this shit is even harder funk than the james Brown sides Bob Both did for Polydor (he also did the Korps "i wanna burnout" which would be an excellent rap record)...More google-ation ("I'm gonna google-ate you" by my distant cuzzin Captian Beefheart; despite mutual Vermont Quebecois ancestry, Captain Easychord et non moi cousine!): NAYALA is both a medium size antelope AND a brand of Ethopian cigarettes! Ethopia: an African country my father didnt see in the Corps, but as a veteran of Corps/Korps I can lissen to the music on youtube! So Nyalas band, a sextet with a REAL funky squawkin' sax; think james Chance jammin' with James Brown covering "Funhouse" was so goddam good I'll never lissen to Patti Smith's Radio Ethiopia again in my life!"......

Friday, June 21, 2019

day of wodin 19 June 19. facebook invite that DJ Easy Ed was gonna dj Brass Union, union square with Dinos Mekios, so I dined on lamb burger and "let the music do the talking" 2000 hours. Easy Ed is on WMFO Friday 6-8 pm spinning great rockabilly and alternate takes of rocknroll hits; used to have this gig at River Gods, last tyme I saw his lovely wife who is Justine Covault's doppelganger! Dinos played the Brood on Stanton Park on WHRB the previous night; he now favoured the 2019 Kenny Kaiser! (or is it his twin Robert?) "Goin' all the way" was played as Dinos carefully handled the 45s by the side (as Miss Lyn knows, not to scratch the vinyl). Keith from Rocket Records in Saugus (not on facebook) was there and he and "Mrs Ed" did realise they were both from DelMarVa and Slickee Boys fans....THREE Slickee Boys fans sittin at a bar discussing their majesticity! I updated my status and Mitch Murphy, triple Thick came over from Bronwyn! Great fun, think i left 10 pm kinda. To close column, sunday 30 June 19, GLiDER live on Mantis tv show and saturday 5 July in Salem,KH Clann does Gemini on a Full Moon cd (Dino records) plus GLiDER and Sara and Scalwags....wait'll I tell you the July schedule so if you DONT see me, it's yer owm damn fault!"..