6/19/2017
Monday, June 19, 2017
brattle theater double features: ALL ABOUT THE CHASE. friday 16 june 17, Freebie and the Bean and The French Connection. Two cops acting like the Kenz chasing down a bad guy, lots of car crash/chases and it's 1974 californy! Wives are Rhoda Morganstern and Hot Lips Houlihan, probably post-tv eye fame. Funnier'n hell as opposed to the more serious dramatic French Connection with police brutality and political incorrectness and just fucken 1971! which, as a soundtrack geek, the Three Degrees live at the Copa Cabana (wikipedia and youtube on all this) doing a Jimmy Webb toon covered by Thelma Houston WAY the fug before thelma and three degrees had disco hits. I like the way Popeye Doyle drinks, beats people up and asks them if they've ever been to Poughkeepsie NY....I'd probably tell him, "hello no but I grew up in Brockport"....TWO CLASSIC FILMS!"....
Tuesday, June 13, 2017
brattle theater double feature saturday 17 june 17. gone in sixty seconds and vanishing point both on wikipedia and youtube. Gone in sixty seconds is a classic Polish-American car theft ring with Polish wedding Dunkirk NY, "stick it up your dupa", forty minute car chase, leisure suits, 1974 and lastly, a soundtrack that you HAVE to hear! ("Lois Lane Blues" its on youtube!). Also the young lads in the Low Rider are funny too....SO dated but "camp"? Vanishing Point 1971, great soundtrack! highlights: Delaney and Bonnie as a gospel act, check THAT on youtube! I might ramble more about that sometyme in my life. But most memorable is, our anti-hero hooks up with a biker dude and "missippi queen" in blastin' and his "old lady" is ridin' around butt-nekkid on a motorcycle....it's on youtube and i'll never lissen to Mountain the same again"....
Wednesday, June 14, 2017
"father's day out of the blue benefit, run-on sentence c/o On the Road and AARP seniour discount dunkin' donut coffee...Chicago Vin, former bassist Greg Allen, solo acoustic, Seeds "pushin' too hard" and garland jeffries "wild in the streets". club linehan-ago-go opening with hawkwind's "silver machine", John Keegan swinging that wind tunnel thing but WHO is gonna be our Stacia? The Kenz, Kaiser inspired by Fable Grazer, puts James Mathhew Burns on gong and John Keegan on wind tunnel metal machine thang; the Korps on guitars but psychedlic numbers like "twin cities of the mind" and "reincarnation".("sister ray" sang for robert alan colby coz this COULD be his last Kenz shows, after 40 years of Afrika Korps live at cantones; we WILL miss him!). Tsunami of Sound always gud surf-rockin', Last Ones both played Teles and rhythm section of MJ Quirk and Jimmy Birmingham;"I got nervous" seeing somebody who "looked like Chrissie Shrimpton"....Stigmatics always rockin' note to self: if Jimmy Miller had produced RAW POWER instead of Bowie, the guitar solos sound like James Williamson playing "Sympathy for the devil"....yes they were THAT good! and of course discussing GG Allin's Mayflower line with Pete MacCormack who DOES read this column....hey! ANY excuse to discuss GG Allin on a sunny summer day is fine by me! (You can check out John Keegan photos here too!)
Me and Gee Julie and her dad went over to the Greek festival, central square parish; ran into Boston playwright Ian Thal, besides $20 Mediterranean plate, Julie's popou had us up and dancing the Greek torah; Ian and I did cossack dancing just to make it multi-cultural. Heading back to out of the blue, Gee Julie's 88 year old paterna met all Kindsa Cambridge "freaks" and DID put money in the pot ($700 raised; Sara Billingsley at door was fed pizza....check that food at Greek festival!). E.P.s worth of bands: Glider always good '77 punk; Thigh Scrapers sound more NY Dolls/Thunders guitar every tyme I hear them and Brian Young had on Lizard King leather pants....me, I'm more "LA Gizmo" of course.....Butterscott: post-set, I did an (Hopelessly Obscure to them!) interview and like Metal Mike Saunders and his bro in '69 (I believe it's the Rockin' Blews cd): Bonzo Dog Band! Flo and eddie! the Monkees! HAZEL! (Joel Simches of SMUGGLER, Varulven comp volume three, on Rickenbacker bass, that was his quip; John Keegan and I plan to do interview how he's kept Mikey Dee's WMFO legacy alive on On the Town). let's not forget Curious (Ritual) Caroline on DRUMS! I knew her as a bassist but she was quite a pounder! Lastly, Fireking with Gymnasium drummer. Tony Kaczynski, as usual "plays like Rick Nielsen, sings like Rob Tyner"; Stooges played over p.a....."The Midwest can be alright"!".....
Thursday, June 15, 2017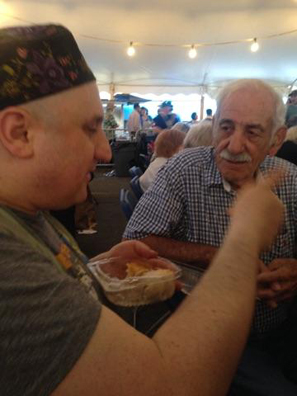 Ian Thal and Popou Gee
tuesday 20 June 17, through facebook invites, Gee Julie and I decided on Dudley Cafe trivia night. Turns out this is THE only black trivia night in town and our town had "best and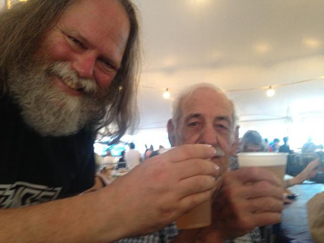 Kenne and Popou Gee

brightest" from historically black colleges; one question was "what rapper that died today, his great-great-grandfather founded WHICH HSBC?". I explained to a university of maryland sista about the '60s, so Muhammed Ali got jailed for selective service, the electronics expert was on Mission Impossible and homosexuality QUIT being a mental illness 1973! Brutha on our team had went to an HSBC in Texas, so even though Appomattox was in april '65, Juneteenth didnt quit Galveston til...Juneteenth! It was kinda like Jeopardy but I played small, won small and there was no prize! Just havin' a good tyme in da Hood (AFTER reading Greg Tate in Village Voice AND catching a Dudley bus!)....rappin' with a brutha name Roscoe and he pointed out where Roscoe's Lounge was....and Bobby Brown from O.P. (orchard park) got his start! I DID text the eternally-on-tour/vacation Tony Kaczynski ("what Roxbury resident was on MTV in the '80s along with Madison Park's own Margo Thunder AND Orchard Park's New Edition?)....and WHY would I text Tony to join me every third tuesday, his knowledge of trivia equal to mine.....answer (add 20 points for team TAZBRO!): "it's my perogative"!"....
| | |
| --- | --- |
| Kenne and Ian dancing | Kenne and Ian dancing |
Friday, June 23, 2017
WEDNESDAY 21 JUNE 17,MUSEUM OF FINE ARTS, juneteenth and free admission after four pm! By tyme I got there caught sinha capoeira, love them African drums that sound like the middle of Steppenwolf's "rock me". also an open mike with Last Poets-type poets, always interesting. what I regret missing besides roxbury international film festival screenings (ALL this shit be FREE!!) was Jeff Robinson doing "Live Bird", one-man play about Charlie Parker....guess I'll have to listening to The YardBIRDS instead! thursday 22 July 17, a Club Linehan-a-go-go practice and next week i review McGann's show but, letting cat out of bag, and Brian Young, WMFO, DID discuss this with Mike Quirk and "Sgt. Q" INFORMED his troops of these two gigs ("well there's five of yez here") (or did he COUNT himself?): HAWKWIND COVER BAND!!!!! one live gig, one WMFO show, call me a "scoopie", I dinna care....as Anne Murray/Helen Reddy sang "aint it gud to 'ear a lil gud news today"? (though they didnt spel like Noddy 'Older or fill up ole H 'Ill's left shoe with booze....Gudbuy T' Ken!!!!".....