6/27/2016
Monday June 20, 2016
"Good Friday 13 april 95 I met Alex Chilton in Richmond, virginny; later that month John Felice asked me to host a Sunday afternoon jam at Kendall Café, which Bret Milano wrote about in Phoenix; one person whom read my "come on down" was MJ Quirk; the other Keith Beauniece. ok, so I batted .500 4 June 95 getting Quirk on board and he got "initiated" into Highland clan and Saturday afternoon show at midway (18 june 16) was a reunion of sorts.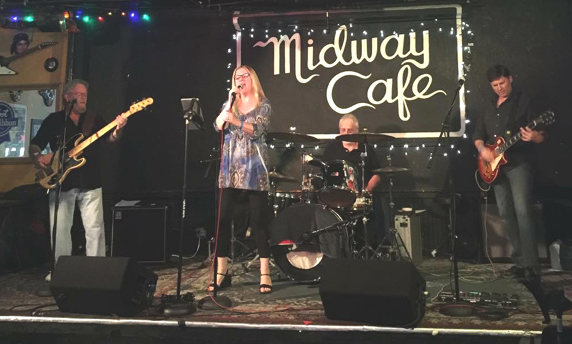 Jody Moore Band
Photo:Gee Julie
Jody Moore came from down the Cape with her band and "Her head's in '79"; setlist is HER Pinups meaning Pretenders/Motels, new wave 'oldies" of that ilk. Ken Kaiser decided her guitarist played BETTER than Ace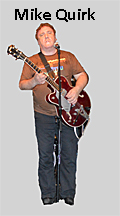 Frehely and even had same guitar! Club Linehan-a-go-go band up next, MJ Quirk's PINUPs, new tunes being "in my chair"-status Quo and "somebody gonna kick Fleetwood mac's ass tonight". Ken Kaiser up for "black to comm" so I could dance better than James Brown and sing an MC5 song like Iggy. Hixx, fun as usual and like I always say their originals are the GiZmos meet black oak Arkansas (taking redneck themes but doing a satire). lastly, I did an ad hoc Afrika Korps, me guitar vocals and Ken Kaiser-drums/vocals. Mj Quirk got to play left-hand like Solomon gruberger and bass like jay gruberger. there's video footage but it was Kenne's greatest hits with Kaiser kvetching: 'don't we know any slow songs". my other joke: springsteen backs up chuck berry. 'what kinda music we gonna play?" 'we gonna play chuck berry music". insert Kenne Highland who doesn't even show up with guitar OR toothbrush in hand! (thanks to Dusty Hixx for use of HIS guitars and being guitar tech; he was a Kendall '95 alumni). we still had 20 minutes left! so since I'd done my Cub Koda rap about "that's cool", tyme for tribute to Cub: "smokin' in boy's room" b/w "barefootin'". I also kinda remember grand Funk's "rocknroll soul" and Kiss's "strutter' with Jedediah Hixx on vocals. made $20 divided by me and Kaiser and had a German plate at Doyle's with Rick Berlin-the waiter. More Midway fun to come!"....

Tuesday, June 21, 2016

may as well get my MAG FOUR fundraisers out of the way; WJIB!!! friends and lovers of WJIB facebook. Gizmos! Gizmos go fund me. Sonny Vincent!I don't know him but tail is sad, how about a Boston benefit, eh? My father volunteered for 'Nam, I only volunteer for gigs! "come on you sons of bitches you wanna live forever?!" "Ich ist ein tueful hunden!" like smedley D. Butler. lastly, and he LIKED it; scott morgan! I reviewed my Rationals 45s in Rock back in '73 in a printing class with John J. Pusateri and....ALAN BAASE! jumper cables opened for scott morgan, scott asheton on drums; audience: the Count and metal mike saunders! morgan/asheton DID facebook friend me and he did "like" when I "shared" this...as if tony kacynski doesn't have enuff bands, Smitt E. Smitty ("bun e. carlos with a fez") wants to do a "fun" band, so tyme to trot out my Michigan records with MJ Quirk. working title: GIZMOS ON A BEACH! (Smitty: "you are killing me!")...and hey let's do a scott morgan benefit with all the Wolverines in Boston? Cable Theft? y'all know who are!"...

"google Lydia Lunch and glam rock; she DOES say concerts in Rochester was fun...So..she like Roxy Music as did I ...viva roxy music is the website with all their tour dates. SO...Siren tour Roxy plays Rochester NY 7 march 76; L. Lunch was 16, had she run away from home yet? if not WAS at this concert...but what a month! 9 march 76 Patti smith meets Sonic Smith in Michigan. Roxy plays Indy-napolis 11 march but the Gizmos didn't go. BUT 14 march Patti smith/MX-80 Bloomington. Gizmos record first ep Saturday 20 march 76. Bowie arrested in Rochester 0225 after gig 21 march 76; I was working overnight shift at Bloomington Herald telephone. Bowie's mugshot was 25 march 76; Gizmos picture sleeve was sunday 4 april 76 then Ken and Eddie drive to Brockport NY. Lydia Lunch either in Rochester or NYC! Teenage Gizmo and the Jerks! and Lou Grammatico got money from a van crash on Christmas eve when black sheep lost all their equipment "it came in april"...those WERE the days!"....

"so Lydia lunch interview, "all the glam bands came through Rochester, roxy music, lou reed, slade, kiss" we woulda been friends before our musical "careers"! Kiss played Rochester 5 October 75, 16 year old Lydia Koch attends? Kiss alive tour; 21 nov 75 Kiss terre haute, indiana; 'dear ken, eat shit, gene simmons" (oh wait that was another tyme)...there's an October '75 slade gig on my wall BUT since "The Canasta game" is 17 july 73, solomon gruberger and I saw Slade/aerosmith at felt forum NYC (review in hyperion);1 june 74 slade play Rochester war memorial! Lydia Koch turns 15 the next day. lastly, coz I wanted to see L. Reed's sally can't dance tour in syrcause but knew NO ONE into Lou (I was living at home after meeting future Gizmos): Lou reed Rochester NY 17 October 74; rocknroll animal website or some such or date geeks. if I follow rest of L. Lunch tale, she runs away from home and meets Stiv bators on st. marks place! stays with SUICIDE, returns to Rochester, then leaves for good '76, but Roxy music 7 march, she musta left for NYC right after that...lissenin' to same music 20 miles apart, can you, george Noory, believe that?!?!?!?!??!"....

Wednesday, June 22, 2016

reading my AARP and story on THE SLOTHS! SO Hopelessly Obscure I never heard of them, '60s garage....but they are legit, Mike Stax, Ugly things is mentioned! so am now petitioning for ME to be in AARP, senior citizen, still playing...OR we could do story on Gizmos/Afrika Korps, geezers still rockin', yeah, yeah, yeah...it WAS gud readin' on train to central square Greekfest Sunday! (same band as Arlington, love that bouzouki doin' Yardbirds licks!)".....

Smitt E. Smitty, "Bun E. Carlos in a fez" borrowing some Highlanders (me, quirk, Kaiser, keegan) for Detroit/'70s covers to be called....HELLO SUZI! after Move song, MJ Quirk is RIGHT NOW learning Move song, there'll be Roxy Muzak, Seger before silver bullet on cameo parkway, rationals version of 'respect", DOLLS...maybe we'll even all wear FEZZES!!!!! (13 points in scrabble)...a band NOT featuring Tony kacynski, but a supergroup of.....Gizmos on the Beach!"....


Friday, June 24, 2016

http://1330wrca.com/

"WRCA was "rockin'" last night; 11 pm Danny stiles on your dials, RIP: started collecting records age 12 workin' for symphony sid, 35 cents for 78s! midnight was CHRYSTAL'S TIME MACHINE, lotsa gurl groups again, Buddy holly's "everyday" which is "blitzkrieg bip" and "dont wanna go down to the basement";maybe the Korps will kover it that style...lastly, if you guessed "happy together" you got a $10 gift certificate to...MacDonald's!!!! and folks from midwest email in! more Hopelessly Obscure: the b-side of this Turtles hit was written by....Warren Zevon! read his bio, he was set for life, money, drugs and groupies AND now dead, IS sleeping!".

Friday, June 24, 2016

woke up 'Round Midnight and WRCA had country music oldies. during the 11 pm slot where peter sheinfeld (RIP) used to do rockin' at night...either way, listenable "oldies". electric company comedy hour (like them on facebook) up next at midnight, they play old comedy. about 0300 danny stiles, though deceased, was playing "girl from ipanema"-bossa nova in mono! (is this in the next issue of Vulchur?) BUT 0300 means I missed half of coast to coast AM, it was call in and what kinda NUT IS up that late? Gee Julie and I had auto work and Bob Bittner and WJIB was on! Gizmobile working now and I even helped! "from muff-divin' to mufflers"....and using the ole I-phone Five to "Kick out the jams"!, tune radio app (before the main course?) lissen to couple of ole radio crime shows AND this morning WPAQ mount airy, NC, Doctor Ralph Stanley talkin' "this is how ma momma showed me play banjo"....me, in Future/Now: "back in '73, Ma told me "Kenneth, always respect the gurl, so I wrote this 'un in '73 while pushin' a broom"...AFTER they read the obituaries o' th' county, they played Stanley Brothers hymns!!!! yep, THAT is the way to go".....