6/30/2014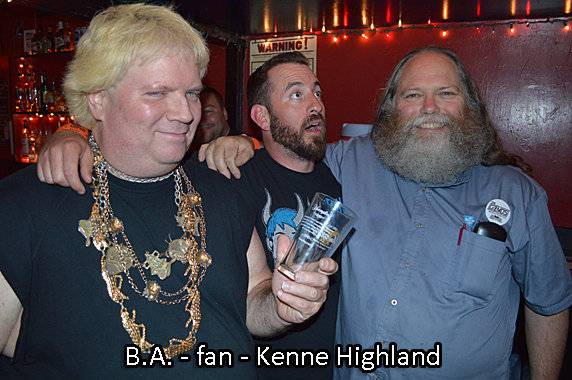 Monday June 23, 2014
I'm remembering the Gizmos World Tour: Sunday, Ides of June 2014 Father's Day: arriving back from Dayton 6 AM, awoke 'bout noon and BeBop Shepherd/Magnetic South cooked up me-n-Stenson Eddie a SPLENDID breakfast; just on THAT feature alone (eatin'), Magnetic Seth oughta "wife up" ole Be-Bop, and Gizmos'd play the weddin'! (well, I would...I've played BOTH my weddings and divorce also!) started work on "gonna beat you like a red-headed stepchild", Eddie havin' a verse about "Disaster in Dayton". Taught Be-Bop the chords, but she split to write a new Tsunamis song; we had Magnetic Seth roll tape, Apache Dropout bassist walks in, I teach HIM the chords (this is gittin' Motown/Muscle Shoals/Sun truthfully!); ghost of Jay Gruberger! (RIP). So Ken/Eddie as rockabilly Yobs with Apache Dropout rhythm section record "Red-Headed Stepchild"; then Seth: "what about a b-side?" Eddie uses surfer slang and we have "Aint That Bitchen Enuff"; "just like me"/"Boss hoss" with a Lonnie Mack/Travis Wammack solo on 5-string Telecaster! Mad Max arrives with Pierluiggi (Lux Inferior) of Hate Records, Roma; he signs us RIGHT THERE, then dinner for an Italian magazine interview. Me and Eddie "puttin' on" the press like 1964 Beatles-cum-Dylan/Dont look back OR the Damned in BGN! one gem: "Kenne, Why'd you leave the Gizmos for Boston?" Me: (tongue-in-CHEEK, don' need no mo' coffe mugs thrown) "Miss Lyn was the Yoko Ono of the Gizmos!", then some long ramblin' tempted by apple/garden of Eden rant, which you can read in Italiano! Splendid evenings with my paisans, Italian tour and 45s coming out and more on that LATER!"......
Wednesday June 25 , 2014
Monday 16 June 2014: basically caught the 09:10 bus out of Bloomington, Indiana which looks the same as Sunday 10 April 77 where Bob Richert of Gulcher saw me off; b iding me farewell was Be-Bop Shepherd (Tsunamis); Magnetic South (Apache Droput) and Stenson Eddie Flowers (of the Misisippi Blackwells, suh; Southern arist-ah-kracy)...four hour layover in Toldeo, Ohio, boring as hell, went to a bar a block from Greyhound and caught World Cup. Cleveland, Ohio also boring as hell, read a fanzine with a Daryl Frazier interview; at home in Quincy, name zine later (LOTSA cds and zines from FAN-attics, so will lissen coz they lissen to Gizmos, of course, aint no pissant). "Sweet Tuesday Morning", 7 AM-10 AM in New Netherlands; there's a deli around the corner where the drag queens hang out, gotta research the name, walked by BB Kings and Ginger Baker was coming! (tempting! no hotel, just busfare and cover)....a GREAT tyme, read Rich Coffee's rants and raves, back to work to make money for tour of It'ly but DID see music Friday-Monday, so will write on/fight on (obscure T. Rex 45)".....
Thursday, June 26, 2014
friday 20 june 2014: walkin' down Mass. Ave. wearing a Gizmos World Tour 2014 walked past Cantab and saw Paul aka Mr. MOTO,who said wife/bassist JV was downstairs. Her birthday= Gizmos in Indianapolis with the Gross Brothers who drum for MOTO out there; they know the Columbus, Ohio The Girls (use their drummer!) and use Jason Ross (Rerun records) in St. Louis! Then MICHIGAN's Tony Kacynski was lead guitar with Litehouse, doing "I am the walrus" almost better'n Spooky Tooth! more Midwest madness when Mr. MOTO (Chi-town) and Mr. Michigan (Tony) sang together on "surrender" by a Rockford, Illinois band that used to be FUSE (Epic). BUT i was 'sposed to sing "you're gonna miss me" at Plough with Triple Thick; saw Mitch Murphy, they were goin' on at midnight; too late for this Gizmo, though Mitch was impressed that Craig Bell, Rocket from the Tombs, is Gizmos bassist for Gonerfest, Memphis, Saturday 27 September 2014 (we headline!) so headed back to Cantab, saw a great MOTO set, Mr. MOTO quotin' from aerosmith's "draw the line" and other '70s classics... and "tastes just like a milkshake" great "smut-rock" in tradition of Nervous Eaters and Gizmos;s a splendid evening with Boston Groupie News staff and a midnight train=pumpkin"......
Friday, June 27, 2014
Saturday 21 June 2014: WMFO's DJ Easy Ed presents the Roy Sludge Revue, Midway Cafe, Jamaica Plain. due to MTA, only heard Easy Ed spin "rockabilly, rock'n'roll, western swing, hillbilly bop" '50s stuff and thought "Stenson Eddie Flowers should be here!" it's been a week, but here's what I remember: Stan "the Man" Kozlowski drummin' along with Carl Mann's "Mona Lisa" on Sun, Dil, Superfonics drummer, raving like Captain PJ about a Roy Brown side and seeing Roy Brown at Jonathon Swift's in late '70s/eary '80s; saw Bloodrock fan Judd Williams all rockabilly-ed out (trying to connect Grand Funk to rockabilly to being in Lyres/Real Kids; guess he digs music!) Kranky Franky Blandino riffin' on a pedal steel maybe, playin' that as well as he plays guitar....Easy Ed, WMFO played a buncha GREAT vinyl 45s so rare I couldn't recognize half of them! if i was Kim Kane, Slickee Boys, I 'd have been goin' "Great googley-moolgey, Giz, do you know what that is?" so whenever they have a DJ Easy Ed record hop; GO! CAT! GO! and sponsored by Narragansett; "there's a rockabilly party on Saturday night" plus "down on the dog/he's a rockabilly yob" to quote Mott the Hoople and T.Rex, records (VINYL!) heard in '73/'74,"My Head's In"...and a Columbus O. Rex fan in Dayton, Ohio LOVED that song, post-humous praise for Solomon Gruberger (RIP)".....
Saturday , June 28, 2014
sunday 22 june 2014; after work headed to the Roy Sludge residency at Lizard Lounge, Mass. Ave., Cambridge; Mrs. Sludge DOES read this column, so all you pissants, y'all git and catch this truck-drivin' music! ("truck-Drivin' in Wilkie South"? only Gizmos Mach II Tim Carroll who HAS played this basement!). Lyle Brewer was guitarist du jour, kinda a lil more bluesy, Jim Haggerty on dawghouse bass....heard all my favourites like "pass the beer","drivin' nails in mah coffin" BUT "Tombstone every mile"! Dick Curless (!?!?!) also,WJIB, Bob Bittner, who DID dj in Brockport NY, same station as me in high school, wants to start classic country on Sunday mornings; WNYR,Winner 68, Rochester,NY! (Big Al Baase of Rock On; his dad usedta lissen to said station; he worked for "the town" (of Brockport!)) these Roy Sludge gigs usually has the cream of the Boston scene (?) there, increasing the "hip quotient" (ok, all the fucken hipsters show up; JUST to see me!!!!!) as it were Joan Hathaway, formerly WMBR and her east Detroit husband who knows Figures on a beach (MOTOR CITY MOFOs!) were celebrating his birthday; Joan DID hip me to Gonerfest (Gizmos saturday 27 sept 2014, HEADLINING Memphis! Craig Bell, rocket from tombs, bass!); she tole me about The Oblivians, who's name I am familiar with, though (will quote her liberally, though I'm a conservative guy),she enjoys not being inundated with cds every week and just watching "what I like"...yep, when music becomes a chore, git the hell out! I quit rock writin' for Gulcher JUST to join the Marines! leanrt how to kill people, now I'm killin' you softly with Gizmos songs...oh, yeah, Gee Julie showed up, bought her, with my Gizmos tour money, a Roy Sludge t-shirt which looks quite good on her and hopin' to be there all them Sundays I can!".......
Sunday , June 29, 2014
Monday 23 June 2014. whilst on Gizmos World Tour in Indiana, Sloppy Seconds singer said "we're playing Boston the 23rd, I can list you if you want"...now, reality: this "kid" was SUCH a fan singin' along in the audience and tryin' to grab the mike, flattery DOES get you everywhere! So went to Middle East, hung with the band like they were the Slickee Boys, got a t-shirt which I'm wearing to Gonerfest! (that's saturday 27 sept 2014, Memphis!), hung out by the merch table, like when the Angry Samoans are in town (am I the east coast rodney bingenheimer or the Boston Murray the K?). Dawg tired, so (headline): KEN HIGHLAND FALLS ASLEEP DURING HARDCORE SHOW! caint remember too many of opening acts (hardcore kinda "same-y") but Dot Rats caught my attention; "I grew up in the hood"; but Dude looks like a townie! hardcore/rap, Linkin Park, maybe, plus a "support the troops" Amerika First rant and a drummer with a USMC shirt; ho-hum,1976 Ken Highland USMC...but I DID like them as did Blowfish! Ran also into Betsy Bean whom I was with at rat when last saw GG Allin alive and Gee Julie attended this hardcore show wearing a Roy Sludge t-shirt! (?!?!?). ok, so Sloppy Seconds, have a cd sampler also and THANKS! Musically, John Lydon sings with the Ramones, but Gizmos were THE first Indiana punk band i hear "pavin' the way for us"; "usedta have Gizmos on a cassette in '90s"...you're killin' me with tribute! guitarist had Howard Stern with pink glasses with a cereal-box squarebox guitar, drummer had Sloppy Seconds panties for sale for merch; these guys HAD been in Boston but I missed 'em, so glad we did Gizmos reunion! Favourite song: "I dont want to be a homosexual" ;coz "I'm just a regular dude"....yes, I smell Gizmos influence on EVERYTHING! hahahaahahahahaahahahahaha!"......
Hey for more info on the Gizmos World Tour check out Rich Coffee's R'n'R Rants