7/5/2021
Monday, June 28, 2021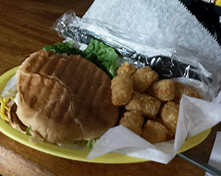 Kenne's burger

"Saturday 26 june 21. Gee Julie at Jungle as "the cook of the house' and ten dollar cover: "I call that a bargain/the best I ever had"! I et a Beyond Burger.

Wyn Doran was singer/songwriter opened up and after soundcheck I ordered another $5 O'Doul's (SUPPORT local music!) Wyn opened with a cover of "welcome to the jungle" (as sung by Bill Bailey)with Cowboy Junkies vocals. I LOVE her guitar playing! Neil Young minor chords with whammy bar sounding like Everybody Knows this is Brockport. A bit of early '60s Joanie Phony vocal contralto. The Armenian Hex was on a solo ukulele version of some System of a Down cover (Black Sabbathian on steroids!). Second last tune was "elenor rigby" (beatles b-side!) with some "i'm so glad' guitar and Goth vocals.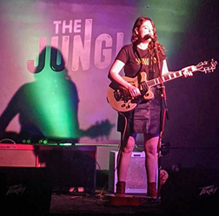 Wyn Doran

Speaking to Wyn after set I bought a five dollar cd and "bragged" about seeing Aimme Mann way back when; she also lover of Mann. LIKE her on facebook! It'd been a hard day's night but two roots-rock bands followed, like them on facebook if you like that genre or you can even hate them; I didn't guard the NSA in the Korps so you couldn't "use your freedom of choice"! Next up; Jay Gillepsie and the May Ave band and Gee Julie says Rockwood was good, had some good covers. Facebook "story' had a bit of 'rock and roll makes me happy' which to me echoed the sentiment of my fanzine promo lp (c/o G. Shaw!) of Brinsley Schwartz "happy doin' what weer doin". Rockwood has return Jungle gigs, live music is back, yeah, yeah.yeah".....

Tuesday, June 29, 2021

Monntag 28 June 21. 0300. How pleased was I to hear Creedence Clearwater's "Tombstone Shadow' off Green River album as bumper music! Fall s1969, 10 year old Lydia Koch at 880 Clifford, Rochester NY and future Gulcher mogul Bob Richert at SUNY Brockport NY (folkie Christine lavin was a freshman!) I had bought "Green river" b/w "commotion" but never heard full album til stationed Ft Meade Md., living in Laurel, borrowing VINYL album Laurel library and NSA going through my trash after playing drunken games of Scrabble, flies on car and listening to Myron Breholtz American University radio. John Cameron Fogarty also an avid Coastie! Tonight's topic: Extroardinary Contact: Deborah Jordan. Alien encounters; she had one 30 June 83; maybe I had a Hopelessly Obscure gig. Her encounter was in Indiana. George Knapp had some great bumper music on Coast to coast between 0300-0400; no wonder I fall asleep on the toilet! After CCR, "Deja Vu" by my Schmerhorn Dutch-American cuzzin, david Crosby. Then "The Wind"-cat Stevens, teaser and Firecat. Then the electric second Gizmo and Garfunkel version of "sounds of silence'. Except for cat, three "summer of '69' albums for me, living in a housing project near SUNY Brockport. Once, after Kent State, delivering the evening paper, a student goes "hey man how's the revolution?" I was only in junior high,i muttered something....Fiddy Years On, yo!"....

Wednesday, June 30, 2021

"Monntag 28 June 21. How happy am I that the filipino channel has a trifecta of dramas at 0500? (after one awakens to "midnight express theme' from coast to coast AM!). 0500; Maging Sino ka Man (ALL these can be liked on facebook and are on youtube For Your Pleasure). elite lady has amnesia (read episode guide!), ends up in "poor side of town", then regains memory etc. "romance" it says. 0540 My Binondo Girl (comedy). 'girl pretends to be man to gain her father's affection". How about 0600, girl had cut her hair to a pixie cut, wearing pin stripe business suit and fake mustache and soul patch? LSD for Breakfast? Filipinia Drag King....0635. Saan Ka man Nanoroon. triplets separated at birth played by one actress; compare of Joananne Woodward in Three faces of Eve! Actually, obviouisly, they will all unknowingly meet and be reunited. Mabuahy! I am HOOOKKKED!!!!!!!!",,,,,

Thursday, July 1, 2021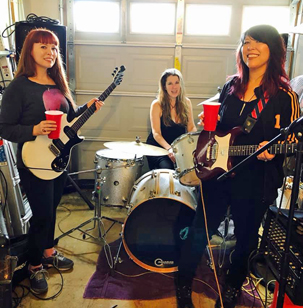 The Skirts

day of Wodin 30 June 21. Gee Julie at Jungle "cook of the house". place was PACKED with a mélange of hair colours/skin colours/ intermediate genders..."She's a Rainbow" coallition! The Skirts opened up and I was sold from song one: Blondie vocals but playing xyxlophone! This was a seven pm set. Other interesting performace was switching instruments (always interesting!), a banjo sounding like Robert Quine on "Love comes in spurts" and a acepella vocal perforamce with tambourine and handclaps. Goin' the loo I ran into Mr Crow Follows (Meaning Tim Sprague - ed)(my great-grandfather Highland had a Sprague uncle and Sprague cuzzins, South Lyon Michigan) and besides talk of future gigs (ala Hopelessly Obscure and Junta D'Amour at Down Under December 1982) Crow Follow and the Skirts Midway matinee Saturday 21 Aug 21. Nightime show: me and mad painter! 21 aug 77; afrika Korps live at cantones! (Gulcher cd) followed by jay "Kenne! get off the stage! Thundertrain needs to go on!" grubeger and I as Destroyed rhythm section. This morn at Crepe in Davis Sqaure ("hipster capital of world"-Utne reader 1995), I watched the facebook "story". Tiberius, as I departed ("hard day's night") was '90s pop-punk back when MTV played music (I WAS the "Geezer at Weezer"! felt same this night). Battlemode had a peroxide hair singer who sang with a violinist. So much "art-punk" (bullshit label but am at loss for words; Hell!!;,Michigan has froze over!) but I was having flashbacks to "Dead Boston Clubs" like the Space/mavericks and/or the Underground; the Bound and gagged days! "Appliances.....they run our lives""....


Friday, July 02, 2021

"day of Thor 1 July 21. Gee Julie at door of Jungle and I ran into Knock-Up Gretchen Shae as we used our gender appropriate loos, this being Somerville, Not Cambridge. She is now a Berklee prof and her students are Pigeon Man. notes; '90s power-pop. hardcore. tight endings. Weezer. acoustic guitar use, but punk. lead singer sang, played electric and acoustic guitar and THEN did keyboards on a Jobriath-type ballad. drop D tuning on guitar with a jack bruce vocal that echoed Thunder and Roses. These guys were damn good! If it were 1976, they'd be in bands to watch out for ala O. rex and malpractice. M-8 was Gretchen Shea at her finest. Goth, post-punk, music was Buzzcocks/ Joy Division/Search and Destroy...you know the era and I was there! (alta kaka rocka!). Gretchen had a kick ass band, guitarist used wah-wah on one song and I WAS takin' the brown acid in the White Room! Vocally and PLEASE send me hate mail, I'm GG Allin's sixth cuzzin!, I thought Gretchen kinda sang like Siouxie and the banshees. She put down the guitar, then got down on her knees, good moves. A photo of me, her and Mr. Baabes was preceded by "let me put on some lipstick"; after THIS show, she is a one-name artist: Gretchen/Madonna/Cher ("Mayrakan tapakats balkanner! that's 'mother fucken ballz" in Schmel-menian!). though captain easychords thought same thing about Baabes: in nutshell DMZ, CBGBs 26 march 77 and 2 april 77; Rat. Gizmos 8/9 april 77-bloomngton Indiana. dead boys- Rat 16 april 77. Stooges at Goose lake '70 AND I saw academy of music 31 dec 73 (some band named Kiss opened; 'dear Ken-eat shit. Gene Simmons"). plus guitarist Rob Basso putting out GG Allin and Jabbers live at rat 1980....you get the drift (grungy guiitars,manic singer). Gretchen Shae and her Cleopatra-lookin' self put on a GREAT night and hey! "rock and roll is here to stay!""....

Saturday, July, 3 2021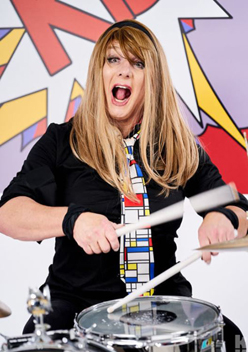 Sandy Summer!!

Saturnalia Day 3 July 21. Tyme for some gig listings even if recording on "back burner' as they say ("Future Lockdown/Now; if you're willin' to pay the price!"). A BIG shoutout to one of my loyal followers drummer Sandy Summer, whom might even put a bug in Simone Berk's ear that Kenne Highland's Air Force and Kid Gulliver need a show! all that free press, Simone....oy! ("Guilt and Gefiltifish"; my next song: in G!). Okay in precise Modern Lovers order ("but Jonathan's brother a doctor!"-Jon Richman's ma to our John keegan. "Kenne your jokes are like vaudeville"-Mr. Muck at the GRETCHEN gig; hey! I loint from Jay Gruberger! listen to afrika korps live at cantones (Gulcher)!...ok, enuff mishegas: Thursday 15 july 21: union tavern: mad Painter at 930 pm. 31 July: Mad painter at Jungle in evening. 21 Aug; mad painter at Midway in evening (DO follow the Crow and catch The Skirts in matinee show!). sunday 12 sept 21. 3-7 pm. Frank Rowe's Birthday Party!! with Kenne Highland's air force and classic ruins and unnatural axe. More tentative shows for KENNE (yes Gretchen, I'm a one name act now like PRINCE!) (more like court jester!), mad painter and Cal Cali is offering me good GLider gigs SO...wife name Linda, playin' bass with GLiDER, haven't got my SIR yet.."God save the queen!/I mean it man!"-Kenny Rotten! (tartar causes bad breathe in dogs! Me and jay Gruberger sharing a mike in the O. Rex living room "damn! your breathe is so funky!" Gotta stay on that ONE even if it's with one tooth!"...