7/08/2019
Monday, July 1, 2019
Sonntag 30 June 19. You can watch GLiDER on Mantis's youtube station On Stage With Mantis and a stellar performance it was! First off without mantis, Joel Simches on sound, one of Bill Desmond's daughters AND the intern, the clarity of "sound and vision" just wouldnt-a been there! Mary Lee Desmond turnt on the fog machine as Schmel Herbie Hind and i jammed on Sabbath's "SOLITUDE"! (Masters of Reality mofos!) Cal cali had his drums in front coz that's what Ginger Baker did at Hyde Park back in '69 (Schmel's "joke" but does this make me Rick not playing a Gretsch? Captain Winwood? Schmel is GOD written in loos everywhere?). Cal Cali sang well, band tight punk but MY favourite is Dylanís "postively fourth street" where at the end, Schmel cuts loose and it sounds like Jimi jammin' with Mouse and the Traps! (or Terry Knight and the Pack's "dimestore debutante"!). I sang "be more flamboyant" and "you're gonna miss me",Captain easychord sang "Psycho"....I have a very GLiDER week coming up but lettuce not forget FRIDAY 12 July 19 Ralph's Worcester!"....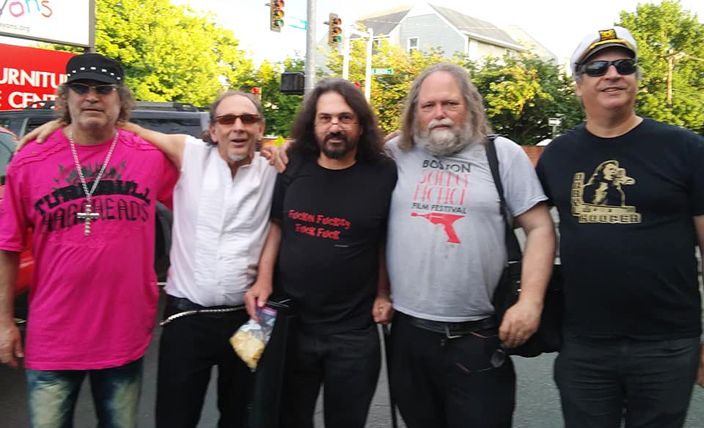 Glider with Mantis

Tuesday, July 2, 2019

Montag 1 July 19. a Cal Cali Band rehearsal, good oldies of course. After riding back with Schmel Herbie Hind and then Captain Easychord checkin' out Bob Marley Monday at Sally O' briens (LOTS of reggae in Union Square, Somerville, I have half a notion to check it out!), I get a phone message at zero-dark-thirty two minutes and twelve seconds of note-for-note Mick Box playing the coda on Uriah Heep's "July Morning". NOW whilst asleep and lissenin' to Coast to Coast AM, yes that WAS Schmel Herbie Hind playing two minutes of Uriah Heep guitar (note for note mind you!) into my phone.....what is more cryptic? it was a "July Morning"! use that gatefold double album of Uriah Heep Live to roll another Doobie, Brother! 31 May, play Blue Oyster Cult's "then came the last days of May" into my phone, "Why Doncha"? (Is my head EVER in "'73"?!?!? as the O. Rex maxi-ep, played backwards implies!)".....

Wednesday, July 3, 2019

Til Tuesday 3 july 19. Since I myself played no musik, I got to binge on Nena und "99 Luftbaloons"!!! But, curiosity killing der katzenjammers, this 59 year old (sorry wikipedia!) granny had a '70s career! Age 12 (1972) "the first album I bought was Black Sabbath's PARANOID"; das ist mein frau!!! Liebe!!! She joined Nena and the Stripes age 17, November 1977; Afrika korps, cantone's 19 nov 77. Das ist Kaiser's katt!!! (born same year Fraulein Karen Hoch). Why were they named the Stripes? Because they all wore STRIPES! insert wicked New Wave photo! There was one album and five 45 on CBS, sung in English; later she would be ein Deutscher sanger. Who else is a Stripes fan? Pierre le Coutre von Flensburg, Deuetscheland where rests a copy of those Bavarian-rooted Kenz in der Korps (Moin World!). dit-dit-dit....headlines from Flensburg Groupie News..."better than the solo, but this is the best": Nena and the Stripes - "weekend love". a 1980 b-side written by guitarist Rainer Kitzmann, mein neu freund das morgen; if he is neu, we will lissen to Neu! (Kraut-rock joke). Nena still tours! July 4th in Austria! The rest of July Deutschland und Suisse! Some dates equal mine! Sadly, I shant be singing "99 luftbaloons""

Friday, July 5, 2019

Fourth of July '19 at large! ok it wasnt Lyres, CANTONES, '80 BUT fun still had (at least i wasnt sleeping in subway after a Billy Goons post-Cantones party!). day of Wodin, 3 july 19, Kenne Highland Clann rehearses the Gemini on a Full Moon album on Dino plus finnish with MC5's "Lookin' at you" and decide to become an MC5 cover band! (Halloween offers please!). After that, it takes BRASS BALLS to go to Brass Union (or listen to Rochester NY's BRASS BUTTONS!) for DJ easy Ed (EVERY wednesday and FREE!) AND the FABULOUS Itchies DJ TY JESSO! (CLAUDE MONEY too, tho i don' know 'im). Two from The Gala wuz just exiting when I entered and whom was at the bar but Jimmy Botticelli! Triple Thick Mitch walked in and I said "Mitch! this is Dirty Old Boston!". Miss Lyn has photos of 45 geekage....fantastic music, i THINK Ty played "going all the way"-Squires; a Litter 45; other obscure garage rock BUT I THINK DJ Easy Ed played the hangmen's " what a girl cant do"! I still back in '76 remember Kim kane of slickee boys playing me "the original" and years later singer martha Hull married the Hangmen's drummer! april 2008 youtube wasnt QUITE invented so noone saw me, martha Hull, marshall keith (slickees) and Mister Martha Hull (Hangmen AND Nils Lofgren!) jam on "what a girl cant do". Ken Kaiser, there were NO mistakes coz my wee irish nose does NOT get in the way! lastly, i had an AMC Common discount pass in me pocket of me trousers (which did NOT fall down!) saying hello to those Gypsy Moths guarding me Money! (not Claude Money or (youtube) Jackie Shane covering "Money" for eight minutes!). "sun shines on the common at" 120 PM (I'll be playing "common at noon" in Salem with Alpo's Ryalside ghost!), "Winner by elimination": Annabelle Comes Home. haunted doll terrorizes teen babysitter....yes, I fucken slept! Chuckie meets Halloween....THOUGH there's a couple that collects haunted stuff so in "1968" "Band of Gold" is on the car radio (even Miss Lyn knows that RECORD was 1971!)...up to 1972 I said "croseo"! to Badfinger's "Baby Blue"! "day after day" also in soundtrack and I will SPOIL this part...dark house, evil doll spirit, tone arm of record player on VINYL album...it comes to life and it's badfinger! ANY record collector worth his salt knows that's the STRAIGHT UP album! BUT goddam Hollywierd shouda leased out Kinks "wicked annabella"....God Save Badfinger, Mother Mopp and Riley's! (roast beef that is; coat yer belly; after drinkin' Johnny Dee's, Allston)....next weeks gigs! Fri 12 july, GliDER, ralph's, worchester; saturday 13 July, club linehan-ago-go, Rib-a-geddon. if i DONT see you....."you're gonna miss me BAY-BAY!!!!