7/11/2016
Tuesday, July 5, 2016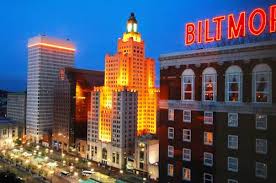 Biltmore

"decided, after having passed it by quite a few tymes, to stay at Providence Rhode Island Biltmore, which, if one googles, was built in 1918 by a séance- stay the hell outta the 8th floor (I was on fourth), and it's part of the HILTON group for points, so if I marry

Parris Hilton, Parris, HIghland, will get me a free stay! but since that aint gonna happen; decor is nice, you get points in restaurant AND hotel, so I ate three meals there, had an overhead fan and a TV Eye on me! GRIT tv had WALKIN' TALL on (a favourite with my SC Marine neighbours in mah trailer park), so GRIT is even MANLIER than SPIKE (known as "the testerone channel" by a distant cuzzin in Hingham, yes...)...ME TV had Batman and lost in space on at zero-dark-thirty and I caught the Deutshland uber alles football match before brekkie. I also attended service at the first Baptist church in Amerika or is that Amerika First Baptist Church? though they were almost Unitarian in their liberalism. 1773 structure, similar to the Episcopal in Harvard square where George Washington worshipped here near ye olde Cambridge burying ground. since I DID go to church 10:00, I got a late checkout, so I shall return and even splurged and took the Amtrak back which = Craig Willis Bell's pension; between that and "final solution" royalties, he can tour FOREVER in his FURTHER van and with my laig problems, i might very well spend the extra dough for Amtrak! (Craig Bell and I have done a couple Gizmos records, wicked nice guy; GO AMTRAK!!!!)"...

"after Miss Lyn and I watched tour de france at The Rising, in air conditioning, my next bit of fun in air conditioning was, of course, the Brattle theatre. and those poor rotters, the Harvard Coop proletariat were open and dudes, check out Dead Kennedy's drummers bio! we're talkin' Afro-PUNK! from James Brown to classic rock to punk, ONLY a brutha from east saint Louis can be all that AND a J. Angell Wendell endorsement! (so if he say it good)...ok, so don't fucken LOOK at me! 5:15 pm (still fucken hot): two hours of BLUE VELVET! Frank Hopper/Dennis Booth doesn't appear til 45 minutes in (it was 6 pm) but when he does...I got three dead roomates who thought they were Frank Booth: Mike Crowley and two Mayflower descendants: Mark Darling Giroux (John Alden descent) and Robert Cameron White (Peregrine White descendant, as is Frank Rowe and Mach Bell). whatever year this is 'spose to be, I have grokked after COUNTLESS VCR watching of this 30 year old classic, that Bill Doggett's "honky tonk" plays in that 'ho-house! 8pm til 10:04 pm was JAWS, i know I saw, reviewed it two years ago in this column but always a nice air condition, no fireworks Brattle event and I always catch something new...the beginning! the beach party was SO '70s...coz it was! guitarist was good! everybody in my high school tried doing Steve Howe licks...other facts besides transistor radio broadcasting baseball games was Roy Schieider turns on radio in office and it's...Olivia Newtown-John! what a period of rock, just one year before the Ramones...though I can tell you summer '76 was no great shakes neither with AM Gold...or, at age 20, was I just TOO fucken old! (and jaded AND had actually made a record)...either way, two classics, lotsa good shit at Brattle, Angela from Wierdo is there, it's my usual Sunday thang if I'm in town/not giggin!"....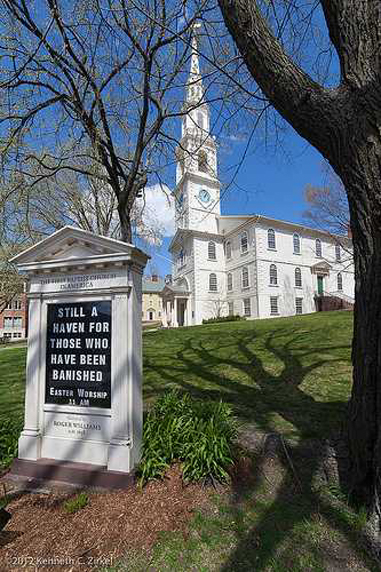 First Babtist Church - see above
Wednesday, July 6, 2016
"got my brattle schedule in mail, then used I-phone five to tune into Pittsburgh pirates ball game (versus Chuck Berry's st. Louis cardinals!) on WAJR, morgantown west virginny (I still have distant cuzzins down there). in the midnight hour danny stiles (RIP) WRCA was playing....Rudy Vallee!!! look for the Korps to kover ALL those ole '20s toons with Kaiser's ukulele! (even Hello World, Tiny Tim style!). 0400 coast to coast, one thang was "your mind is like an unplugged computer" well mine is, yes...but then again my mother is/was a Blodgett!).."Buddhists believe in talking to the dead" but then a 0450 caller from ROCHESTER NY, sounded like Lydia Koch on Cream Ale: "you are a pathological fraud and you only do this to boost ratings on your tv show"....Detroit vs. Rochester...sounds like my parent's marriage which ended in divorce '64!"....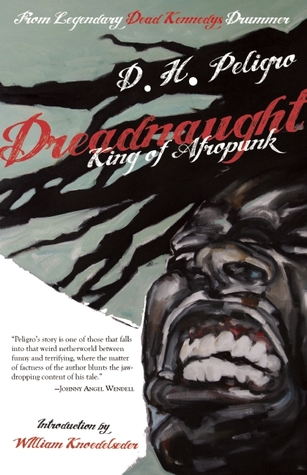 See Tuesday's entry above
"ok, yes, I am a geek for dates and GIZstorical accuracy. JAWS filmed on Martha's vineyard 2 may 74 til 6 October 74; between then I'd met Cub Koda/Jim Dandy/Eddie Flowers/Carl Biancucci and seen Jobriath. so opening scene, me goes :wow, that beach party looks SO '70s"....I'm fucken DAZED and KEnFUSED coz that IS my senior year of Brockport High, salt water version (we partied by fresh water lake Ontario). so opening the beach 4 July 74....when "Brody" turns on the radio, "I honestly love you" by Olivia newton john comes on; released 28 april 74! (I'd seen the Dolls the previous week). SO, Jaws, in this respect IS Gizstorically accurate! damn good film too"....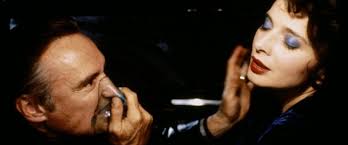 Blue Velvet - see Tuesday's entry
Thursday, July 7, 2016
"WHY in the Grand Funk was I reading Bobby's Brown's biography at Harvard coop before I saw Jaws at Brattle 4 July? "it's my prerogative"! and now HERE is some facts for my NuWave friends: Bobby Brown, age 9, forms New Edition in '78; would the Korps have watched him like they did the Clap at the Teaneck NJ tennis courts? (those blokes were "only 16"). BUT July '82 til Feb. '83 which is when I wrote the Hopelessly Obscure ep on Majestic plus "Best Bette"....whilst Figures on a Beach were live on Lansing Michigan cable (January '82, i believe) (on youtube); on 24 march 83 birthday party/dangerous Byrds: channel and chesterfield kings/prime movers/hopelessly obscure-storyville....we are ALL trumped by the Saturday 5 march 83 release of the first New Edition album! THREE 45s from there and "Robert Brown" only 14! (holy Frankie lymon!) so I maybe was more famous than B. Brown in '76 Creem/rock scene (he, age 7 and listening to....JAMES BROWN!!! though he danced onstage the Sugar Shack with JAMES BROWN!!! age 3, whilst in '78, when New Edition formed and I fed the Korps Genesse Cream Ale for Hello World; engineer Bob Both engineered "the big payback" and more on polydor, check Bob's youtube)...something for Ken Kaiser to contemplate: Bobby Brown and New Edition sold MORE fucken copies than the Hopelesly Obscure! (I COULD mention UNITS, but I don't play baseball aka THE BIG UNIT!)...and when Maurice starr "discovered" the lads in '82, i "discovered" Jim Condon at a Pep Lester recording session (this all on The mathematical genius of Pep Lester album!) BUT royalty wise, New Edition got subtracted for "expenses" so much (= $1.87 or something like that), they'd have been better off playing with me! Me and Bobby Brown holdin' "mo money mo money mo money"".....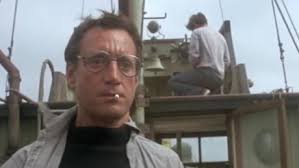 Jaws - see Tuesday's entry
Now- some gigs: sunday midway hopelessly obscure 715 pm. punk rock trivia Thursday. Friday ides of july club linehan-a-go-go cantab. BUT, here, right now, my I-phone five HAS kicked out the jams and I can lissen to Chris Needs on BBC radio wales! you can friend him on facebook, he has a page, a twitter but lissening, his question was what year was ric astley "never gonna give you up" and "1987..oh spot on!" but wi' the Welsh accent it all sounds like a Dylan Thomas play! Dad's welsh ancestors came to Philly 300 years but in 1716 woulda been speaking it....oh wait, i got a revolutionary war soldier born wales, so there ye gae...so 'e's chattin' wi' a' bloke, the Wenglish almost sounds Caribbean and they say "an' what year was that val doonican song?" "nineteen seven-dee"...fucken Val Doonican! I could, in 1970, watch his show live from Toronto on the TV Eye, 8452 ridge road (it's show band music, a genre I have proselytized about before)...all the more reason, coz now I can 'ear the Beeb on me phone and all me English ancestors did their BREXIT between 1617 and 1855 (some not by choice! those convicts)...oi say; "MAKE AMERICA GREAT BRITAIN AGAIN!" and as both metal mike saunders/tom taber/frank lima know, coz I known them as long as Muswell hillbillies was release: "'ave a cuppa tea"! frank lima...oh...well you wouldn't know 'im".....
Friday, July 8, 2016
"First Thursday, jamaica plain, sotheby's real estate ALWAYS has a jazz quintet, combined age= 400? singer, guitarist with a wes Montgomery guitar, stand-up bass, clarinet, sax...the big guy sittin' down singin' (NOT me, but Future/Me!) said: "that was Cole Porter! I wish I could bring him back to life!" cf. Danny Stiles, RIP, "music ended for me about 1960". then a Latin version of "Nature boy", singer played a shaker and "who remembers Nat Cole?" actually my folks like Nat Cole, christimas '68 delivered Rochester democrat and chronicle (they've interviewed "socialite" Lydia Lunch!) and from Capitalist Record Club bought Ma a six lp set of King Cole; FIRST version I heard of "route 66"! these guys are there EVERY First Thursday, playing to ten people but that hat was full of bills...Hello World! is THAT the Future of the Korps?!?!?".....
"one further note on the ole jazzbos I saw last night: maybe in 1983 I played (AND was banned!) from Storyville, Kenmore square but these Katz in 1956 (1957 is the year 1 AK;1955 is 1 BK; that's before KENNE!) prolly played jazz club STORYVILLE in south end...thought: though I have no match since Superman died, I can still be Clark KEN in disguise and ask these Katz about ole jazz Boston; Miss Lyn as Perry White: "Great Kaiser's ghost! and stop calling me Chief! my grandmother was an indian princess!" Miss Lyn and Liz Warren for president!"....
since reading about him in Bobby Brown's bio, decided to friend Maurice Starr on facebook; too many friends but I am now "following" him. did two solo albums on RCA in 1980 and 1983! described as a cross between "Berry Gordon and PT barnum"! my favourite kinda managers! cuzzin to colonel Tom parker? WHY do you ask do I care..."it's my prerogative"!!!! (should be fone up punk/funk...if only Jay Gruberger were alive".....)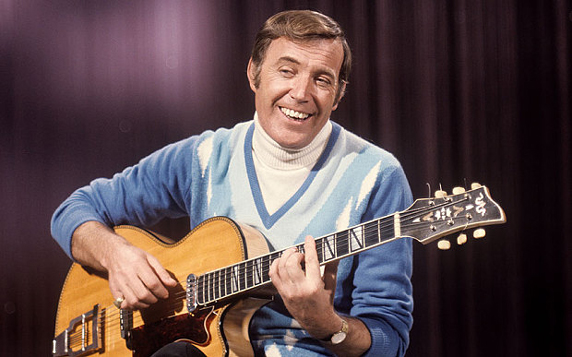 Val Doonican