7/11/2022
Sunday, July 3, 2022
Sonntag 3 July 2022. 0230 Coast to Coast AM bumper music: Bowie's "Jean genie"! after THAT great blast I was 'tossin' and turnin' so i heard even MORE great '70s; John Lennon's "Mind Games" (I liked , as usual, the b-side more) and the Bee Gees "Lonely Days' (pre-disco and depressing! "where WOULD I be without my woman?"; EVEN gary Wright's "love is alive"; I loved him in Spooky Tooth and this April '76 release came out one month after Gizmos recorded first e.p., SAME month as the "I'm in love with Ken Highland' photo and lastly (April '76) first Ramones album came out! "The Tymes they WERE a-changin'!""....
| | |
| --- | --- |
| | Kenne Highland Airforce |
| | | |
| --- | --- | --- |
| | Doug McDonald Band | Tokyo Tramps |
Tuesday, July 5, 2022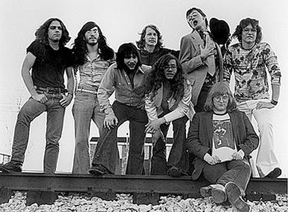 the 'I'm In Love with Ken Highland' photo

4 July 2022, bbq in north quincy. opening up was paddy O. on piano, lotsa oldies and we enjoyed Doors "Crystal Ship". Kenne Highland Air force had TWO keyboards ala Mott the Highland on their Atlantic albums, adding Alex Gitlin of Mad Painter to the mix along with Captain Easychord. "The Stooges got nuthin' on us!"- bass/ lieutentant Larry Newman USMC. Doug MacDonald has a bassist and I love his Dylanesque stream-of- conciousness lyrics. Alex Gitlin said "Hank Marvin" to Doug's guitar playing. I say Bo Diddley but we debated it like Highland/Gruberger in O. rex days, though now, I'm 'arguing with ghosts". Lastly, Tokyo Tramps (Al Hendry drumming in THIRD combo that night. Tramps covered ZZ top/ bay City Rollers/ "rainbow connection" (Muppets) on ukeleke duet! and "classic rock' like "black magic woman"/"goin' down" (as good as joe Flash?)/'artist friend Linda's fave "cant find my way home coz the car's in the garden after a ,mach bell party! (buy his books! Gospel according to St. mach!). all in all, a great bbq/jam!".... (Kenne has the story jumbled up here but some day Mach Bell and I will have to tell it -ed)

Wednesday, July 6, 2022

"Sunday 3 july 2022. WHRB blues show. Sonny Boy Williamson "your funeral and my trial"; a 1958 release. "I'm beggin' you baby, cut out that off the wall jive'; brilliant! also played was Howlin' Wolf's "300 pounds of heavenly joy' which I MAY record as a cover; it's in the key of G! SUCH great blues BOTH saturday and Sunday morning on WHRB 95.3 FM!".....

Thursday, July 7, 2022

"dienstag 5 July 2022. 0500 Turner classic movies. Hail hail rockand roll! Chuck berry and keith Richards. Jamboree (1957): fats Domino/ Jerry lee Lewis and Carl Perkins! (It's on YouTube! watch it!) . Lastly Go Johnny Go, June 1959 with Chuck berry and my facebook friend Jimmy Clanton whom opened to Sha na na SUNY Brockport NY march 1972 (Ma still has my setlist notes, budding rock journalist that I was)...(and also on YouTube) what a tri-fecta!"....

Friday, July 08, 2022

day of Wodin 6 July 2022. 0230 or so, George Noory Coast to Coast AM and 'our guest is Smokey Robinson!' "Tears of a Clown" was always one of my favourites'; a 1969 fave of mine along with Woodstock album, Let it Be and Yoko Ono b-sides with a Brockport NY high classmate on the Swamp Road, brockport. Smokey was very gracious dealing with fans!"

Saturday, July 09, 2022

"freitag 8 July 2022. A very spectacular mad painter practice for 22 July 2022 EARLY gig at Jungle six pm. Doug macDonald opens, then Stigmatics, then mad painter! Facebook page here. Perhaps I shall see you there!

Til then, diggin' on "A fifth of beethoven' on the Death to Disco show WNTN 1550 AM! (If I DO eat my words about "death to disco" from 1977 on this cd of music to Kill By Schmel herbie Hind bought from Gulcher records, I, at least, want HUMBLE PIE for dessert!"...