7/12/2021
Tuesday, July 6, 2021

every day is a Saturday 3 July 21. Got out of work and the flood was so bad I thought I woulda took the Ark and landed in Armenia! Not a bad thing, but since my musical career is as washed up as was the weather, I ended up at the Independent eating bangers and mash coz RINGO likes it (no wives name Linda for him!). Maybe it's spotify or whatever but 1971 was THE year! Jimmy Miller stereo separation on Stones "Brown Sugar" in the loo? Hearing Keef oi 'adnt 'eard before! "wont get fooled again"; we used to listen to that Who 8-track in the parking lot before school in the Dazed and KENfused '70s. The Dead's "friend of the Devil" which I HAVE jammed on with Hopelessly Obscure bassist Jim Condon, whom wanted to be "on the winning side". BUT punk DID happen so "Gimme Danger" off RAW POWER was delightful dinner music and AGAIN in the loo, the E to D of MC5's "lookin' at you" which they stole for "i'll show them who's mod" and I was a "Fool in the Rain" having to hear THE last note of Wayne Kramer's guitar solo....I was so drenched, the James gang wrote "arschlocks, the rain and I!""...

Wednesday, July 7, 2021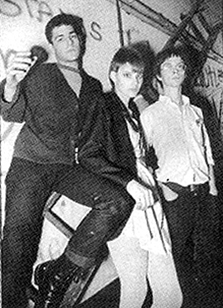 The Young Snakes

"Til Tuesday 6 July 21. I been playing this one dollar Somerville Grooves 45 a lot on my $65 turntable: "Lover's Island" b/w "you're gonna cry" 1961 by the Blue jays on Milestone (AND youtube!). https://mentalitch.com/ the-blue-jays has a history of this Hopelessly Obscure doo-wop band. Highlights (plagiarism is the BEST form of 'ritin'! How else did I do my (rolling) papers HIGH in school?!?!) . "Blue Jays from Venice, California, "LOver's Island" only charting single. 1961; 'last true doo-wop songs". "semblance of soul in Leon Peels' singing carried out in a gospel style". TRUE! Great singer I never heard of. Though it turns out I HAD! Fiddy years ago, probably at WT grant's, Brockport NY plaza where I bought The Stooges for $1.87 (13 cents tax!) December 1971, I was buying Art laboe's Oldies But Goodies on Original Sounds label. As sure as I'm distant cuzzins with Captain Beefheart, "I'm gonna Google-ate you" and volume eight of said oldies series (side A: 'dreamy"; B-side: "rock1") last song on side one of 'dreamy side" IS: "Lover's Island" by the Blue Jays 1961! (I was quite happy as a budding you RECORD COLLECTOR "pumpin' my heart" that DATES were listed!). BUT, "steel trap memory' now rusted! I don't remember playing that side! COZ bobby Darin's "Splish Splash' (1958!) leads off the rockin' side two. BGN interviews Young Snakes: (read that here): "what's your favourite drug?" Dave Bass: "Hopelessly obscure 45s!".....

Thursday, July 8 , 2021

day of Wodin 7 plus 7 is July 2021. Gee Julie "cook of the house" so my usual O'Doul's and chicken wings at bar with: Matt Burns of V!

Tues-dee next he's gonna jam with Captain easychords; glad fats set those Dominos to fall! Eva Davenport's open mike scheduled each day of Wodin for rest of year and she has a BIG draw at this FREE event! like her on facebook etc. etc. "neo-soul" and Beyoncé is one of her influences so nice,mellow Roberta Flack (OLD SCHOOL!) ballads; or maybe Minnie Ripperton, though this would be her folks music. "Full band tonight!" drums and electric piano. The Jungle "story" on my facebook I can replay all the performers I missed; it'd been A hard DAy's Night!". LAST but not least, Gee Julie gave me my Mad Painter dashiki and Miss Lyn took photo. I almost favour GizMoses!".....


Friday, July 09, 2021

day of Thor 8 july 21. Gee Julie "cook of the house" at The Jungle, Somerville, Mass. "Mega Mass Open Mic night at the Jungle"; attended last month, Jungle grande reopening. I was there early in the rain for O'Douls and food, chillin' lissenin' to hip-hop over the p.a. my Ugly Things interview being printed now. I also have a couple texts from Dino Records : Monday 5 july 21 543 pm. "Aram Heller heading down to Erik Lindgren's this weekend to final mix", follow-up to "Be More Flamboyant". day of Thor 107 pm. "Corey the Engineer's mix on "Princess of the Trailer Park" out DMZ's DMZ. Aram Heller wrapping up production on Saturday, which is a Mad painter practice. old music, new music, GUT musik! Moin to Flensburg Deutschland!".....

Saturday, July, 10 2021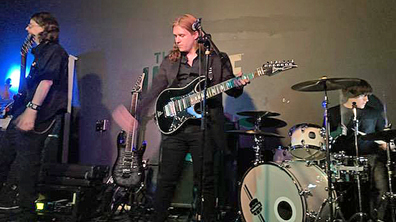 Max Boras

"Freitag 9 July 21. Gee Julie and I went to catch Max Boras, whom was fantastic! "Interviewing" him after his set, I noted the Rush influence "one of my favourite bands!". Effects pedal from hell and a lot of double-handed finger tapping on fretboard. So in-between all this prog-rockin' was a mosh pit! Slam dancin' to prog; we have photos by Gee Julie! (whose yia yia somehow married a Boras!). Geddy Lee was NOT on bass; two guitars and drums ala Hound Dog Taylor and the Prog Rockers! Second guitarist is Joseph Knecht III who did one composition, doubleing on some serious Joel Simches-style prog keyboards. "kinda sounds like King Crimson but it's not"; Gee, who said that? Knecht III was GUILTY AS CHARGED: Crimson influence on sleeve! What the Fripp?....Before that was a van Halen-esque "eruption" type instrumental (I know the words to all these guys songs!) (all instrumental...let me KEnsplain to you, that). Irony; Max's brother Ethan plays drums (kinda like them Van halen bros) AND Dad was a drummer! "we know Bobby Steele, whom was in Misfits 1978-1980". "In 2015, when I was in North Jersey, I was recruited to play drums for the Undead (Bobby Steele, ex-Danzig). Ethan sat in when I couldn't make it to shows". Video of Rock Dad Steve Boras playing with Undead in Salem.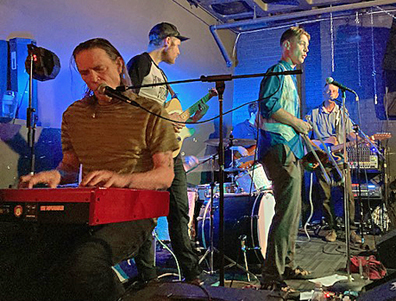 Rick Berlin

As for Rick Berlin and his Nickle and Dime band: trombone is like the Mike Cotton sound on Kinks first two RCA albums (copped by Chandler Travis for Philharmonic) plus traces of Roxy Music (Orchestra Luna did a tour, I believe: Wikipedia) and Sailor (a 1976 mad painter fave!). a rap by Rick about Hilly Crystal of CBGBs called "Bowery Bums" recited like Lou Reed meets Jim carol: "Street poetry in motion!" "ALL THIS AND MORE" over a I-IV E to A, "waiting for Maureen Tucker" progression. Two guitars and rhythm section could play Memphis soul as good as the drummer doing Paul Thompson Roxy Music muscular drumming and this demonstrated by Rick "Being More Flamboyant' on "Slut" which had a 70s funk wah wah; like Ken Kaiser's gym teacher said as Teaneck High after Kenny said Shaft was the man whom wouldn't cop out: "Kaiser, you all right"...a FANTASTIC set ended with "we were a band" singalong and when the guitarist did the ending chords of "Ziggy played guitar" I DO need to mention (and read it in Eddie Flowers Hozac book when ti comes out!) when Orchestra Luna was recording July '74 with the future Mr "Pina Coloda", Stenson Eddie Flowers and I did indeed see Jobriath. "I have seen the future of rock and roll and it's max Boras and Rick Berlin!' (me: Living in the Past!) BUT as the Byrds sang in "bells of rhymney" "is there hope for the future":? Evet!

Thursday (day of THOR!) ides of 15 July 21, Union tavern Somerville mass a 930-1015 set in-between Average Joel and 21 grams More (Hopeless obscurity abounds ) IS: MAD PAINTER! Maybe I see you'in's there!"...….