7/15/2019
Monday, July 8, 2019
friday 5 july 19. i must say cal cali had a damn good bill at Koto again so like The Fantastiks, let me "try to remember"....Kenne Highland Clan did 1999 lineup; me, Mike Quirk on guitars rhythm section Bruce Hamel (played with John Felice!)-bass and Matt Burns-drums. Did Gemini on a Full Moon cd (Dino records) and ended with MC5's "lookin at you". We had SO much fun we decided we're back and looking for gigs PLUS alter-ego for Halloween in MC5 cover band! Glider followed with another tight 1977 punk set, GREATLY improved since I joined on bass, I shall "humbly" tell you (it's also "hard to be humble when you know you're the best", USMC propaganda that I swallowed til I was "sick to my GUT of the "american Ruse"; when I had the 8-track in '73,"guts" was operative word; now, at 300 pounds, it's "still mean/not so lean/US marine"). Sara and the Scaliwags getting "most improved" award (from me, fuk everybody else). Sara Billingsley has a husky voice that, like John Fogerty, lent Creedance to Patti Smith's "walkin barefoot". Schmel Herbie Hind on guitar and Cal Cali drums have been playing together since 1985 Jetset, but MJ Quirk on bass is solid and MAKES NO MISTAKES. Thus Yardbirds "little games" and Kinks "til end of the day" were a pleasure. Sara also played bongos where i expected her to start tapping "For Your Love" BUT what knocked my socks off (like John D. Morton and Larry Lifeless; X-X and Kill Slug, respectively, I was wearing fucken CROCS! New fashion statement!!!! "dedicated follower of!") was an original called "Fisherman" about a guy taking Smokey Robinson and Miracle's advice on "too many fish in the sea!" Sara-words; Al Schmel-music! My quote: "Imagine Miss Brooklyn covering a slow ballad off Free's Highway album; Paul Rodgers never sounded that good in the Firm!". MORE ORIGINALS please! Closing song in sara set was stooges "loose" which i saw DMZ do saturday 26 march 77. Cal was Iggy, Mike Quirk held down a steady Dave Alexander bass but from stage left i saw Schmel Herbie Hind totally channel Ron Asheton on guitar but real surprise was Sara on drums! I'd seen the Stooges 31 dec 73 and drumming in O. Rex I tried for that style (to wit: "Feel My Love" april '74 on Gulcher) but Sara, being a Virgo, had every Scott Asheton beat exact! Thoroughly enjoyed by I (Who have nothing!)"
Lastly, with 20 minutes left, Cal Cali Band maybe did "postively fourth street","you're gonna miss me" and "psycho" but after three sets Alice Highland was reciting "Black juju" backwards! 'bodies need rest".......
Tuesday, July 9, 2019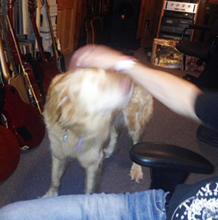 Ronson by Kenne

saturday 6 july 19 cal cali and i left Salem and got to Ducky Carlisle's studio to record GLiDER record. Six tracks in six hours! I used a 1973 fender precision bass for "a James Jamerson sound" (Ducky is a FONT of rock facts and tales, REALLY knows his shit!). Ducky has got a mess of grammys and Nora Jones even slept on studio couch!! Other star of day was dog Ronson, as in Mick, so i sang "I'm an alligator!" to him ("Moonage daydream"). I was bushed after session but Ducky was drumming with Nat Freeberg that night, Sally O' briens, so cal cali checked it out! where the Grand Funk these guys get their energy from".......

Wednesday, July 10, 2019

"Sunday 7 July 19, Ringo's birthday and A Hard Day's Night BUT GLiDER album basics finished kinda in a day ala first Black Sabbath record! "Everybody's Gonna Be Happy" coz we worked the KINKS out of the arrangements! (please gong me, the unknown KENNE!). A kinda-jam on Lou Reed's "I cant stand it" meaning Linda Garreau Highland in rocknroll heaven WILL approve of the record! (L. reed too!). Captain Easychord dropped me to Mike's Diner, Somerville, some kinda copa soccer final; Brasil 3-Peru 1; IF I knew this happenin' woulda gone to any one of said South American eatin' places. (passionate crowd and the ladies are all LINDA! Not name Linda but are LINDA!). Next GLiDER gig, at The Square Root roslindale with Thalia Zedek!"....

Thursday, July 11, 2019

day of WODIN 10 July 19. club linehan-a-go-go practice. First off, upcoming gigs; Friday 2 August 19, C-Note Hull then saturday 2 August 19, Geezer's garage cookout. Highlights last night were jammin' on ole '70s songs that we do like "chevy van" (Kevin Linehan and Lady Caroline really CAN harmonise) and now Association's "Never My Love" (I do a Lynyrd Gyzmo solo stolen from "Tuesday's Gone" off an album i used to get stoned to with "Jailbait Janet"'s brother, noting there were TWO members of the Blue Project as session men). Also Stones' "it's only rocknroll" started by Mj Quirk, bassist Joe Quinn and i followed in and guess what! I'd already wrote "that's cool" nine months prior to Stones release!(same week I met "winner by elimination"). Lastly, Linda Rondstadt's "How do i make you" when Linda Rondstadt Highland (in them Silk Purse Daisy Dukes? Shee-it, yes I WOULD have married her, age 14,1970) went Newwave. a 45 I owned when I lived in a South Carolina trailer park! A lot of good rockin' fun with more to come! John Keegan, we miss you! (schedule conflict)"........

Friday, July 12, 2019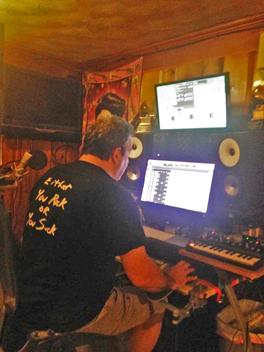 Ducky in the studio
"Friday 12 July 19. Thor's Day was a "Hard Day's Night" listening to Armenian radio online; Montevideo, Uruguay! and Dad DOES have a DNA match there! Flanders-Azores-Brazil-Uruguay; and you wonder why I haunt Union Square, Somerville Brazialian buffets! Jay Dobis, whom grew up next to Jon Richman writes: "I was asked to write an obituary for Nejat Toksoy by Ugly Things, my favourite rock magazine. that's UGLY-THINGS.COM and Nejat was in Mavi Isiklar. Jay has turnt me onto Turkish psych (lives now in Constaninople) plus Reptilians from Andromeda (Turkish punk! they "signed" the Stigmatics!) . In jay's article he mentions Andaolu Rock, "mix traditional Turkish folk music with rock and roll". sunday 4 august 19 when me, Schmel Herbie Hind (on oud!) and Gee Julie record songs referencing the Armenian Stonehenge and Greek mythology, this WILL be an influence! Better yet, Yardbirds-cum-Dick Dale-cum Les variations; my Middle east riffs gonna be smokin'! Til then, again, I play bass with GLiDER saturday 20 July, Square root, Roslindale with Talia Zedek and Sara's Scalawags"....