7/19/2021
Monday, July 12, 2021
"Saturday 10 July 21. I passed through Art Beat in davis Square, Somerville before mad painter practice....I Do miss the central square worlds fair from the '90s tho! Mad painter had a dress rehearsal for the day of Thor Union Tavern gig. The only tangent, but Every Picture DIDNT tell a story coz I didn't film it, was Alex Gitlin, head held back, playing Uriah Heep's "circle of hands" ala Ken Hensley; Ken HIGHLAND starts off painter's cover of "Stealin'" "sounding like Gary Thain on Thorazine! It made my dog die"- lester bangs. Grand Finale, GRAND ILLUSION: Schmel Herbie Hind blasting Kiss' Dressed to Kill on cd versus the 8-track flashback daze when all his vehicle played was Dressed to Kill and Tull's Aqualung, man….for another of my alta kaka rocka remisicenses, late '74, "Jailbait Janet"'s boyfriend (a distant Spencer cuzzin!) NEVER let Blue Oyster Cult's Secret treaties out of the car's 8-track as we drank a quart of Genesse beer (68 cents; that was 34 cents each! a nickle short maybe)...Did I move to Bloomington for this?"......
Tuesday, July 13, 2021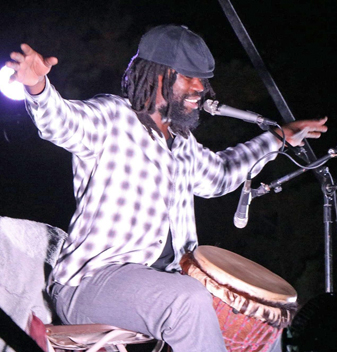 Toussaint the Liberator

"Just another manic Monday 12 July 21. SUPPER with Gee Julie at the Independent and DINNER music was "sha la la la la la la lee"-small faces; "im a man"-Chicago transit authority and "woman' by the Zombies. Eat and listen there! Onto Union Tavern for Toussiant the Liberator, whom returns Monday next (19 July 21). Sally O' brien's used to have a marley Monday thang but no mo'; Bull McCabe "dead boston club", as is/was Western Front. Ten dollar cover and I caught a soundcheck of Desmond Dekker "Israelites" ("summer of '69" WCMF RAH-chester New York!) and there were vendors with candles/food etc. A couple rappers also soundchecked. I hung for an hour-2100-2200 and there was a VINYL dj with two turntables. I got turnt onto Norma Fraser (youtube!) cover of cat Stevens "first cut is the deepest" (PP Arnold did the first cover but this one nice lil ska thang). Another Hopeless Obscurity ("My favourite drug and I need to score!") was Hi-Tension 1984 hit "Honey you can make me happy' Brit-funk! (that's why I didn't hear it as a crossover in the colonies). I may never make it Trenchtown or Brixton to hear such fabulous reggae music (though smoking a spliff with Toots Maytal I thought the Who sounded like Grand Funk's Live Album!) but this was GREAT fun; alternative was Jerry Bergonzi (a john Keegan free-jazz sax fave!) at Lilypad Inman. Hey! Live music of ALL genres is back!".....

Wednesday, July 7, 2021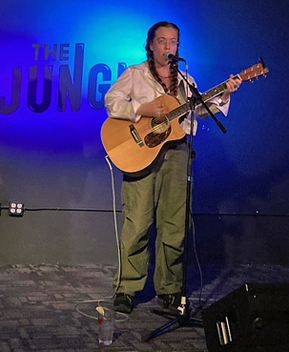 Laura Hurley

"Til Tuesday 13 July 21. Gee Julie "Cook of the House" and I caught a Carissa Johnson (whom was present) booked show of unplugged. Opener was Laura Hurley, solo folkie with a song about being a loner. I can relate! She sang high kinda like Joanie Phonie or Joni Mitchell (Fiddy Years since BLUE debuted WCMF, RAH-chester!) and her low notes kinda Leonard Cohen-esque poetry. (For My Ears Only!). Also a bit of Davy graham finger pickin': to MY ears, sixties folie influences and as lights man for the Byrds, Morgan Huke (RIP) WMFO woulda said: "some folk and good music"!). Gee Julie note (photo by me!): "voice resembles Gail Naim". (to be researched). Lastly she closed with a splendid Peter Frampton "baby I love your way'....you were expecting Humble Pie or the Herd? "Rappin'" ("I wish it were 1975 again!") with her after show, she gave me a FREE cd; produced and percussion by Tony mann! Why is mann a mensch? played in flying 69 in new Hampshire hanging with Mrs Muck's brother, wears GG Allin's teeth around his neck and drummed in/with the She-Wolves/ jayne County/ Gass Wild. also guided Gizmos through NJ/NY when we played WFMU and met the Muffs then played Hipster Brooklyn (NOT as cool as Kim Shattuck (RIP)). I was feelin' poorly ("bodies need rest") but caught a bit of Birchwood Blaze (like them on Facebook; lady sings Southern:I WOULD have stayed!). venom and mayhem were going on last,sdly, but there is a photo of me seeing double with them! And these fine ladies from a Michigan town me Irish grandfather buried in DID promise to do some gigs with me! Last night: Jungle as a punk passim!"....

Thursday, July 8 , 2021

"day of Wodin 14 July 21. Laurent Bigot, 'mon ami avec francais" whom interviewed me in Ugly Things writes that he found the Kenne album mit "Leiben du ist mein fiasco" in Stuttgart Deutschand! I was on family tree DNA and I have, on dad's side, DNA matches in three Rhineland states and "DNA don't lie,bruter!". Plus mein schweister station in Stuttgart. Reptilians from Andromeda von Istlanbul mit der Gizmos in berlin? Ein hauscommen! (I COULD hit my german-english app for "home coming' but I'm too busy looking up 'eat shit' in Russian and Armenian!) (Armenia: "keght utel", Russian: "yest' der'mo" -ed) . Also, von Deutschland, after 1900 day of wodin: Deutschlandfunk Kultur, some german radio station. I understood some of it but in English it was "der Clash", "der Sex pistols". THOROUGHLY enjoyed Alternative TV doing "Action Time Vision"! Alternative TV formed March 1977; Ken Kaiser sings on "make her know" and joins Afrika korps 12 feb 77. Alterantive TV had three 1977 45s, all of which outsold "I love you laurie". "Action Time Vision" released June 1978, maybe concurrent with Martha Hull singing "I wanna burnout" on the Korps Hello World (Gulcher cd). Either way haven't heard alterantive TV since I don't know when, it was rather nice, yessssss…….".....


Friday, July 09, 2021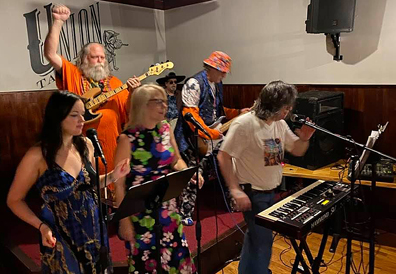 Mad Painter

"day of Thor ides of July 21.Supper was a Cubano sang-wich at the Independent and in the loo, oi 'eard the kinks "Animal farm", bluidy brilliant it was. Opening at Union tavern, Somerville Mass. was Average Joel. He is a one-man guitar and foot-drum act; Holy Gizmo Nixon! I was already "sold" at "Doing My Best to do my worst", then there was a rap about being robbed of a pop-tart in NYC! ("Debbie Gibson IS pregnant with Ken Highland's Love Child!"). There were some Who-ish power chords on his hollow body F-hole guitar (I play an A-hole guitar!). A suicide prevention song and lastly a ghost story song so fugin' bizarre it channels Hasil Adkins meets The Footstomper (guy stomps his foot and sang) at Kirkland Café open mike singing about "Henry" (late '90s, I were drunk but "Unforgettable/in every way!"). is it nepotism or narcisism to review micelf in Mad Painter? fuck that shit,pabst blue ribbon! The five dollar door took in 28 paying customers and we had such luminaries as members of Tom Depraved, V (opened for Stiv Bators!), Velveteen, Crooked mere (hey! "I'm straight outta Brockport,yo!) and father of son of Max Boris (don't forget that "I played with a Danzig alum ken-ection!). Even a John Lincoln Wright alum at pub closing tyme! But if one ever read James matthew Burns' Bat Droppings in that V fanzine ("soundman told Kenne to turn down. Kenne (stubborn since 2 april 56) said "no". way to go kenne!" Me and matt Burns; friends til "Death may be our santa claus"!). facebook this morn Matt writes: "An interesting mix of Mott the Hoople and Uriah Heep! Please check them out!". With Gee Julie and Natalia on vocals, I MAY add Orchestra Luna! Plus we were staggered; Al Hendry-drums, Schmel Herbie Hind-guitar, me bass on the riser; on floor Alex Gitlin-keyboards and vocals and Gee Julie and natalia on vocals and synchronise moves. 28 people hollered for an encore! dang that $20 was worth it for pay....Headliners 21 Grams More said they were a cross between Black Crowes and Stones; singer/guitar/bass/drums/keyboard. A bluesy "rainy day woman" by Zimmerman,a slow r and b ballad sung through a '50s vintage mike;some Jim McCarty Cactus-era wah-wah; some harp that reminded me of Hunble Pie's "I walk on gilded splinters" (excellent first A&M Humble album blues-rock or maybe Rock On), Zimmerman's "I shall be released" and then some Neville Brothers funk as Ken and Gee Julie did the bump (me dancin' BETTER than James Brown!) and Captain Easychord dancin' with some "fine fine lady/who had a plan"; a copy of the osmonds The Plan album? BUT hangin' til 0100, what was da Mayry takank gnakner was Schmel herbie Hind was watching some "Tiny dancer" at the Glass Slipper in the Zone dancing to a happy the Clown tape....LSD for Breakfast!"....

Saturday, July, 10 2021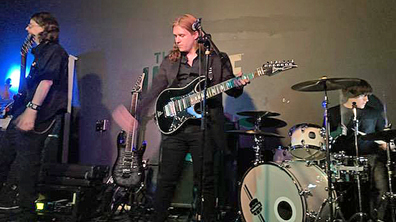 Max Boras

"every day is a Saturday 17 July 21. Freitag nicht Ken and Gee Julie watched that Queen movie Bohemian Rhapsody on FX retro or somthin'; We TV 0600 was a full hour of the Beverly Hillbillies (in colour 1966!). One of them hamburg "hop" waitresses says to Kenthro: 'do you want your usual six hamburgers?" "Ozark garbage Disposal!". Ok let's list gigs and recording....the second Asa Brebner tribute put out by Lt larry newman USMC (30 years sober and of EYE and EYE don't drive him to drink...); production is da moddafuckin ballz in whatever language you wanna say it with! (don't get me started)...Kenne Highland's Air Force does "I'm in Love" and you WILL Love it...to Death! Aram heller of Stanton park just as excited about that 2004 followup to be more Flamboyant; 17 years apart both recordings have same 1976 Gizmos energy, in my opinion so try Some Buy Some! (flip side; "Tandoori Chicken"! As I ALWAYS order at Punjabi Dhaba!). Mad painter at jungle Saturday 31 July 21 Melt on before, kaleideoscope on after. 21 Aug 21, mad painter at Midway versus Afrika Korps at cantone's in '77. That Union tavern gig I channeled as much jay Gruberger into my bass playing as possible while wearing a $40 dashiki (I probably still have my Minnie pearl price tag on "Mother of Pearl" (Roxy Music and Brian Ferry is So fucken suave...SO fucken suave...frank Rowe's 70th at Midway sunday 12 sept 21 3-7 pm so don't act 95! Git yer ass out there! Kenne Highland's Air Force plays Kenne's greatest hits, Unatural Axe and Classic Ruins! Cantone's, as in Mario and this aint no joke! ok, back to my youtube of Derek and the Dominoes the Layla sessions; 20th anniversary edition, full, 3 and 1/2 hour long of God and SkyDog… someday in the loo will be wrote Highland Is God, but so far, favouring the Scots-English Charlton Heston in Ten Commandments (which matches 87 per cent of dad's DNA!), I shall settle for GizMoses and I SHANT say I'm more popular than Jesus...der Tuefel? jah, das ist der Hiland"...