7/13/2015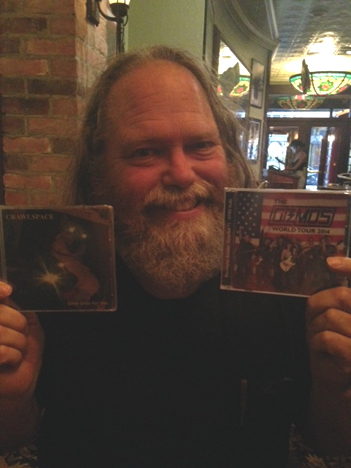 Kenne with CD scores
from Caveat Emptor
Wednesday July 15, 2015
Mutant Fest, Bloomington, Indiana Saturday 11 june 15! Marvin Goldstein, manager, had got a Motel 6 room RIGHT next to ZOSO, Zeppelin cover band playing the Bluebird (usedta see blooze band there in '75;kind of a Jonathon Swift place, Bloomington being a Midwestern Harvard square). first caught Cincinnati, Ohio THE GIRLS and caught up with that crew, fans/friends of JV McMoto! next up the panics, on gulcher, friends of Yuki LaVolta when he was in indy's the repellents. I REALLY liked their set (Ian Brewer did 3 dates with Gizmos last year; good guy, good guitarist!) I remember who/kinks covers, then a shout out to Jamie Jetson and from Red Snerts,
"I bet not"! also "pay' by the daryl nightshade (clan Fraser!) Gizmos! what "Really Got Me" was John Barge in his mach bell meets noddy holder voice doing pistols "no feelings"! also, inspired by TR niemeic "drugs are for thugs"! this was an upstairs/downstairs club and usually was kinda Jacques-ish (dance party at 1 or 2 AM! irregular dudes!) brothers gross were a Who-ish two piece and I sang "TV eye" and "no fun" with 'em like it was the jumper cables. Gizmos set was good, rockin', lotsa folks said they saw us either last year in Indiana OR Gonerfest;"gimme shelter' moment when two kids in the pit almost started dukin' it out! I did my Keith Richard "can we ploise stop figh-tin'?" rabid fan-kid with Funhouse t-shirt! Marvin Goldstein says Bloomington will be an annual thing, so like Brigadoon, we magically appear, then disappear and no kilts will fall off!"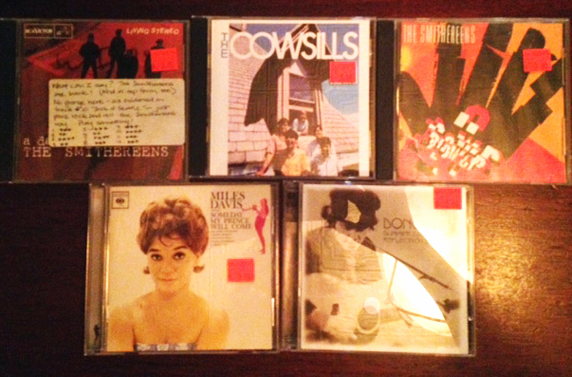 CD's from Caveat Emptor
Gizmos record on the Glorious Twelfth at magnetic south, Bloomington, Indiana...it was hotter'n eastern Missippi and I, at 280 pounds, was King Tubby in that Lee "Dub" Perry studio but we nailed everything on second take! Deezen are SO tight, they are a great foundation for the "Fab/orginal/Four" Gizmos. noon to 11 pm, 5 cuts, a quick review; Ted wrote 'around" so imagine Lou Reed singing "cant stand this love goodbye" off Pebbles; "open" had ted's BAUHAUS vocals over some John Cippolina with the knowbody Else leads (Sam Murphy and his SG played by Cheetah Chrome; MUST mention!); rich had "21st century Gizmos fans" where we did our best to sound like first Dolls album with double MC5 High Time leads; eddie and I wrote two: "Disaster in Dayton" which is "watch that man" meets flamin' groovies 'second cousin" with a "suffragette city" ending...sorry Ed, Rich and I LOVE Mick Ronson, and our Head's in '73! but the masterpiece COULD be ah'm gonna beat yew like a red-headed stepchild, which Craig Bell (Rocket from the Tombs Dave Alexander bass!) calls "this song is SO Detroit"; yes, my father born there AND I stole a riff from Fireking's "make it last" so songwriting to Tony on a Beach! and let's NOT forget Kelsey Simpson's drumming; she followed me on EVERY classic rock riff I jammed on; imagine doin' Mitch Mitchell on "up from the skies" whilst chewing bagels AND drumming in flip-flops! could fucken Mo Tucker do that, eh?!?!? this record gonna be damn good as the BGN WILL know"..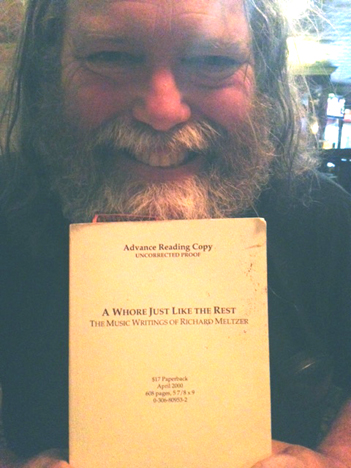 Kenne with Meltzerbook
Shopping in Bloomington! i stayed at Magnetic Seth's house; be-bop bets was on tour with tsunamis but CAN brag: "Ken Highland slept here!" got lost walking to bus station (it's been 40 years!) but got a pen at German-American bank, a local bank mit der geldt! das ist gut! stopped by Caveat Emptor; 40 years ago Janos would let me leave promo lps on consignment and I ATE off $1.40! (that and Bloomington Herald Telephone burger king coupons!) he also usedta have lotsa Zap comics; now mostly a bookstore, classical music, like a harvard square store of old. picked up, white label promo R. Meltzer's A 'Ho just like the rest book $8; Meltzer wrote Gizmos liner notes and meltzer begat bangs who begat metal mike saunders who begat ME! the ! used a lot by meltzer so I'm bringin' it back after i tell you an interesting fact! plus it was always in the word balloon of marvel Comix! "rock archeology" (name where that riff was stolen) was stolen by ME, 9th grade, age 15 ('71) in R.'s review of cactus one way or another, rolling stone. made a 29 hour bus ride bearable! also a shoutout for landlocked records when i made an in-store to a grande total of two clerks! sold four live Gizmos cds $20 but i put it back in the community! new live lp displayed prominent (this IS bloomington's In Your Ear!), lotsa Gizmos in local bin....in cutout bins...JOHN COUGAR! "and i cant GIVE them away!" my score: two smithereens, a donovan as Dylan on Hickory stuff, first Cowsills and Miles Davis someday my prince will come; 5 for $10! hoots mon, I make $20 selling Gizmos cds and spent $10 and $8 in the "square"! "easy come, easy go"! you can walk from the greyhound to caveat emptor/landlocked and i'd advise you to do the same if you value your circulation in your big ole Scottish tree trunk laigs!......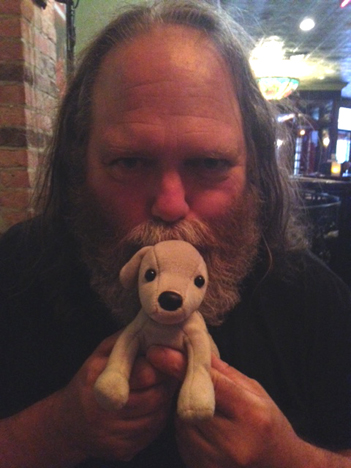 Kenne with Tazbert II
besides reading Meltzer and looking at moo cows, I had a "layover in dayton....and i was waitin' and a-waitin' and a-waitin'"; Columbus I picked up a greyhound beanie dog, Gee Julie called the Cleveland one Tazbert, so this is Tazbert II; collect them all! Upon arrival; in Boston Miss Lyn met me at gate and we went to an english pub where I enjoyed a delicious Stuff Yorkshire Pudding and ran into Corrin Ashley! on the Glorious Twelfth, he had an acoustic combo that did "good day sunshine" (Corrin's Beatle fanaticism COULD get him divorced if he were me!)...who opened for the Beach Boys! Corrin says: "My entire belief system is turned upside down: Mike Love is a really nice guy!" and how DOES this tie into the Gizmos simultaneously recording in bloomingon? why drummer Kelsey Simpson's granny "dated" a Beach Boy! (hint; he IS a lineman for the county!) "dated"...like i tole my baby sister in '78 that Miss Lyn "went out" with Mister "Mod Soxx" of the Cars...next BGN exclusive! "I married a Gizmo!" "would you let you daughter marry a Gizmo?" "I dated a Gizmo" ad naseum! "kissable colour portraits RISIN' in the storm"..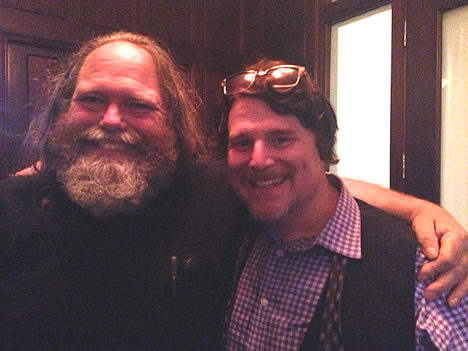 Kenne with Corrin Ashley
Thursday July 16, 2015
since i was "Pit-stopped in Pittsburgh" (new Gizmos song!), I decided to research about Dad's father living there. His in-laws were italian immigrants that owned a fruit company; he was a freight clerk for PBRR (and DO ask Craig Willis Bell about trains! he's 6th generation working on the railroad!) i located the fruit company on Wylie avenue in pittsburgh (that's north of the Warholas) AND found an interesting book online of "pittsburgh: the dark years"; prohibition, Pittsburgh's own Al Capone (gunned down in streets!);Wylie ave. (my great-grandaddy from WV lived at 93 wylie avenue in 1894) was a well-known jazz hotspot, kinda like our South End (25 different ethnic groups there too!) BUT this area seemed to be kinda like East Boston 100 years ago, all italian; the KKK burnt some crosses in 1923 (my scots-irish protestant grandfather married daughter of italian catholic immigrants in '24 and is buried in Mt. Calvary; reckon he converted!) AND all of a sudden La Gizmo Nostra had shot two Klansmen! aint seen this on the History channel yet; Ken Highland needs to be Ken Burns! (or else i'd drum in the Black Souls!)"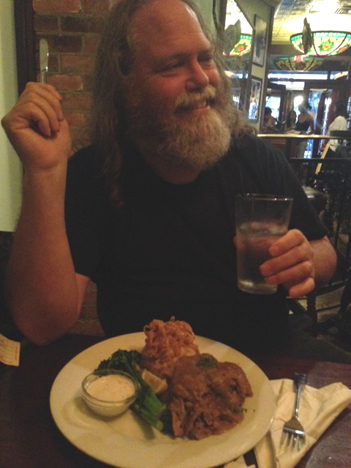 Kenne with Stuffed Yorkshire Pudding
Pittsburgh: the Dark Years can be found on-line and is shared on my wall, all about prohibition, KKK, la Gizmo nostra all when my grandaddy mcbee was there in 1920s!"...
"since i've seen SOME of this on facebook, I may as well start (Fleetwood Mac) RUMOURS: Mad Max of Sonic Daze will be touring as a CANNIBAL in fall; Jan/Feb 2016 for Kenne solo tour of Italia BUT auguste 2016, Mad Max working with Gizmo Productions Ltd.= Gizmos in Italia/Deutschland AUGUST 2016...i'll only be 60 then! Moor later and i dont mean othello!"....

Friday July 17, 2015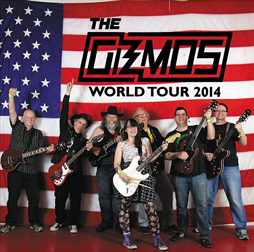 whilst reading Eric Clapton bio lissened to new live Gizmos cd on Gulcher; I COULD be like R. Meltzer reviewing cactus one way or another and list EVERY stolen lick but i shall maybe lay that down in short bursts if it comes to me....SO, MOST important of ALL, "that's cool" LIVE IN MEMPHIS at Gonerfest, I do my Koda to Cub and since Miss Lyn WAS there for supper at Victoria Station 'bout '81; re: THE GIZMOS first e.p. "that was one of the best damn rocknroll records ever made"; "you're killin' me with tribute", Cub but what about "rocket 88' on Sun? either way, AFTER Cub died, tell George 'there are no coincidences" Noory, that the Gizmos cd (on jukebox in Columbus, Ohio!) got reissued and Gulcher became a label then. SO, how more APPROPRIATE to give Cub a shoutout in MEMPHIS since he once gave me a Sun records t-shirt AND when i visited Sun on Sator's dime ($1000 for "kiss of the sonics"!), the tour guide was a Koda clone! as they said in marvel comics: 'Nuff said! (record AND comics collectors; Miss Lyn is their REAL wife!")....
for the TRUTH about Gizmos world tour, check out rich's rock-n-roll-rants and raves; Rich Coffee's version of what happened before you read my hallucinatory versions of the truth; My Doors of Perception are off their hinges!!!!!"..
on youtube: "disaster in dayton" by gizmos, recorded on the Glorious Twelfth! also almost all 2014 tour footage; beats only having those first three e.p.s there; check it out and more to come in 2016!"....
Saturday July 18, 2015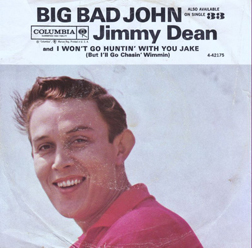 hard day's night, workin' like dawg after "Gizmos world tour" but here's some radio highlights: WRCA midnight comedy had a novelty toon to the toon of jimmy dean's "big bad john" (my folks had it with PICTURE SLEEVE!) about "Oi-ving, the 142nd slowest gun in the west";VERY Jay Gruberger/borscht belt comedy! danny stiles, same station, though dead, DID play match game theme which I THINK is bert kaempert's 'Afrikaans beat" (?) George Noory's coast to coast call in (dig THIS at 0445): "I've been feeling suicidal coz I was from another planet that had no pollution, then my parents walked me to a giant bubble then bid me gudbuy (ok, wacko, that's the premise of Superman, sez I!) and then I was with two parents that fought all the tyme"...and the rest of a fucken sob story, i'm depressed at the world coz I cant get a gurl (in 10 years!); so ole George goes: "hey! don't give up; and try our paranormal dating site"! hmmm...."hey, baby; you're out of this world!"(?) 0500, country music oldies WRCA, feature artist is....GLEN CAMPBELL!!!!! "he also was in the champs AND the beach boys"...hmm...musta had a lot of "dates"...Mo bandy's "where's the dress" is a country and Gizmo version of "I'm just a regular dude"! and lastly ole singin' cowboy songs from the '30s; Ma hated them and her sister, my "ant" loved 'em! (sibling rivalry!) 6 AM is that WHRB blues show, always good stuff too! NO radio was lissened to in Bloomington, but like Naomi Cohen, size 50 muumuu sang "you gotta make your own kind of music"..
Sunday July 19, 2015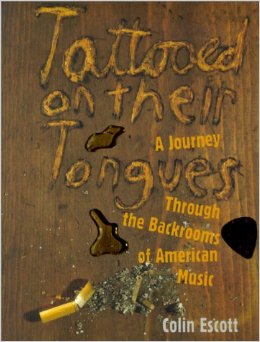 Roy Sludge at sally o'brien's was PACKED at 6 pm, so me, Miss Lyn and Cal Cali of Jetset dined at an outdoor table; kind of a Gonerfest/Mardi Gras feel, drunken "older" Plough and Beards refugees and even Rastamon vibrations! ("excuse me while i light my spliff....spliff!" from what i heard roy sludge/jim scoppa on guitar and johnny sciascia on bass were blasting though trucker classics like "tombstone every mile" REAL damn good; Sludge joke: "scoppa and sciascia..I surround micelf with italians... for protection!" (wait'll Gizmos in italy august 2016!) cal cali and nancy foster of new age magazine went to see the amy weinhaus movie; i discused the '70s/'80s New Haven rock scene with the Black Souls and Miss Lyn gave me: Tatooed on their Tongues: "Hopelessly Obscure" roots artists (country/blues, i hate that fucken label "roots" and "americana";"Amerika First"!)...Roy Head was a 1/2-breed indian and his drinkin' exploits could rival George Jones! (Cherokee bloodline; no i am NOT stereotyping, though i DID like partying with Welsh band the Stereotypes on saint david's day at TT the bears!). ersel hickey i knew from my copy of beach boys 20/20 "bluebirds over the mountain"; i lived in the projects near SUNY Brockport Bob Richert's senior year; 1970 til 5 april 74 when we actually met! So ole ersel born three years after Ma in BRIGHTON, NY; it's a Rochester suburb kinda where the wayne kramer of the voodoo dolls kinda lives. "there are no coincidences" sez george noory, so let's see, ken kaiser, how do i get 39 out of THIS one?: easy! I first heard the beach boys 20/20 album with "bluebirds over the mountain" IN Monroe county NY where ersel hickey was borned!".....
without the weed for the Cleveland owsley, i have THREE more '70s flashbacks! summer '74, future Gizmo manager Bob Richert (SUNY Brockport '70) worked at the bloomington herald telephone (see Herald-Times wikipedia entry for mergers through the years; like one reads the "Record-American" in boston). He scarfed a buncha burger king coupons from the sunday insert; THIS kept 18 year old ken highland and 16 year old eddie flowers FED whilst visiting bloomington and thinking of doing Gulcher. also, since Ken and Ed first tyme away from their mommies, washed a red t-shirt with the tightty whities and had PINK UNDERWEAR! (but "I'm just a regular dude"!) ma never lets me live that'un down and she always asks about eddie. on youtube: Black sheep live in buffalo! Lou GRAMMatico and the boys (my friend on facebook!) recorded september '74, as they played brockport high december '73. "shapes of things" done TRUTH style and for you Free-aks (that's freaks of band called Free, andy fraser, RIP, facebook friend): "wishin' well" and "mr. big"! this is CARL (biancucci) limey metal blues rock! drummer Ron Rocco gave lessons to a kid i was in vocational school along with JOHN J. PUSATERI; he knew New Math, which lead him to boston and roomates with thalia zedek! (who now knows too many '73 kenne stories!) New Math, 1979 power-pop; gotta say I DO dig it, imagining Hello World with better production. black sheep and New Math, well-known in rochester, in boston, maybe only amongst...RECORD COLLECTORS!!!! (they want Miss Lyn to be their "real wife")".....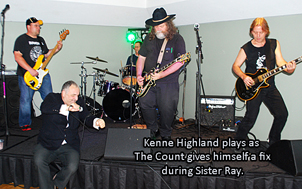 BGN exclusive: 5 september 15 the Count Viglione has club bohemia all night to do velvet underground covers! if you saw "sister ray" at 2013 rat beach party....well,say no more! some rock history i been date-geekin' on; NY Dolls sight with EVERY NY Dolls gig ever listed! 21 april 74,bottom line with suzi quatro;ken and sol gruberger, two years before O. Rex maxi-45! april '75 malcolm mclaren manages Dolls fla. tour, then when i move to bloomington, he moves to london, cook-jones fire wally nightingale and Pistols born! (though music to kill by DID come out before never mind by couple-three months; first gizmos mighta been a few months after first ramones). Kim Fowley has jackie fox (my facebook freind) join runaways december '75;5 dec 75 bob richert says "you and ted should form a band called the Gizmos". Jackie's unfortuante NY's Eve, I was "refrigerator rappin'" in Highland, Indiana. i think first runaways release date is 1 june 76, same month Gizmos mention in Creem. runaways japanese tour that jackie quit was june (check wikipedia), afrika korps live at cantones 21 aug 77; glen matlock quit pistols feb. 77, march '77, as i finished "jailbait janet", Sid in studio for bollocks...do i have any punk rock credentials left?".