7/08/2019
Monday, July 15, 2019

Friday 12 July 19. Ralph's Diner, Worcester mass. The Buggies (from Fall River!) open up, power-pop in suits somewhere between the jam and Weezer BUT classic rock roots with a cover of "Purple haze" and some very John Bonham drumming! Glider, as usual, their usual, stopping tight on a Ramones dime set; that Ducky Carlisle recording session where he was John Cale to our Stooges really tightened up the band. Bartender was playing classic soul and the Seeds among other favourites; a joy to play bass to during soundcheck! Otter River had a lot of late '60s San Francisco influences with traces of "quirky" Modest Mouse vocals; lead guitarist looked like son of some stoner I knew in high school; lotsa thumb action on chords on kind of a Strat; very impressed. The non-Boston bands and their entourage all liked Glider, we were tight, you are an awesome bass player....and they're right! Thee Fightin' Fish, superb as always; opening song again had that Sonic's Rendezvous "City slang" guitar sound or is that just my generic Motor City rocknroll cop out? Andy Excuse in fine voice, effects on guitar, Bob Roos with piercing leads; ok I'm a GUITAR PLAYER, I watch the guitars. A fun night all around and I havenít played there since 2016; first time 1988 Jumper Cables/Unattached/Nervous Eaters and Steve Cataldo DID tell me "good set"....maybe he liked "I Get Nervous".........

Tuesday, July 16, 2019

"saturday 13 July 19. Rib-a-geddon XXI. I met a 18 month old baby whose first Rib-a-geddon it was so it was out-of-work Santas holding Real Kid on lap, while listening to Uriah Heep cover Small Faces "Tin Soldier" sounding like Mad painter! Club-Linehan-a-go-go opened and if I quote Schmel herbie Hind, it's Wayland groupie News! "you could make money as a cover band";true! and ALWAYS book Kill Slug for your divorce! Ok, a New Colony Sextet, rhythm section of Kevin Linehan and Joe Quinn,drums,bass and Southie and MJ Quirk, guitar; Southie IS their Liverpool! (mine has a canal....) Lady Caroline and Kev Linehan do some superb harmonies, like on Association's "Never my Love"; I tired doing Kynyrd Skynyrd's "Til Tuesday's Gone" on a Schmel herbie Hind guitar. John Keegan was a-wailin' sax. "Chevy Van" i also added Southern rock tinges to, also sung by Kevin Linehan as was Monkees "Circle Sky" (I add yardbirds 'what do you want" licks to that). Grande Finale: Schmel on guitar as i fronted THIS clann, leadin' the charge for MC5's "black to comm", a montage of "out in the street"/"my generation"/"whatcha gonna do about it"/"you need lovin'"; "I'll show them who's Mod!". Schmel was on 'another planet/another gurl" (Honey Pie's ma!) so HE thought I looked like Jim Morrison, tho with this Dead-lovin' crowd, i got Jerry, but it WASNT Altamont; "Good Vibrations",plenty of BBQ and Gee Julie handed out MOXIE! (her culinary tastes are SO Hopelessly Obscure)....We all left during Ben Gardner's Boat (dudes....."there i was....on the road again"....bringing Don Hensley's "Dirty laundry" to a BBQ!); Irish toons, John Denver's "back home again" (i was more into Slade's "take me back 'ome" then but Rob Lynch AND the Club Linehan-ago-go rhythm section HAS found a home at tavern at end of world)....Schmel Herbie Hind again: "Rob's got a good voice";YES! AND the Kevin Linehan harmonies.....bluidy 'ell, 'e might be Man of the Match if it were bluidy football!). Being a quarter Canadian, a Gordon Lightfoot twofer of "carefree highway" AND "wreck of Edmund Fitzgerald" was superb PLUS, in the Schmel-mobile (now to drink and drive golf carts at Exeter RI Country Club, only a mile east of Mercy Brown the vampire's grave! "exit to exeter"); heard MY DAD IN DAD on CD in car; nice Middle eastern licks that I may copy for 4 August 19 for session to record about the Armenian Stonehenge!"..

Wedesday, July 17, 2019

sunday 14 july 19. brattle thee-ate-er pass, $10. film from Chile. Too late to Die Young. Summer 1990, Pinochet dictatorship over so with new-found freedom artists going back to the land ala '60s only they lose their runaway dog! very unhappy ten year old girl. 16 year old falls in love with a motorcycle riding older dude. The kids all run around unsupervised, smokin', gittin' high, gittin' in trouble....Chilean hippies! New Year's Eve '90; I played Fort Apache with Joe (RIP) Harvard and Matt Burns and told my cuzzin Jody Moore I'd known her in colonial tymes! (same mayflower ancestor,NO conquistadors that i know of.). Excellent music, where everyone plays a song; traditional Chilean, synth-pop! (you gotta see this teen band!) and our bad-boy lovin' heroine singing in "Broken english" the bangles "eternal flame" on accordion! (not since i saw "that's cool" on accordion....i want this lp soundtrack!). Unsupervised kids with fireworks (parents SHITFACED!) set off fire in wooded commune (foothill of Andes) all is lost, lil gurl gets a substitute lookalike dog whom she finally lets loose to run into the smoke....and I felt like I'd smoked something! DO need to see again BUT Chile has psychedelic bands before 11 sept 73 and Pinochet! then they split, fear of death and "death squads of the mind"...I AM so glad I'm "livin' in the USA"!".....

Thursday, July 18, 2019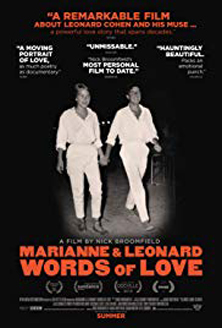 Day of WODIN! 17 July 19. working late but able to catch 730 pm Marianne and Leonard: Words of Love with movie passes from work ($8 each not A Fistful of Dollars!). document-Terry, 1960 Greek island of Hydra is BEAUTIFUL! I think Dad's Med cruise was previous year, so since kindergarten fascinated with Mediterranean culture and wimmen! Leonard Cohen (Cohan priestly DNA!) meets a Viking (Norway) whom is "So Long Marianne" which Cal Cali band covers. it IS the '60s coming out of the Kerouac/beat era but somehow that era's sex/drugs/rocknroll had more class. Never knew Judy Collins covered "Suzanne" which I first heard summer 1968 WCMF Rochester NY. Cohen was a womanizer, who not only looked like he combed his hair before taking out the garbage but DID have a majestic nose! You also see him in action intellectually seducing his "prey"....a real Hog Man! To give away the ending (too bad!) the long suffering Marianne is dying up in Norway, as was Cohen, but he writes her such a tender farewell, any Gizmo would "Cry Real tears". Despite his many wimmen, she WAS his "Best Bette". They died months apart. "Still I'm Sad""

Friday, July 19, 2019

"day of Thor! 18 July 19. won tickets for Midsommer off'n Pontoon palace, WMBR,930 pm Coolidge Corner Thee-ate-er. as i was reading Girl That Played With Fire (Swedish punk gurl kickass), folks acrost the street were around the block for to have Geddy Lee of Rush autograph his bass book; not that many folk for Al Kooper, just-a buncha ole hippies (not me!) with Blues Projects album. ok Midsommer is 2 and half hours long, I left 1205, then got awoken for snoring through first hour. College kids go with Swede to his ancestral village to celebrate Midsommer. typical horror film: one by one they get bumped off! STILL, ridin' the Dudley bus and researchin',they're all TRIPPIN' and this is the trippiest film since I saw Zardoz at SUNY Brockport early '75. This Thrill Kill Cult doesnt put old folks in homes; the 'selected" get to jump off a cliff into valhalla! (I found the violence kinda camp and Brookline hipsters, snickered in their fucken man buns and nerd glasses)....The bodies (shades of Soylyent Green!) become fertilizer! One kid gets dozed for a fertility cult and seeing full-frontal nekkid Swedes of ALL ages killed my Curiosity! (yellow). His college girlfriend becomes queen of the maypole but (fuck it I WILL spoil the ending coz by midnight I thought I was havin' flashbacks!), she has to choose whom is sacrificed (hello? Wicker Man?) so boyfriend gets paralyzing drug and is dressed in a hollowed-out bear carcass! (di-rector DID research real pagan/Viking rituals, so yes 2 per cent of my DNA was doing this shit in 1019 AD!). Once the nine have been chosen, they light a funeral pyre and THEN may Queen/former American (First) college co-ed SMILES a "I took the koolaid" smile". CUT! music over credits "the sun aint gonna shine anymore"! One DOES leave thee-ate-er goin' "what the FUUCCKCCKKKKKK""...