7/24/2017
Monday, July 17, 2017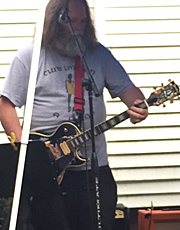 Kenne at
Rib-a-ggedon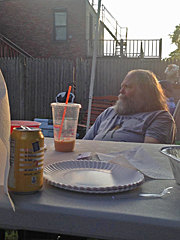 Kenne at
Rib-a-ggedon

"saturday ides of june 17 was Rib-a-gedd-on in southie; these be MJ Quirk's homeboys yo! (club linehan-ago-go covers "straight outta southie"? IWA; irish with an attitude?). awesome ribs and let me review the music quick: Bob was solo acoustic, did "hello" by pink floyd and ended with a sing-song on five man electrical band "signs". club linehan-ago-go rockin', I used MJ Quirk's marshall channeling "all three yardbirds guitarists at once" (JJ Rassler ,Rat, mid-80s; I THINK it was a Hopelessly Obscure gig, so fucken wasted....)....a lot of chuck berry and stones, so you know what kind of solos those were: better than ace frehely! during John Stewart's "Gold" though i did quote "i was made for loving you" (Kiss) and "pictures from home" (deep purple). an encore in the rain of MC5's "black to comm" but then power went OUT as i started quoting stooges "1970"; Gee Julie kept motioning me to get UNDER the tent so's I didnt do a Les Harvey Stone the Crows! Ben Gardner's Boat is a JAWS reference with folks hollerin' out JAWS quotes; this is host Robbie on acoustic guitar with Joe Quinn/Kevin Linehan rhythm section so i finally got to WATCH them and critique like I was Vince Lombardi. the irish songs would make ye cry, gordon lightfoot's "carefree highway", dire straits "sultans of swing"; a lot of '70s singer-songwriter good fer th' shamrock pub down the way...Kev Linehan used percussion and brushes also so he can play loud/soft, as needed (with me, it's a fucken Nuge-fest.....more meat!!!!)....Kev also sang stray cats "stray cat strut", he DID sing in a band called Paris, which = harrison street practice space and MELIAH RAGE! (read your Beat magazines before usin' 'em for outhouse paper!). A good tyme had by all and lastly, met Honey Pie (slutcracker) ma, dolled up in leopard for echo and bunnymen; Goddam Glenn has been to this rib fest in Southie! again, great tyme and cant wait till next year (since i love playing so much)".....

Tuesday, July 18, 201

"sunday 16 july 17 Plastic Cheese at brattle thee-ate-er; Al janik says there will be a saint stanislau fest on october. Montery Pop up first: eddie Kramer re-mastered, mamas and papas sound hard-rock! HAL BLAINE drumming away and is that tommy tedesco doin' the flute solo of 'california dreamin' as a rock guitar solo? jefferson airplane sound like slickee boys hot and cool ep; tell me martha Hull DIDNT channel grace slick on it and separated vegetables album! Janis was incredible on "ball and chain"; country joe and fish "section 43' begat 'reincanration', otis 'i been lovin' you too long" begat 'loving you has been my fiasco' (request THAT orange kenne album on brian young!); Gee Julie LOVED "my generation" which sounded like the ramones playing 'black to comm" at 78 speed....Hendrix didnt need to 'be more flamboyant",Canned Heat is reason to be a 300 pound blues shouter...fuck i COULD go on! dylan's Dont Look Back: Gee Julie: 'dylan shoulda done a lot more singin' and a lot less talkin'' BUT he's funny as a bastard when he puts you on vs. when he's KENtankerous; a true Gemini! musical highlights: Bob and Joanie Phonie sing Hank songs! ALAN PRICE, animals, gets pissed and plays boogie-woogie on an upright piano. Alan Ginsburg! Donovan beaming to be 'round his hero! Dylan dressed in black leather jacket lookin' like martha Hull pre-dating punk by ten years! (or elvis costello at least). i could go on but just glad to see this splendid double feature from the good ole days of LBJ and 'Nam...music still holds up fiddy years later!"...

Wednesday, July 19, 2017

"been layin' low til i take the 1250 AM amtrak on Thor's Day 20 july 17; arrive chicago friday, saturday is interviews for Gizmos documentary and sunday we play that festival. 617-803-1289 if you REALLY want details but c'mon: between youtube, my direct tv app and of course tune-in radio that's ALL that's happnin'....see y'all in boston next week!"....

Thursday, July 20, 2017

Kenne headed out on Amtrak to Chicago today.....

Notes from on thet road:

I'm seated with a Yuppie couple going to Chicago. Dining car crowded so they sat us together there too. Nice folks! We talked about sci-fi and baseball.

Friday, July 21, 2017

Mr Highland Arrived in Chicago.

Saturday, July 22, 2017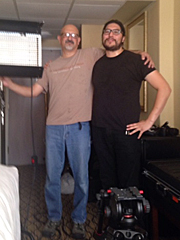 The Garcias in Kenne hotel room after interview

"I am ready for my close up"....Caleb Garcia interviews Kenne in his hotel room.

"I had the Garcia's laughing as I did my three hour interview. "Do you want a break Kenne?" No I'm good I say..."OK well we ran out of questions but we'll keep the tape rolling as you talk." HEAVEN!!

Sunday - breakfast at 700 sound check at 1000.