7/24/2023
Monday, July 17, 2023

"saturday ides of July watched on youtube Prudence and The Pill., released 23 may 68 ("Lady madonna", released ides of March 68 musta been burnin' up them Rochester NY charts). As I remember, this was a '60s movie about "The Pill"; VERY british with David Niven as a very uptight "no sex we're british" type of bloke; someone switches the Pill for Asprin and all of a sudden we singing DMZ's "gaga ga goo goo....baby boom"! British humour, that's 87 per cent of my DNA; DO watch it "In the Time of our lives"(Iron Butterfly man...(release 14 June 68....was "in a gadda da vida"...watch this movie with the sound down and get stewned,mun and lissen to Ron Boucher/ Bushy's drum solo man"...

Tuesday, July 18, 2023

"saturday ides of July 2023. I m becoming ADDICTED to "The Immortals' on Zuma radio 740 AM toronto canada 430-6 pm -and the never-ending Gordon Lighfoot saga. Guess he did a 1986 album (year Willie Loco and Robert E. Bear (RIP) recorded with Hopelessly Obscure) that didnt sell much though he was "sour and mean" (I think when drinkin' but at that 1986 point in life was healthy and happy. side note: love the dj saying 'aboot" like Dad's half-canadian mother (my seventh cuzzin AND eight cuzzins to Justine Covault (RIP) great-grandfather Covault, Connecticut yankee-isms)".....

Wednesday, July 19, 2023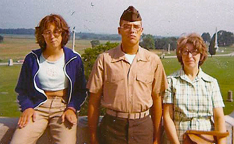 Ken Highland traveling on your tax dollar

"Monntag 17 July 2023 "3 Am or nearer" (Guess who toon). Coast Coast AM has THE BEST bumper music! Nilsson's "i guess the lord must be in new york city", follow-up to "everybody's talkin""...a september 1969 release and FROM that magical tyme....the previous month was Woodstock but maybe the next month (October) at Lift Bridge Book Shoppe, Brockport NY I bought On the Road by miss Lyn's cuzzin jack keroauc, which WAS on the top of my shelf till i gave it to Stenson Eddie Flowers circa first gizmos e.p. (March 76). And I DID live that hitchhiking/odd job lifestyle pre-marines (then I travelled on YOUR tax dollars!) but, sadly, unlike Saint mach Bell, i did NOT join the circus! (only saw VHS of rock and roll circus in '90s....Tony Iommi in Tull, man!......."....

Thursday, July 20, 2023

day of Wodin 19 July 2023. rode the tube with Charles hansen of Ross Phasor and: BGN exclusive! There WILL be a Justine Covault tribute at Crystal ballrroom put on by her daughter; for those NOT keeping Count, I am tenth cuzzin to justine's dad, Justine was 11th cuzzin to my niece Justine and justine's baby was twelth cuzzins to Justine's baby! Kenry gates will be going remote there for the NEXT episode of Finding justine's Roots!"......

Friday, July 21, 2023

day of Thor 20 July 2023. found some site to lissen to ole sci-fi radio shows; Dimension X, episode 01, 8 apr 50. "let's go into the future to 1965!"....yeah let's! a great year for music! Brockport NY, I saw Help at the strand thee-ate-er on main street and WBBF-AM played "satisfaction"/"wooly bully"/"mrs brown"/"she's about a mover'....probably others....imagine my father in tenth grade (april '50) at Cooley High in Detroit going into the future and hearing rocknroll? (though he did; Ida's sweet shoppe, main street brockport i last saw him before 'nam; somebody played "ballad of the green berets' (my brother and i had the album: music to KILLL By!) and somebody groaned,which "got on the fightin' side of me"(my main influences! Merle haggard and merle Allin!)"......

Saturday, July 22, 2023

"saturday 22 July 2023. last night was an excellent mad painter practice and Gee Julie posted on my wall, us doing uriah heep's "July Morning". "MY Head's in '73" as I told Schmel herbie Hind how we used to party at "jailbait janet"'s and her brother would play Uriah Heep Live as we "lit up", so "July Morning" and "Stealin'" brings back them tymes. Alex Gitlin, keyboard/vocals, did an interview with Metronome re: mad painter and Butterscott Jon, record collector that he is!, got a FREE copy at Stereo jack's, so DO shoppe there! Gee Julie and i had been by the ole ce-ment pond after work and before practice so we walk up and Sharon Crumrine were doing DOUBLE keyboards! A regular ferrante and teicher it was! (Ma's albums).

lastly, to quote my 10th cousin, once removed Saint justina (saint of settling agricultural contracts, meaning "not gonna deal with shit from a bull") Covault: "when's your next gig moddafocka?" that would be saturday 5 august 2023 at Jungle thank you Tiny oak and thank you Big tree, Dan anklin for other upcoming painter shows; once a month it looking plus a kenne Highland Air Force tour in october of western Ny with my homeboys 145; 'sometimes i wish I was in Syracuse/lissenin' to the Most".......'.....