7/30/2018
Monday, July 23, 2018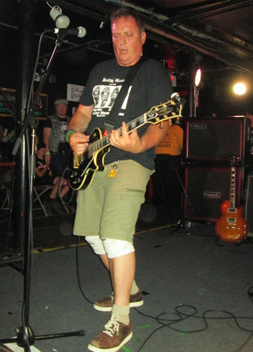 Bob Cenci / Jerry's Kids

friday 20 july 18; my brother's granddaughter was one years old! and as a great-uncle, I was at a hardcore show. I coulda ran FOR PRESIDENT with Stormy Monday as my Blaze Starr! katie the cleaning lady gave Gee Julie spare earplugs; Jen E. Talia shot some excellent footage (she also owns a copy of Hello World!), saw "Torture" and Larry Kelly from Kill Slug plus Big Daddy "always a pleasure sir"; I'm just glad that Big Daddy's still around! (we have same mayflower ancestor!); Tom Hamilton whom did the orange Kenne album did sound for Straw Dogs/Jerry's Kids....there were many others but this aint fucken Lisa Robinson's rock scene and I been to max's kansas city and "senator, this is not" max's Kansas City! (Ann Richards! more punk than Keef!). Straw Dogs were excellent, kinda more metal but classic metal; I know Sox was a Blue Oyster Cult fan before he got the Black Flag album. We should pay him tribute! He was my Allston neighbour telling me about Indy's Zero Boys at the train stop on Comm Ave down the way from where Aerosmith wrote "movin' out"; whenever I'd party over there, i thought "TV Party" sounded like afrika korps' "fox lane" played at 78, so of all the bands that came out of Boston College's The Manics, Sox remained "punk" vs the MIA's "new psychedelia" or 007's TwoTone sound. "young fast Iranians" still a good song, my roomate (80s) had straw dog's "pennies from heaven" on answering machine. also 1984, hopelessly obscure open for stranglehold summer '84 johnny d's allston; Sox: "kenne can rockin bob borrow your amp?" Me: "who the fuck is rockin' Bob?" a spendid introduction: he's GOOD PEOPLE! sez I! even gave me a screen protector for the MC I-phone V! ran into him north station near Bobby Orr and Chet's, so A Promise is a Promise (not to get sued, that is a splendid Ace of Hearts Lyres album) so i caught Jerry's Kids farewell. Every song sounded like "I got a Right" by Stooges played at 78! though Bob stuck to Tony Iommi barre chords, so black sabbath at 78 i DID see God..."foot hurt mon" said Bob Marley so I missed out on Kenny Chambers but did see Mrs Kenne (Rona) as Justine gave me an Unclean cd; I loved Grand Theft Auto, so I know is more of the same "Joan Jett meets the Tazmanaian Devil!" there that's a good Lester "it made my dog die" Bangs quote. and since The Midwest CAN be alright, I saw Yuki LaVolta stroll in and "success is the best revenge"; the Reppelants REJECTED by Gulcher, Naptown punk but friday night Kurt may as well have been Kenne Gizmo with that crowd! (actually, counting heads,he DID outsell the Gizmos mideast downstairs; we only sell out in the Midwest. otherwise, I've NEVER sold out! people-wise or commercially! Kenny as Lemmy!".....

Thursday, July 26, 2018

saturday 21 july 18. Geezer's bbq. met bassist Joe Quinn at quincy adams red line and we drove to stoughton,mass. Got there just as Tokyo Tramps were starting "Black magic woman"; there's a 17 minute footage of them weaving that song in and out with myriad solos on guitar/bass/drums. Two great guitarists born 367 days apart, birthday bbq for Tramps' Satoru and Masa! (whom said to satoru: "happy birthday slowhand from the east"....kinda cryptic, but masa is a cryptic guy! BUT Lyndsey and masa, she sings this Black Crowes song like Bonnie Raitt, great bluesy voice, her dad was on acoustic and her son on background vocals; a REAL kid! Geezer has HIS REAL Kids in the Bayou Band Orchestra, lotsa good-tyme cajun-zydeco; the "Geezer Compound" has a lake ,chicken and turkey cages etc. used to be Britton's Pond, a granny on my dad's side, still researching THAT! Chatting with bayou Boy, whom I've known since 15 (HIM not me! I'm older'n his pa!); we put the first Geezer bbq at 2011; Garage Night started 2009 (QUINCY Jay Allen,who was in the Rule with Geezer, opening for Classic Ruins at chet's; (a Squantum Dogmatics). and as for the SOUTHIE Dogmatics....fucken TWO fucken hours of MENTAL fucken classic rock! (videos by Ron Rudy and my twin Viking Frank Chip Langille onstage sans puppets).....let's see,Chuck Berry,"Born to be wild", "whole lotta love" was INSANE! I put the microphone where the groundlings were, we had Margaret ramsey Ormonde and Sarah Billingsley singing along! (long tail on why they in.....Stoughton?!?!?).....MC5 "black to comm"....hawkwind "silver machine".....more of same saturday night Lynnfield but TODAY is day Georgiane Fulgham gets married to Bing, a North Shore music vet who's putting on a "jam".....with the Gravedancers! reasons I'm still alive....Heaven looks DAMN good, purgatory is.....stuck on North Shore with Matt Gilbert! hahahahha! a quick tail: when the Georgia Skinheads beat up Georgianne at my 1988 birthday party on Comm. Ave., I was jammin' in her kitchen with Matt Gilbert, harlequin and Tony Cagnina (RIP and Mechanics)...."hey Miss Lyn! I'm more saner now!!!!!!!!"
| | |
| --- | --- |
| Lotta ribs and food | Chip Langile and Geezer |
| | |
| --- | --- |
| The chickens | The turkeys |
Friday, July 20, 2018
freitag 27 july 18. well i damn sho aint makin Lowell folk festival! "tune up (?) start to play just like any other day": Kinks, every Kenne's in Show Biz! I knew the bride when she usedta rocknroll, that would be Georgianne skinheads must die, playing a party/jam in Lynnfield,mass. if 2 august 18 is Thor's Day, Thee Fighting Fish (I have vinyl!) offered MJ Quirk a Cantab gig, so go to that please! I'm playing Rat beach party, Hull Mass. saturday and Sunday, THREE fucken sets and saturday 8 sept 18, Lowell at some art gallery is velvet underground cover night. So i shall see y'all there unless i pull a Hank Williams and arrive dead but sober at said gig!"