7/31/2017
Wednesday, July 26, 2017
sunday 23 july 17 was exactly 50 year anniversary of detroit riots but it was more woodstock (rain and all!) for gizmos and midwest alright festival.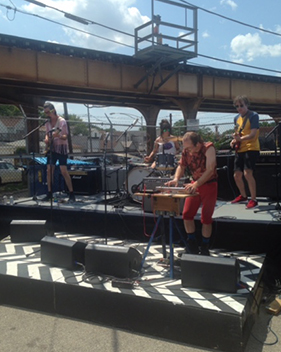 Wet Piss
Wet Piss opened, drummer karissa talanian whom brought gizmos to empty bottle, chi-town '14; she's a hawkwind fan! this quartet has some kinda Brian Eno mini-Moog maybe making space-rock sounds or as i quipped "they're playin' "sister ray" now" (Karissa as Mo Tucker!).
| | |
| --- | --- |
| Tony Noir and Kenne | Gizmo Merch |
Tony Noir of Jollys has a glam-shag "Head's in '73" hairdo and they sound like the everloveable Stigmatics;when I noted his resemblance to Tony Mann of NH's Flying '69, a GG Allin conversation erupted so Stigmatics NEED to play with these guys! (plus they let me use their Marshall! thanks again!). "talk to loretta" the Rat Records version was played over the p.a. (Blowfish woulda dug the dj!) The Cowboys from Bloomington Indiana had the "bloomington sound" as noted by Todd Hozac;"Gulcherbeat? Gulchbeat?" guitarist used a fender mustang like i did gizmos '76 and they covered mach II Gizmos "pay"; nice having the yardbirds open for sonny boy williamson! (stones/muddy waters bb king/cream etc.). Tutu and the Pirates did NOT need to "be more flamboyant"; picture of singer in lipstick gold lame and toilet plunger; they'd been around since '77, singing songs about "idi amin", so, since i call them as i see 'em: Jayne County AND sensational Alex Harvey Band! and THAT is a compliment!
| | | | |
| --- | --- | --- | --- |
| Kelsey Simpson Vulcher | O'Douls Is In MY Rider | Little Richie Speck | Tyler The Show Promoter |
MOTO ran late drivin' ("sister"?) from wisconsin but the Badgers they drafted were excellent! all those Buzzcock-ian sounding hits and JV McMOTO bought a Gizmos t-shirt! Next tyme we gig together i need to email her so we DO wear our Gizmos shirts! shit! I forgot the Who-ish sounding Brothers Gross, friends of KH and JV.
| | |
| --- | --- |
| Good size crowd | Kelsey, Kenne, Melanie Coffee |
The Gizmos were certainly like Double Live Gizmo recorded in memphis '14; our "Muff Driven" rhythm section of Melanie Coffee (bass) and Kelsey Simpson (drums);their "Insignifant others" on guitars, Rich Coffee and Sam Murphy ("sidney! help! i'm stevie nicks stuck with two couples like Fleetwood Mac!") Ted Niemiec frontin' and playin' giz-star and Eddie Flowers and i realising a July '74 dream lissenin' to a T. Rex album, sayin' 'we're gonna be a band" and writing "chicken queen" (does that pre-date "final solution"?). I used Kelsey's white Strat through Jolly's amp and since Gee Julie had played Machine Head 4 july 17 and i bragged to Tony Noir how i saw stooges 31 dec 73 and ny dolls april 74, listen to kick out the jams labour day '72, and was Exiled on North Milwaukee '17, main influences were blackmore maded in japan/thunders/kramer/williamson/fucken thunders, what the fuuuuuuccckkkk/Keef on '69 stones tour. Tyler provided us with booze and non-booze plus food truck tacos and pizza;so THANK YOU Tyler, "we all had a real good tyme" and "head's in '73": The Faces! once i got offstage i was autographing records ($40-$50 on ebay!), t-shirts and cigarette packs but it was all DUDES! NO bosoms were proffered for me to sign! well maybe next Gizmos gig...."talk dirty to me"!"....
Thursday, July 27, 2017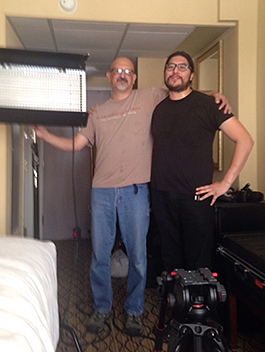 Film Guys
The Garcias
"so saturday 22 july 17 "sittin' in my hotel" (Everybody's in showbiz, everybody's a Giz!) waitin' for the Garcias to film me for Gizmos documentary, channel surfin' (though i DID play the Channel in boston!), WCIU i come acrost a dude with a top hat lookin' like alice cooper name Svengoolie and he has a wikipedia entry! a horror host for Creature from the black lagoon, black and white non of this Mr. Hanoi Jane colourized crap! did some googleation (versus mine and Kurt Cobain's cuzzin captain beefheart with "i'm gonna roogalate you"!) and EVERY city had a horror host! Chiller theater ran in Rochester NY 1962-1968;DID Lydia Lunch watch it? dude even recorded a record and Tom Taber who grew up in Albion NY with the Humans ("warning" b/w "take a taxi") DID sell me a copy of "dinner with drac' by john zacherly...since i have same birthday as doctor demento I DO rec-KEN-mend these novelty horror records!"....
| | | |
| --- | --- | --- |
| TuTu and the Pirates | Marvin and Char Golsteinr | Autographs on Cigarette Package |
Friday, July 28, 2017
"friday morn 21 july 17, long-ass ride to Chicago and the Energetics from Roxbury once again crossed my mind. Further research says they were a 1974 Mattapan "boy band", "rainy days and mondays" cover (youtube) but after Bishop John Borders found God, Geneva NY, the band DID continue with Herbert J. Jackson. He was in NYC with the Tommy Boy guys and decided to become Planet Patrol, electro-funk, influenced by Kraftwerk and Yellow magic Orchestra! Planet Patrol even sampled Afrika Bambaataa, but not Afrika Korps. So I had on youtube all through northern indiana and check THIS video by Planet Patrol: Gary Glitter's "i didnt know i loved you til i saw you rocknroll"! (album taped for me by Solomon Gruberer in O. Rex days). Even MORE rare is a Brasilian 45, flip-side is Planet Patrol covering Todd Runt's "It wouldnt have made any difference", done Dells-style, according to one source. well, something/anything DID turn me onto Philly Soul, even after sunday 3 june 73, O. Rex first jam and alice cooper/flo and eddie madison square gardens (though I still lissened to Grand Funk RELIGOUSLY!). Planet Patrol were even on Soul Train ass end of october '83 (yotube);Hopelessly Obscure and Classic Ruins did a tuesday residency at Rat. FURTHER herbert j. jackson research says after a bad night of acid AND blow (to Kraftwerk?), he found God, DOES do gospel music but also has Planet Patrol 3 happnin'. youtube alone for those 1983 space-funk costumes, man.....DO check them out! to re-quote the Gizmos: "real rocknroll DOES come from the 'hood!""...
| | |
| --- | --- |
| More Autographs | Jeremy Cargill autographs |
Saturday, July 29, 2017
"ok tuesday 25 july 17 was a very longass boring ride through new york state (though i gazed north at rochester amtrak and said: Lydia Lunch! 880 clifford avenue! due north!...so fucken train two hours late, wicked fuckin bored, let's play with dead people! (and read dead people facts in latest vulchur!). thomas pierce 1618-1683, a "good" Puritan, woburn mass.; I tazzed about the Puritans in caleb garcia's documnetary Gismo My Way (soon to be on kickstarter!) so famous kin . com lists franklin pierce, barbara pierce bush (toss in Jeb and W!) PLUS James Spader, John Steinbeck and Mizuo Peck ("tv eye" actress) as kin. ok, we know my mother and Miss Lyn's "Indian" grandmother descend from this family. BUT as sure as Courtney Love's great-grandfather is Paul Hervey Fox (wikpiedia) I KNEW a WASP like that would lead to....WOBURN! ("love that dirty water"!) so since i WAS paid cash for $90 chicago to boston, Til Tuesday I DID ascertain that Miss Lyn and I are cuzzins with Courtney Love! But since the train was two hours late, Sherwood Farm history and other sources say Thomas Sherwood, first settler Fairfield Connecticut (a town known only to rocket from the Black Souls), fucken marker: Thomas Sherwood 1586-1655 Puritan pioneer, ancestor. of Kenne KURT and Courtney! FUCK! I'm double-related to Courtney Love! "and i swear that i dont have a gun"".....and THAT was the week that was!"....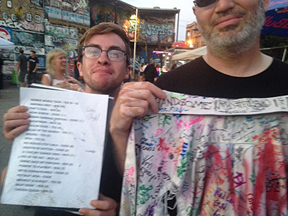 Even More Autographs