4/6/2020
Monday, July 27 2020

"Saturnalia 25 July 2020. Rob Basso from GG Allin's Jabbers tagged me in Facebook post on death of Peter Green of Fleetwood Mac. Soon, ALL the guitarists in Boston town "liking" Hopelessly Obscure Green-era Mac (NOT that band Bill Clinton had play the White House...that's fucken "Dad rock"!). Two GREAT memories from facebook friends: Rickie Lee Reynolds of Black Oak Arkansas says BOA DID play with the original Fleetwood Mac.....THREE guitars per band ala first Gizmos record! (They all stole from me: WHOOOOO!!!!!!). LEIGH STEPHENS of the BLUE FUGGIN CHEER!!!! says Fleetwood Mac and Blue Cheer!!! "Holy SHIT!" Lastly, Sunday morn about 0200 on coast to coast Am, I hear "Oh well" which is where I came in fiddy years ago (followed by jay Fergusson's "Thunder Island" and "I was into Jay Fergusson before he started doing yacht rock!")....This morn (Monntag) sure as shit there's "Oh well" again! BOTH jarred me outta bed! Hmm...spirit of Peter Green talking to me? (yes I HAVE covered "oh well" a LOT just for that big E chord jam)....AND "dont ask me what i think of you/ I might not give the answer that you want me to...oh well"....worked in junior high, works Future/Now! "I'm Not a Juvenile Delinquent"!"...

Tuesday, July 28 2020

I been buying dollar albums at Cheapo records mass Ave. due to lockdown boredom. FINALLY decided to get Rusty Warren's Knockers Up which i passed by a CHURCH sale in Keene NH about 1992. When I posted about this on facebook, LOTS of comments from folks remembering when their parents had "cocktail' parties and played "adult" records....this is 1960! In the year 16 PG (pre-Gizmos). I like side two; "frankie and johnny"...her man cheats so she shoots him one genitalia below Lorenna Bobbit "I was a man (high voice) but I was doin' her wrong'..."Knockers Up' predates Fugs' "Boobs a Lot" AND that Woody Allen breast film AND Fugs Golden Filth, which in 1971 inspired all MY Gizmos songs. two more facts (though i COULD go on)...I first became aware of the Jubilee label back in 1963 manassas Virginny when my parents got "teen" records off the back of a potato chip bag; that being "what a guy'-the raindrops (ellie greenwich! AND on youtube!). Also in that era, knowing my Dad's marine photo lab and THEIR wild parties (and I DAMN sure kept up THAT tradition!) i can see an 'adult" party with the marines drinking something and coke and listening to "adult" humour like this; beats the shit out of going to the Jim-10! Michael J. Quirk was quick to point out Rusty's Milton Mass. roots but check THIS trifecta: my cuzzin George Bush Sr./ Rusty Warren and Larry Lifeless of Kill Slug! Next tyme i get divorced, i want all THREE on the bill! (Green Street Condos...."i think that maybe I'm dreamin'")".....

Wednesday, July 29, 2020

Til Tuesday 28 July 20. My latest kick has been dollar albums at Cheapo records, Mass. Ave. Last night, For Your Pleasure; les Tziganes De Moscou. 1988 French pressing, worth ten tymes that amount! It's Russian gypsy music! Operatic vocals! Also listed as "romani' in Discogs but it's not flamenco. There IS youtube performances and if you like Hopelessly Obscure folk/world music of places I'll NEVER see without a "real" flying i.d......"turn off your mind, relax and float downstream!" (upstream only for spawning salmon!)! .......


Thursday, July 30, 2020

"day of Wodin 29 July 20. another Cheapo Records dollar album: Singing on Sunday by Kitty Wells! Every country singer had a deep religious background and it WASNT "God whom made Honky Tonk Wimmen" (me, paraphrasing)...I've enjoyed albums of old hymns sang by Elvis and George Jones and this is a good'un too! (Kitty wells, "she can sing dumbass!" ) (Duane to Greg Allman explaining how to play "whippin post" "1/2/3, 1/2/3,1/2/3, 1,2 dumbass!"). Tune of the album (OR, if you will, "Best Bette"): "How far is heaven"...."how far is heaven, let's go tonight/ i want my daddy to hold me tight." a lil girl was waiting for her daddy one day/ it was time to meet him when she heard her mommy say"....Poor lil child WANTED to go to heaven to be with Daddy...you will cry in your O'Douls lissenin' to this!".....



Friday, July 31, 2020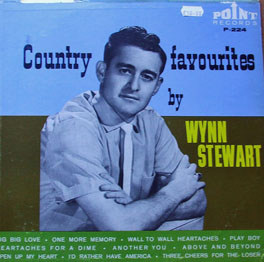 day of Thor 30 July 20. My latest dollar album from Cheapo records: Country favourites by Wynn Stewart on Point Records "compo company Ltd. lachine Quebec"! canadian pressings of his 1958-1963 (my North Carolina years!) on the Challenge Records label (which also put out 45s by the Champs, We the People and Tippi Hendren singing "If you were a carpenter", YES! the Tim Hardin tune!). Discogs et al. lists this as the "Bakersfield Sound" but it's as much Byrds Sweethearts of the Rodeo as it is Buck Owens. Side one ends with "Heartaches for a dime", preceded by the flip-side "Playboy", a 1960 45; our "anti-hero" in juke-joint. hears "our" song (or used to be a be) and the dime is the dime you'd put in the ole jukebox three score years hence! Everytime he DOESNT "put another nickle in" ("Music Music Music" inflation!), each ten cent song is a heartbreaker...hope'n i din't have to dumb it down fer y'all! Boyd Farrell, singer in DC's black market babies, whom I saw at Atlantis in DC in '78 with Slickee boy Kim Kane and limp Records mogul Skip Groff (RIP) singin' Dolls/Pistols toons, is also a fan! This here is great shit, most "any Christian Lion hearted man should know"!"......

Saturday, August 1, 2020

"Freitag 31 July 20. "Best Bette" to end a month? Everly brothers Beat N Soul album on warner brothers; one dollar Cheapo records. Now we all know Merseybeat harmonies came straight from everlys; e.g. Hollies, Beatles et al. Released same month as HELP!, this album has a 1965 contemporary sound! Did some research and james Burton, at a lower volume, does Who/Yardbirds licks (probably taken from Link Wray) and a "Wipeout" drum part coulda been from Link's 'ace of spades". Glen campbell is on this and "Love is strange' opens side one sounding like...."Ticket to Ride"! fans of the everlys warner brothers albums (I write about these albums on my wall, getting feedback from RECORDS COLLECTORS) is a Miss lyn tr-fecta: noted local Boston scribe Brett Milano, Jonathon from Butterscott and Captain easychord from GLiDER! I should also mention the album is r & b covers, sounding more than a little Hollies-esque (the harmonies!)...."Money" is on youtube and it's the beatles guitars with Everly-cum-Hollies harmonies! ok, if'n i aint sold you now....more records next week till the clubs open!"....