8/10/2015
Monday August 3, 2015
| | |
| --- | --- |
| Photo: Tom McCarthy | Jurassic World |
a Beatle Brunch at the Burren COULD be grounds for D-I-V-O-R-C-E, but leonard cohen bio I'm your Man for $1.99 at davis square ("hipster capital of the world!") goodwill is, as carl Bruce-ancucci sez "that's a bargain.".
405 pm was THE first possible movie i could watch at Somerville thee-ate-er, so I was "stuck" with the "mainstream" Jurassic world; which i DO recommend! the two brothers whom DONT obey and go off on their own in this Disney-esque mutant dinosaur park remind me of the antics me and Tom Highland usedta git into in Brockport NY after my father died when I was 10 in 'Nam; and if i were 11-12 in (questions) '67 and '68, I would LOVE all the action and gore and subtract two years on my brother whom, age 10 (?) LOVED the car chase in Bullitt (all these movies shown at strand thee-ate-er, Brockport NY!). the boys tell their yuppie "ant" as a Navy vet rides a motor-sickle, automatic weapon slung acrost chest: "your boyfriend's a badass!" yuppie red-headed woman looked kinda "hot" in her yuppie white suit all torn from dinosaurs and blowing away a dinosaur shooting automatic weapons in high heels (i haven't tried that yet close i'm closer to captain PJ than captain sensible!). yuppie woman also has that "cavewoman" look from One Million BC (that was Raquel right?)...ok, so sex and violence, costa rica is really Hawaii (read credits!), michael crichton, steven spielberg...for a $7 matinee, again, "that's a bargain"-carl biancucci, O. Rextasy."
| | |
| --- | --- |
| Rachel | Alley Oop |
let's not forget the 5-day HP Lovecraft fest DOUBLE FEATURES (hey, it's hot outisde!) next week; there IS a website with where HP Lovecraft "trod" (massachusetts connections!) but i cant wait to see HELLBOY! my "bio-pic", hahahahhaha!"
| | |
| --- | --- |
| Jurrasic World | Marilyn |
here i am talkin' 'bout that redhead in jurassic world and it's Opie's daughter!!!! jacksonville NC 1962-'63 (first grade) and i watched andy griffith whilst ma was ironin' coz i was Opie's age then, kinda and i too wuz livin' in NC! usedta watch the beverly hillbillies, remember "alley oop" on AM radio, had some hillbillly neighbours had a daid squirrel in thar kitchin saink, went a-huntin'; the grease on their black and white tv screen was SO thick, ah watched the lady paper-toweling it whilst a wonder bread commercial were on; lastly, on our coffee table, cover of Life: marilyn monroe DEAD;"(dad always did like blondes)....would you like me to go back further, say, into my previous lives?.....
Ken Highland as Ken Burns: youtube has a civil war reenactment of the battle of cloyd's mountain; my great-great-grandfather was captured there 9 may 1864, went to andersonville and paroled outta charleston SC dec 64 (115 years later i was station there and watched emmet otter in a trailer!), but sadness; his 4 year old boy wilbur darling died in september and i DID find the grave in WV! anyway, pvt. elisha m. darling was a drummer, so looks like they still had fife and drums in civil war, plus a war map showed 14th WV going against 45th virginia. 9 may 1964, I was more wrapped up in 100 years of gettysburg plus i lived in manassas, va. (bull run) so besides the fact dad only met his father once (tho my grandfather DID live on the mexican war streets of pittsburgh with his civil war grandfather...oh, the tales they could tell!), i basically never even HEARD of cloyd's mountain til i started doin' family research. so a union victory, only my grandaddy gets captured and later on, after war, files as an invalid (scurvy etc.)....still had TWO wives with SAME name and was a musician AND a postmaster...5'10", black hair, black eyes, light complexion...hmmm....soundin' TOO familar!"
Tuesday August 4, 2015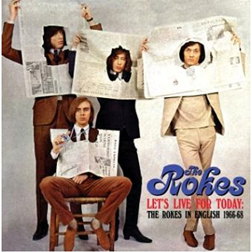 Rokes

lissen to miles davis, read about leonard cohen, caught a NY Mets game or WOR (?) out of NYC (?); Mets doin' damn gud, solomon gruberger WOULD be proud! latest coast to coast quote; guest wuz talkin' 'bout when technology fails: "i wouldnt mind livin' like abraham lincoln or those dudes...but when it comes to eating nuts, berries or Grass Roots"...ok, i got a joke (uh oh!) i'd rather LISSEN to the Grass Roots covered by the Rokes in italian on the slickee boys Mersey Mersey Me e.p. from '78! ("let's live for today" translated into "piage comea" or "Mad Max, when in the FUCK are the Gizmos tourin' It'ly?!)"....

someday my prince will come-miles davis cd 2/$10, landlocked records, bloomington, indiana. when they told me i could get FIVE for $10, i got this as i'd had "someday my prince will come" on a 3/$10 italian jazz cassette from mr. music, allston. no liner notes on cassette, this columbia release is THOROUGH (DATES: march 1961!) (i think). AND title track has miles AND John Coltrane! if i were meltzer/bangs, i'd probably be droolin' over the "free jazz" guys that played on Yoko's Fly album. ok, so BGN becomes Downbeat via Creem and i promise i wont bore you with another long tail...bought on the road fall '69, lift bridge book shop, NORTH of erie canal, brockport NY, 8th grade, wanted to be more "hip" than my "yummy yummy" classmates, so i got into jazz; seymour library, brockport had Miles albums on Prestige; 4 july 70, i bought bitches brew at Big N (two years later bought 96 tears 39-cents, but in-between was Funhouse $3.49 vince's record store, brockport. what IS my point? did buy a lot of miles albums coz maybe i read about him in on the road, then i got into stooges/MC5 or maybe...."hey Beat Mon....Him like Keroauc!" (ok, so i partied and hitchhiked all across the USA; after Dad died, I needed better male role models; like combing yer hair before you take out the garbage!".....

good will, davis sqaure ("hipster capital"-Unte, ho-hum); how to de-clutter: pretend you is so po', yew kin only buy ONE thing (XMAS '65, Ma was in between husbands, so ALL I got was a USMC GI Joe! we talkin' po'!). so, "winner by elimination" is leonard cohen's I'm your Man bio. ok, toronto in '30s/'40s/'50s, Leonard's impressive lineage, hangin' in NYC, ALL the good '60s music on columbia records...no...mind BLOWN coz "chelsea hotel" was about his "one night stand" (Small faces on decca!) with...JANIS JOPLIN?!?! i think he was looking for NICO, she was lookin' for Kris Kristofferson, whom he told her he was anyway and it all happened in the Chelsea Hotel! and THAT was worth$1.99! (though now you can quiz me on Cohen facts and he DOES allude to that Cohan DNA, which of course I'm probably the only "Goy from nowhere" that knows about that!)"..

Wednesday August 5, 2015

"WRKO, jim bohannon show: "what would you do if you were elected president? THREE former marines called in, last one was "ah'd buy a corn dawg, git an A&W ruht beer and lissen to mah favourite radio host"; ONLY reason i mention this mishegas is coz "bumper music" was alice cooper's "elected" SANS vocals; VERY WHO-ISH! NEVER heard it quite like that...which leads into..."if you're really bored and got nuthin' else to do with your tyme", when I'm in Newtowne (Harvard Square) on the Sabbath, i'm readin' rock bios on THE DEVIL'S MUSIC! (well, 11 generations ago, I'd-a bin banned to Rhode Highland!) So: Harvard Coop has my facebook friend Dennis Dunaway's bio on his tyme as alice cooper bassist. just being his facebook friend, he saved all kindsa memorabilia; bassist/packrats on facebook is also Jeff Magnum, dead boys; i mean 1975 set lists?!?!? Creem dream! So what is my favourite quote besides the Coop and company actually HANGIN' with yardbirds/doors/pink floyd (syd barrett!); when they were the arizona NAZZ, glen buxton (who has a McBee-Buxton marriage in his family tree, yes, I HAVE worked on those guys, lotsa gud colonial bloodlines coz they WERE rock pioneers!); his favourite song, like me (coz i got a McBee grandaddy) was the Yardbirds "Nazz are Blue". so, rockabilly yobs named after T. Rex toon, Stones after MacKinley Morganfield and NAZZ after yardbird toon....THREE great bands and stenson eddie flowers might even agree with me!"....
| | |
| --- | --- |
| Brylcreem | Mr. Highland |
Ida May: lissenin' to miles davis "someday my prince will come" 1961, I almost felt like my Dad; loosenin' up the ole tie, drinkin' a martini or something, running hand through brylcreem hair after taking out the garbage....LOUNGING! my new occupation besides clubbing...and with some nice, cool, soothing, healing, refreshing jazz, tyme to read more Leonard Cohen bio: new fact: he played MENTAL INSTITUTIONS!!!! and loved it! the press at the tyme made him out to be 'slit your wrist music"...take that, Cure fans! what a complex guy, that guy with the Cohan gene; unrequited love with Nico, but he scores in the chelsea hotel with Joplin, "Suzanne" was a real person, as was "Marianne"; I'm Your Man; he sure was! an unlikely "chick magnet", if you will; goddam guy gets more ass than a toilet seat!"..
Thursday August 6, 2015
Fun for me incestry.com and pennsylvania death certificates (a lot of SW Pa. on my granddaddy McBee's side; his neighbours: Vince's Furiners, as in the Coop!) fanatical notes say there were TWO Wilbur Darlings (thus dad's father was John Wilbur McBee, mother was a Darling): my grandfather's uncle died in 1864 whilst his father was a POW at andersonsville prison BUT John Wilbur McBee seems to be second cousins to Wilbur Darling born 1899! his grandfather is Wilson Darling, brother of my great-great Elisha M. Darling; both he and Wilbur Darling are listed on their Civil War/WWI enlistments as having black hair, black eyes, noticeable maybe on my Dad on picture sleeve of johnny and jumper cables "landmine". sadly, Wilbur Darling's death certificate has him listed as suicide by gunshot wound; my grandfather's second cousin in Buffalo, Pa. was a 4 year old boy, died of pistol shot to stomach, accident, 1930....quite a tragic Pa. hill family!"...
Friday August 7, 2015



Shirtless Tony Kacynski




John Boucher
See Friday entry.
Now that buster brown is with fluffy/apple/odie/pinkie, you you and the rest, I also got in my newsfeed a throwback thursday photo of tony kacynski as a shirtless Iggy at figures on a beach michigan gig. i sid to micelf: "self...let's googleate some figures on a beach on youtube. "Surprise Surprise" (The Chesterfield Kings Now!); Lansing public tv (my dad's father lived there with his Scorpio WIFE in 1930!) 12 jan 82, a very Roxy Music-sounding Figures on a Beach Clip, would sound good next Indianapolis's Down-Fi! in case no one cares, 13 jan 82, the Hopelessly Obscure (with ken kaiser/carl biancucci) got Blizzard (of Ozzzzz!) out of a gig, so the COUNT gave us 13 feb and 13 march. i can also tell you i was wearing black leather jacket, black pennsylvania company size 34 jeans and black beatle boots bought from Eddie "waiting on a friend" Kent.(at 2:15) so, back to figures on a beach; their sound was concurrent with the MIAs, who kinda had a Psychedelic Furs sound and then the next year Primary Colours opened for Til Tuesday at Spit. check out this 1982 video and you will want to give yourself a funny haircut or have a wheelchair fall down on John Boucher! (with his phil oakey haircut!) odie and pinkie were alive then; Bring Back the '80s and ronald reagan!"....
Saturday August 8, 2015
grokking Philly Joe Jones drummin' with Miles Davis AND Leonard Cohen did an album with Phil Spector same tyme i recorded music to kill by! WRCA, rockin' at night: JANIS MARTIN on 78! comedy: Zeppo Marks! danny stiles pays "My way" (LOVE the Rat Pack....and mickey mouse!), then coast to coast 0345: "to be sure this bigfoot photo wasn't a fake, i hired 5 nude models to put on a suit and as we know females breasts do jiggle"...all this said mater of fact and scientific; "science gone too far" b/w "they blinded me with science"...back to WRCA for country oldies and "CB savage" and WHRB blues about "I got mah pistol in yo' mouf"...."I had too much to dream last night"! two more news: see y'all at billy borgioli memorial and soon at brattle: HP Lovecraft fest!"...
Sunday August 9, 2015
after learning i had a distant cuzzin in Texas name "Panhandle Pete" Darling (dad's granny was a Darling), et the bangers and mash special at Solas, irish bar in hotel lenox and watched white sox game. "take me back 'ome" and WMEX was blastin' "see you later alligator"; Bill Haley AM mono oldies! other treats were "sweet mary" by wadsworth mansion (figgered out all three chords!) and TWO three dog night toons: "out in the country" and "mama tole me not to come". 11pm is a Military Mystery (?) show on WMEX; all kindsa conspiracy theories, like there were NO viet cong in gulf of tonkin, but US opened fire and reason to escalate vietnam and george patton died in mysterious car crash coz he said "we better get the germans to fight the russians coz we'll be fightin' 'em soon!" I AM a cold war vet! coast to coast: extracting DNA of WOOLLY MAMMOTH; that's easy: it's David Minehan! read BGN interview! as long as Opie's daughter doesn't have to blow away a Jurassic Mastodon in high heels (her, not it...)...Down Home Gospel on WRCA 0600-0900 and i heard the swan silvertones and staples singers and it DOESNT git any better than...WJIB with "daddy sang bass" (JR Cash) on country music oldies or whatever Bob Bittner, U of R '71, calls it. He IS doing his pledge, so friends and lovers of WJIB, send money! (also give marvin goldstein some Gizmos gigs, Gizmos page is here :). one parting quote on ole Bob Bittner: "i am always suspicious of a person that doesn't like a dog, but not a dog that doesn't like a person!".