8/14/2023
Monday, August 7, 2023
saturday 5 August 2023. mad Painter ALWAYS has a good Mott the Highland "Saturday Gig' when I watch Beverly Hillbillies on ME TV 0600-0700 and Popeye cartoons at 0700 (In the '60s i went from Popeye Spinach to Ultimate Spinach, man....)...mad painter at Jungle 8 pm and owner Sam Epstein SMILES and says "mad painter are back in town!""Stealin'" and "July Morning' by uriah heep was covered, new songs were done (Miss Lyn enjoyed a bass lick i stole from "White rabbit" and Schmel herbie Hind was Jorma kauokonian on giz-tar), Schmel Pierce of the Runes says Alex Gitlin plays like John Lord of Deep Purple, i got my big-ass out the way so Al hENDRY could do a drum solo but, as Leon Rich sez, the 'icing on the cake' is Sharon Needlez and gee Julie Pinz on vocals and Turkish tambourine adding those ethereal Two Dog Night backing vocals (Miss Lyn has said vanilla Fudge vocals sounds like the Cowardly Lion; Heep/Purple/Fudge...all covered on my next album of musical torture; Gizmo Goes to Gitmo!"....
can i (Lou) reed my writing from The Dark? Scrivener was 9 pm, acoustic folk-rock trio, ballads that evoked memories of first Love and Moby grape albums and name is a Herman Melville reference. 10 pm was the Skrims, like them on facebook. Judge and Jury was Highland/Hendry/Schmel/gee LOVIN' these classic rock dudes! "yer Blues" off the White Album for soundcheck proves I AM Patricia Krenwinkle's distant cuzzin! Singer had a headband and looked like 1981 GG Allin (my sixth cuzzin); deze katz are HEAVY! like Sir Lord baltimore! Schmel noticed a hendrix lick by a Jim McCarty doppelganger guitarist; I was drinkin' non-alcoholic, so One way Or Another, I heard cactus! gee julie heard a Steely dan riff that i didnt (I was too busy with my wee nose burrowed in Burroughs) and lastly again "yer Blues", Schmel calling it the Dirty mac version, I say via Cactus, again...Tomato, ta-matto; listen to Patto! Lastly Coney island; had a nice chat with the bassist after painter set and we discussed the grateful Dead (I stop when Pigpen dies) and we BOTH agreed on "Dark Star' off the '60s "Live Dead album (my mother hated it;thought the Animals were alright, tho). bassist dad (younger'n me but into the eagles AND the New wave..."what are yew, stoned mon?"-Schemel herbie Hind. Coney Island, gruberger central in '73 was a band of jay Gruberger doppelgangers! started out with a surf toon, then did a surf/vocal with a "Surfer Joe" vocal, then "Mr Charlie" by the Dead and "I know you rider" sounding like the version On Vintage dead, which was a late '66 GARAGE Dead album that sounded wicked garage and the Rockabilly Yobs ADMITTED to liking back in '76. "garage/surf/Dead"...a good varied band! A fun night! Let Schmel Herbie Hind get in the last word; "It was da moddfockin' ballz! Now shut da fuck up""....
Tuesday, August 8, 2023
different week, same story- Kenne and records

"Sonntag 6 Aug 2023. FINALLY in my life made it to the Somerville flea market and DONT regret it! clothes/jewelry/art/FOOD!/old books/old records.....went to High Energy Vintage and bought five 45s; Ronettes "best part of breakin' up" April '64 $5; Zombies "tell her no" 28 dec 64 $5; "Monterey" Eric Burdon and the Animals from 1967 $5; "Fool for you"-the Impressions 30 august 68 $4 and "Time marches on', a 1978 canadian barbados reggae 45 $5. Another booth was Somerville's The Great Eastern Vintage, owner Nephtaliem McCrary whom has GREAT gospel/r & b/jazz albums...another trip! went up in the crystal ballroom and resisted "temptation's about to get me"...Topped off by an irish breakfast at the Burren and five hours of Criminal Minds and Raggs the cat locked out on the front porch for 8 hours!!"....




Wednesday, August 9, 2023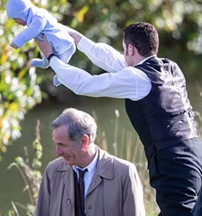 Um, maybe dont trust Will with the new baby

Monntag 7 August 2023. 0500 and BBC Monster-piece Thee-ate-er shows: Grantchester! (a wee towne two hours north of the hyland 'ome of Ashford, Kent,UK). Let me quote a joke I found funny; so the vicar is expectin' a wee bairn and a wee lad asks; "Does the stork deliver the bay-bays threw the winda?" also: re: 'going into labour"; "Moi dad's in labour; 'e's a politician!" (hope that kid grows up to- a) learn da moddafockin facts of life. b) listen to Cream "politcian" off Goodbye Cream.

Two more wee bits: the lad pinches some candy and he gets admosinished coz the shoppe clerk said 'e pinched th' candy: "the shop clerk can kiss moi arse!" (if the Highlands hadnt sailed london-NYC 1845 on FRIGATE Quebec, oi'd say same bleedin; thing")...OR a copper says "as far as I'm concerned they can stuff it up the proverbial!"

Thursday, August 10, 2023

Dienstag 8 august 2023. after supper with miss Lyn and gee Julie, wuz channel-surfin' "TV eye on me" and FXM channel had Atomic Blonde movie as "99 luft balloons" was soundtrack; it gets better! Us three Stooges fans were a-settin' thar like Mystery Science Thee-ate-er 2000 (i wanna be the mop! Gee Julie can do the hoovering! as a Flynn Young-worthy '80s soundtrack played in 1989 Cold war-era berlin! charlize JACOBUS (my great-great grandmother Highland) Theron (Hugenot Jacque Theron born ides of may 1668 Nimes,France ,arrived caep de Goede hoop, South Afrika (Korps) 26 Apr 1688) kicks major moddafockin ASS on the KGB as a british agent; even embedding a key chain in some arschlocks's face after he called her a suka! ("who's your bitch now"). THAT and an Isle of lesbos affair with a parisian agent as Til Dienstag musik ist playing mit der sanger: Aimme mann! (I used to roadie for the Young Snakes! Now SHE's the rock star and i'm STILL the roadie!)....FXM kept on repeating said movie "All day and all of the Night"! I even think I had seen it before (Til Tuesday is a soundtrack?!?!?!) BUT WEELL worth it viewing again.


Friday, August 11, 2023

day of THOR (photo) 10 august 2023. kismet Deadly! Mr Crepe was closed Davis Square so i had to use Starbucks as my office BUT ran into Anklin Dan! My head spinning worse than my "future bride walkin' down the street": LINDA Blair Highland! as he rattled off mad painter gigs BUT "you're bringing Kenne highland air force on tour right?" so looks like, maybe, Moms mably, day of Thor 26 Oct 2023-Sonntag (NEVER gonna be the same) 29 Oct 2023 will be Hello (Brockport New York"! (Michael Des barre HAS played "be more flamboyant" and "i'll show them who's Mod" on the radio; R.U. Sirius? lastly, Rik Rolski, whom was in Figures on a Beach DID ask Dan (when both was invloved with the Darlings, of whom was begat Raggs Cardinal's REAL father, know ye, book of Saint Coinneach) Rik: "is THAT Kenne Higland? he looks like he's in Gong!" Fiddy years ago, I was strugglin' to stretch the ole fingers to do that Jimmy reed thang on "Bang a Gong"!"..... (I have no clue what any of the above entry means!!- ed)

Saturday, August 12, 2023

as my distant cuzzin Justine Covault DID ask "when's your next gig modda focka?"

that is saturday 2 sept 2023, age 67 years/5 months, mad painter Parkside lounge, Lower east side, New Netherlands. anklin dan booked this; danke, mein herr! and "it's gonna be epic!" like the dave clark five's "i'm thinkin'" covered by the Korps in '79 and pre-curser to the 13 feb 83 recording of hopelessly obscure's "she's my best bette" covered by dark carnival (on youtube!) as "best friend""...