8/15/2016
Monday, August 8, 2016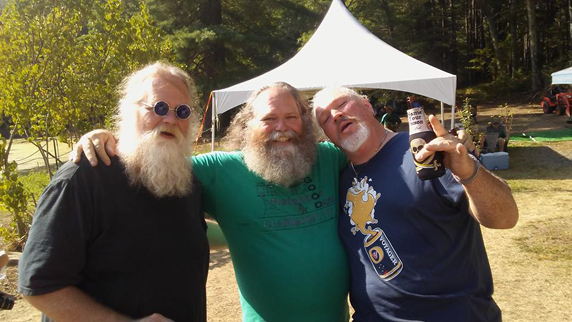 Kenne with doppelgangers
since I was NOT in Detroit for smitt e. smitty's Detroit revue, MJ Quirk and I pulled up to the Geezer compound and I heard the psychedelic sounds of Climate Change: Michael Weddle on guitar, vocals; two members of Harlequin plus a drummer and my doppelganger J. Bruce Scott on lap steel. there is a photo of the Kenne Highland lookalike contest with me, Bruce and Chip Langille; EVERYBODY WANTS to be me!
Geezer's son played bass in a hardcore band; scruffy the cat's ORIGINAL bassist did a roots duo, guitar and banjo, i think; AJ Wachtel was taking notes, as was John Keegan...onto ME! (this is beginning to read like 1973 beyond our control, which ALSO had a Scorpio editor!). opening with frank zappa's "world's greatest sinner", learnt from Miriam Linna (a Coast to Coast AM GUEST!) club linehan-ago-go was somewhere between the Dawgs and Sonic's Rendezvous Band churning out chuck berry rhythms. I soundchecked on Link Wray's "ace of spades" and there's some phone footage where I channel Link Wray/the MC5 and Johnny Winter And doing "johnny b. goode"; damn, i sound good when Mike Quirk tunes me! the MIGHTY Quinn and bass and kevin linehan drums, fucken "locomotive BREATH" they were goin' down the track like the 1964 Stones on North Shore amphetamine (or the Dawgs at the Lighthouse in Revere ca. 1980!) John Keegan blew a wailin' sax and we did the Boss/Clarence Clemons hammy back-to-back moves JUST for Ken Kaiser! the ladies were all dancing to Kinks and Sonics covers; fuck! THIS is why I play rock'n'roll! plus I had plenty of stage to get my Amboy Dukes-era Nugent on (I think I'm on same side of stage, see "journey to center of mind" on youtube). Tokyo Tramps also wicked awesome, bluesy Robin Trower, "just got paid", ZZ Top b-side, "sunshine of your love" with a drum solo, folks dancing in the rain, members of Red House/Fools/Vinny Band in attendance, South Shore townies, GOOD PEOPLE....when I got back "to town", WRKO had the oldies and I tuned in during Dave Davies guitar solo in "VICTORIA"and true to 1976, driving Eddie Flowers KRAZEE on the road; "that sounds like me!" (inverted= I studied Kinks live at Kelvin Hall, GLASGOW, like my Brockport high classmates studied the Allman Brothers/ "stairway to albion" etc.)".....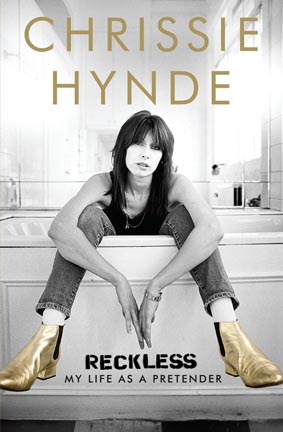 "read a bit of Chrissie Hynde bio Reckless My Life as a Pretender at Harvard coop; her dad was a former Marine and Scottish-Canadian! thus origin of Hynde name (for future Vulchur column!); KAILI BLUES at brattle theater. angela from weirdo sez "kenne, did you hear us playing Focus?" Me: "before van halen! before Golden Earring! dutch invasion of '70s rock!" (shit, I forgot the shocking blue and dad's ancestors founded New Netherlands)...ok, so in china's appalachia, south west mountains, a doctor goes on train journey looking for abandon nephew. Ends up in a Melungeon-cum-Hmong town (I googled it!) where the Miao people play the Luseng pipe (all on Wikipedia). Dangmai kinda has a parallel universe, so it gets kinda cosmic coincidental here. BUT, soundtrack geek that I am, the teenagers don't want to play the traditional folk music there but have a "pop music" band which plays in the street ala Lil Pat live on Maxwell street in Chicago '74 or a band set up in streets of Memphis, Sator royalty check (oh yeah, George Wallace died that weekend and I went to al green's church, then al green's wife drove me and linda garrow (RIP) to graceland: sunday 13 sept 98). So lemme tell you about this Miao band: the doctor sings a "pop music" ballad and it was O. Rex meets the Shaggs trying to play "sunday morning"; enchanting! afterwards we have photos of me at my ancestor Thomas Blogett's farm (now john Harvard house) and he was buried in Ye olde burying ground. eleven generations ago, but I obviously have more sinful fun on ye Sabbath!"....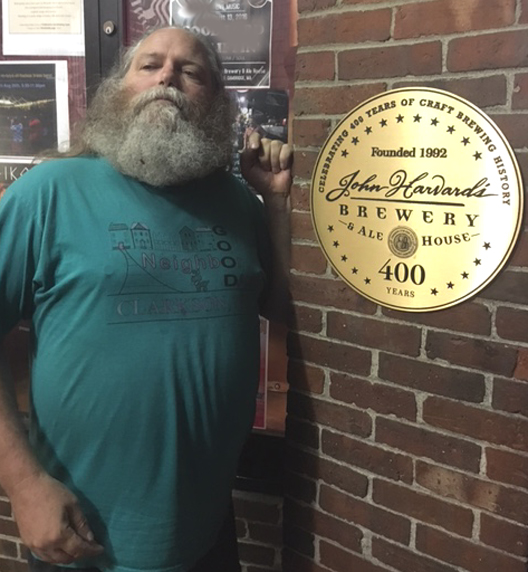 Kenne at John Harvard's Ale House
Tuesday, August 9, 2016
RADIO ON (my "radio radio" column for VULCHUR!): after falling asleep to radio Tazmania talk radio on the I-phone five (cat rescue talk in Tazmania!), 0400 I was awoken to the easybeats 'Friday on my mind", lil AM radio Coast to Coast AM, though I DO have a WRKO app also. got into that tune in '73 via PINUPS and western NY record collector TOM TABER turnt me onto the album, prolly a 39 cent cutout. 0600 reveille and BBC-Four on I-phone five has been my thang. a documentary on the history of the Rose (the flower), ancient Greeks, ancient Romans, medieval England, then...."New Rose" by the Damned!!!! Make America Great Britain Again coz the BBC REALLY gives tribute to '76 punk, whereas I feel commercial radio in USA is all classic shit that I got bored with in high school (unless Alice Cooper is dj-ing!). 0630 was a talk show from the archives; "the son of a vicar" (Lemmy) and "son of a diplomat" (Joe Strummer). Lemmy was quite articulate and well-read "I'd even read a bloody cereal box";"Just LIke Me!" and his military history knowledge BUT anti-war position ("people never bleedin' learn, they fight for 20 yards o' land 'n git kilt and for bluidy what?") quite impressed me. Joe Strummer always took himself too seriously, I've been bored with politics since John and Yoko's Sometime in NYC (read THAT in Rock On! ca. '72 maybe?) He said "oi mean, oi could write a song "Hedgehogs are fun" but what point would that make?" well, joe you bleedin' wanker, Hedgehogs fucken ARE fun and "I'm so Bored with the clash today!" (famous Miss Lyn quote) though I DO like Charlie Don't Surf and then the BBC DID play "police and thieves", a reggae classic I dug back when Kim Kane/Slickee Boys came back from London in '77 with first Clash album"....
Wednesday, August 10, 2016
"RADIO ON!! 'Round Midnight, caught on WRKO 680 AM, Boston, a new paranormal show BEYOND REALITY. had me fascinated as a dude was having had out-of-body experiences since early '80s with an Atari that went into a computer or something. WRKO has the show midnight til 0200, but coast to coast is 0100 til 5 pm....either way I was sleepless, but not in seattle. Coast to Coast always fascinating with George Noory giving it the personal touch about a feral cat in his backyard that won't let people near it YET AND folks on paranormal dating site "dating"....hmm....two psychics get married with ultimate question: "Do you love Me" (off Kiss Destroyer!) answer song: "if you could read my mind, love"".....

Thursday, August 11, 2016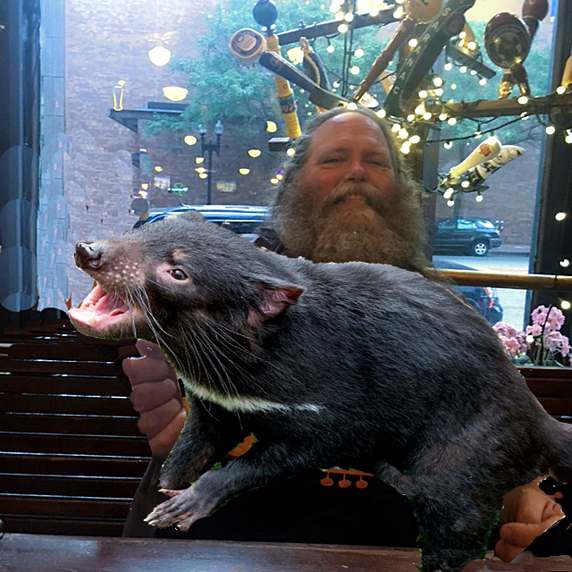 Kenne with pet Taz

"listening to tazmanian radio, australian broadcasting system and THEIR headlines are they're putting tazmanian devils on the mainland and the worry is will the Taz be ok? on facebook; save the tazmanian devil appeal page plus save the tazmanian devil WWF TAZ merch eetc., things one COULD google: SAVE THE TAZ! speaking of saving the Taz, we had a good Hopelessly Obscure practice for Frank Rowe's birthday; a Linda Garreau Highland tribute set; "my girl" done "waiting for Maureen tucker" style, "princess of the trailer park" (Highland-Quirk; he wrote the flip-side "don't piss off Linda Highland") plus johnny and jumper cables "kielbasa" her favourite Kenne band coz 'you guys all hate each other, like the Who". a lot of "headlining" Hopelessly Obscure gigs (back in '83 we were always "opening"), so let's plug the next one: sally O'Brien's Friday 19 march 39 years after Groucho Marx died, stuck with Ken Kaiser for 66% of his life, so that'll be 39 years since afrika korps live at cantones; Ken Kaiser was happy with practice, all is good, we aint dead and we aint playin' the Turtles "grim reaper of love" (chesterfield kings covered "outside chance" amd Warren Zevon partied away his royalties from writing Turtles b-sides!"....

Friday, August 12, 2016

"had to get more minutes in phone, so to CopleySq , then supper at solas; hotel lenox has a posh loo! coffee at this irish bar was terrible, i shouldn't have thrown the tea in the harbor! fish and chips was alright, watched the brady-less Pats and bar music was "anarchy in uk", clash "train in vain" and Zeppelin and AC/DC! woke up 11 pm (of course!) and good ole Danny Stiles (RIP) WRCA played "making whoopee" by eddie kantor from a 1930 movie 'and here's a song from the ORIGINAL soundtrack"...how old is THAT? answer: Ma born '31, dad born '34, that was the music of THEIR lives!".....

"Now that I have more tyme on phone and can access internet/youtube again, let's celebrate at 0630 by lissenin' to Blue Cheer's Inside/outside complete album!!!! For ken Kaiser's 60th, i should, at crack of dawn, set up 43 amps in his yard, play guitar, get Carl Biancucci on bass and Paul Dionne (ed savage's litany of kvetching drummer AND a Blue Cheer who knows the meaning of 39) on drums and blast out "summertime blues" like blue cheer did on dick clark (1968 on youtube!!!) and vocals DO sound like Mach Bell with Biggy Ratt!"....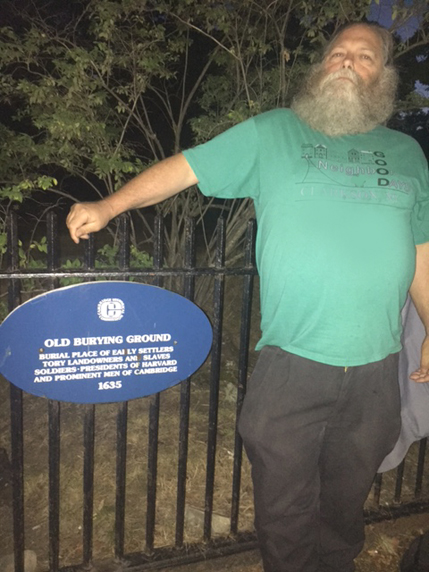 At Ye Olde Burying Ground