8/17/2015
Monday August 10, 2015
It was Rat Beach Party meets Gonerfest at the Billy Borgioli Tribute/Memorial at cuisine en locale but "Let the Music do the talkin" (if i remember this minus notes): Michael J. Roy stuck in "Crosstown traffic", so Fox Pass was a trio but I even TOLD Jon Macey after the show: "it worked!" he did a lot of chord solos, a lotta Velvet Underground drone AND (maybe in his own words) suspended Pete Townshend chords, kinda like Who Live at Fillmore '68 bootleg. great rhythm section also! and Linda Price from children of paradise sang a velvet underground cover.
Glider was next which is Jetset plus Yukiko from Tokyo Tramps, kinda Afrika Korps meets the Ramones (I heard that "Fox Lane" riff!) and Yukiko was supreme on "Heart full of soul" (covered on Afrika Korps lp!) ok, so gud '77 pop-punk.
Nervous Eaters have their 1978 lineup plus a Boom Boom band drummer, still as kickass as last year;"I get my kicks from guitar licks, gonna tell saint stephen the news": "on the avenue" i thought cataldo/hebditch were gonna bust into Fleetwood/MacVie's "oh well"! and then the dueling chuck berry tradeoffs solos on "Talk to Loretta" ONLY equaled by the Gizmos 2015 Gulcher session channeling MC5's "sister anne"!
Richie Parsons unplugged was good power-pop, Linda Price again on harmony and unnatural axe "summertime" IS "no fun" unplugged! (maybe richie/linda will do iggy/B-52 "candy" duet!).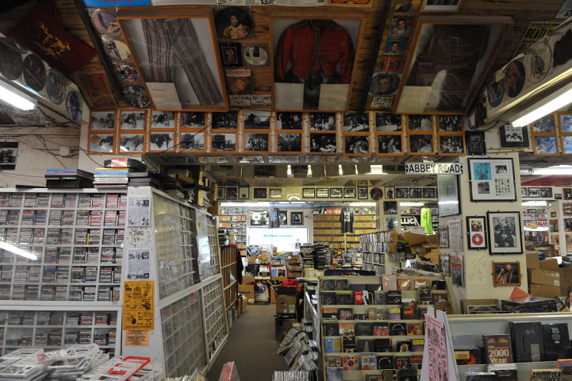 House of Guitars
Real Kids TOTALLY kicked ass coz John Felice was wearing a House of Guitars t-shirt but drummer Judd Williams from Hamlin NY's THE SWING SET was wearing a Genesee beer t-shirt! no need to look for lady dee's grave in Henrietta NY, this was real kids live on WCMF/Penny arcade (rochester) '78! i TOLD Billy Cole his wailing on Les Paul was Jimmy Page live at the anderson theater 1968! Judd Williams DOES read this gibberish so "Now you know". like Grinderswitch i had to "Caught a train" but classic ruins covered some Billy Borgioli toons with Pete Taylor of Toby Dammit, then Time Beings drummer got up and it was Link Wray/Larry Williams toons PLUS the first ace of hearts e.p.;
Art Freedman showed 1979-era Frank with Jeff Beck hairdo and everyone else on that ace of hearts record dun died, gone to heaven..just ask MJ Quirk, this was the most fun you could have with your clothes ON! (unlike the Nig Heist and OFF!)".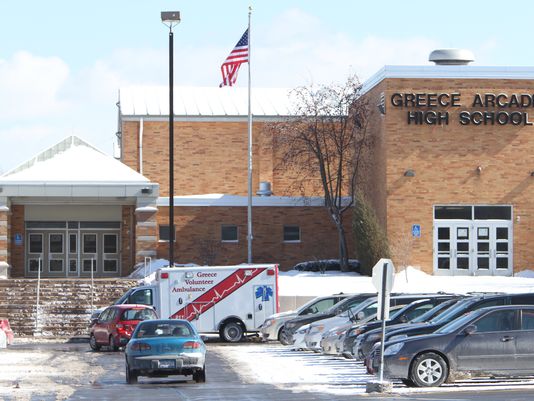 Greece Arcadia High School
More rock Gizstory to bore you with; Ida May: lots more live Gizmos footage up at Gizmos site, so dig ALL of it, mostly Brooklyn 2014 c/o Tony Mann, who has drummed with She-Wolves and GG Allin. on youtube found a GREAT 1984 Hollies sounding toon by Rochester NY's SWING SET, and i DO believe you could recognize a MOD Judd Williams as drummer (no rockabilly 'do here!) also Whole Lotta Shakin' Goin' On - a site on Rochester garage bands of '80s; seems they all went to Greece NY arcadia high school is is northeast of the ridge road, closer to lake ontario and i doubt i ever passed through there even goin' to House of Guitars (Greg Prevost has 1979 chesterfield kings photos where the band dont QUITE have "the look" yet; beards and sneakers! they look like a buncha Gizmos! go to the OFFICIAL C. Kings site!) so Swing Set opened for the Stompers at SUNY Brockport; i saw sea king/third rail saturday 12 march 77 the club (also met dirt kids Mark and Lynelle), Sal Baglio wearing Springsteen cap; first STOMPERS show was 7 nov 77, beverly (afrika korps/baby's arm cantone's 19 nov 77!) official stompers site, all this from; bassist: steve gilligan currently in Fox Pass! fucken walked right past him at the bar at Boog fest! (well, we actually never been introduced...); SO, on my father's fucken grave! (that's Arlington Va., turn north and you can sing "hey, Rosalyn"!) you fucken bluidy well right KNOW, next Fox Pass gig i wanna know MORE about this SUNY Brockport gig (since my sister and kin all work there). elvis costello and boom boom band; FUCK!!!!!! david maclean played in nervous eaters last night! so that's williams/maclean/gilligan ALL played SUNY Brockport, Judd had Genesee shirt and felice wore house of guitars shirt...to re-quote steve miller: "somebody get me a Cream Ale"!!!!!".....
Tuesday August 11, 2015
MAG FORE(skin)!: ida may: read leonard cohen bio (gotta get my $1.99 worth out if it!);
lissen to cambodian rock cd ($12);(side Bisexual): Baksey Cham Krong were inspired by Hank Marvin and Shadows and their two cuts SHOULD be covered by tsunami of sound!
| | |
| --- | --- |
| Baksey Cham Krong | Hank Marvin and the Shadows |
C: coast to coast! 0230 maybe and the guest is speed rappin' like a mutant cross between me and my mother about the number 7; if you divide this into this (by way of 39?)= 5 pm on september 11, subtract 7 hours from it = 1000 when the planes hit world trade. George Noory asked when this "circle of 6" (?) or 666 would happen coz that dude could numerically predict the MINUTE the world would end....i would put MY finger on the button to detonate Dr. Goldfoot and the Girl Bombs (on Tower!) if i hear that fucken REM song!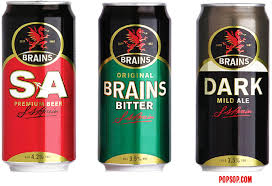 Brains Beer

D: on a happier note, oi 'said "croeso" to a Cyrmi; Mark Owen, please "like" Retro-Vibe Music, Cardiff Wales, he sells what he says; it looks like that store in dayton ohio where i'm holding a green vinyl Lenny Bruce album and look like Roger Kynnrard Erikson (see me sing them toons with Triple Thick on All Hallow's Eve!). so after bathing at baxter's or record-shopping in Cardiff, stop down the local, draink a point (pint) of BRAINS beer and join in on singin' "delilah"...even sober, i would enjoy singin' in a pub with descendants of the ancient Britons whom fought NAKED against the Roman Empire! (tyme for a reenactment!"......

"Me and my Facebook friend Angie Bowie both "like" international full moon club "and i'd advise you to do the same, if you value your"....LUNACY! (derived from lunar, moon, "change on into a wolfman/howlin' at the moon" and cetra.

a wee bit more history, researching oil and coal in sw Pennsylvania/north-central west virginia; discovered dad's grandmother's second cuzzin is Israel C. White who has a wikipedia entry! noted geologist etc.;his first cuzzin once removed was ray vernon hennen (Hennen's hailed from county Down, ireland, but both these guys descend from the Kenton, Delaware Darlings (as do I), also noted in oil/coal, lived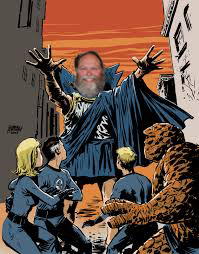 The Watcher

in Jollytown, Pa. (he's my grandfather McBee's second cuzzin or sumpin') named the Jollytown coal (you can google all these late 1800s/early 1900s science manuels etc.; well, I'M impressed, SOMEBODY did well!) of course, ecologically speaking, we have mining disasters, and even more criminal EVERY FISH in Dunkard Creek died recently from runoff from fracking etc. I'm like The Watcher in marvel comics (he had a big head too!) watching mankind fuck itself up or should i just lissen to Bo Diddley's "(we gotta fight) Pollution"?".

Wednesday August 12, 2015

read some Leonard Cohen; now he's hooked up with wally george's daughter! see wally george interview El Duce in mentors video!!!!! lissened to my $12 cambodian rock cd, the later Richard Nixon years, the guitars are SO psychedelic/Pebbles volume 13 etc. But after Gee Julie called from toulouse france singin' "you're gonna miss me" (which I COULD sing with triple thick halloween!), i had conservative talk-show host jim bohannon WRKO on in background so I was (gladly!) at 11 pm kept awake by a new tell-all book by the Secret Service! (not the long island mod band that played green street condos in '86). "if the secret service had been on the running boards of the car in dallas, JFK wouldn't have got shot"....agreed, i guess JFK didnt want them on running board..."Joe Biden goes skinny-dipping and it offends female secret service agents"...beg to differ on this; they never saw a fucken hog before?!?!??!? but lastly "what president's kids caused the most trouble"? Ken Gorshin as the Riddler sez, it wasnt Amy Carter but the older boys would go into Georgetown, DC (near where steve lorber played Gizmos and slickee boys in '76!) and "pull some birds", roit wi' "how would you like to have sex in the White House?" and they all said (it being south of the mason-dixon line) "hell yeah!" so take THAT Mister PRESIDENT with "oh, i know John Felice" as you chat up a French femme fatale!"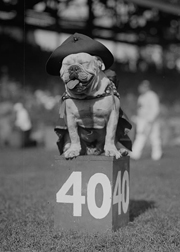 Bulldog

marine base quantico facebook pages sez us former marines can buy chesty puller's house and own a piece of history! you'd have to be BeBe Buell's marine officer dad to afford that (I salute him for fathering her!); chesty puller namechecked on "the marines? him?" on korps hello world (GULCHER cd!). IF I owned this house, I would have a whole pack o' bulldawgs name Smedley D. Butler and give them all a number (USMC Bulldog page DOES exist; you can buy them they are AKC, gud bloodlines!!!!!)"

email from roxy shake and church has a BIG show 20 august, jugglers, strippers etc. so even if it's NOT 1977 and real kids/la peste are at cantones DO go out for this!"...

k, just to settle all this Kenne as Roky business, I am armed with incestry.com and Ida May: roky's great-grandfather andrew jackson kynard's ma was a MacCraw. isle of skye to virginny, prisoners after 1715 jacobite rebellion possibly. sept of clan macRae, we have same DNA haplogroup as McBee, and DNA sez the McCraws are descent of Niall of nine hostages, early irish king. roky, like my dad, is a two-headed Gizmutt; the erickson grandparents born in denmark (vikings!) grandma erickson was a kentucky-born Murphy (aye), the Kynards are from rhineland germany to dutch forks SC (wikipedia! dutch as in deutsch and very lutheran, but not Lex Luther).also saw a Holland Dutch family and some west country english in goose creek, SC where i put five copies of the Korps hello world on consignment and didnt sell ONE! so of all the countries i mentioned, my grandfather McBee's DNA ALSO has matches there BUT toss in Jim Morrison L.A. Gizmo and Jimbo's brother-in-law traced the morrisons from isle of skye to hagerstown, maryland..."the end, my friend"?...highland/erikson/morrison all got "ruhts" in the Hee-lands, have "hair on their face...like dogs"...(Black Robe) and we all look like Hee-landers...d'ye ken me? (OR donovan's "do you hear me now?" flipside!)"....

"let's toss in the lizard king, why not? the morrisons were actually from isle of LEWIS, roky's mccraw's are SKYE...hebrides, it 'tis...jimbo's maternal grandmother was a german stidger in moundsville, wv, which IS haunted and is some kinda kin to Billy Sunday who "when he was back in seminary school"....there's an ohio union soldier on his ma's side, lotsa german, dad has scottish, german, county down, ireland, jimbo's ma and my ma have same Stiles ancestor in colonial Ct.; so english/scotland/germany/ireland, those are my grandfather's McBee's DNA matches so = the Gizmo king! "chicken.....yes...queen...i want to..."....

Thursday August 13, 2015

"20 august 77; real kids and la peste at rat! 20 aug 15; HP lovecraft film at brattle at 7 pm and roxy shake revue 945 pm at church! a double-header like sat 12 march 77 when i saw real kids rat and third rail/sea king at the club; Sal Baglio rules!!!!!"...

stagg vs. yost: the birth of cuthroat football, 2015 google book! yost is famed football coach fielding yost, my grandaddy McBee's second cousin; there's youtube footage of Yost coaching football! (looks like speeded up charlie chaplin). a passage of interest to me is Yost being born 1871 fairview, wv; dad's grandaddy McBee (ma was a Yost) born there 1866 and it DOES mention our confederate kin! of course if you're descended from doctor nicholas browning yost and I (me) descended from the younger sister who married a blacksmith name McBee and had an out-of-wedlock son AFTER he died...but still they all lived in them same ole hills; quite interesting and irony = dad in detroit (also a bastard son) not knowin' his distant hall-of-fame football coach cuzzin was kickin' out the jams in ann arbor BEFORE the MC5!".....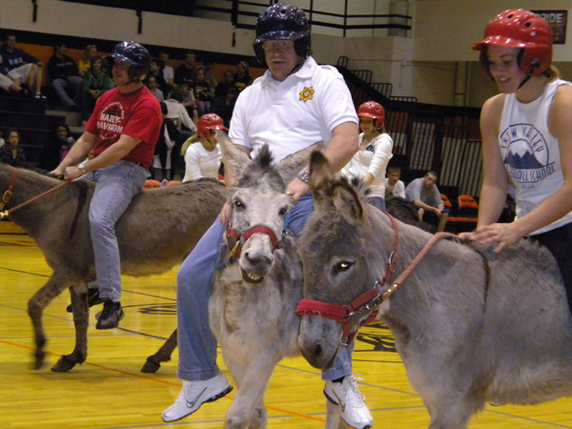 Donkey Basketball

Phillipi, WV; first noticed by me coz of the chestnut ridge people, a tri-racial isolate up on a ridge above town, almost ALL named Mayle/Male; McBees lived nearby. so besides the "west virginia guineas" and a civil war reenactment of the "Phillippi Races", they also (on youtube!) have DONKEY BASKETBALL! is it a west virginia thang? y'all ride a donkey 'round a basketball court shootin' hoops...see video to believe! remember, with mothman, bigfoot sightings and UFOs, i'm only THREE generations outta them thar hills!"...

Friday August 14, 2015

AM radio 'round the dial: midnight: danny stiles was "rapping" about the roaring '20s and i had a Deep Thot; Ma's very religious western NY dairy farming family didnt "indulge" but dad's parents, with my grandmother dressed like a flapper in a michigan photo, probably DID; i can sense that without a medium (tho dad's mother spoke through a medium: "she says she likes to go out dancing" and DID live near the Grande Ballroom!) peter sheinfeld was rockin' at night with them ole 78s, sponsored by PODIMA, on beacon street , a couple blocks from Sporter's! 0400, coast to coast and george noory's guest claimed we are actually all holograms, life is an illusion and someone else is running the show, then went into the "dream-like state" of buddhism (Gee Julie WAS notified, she being in a french town known for massacreeing Cathars and Hugenots!)....but my best joke from wall street journal: there's a baby boom in buffalo ny 9 months after 7 feet of snow! Me, Judd Williams and Pete Rose will all bet a case of GENESEE CREAM ALE that they become buffalo bills fans! "My gal likes white hots/your gal aint doodley-squat" as sang by the Riviera Playboys!"..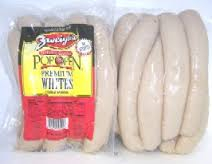 White's hot dogs
my grandaddy Mcbee's second cuzzin Fielding Yost, "Mee-che-gan" football coach was QUITE the character! if you google-gate, his father was Permeneus Wesley Yost, 20th virginia cavalry, so FH Yost didnt want to have black players play, all southern stereotypes applying. ok, "those were different tymes" BUT, Gerald Ford (future US president) threatened to NOT play if the black player was benched! Gerald Ford was my commander-in-chief when i joined the Corps, but if I'd know my football coach cuzzin even EXISTED when I recorded the first Gizmos e.p. (actually dad's grandfather Williard McBee born basnettsville, WV (population 435) 7 march 1866, Gizmos recorded 20 march 76, I born 90 years after Willard in quantico virginia, first one in four generations below the Mason-Dixon line. and what the hell DOES this all mean? gotta tell Ma 'bout the Gerald Ford connection!"..
Saturday August 15, 2015
Fireking at midway cafe: ran into drummer Smitt E. Smitty and whilst a young lady sang "scarlet begonias" in an atonal Shaggs/Waitresses voice during "Hippy Hour", Smitty and i talked about detroit, detroit music (FORMER bandmates flinging Raw Power 'crost the room!), bidding on MC5's drummer's Gretsch drums, fezzes, patti smith's daughter at detroit cobras/fireking, great scott, and figures on a beach touring with ULTRAVOX all whilst DelMar wuz kickin' ASS in Little league! (this player: "age 12"...this is a rock concert for these kids bein' on tv!). after a Brother Jesse Crawford intro by me (Tony Kaczynski said "kenne, do you wanna be MC"; me: "I'll be your MC5 MC!" Tony was pretty cranked up; does NOT play a Byrdland like the Nuge but riffs i heard: "strangehold"-nugent;"red-headed stepchild"-gizmos, Byrds octave-tricks, "Rain" by beatles, kinks barre chords; power in that pop! Smitty playin' like a cross between "machine-gun" thompson (read his blog!) or Bun E. Carlos in a fez with a big ole shit-eatin' grin; bassist's just had a baby two day ago, dubbed by me: FIRE-KID. ok, hahaha, good rockin' last night, blowfish and the dominoes will now "tell the truth"!"....
Miriam Linna solo album on streets 2 october 15! VERY close to her birthday! in '76, i was O. Rex drummer, became front man; kevin allin '76, malpractice drummer-frontman; steve tallerico-chain reaction; jim osterg-the iguanas; tyme for miriam to get up front and SHINE! (hopefully George Noory will plug album AND bobby fuller book!"

Sunday August 16, 2015

walking down newbury street towards solas and shepherd's pie and i heard "wipeout"!!!! being played out of the dashboard of a MINT 1957 red Chevy! WITH the top down! "I'm so glad i'm livin' in the USA" b/w "Amerika First"! after Friday night with Fireking, I was dawg-ass tired, but WMEX oldies had a salute to the JORDAINAEERS with interviews! and RCA '50s elvis hits,"dont be cruel","all shook up", AM radio battery operated tinny MONO sound, man! elvis's death date happnin' but lemme quote a Real Kid who's now a Dead Boy: drinkin' beers with Billy Borgioli ca. '91,when we wuz varmints: me: "billy, you know elvis died on a tuesday and Miss Lyn got married on a saturday" (da-doo-ron-ron,da-doo ron ron!) Billy, deadpan as always, cherokee heritage showing: "Elvis died of a broken heart". coast to coast topic: RESURRECTION! people that rose from the dead! (like Lazarus)...well, new book out, check website! WRCA, as usual, Harold Branch said "give me my flowers while i'm LIVING", so go see local bands while they around! (like real kids!) (and me!) JUST for Blowfish SKIPPY WHITE played Reverend Cleopus Robinson! I subjected Blowfish to all my $1 Nashboro gospel records that i bought at cheapo records back in '81...couple/three more: Chelsea McBee (look at her videos; she has my nose!) played atwoods wed. 5 august 15, banjo with christian lopez band! SHIT! missed that tour but she's half my age and has as much mountain-cred as Jean Ritchie (who sadly just dfied in June!-Ed.) and my grandaddy was a WV McBee! (GO MOUNTAINEERS! how many BGN readers are ready to tailgate during college football when it's COOL out! Miss Lyn? Blowfish? (I hate jocks so NO!!- Miss Lyn)..you CAN wear your black clothes to the harvard/yale game!

blog to comm reviewed new Gizmos! chris stigliano is one "sick" collector (like carl biancucci/eddie flowers/frank lima!) coz he actually COLLECTS my old ravings from '70s fanzines...the "Camp Penis,Alabama" comment was 19 year old me messin' with Creem when they called Gulcher HQ (so did marc thor; "I'm in indianaplois and i hear you guys are making a record"). rich johnson,creem to Ken "you remind me of lester bangs" (truth: crossed with HELLBOY! insert kenne face on Hellboy head). lastly,niagra detroit wishes to remind everyone it's scott asheton's birthday;Iggy-lone Stooges (elektra) survivor,me lone O. Rex (Oral) survivor. opened for scott morgan band in '80s at green street station,autographed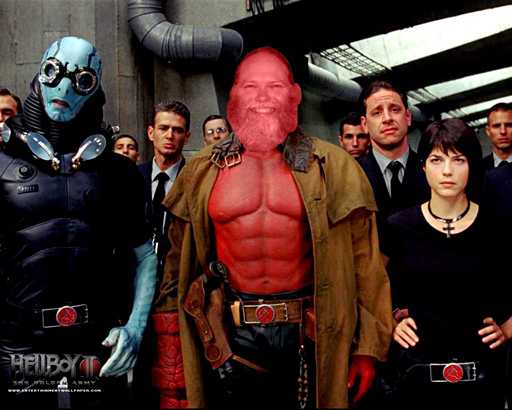 Hellgizmo
lastly, niagra detroit wishes to remind everyone it's scott asheton's birthday; Iggy-lone Stooges (elektra) survivor, me lone O. Rex (Oral) survivor. opened for scott morgan band in '80s at green street station, autographed "landmine" for scott and wrote: "I am the next iggy pop"....now both ashetons gone, my grandmother buried in south lyon where mitch ryder resides BUT my dad buried in northern virginia where their grandmother asheston is buried! as ma said about my uncle john blodgett,who died 2013 age 98 (he buried THREE wives too!): about the ridge road, route 104,clarkson NY cemeteries: "he knows more people in than out"; and, for some "country comforts", ma sez my grandmother blodgett, died 99 and 1/2 whilst I played portland maine with hopeleslly obscure (ARF ARF lineup) after all her one-room schoolhouse classmates died (and she DID live on the sweden-walker road like walt o'brien of the swing set!) "well, i hate to be the last leaf on the tree"......