8/19/2019
Monday, August 12, 2019

day of Saturnalia! 10 august 19. Union Tavern Somerville Mass. Cal Cali band 5-7 pm. A pleasant afternoon jamming on ole chestnuts like "Tired of waiting for you"/"Wooly Bully"/"96 Tears"/"norwegian wood"/"youíve got to hide your love away"/"positively fourth street"/"I want you"/"sunshine of your love".....if you DONT know the original artists, I AM teaching a classic rock class, Beserkly school of Muzak! "you're gonna miss me me" plus Lyres "how do you know" and Real Kids "common at noon" plus Sonics "Psycho" made it more "Hopelessly Obscure"....let's not forget Brian Young of WMFO singing the Stones "dead Flowers" PLUS he played GLiDER live on WMFO covering Gizmos "that's cool (I respect you more)".....ANOTHER tail of long ago, I guess Gizmos "tape" was played WIUS, Indiana University, Bloomington, Indiana early '76....hey, I WAS a dj there but then THAT song got airplay.....still a "hit" since brian was in knee pants! More Cal Cali gigs than I can remember coming up but he is excellent on sending info to BGN so maybe I will see you there, me on bass channeling Jay gruberger.

Tuesday, August 13, 2019

day of saturnalia 10 aug 19. got done playing union tavern, somerville, mass with cal cali band, went down street from sally o' brien's and La Internacional Foods Corporation, 318 somerville avenue, somerville,mass, inside the packie had a wall-rack of cassettes! Summer '06 "woke up, it was a Chelsea morning", so I got my latin music fix before i knew Dad had Iberian peninsula DNA! This was like the early '70s bargain bins! My bargain casette ("I'm a tape-a-holic"-Willie Loco Alexander) was Teresa Guerra (which means "war")-Salsa Flamenca. $3.98 on amazon, $4.99 ebay (cds), cassette said $5 but mi nueva amiga said "tres dollars" to this bearded gringo straight off the cover of Tres Hombres. This cassette on a Florida label (think Miami Sound machine!) and all i can find on teresa is in Spanish. kachiteka.blogspot.com says "kachiteka-Un Lugar de Recuerdos + Venezulea En Ritmo'; two of my favourite singers have roots in Venezuela: Adriana Solarzano of maiden New England and Mariah Carey! Teresa Guerra has a twitter acount, you can like her on facebook and plenty of youtube of her demonstrating flamenco dancing on various latin tv shows. Here she is singing!! She is also as flamboyant and dramatic as, say, Nina hagen! comparaungitanocondios.blogspot has an excellent Spanish language piece of Ms. Guerra; I know some Spanglish, but Tere De oro records are listed and say "rumba-glam". Yes she is, I been using my thumb to play flamenco to this tape and if Miss Lyn hears the sound of elephants trying to do flamemco, it's just me trying to be Kenne Highlando"......

Wednesday, August 14, 2019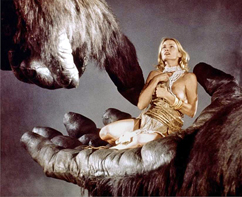 Sonntag 11 august 19. brattle thee-ate-er double feature: King Kong and Serpico! King Kong released 17 Dec 76; Gizmos in creem on page 59 right acrost from L. reed and Pistols swear on Grundy show 1 Dec 76 (I knew naught of them being high on GIZMOS IN CREEM!!!!). And I didnt see this fucken movie! But tymes they are a-changin'. Brattle membership= $13 for a double feature. Ida may: "Introducing Jessica Lange!" She doesnt wear much, even sports some Daisy Dukes BUT "Miss Lange's jewelry by Bulgari" (so fucken what my mother is distant kin with Tiffany)....Love interest is Jeff bridges, pre- "Dude"! Ok so '70s cinematography, you all know the tale and it is touching how human female falls in love with big Gorilla; sounds like both my marriages! Instead of Empire State Building, Kong climbs WORLD TRADE CENTER, where dad's New Netherlands ancestor had land but which aint doin me jackshit now. Speaking of New Netherlands, I last saw Serpico in a room at SUNY Brockport NY for a buck; I looked like an army jacketed stoner version of first Gizmos e.p. tryin' to pass micelf off as a SUNY Brockport student. Movies for a buck? Our local thee-ate-er, The Strand Theater....I coudnt afford it! I had to walk to the country from downtown brockport just to listen to "Do the Strand"! (snow was "8 miles high"). Serpico released 5 Dec 73.14 dec 73 Dome Arena, Rochester NY J. Geils "w/Foghat"! Montrose opened. All the police corruption happened prior to me joining O. Rex 3 June 73 but basically, at that tyme, New York was one funky-ass city! Sorta "Dirty ole boston" NYC style. I was sittin' there goin' 'damn Al Pacino is one damn good actor". His "MArtha My Dear" sheepdog is the star of the movie of course and ending credits "now living peaceably in Switzerland", hold frame, Serpico and sheepdog! Such a great movie!".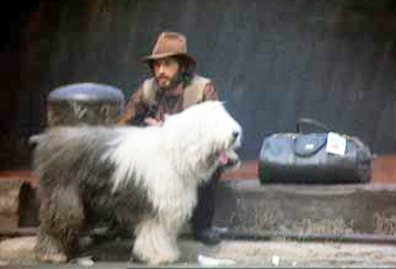 Alfie and Serpico
Thursday, August 15, 2019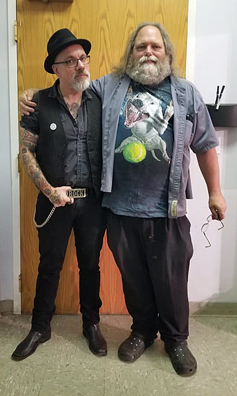 Kenne and Ken Mac (Sleazegrinder)

day of fucken WODIN 14 august 19 and it was a BESERKER! Ken MacIntyre hosts Heavy Leather Topless at SCAT-tv, where i saw Pressure Cooker early 2000s and i walk into the control room, house band SUPA-fuggin'-group: Chris Gala-guitar; Andy Excuse, Fightin' Fish, bass and Johnny Odd-Strangemen drums. My general take on this show is if John Waters directed Playboy After DARK (WHICH Grand Funk railroad DID play on!). GLiDER played and we did an interview; Ken Mac HAD read Vulcher so I showed him my ancestry app how i was eighth cuzzins to Elvis. He also mentioned the Gizmos as "proto-punk"; dang....that kid should be a fanzine writer! (I FINALLY figgered out Sleazegrinder and Slimedog were two different critters!). More Kenne stories! (havenít met a microphone i didnt like....)....Ken Mac was at CCTV came to a Highland bbq (uh oh...) '90s with one of the Blind Orphans; said one of the Peecocks was there and "I would holler all these Alice Cooper songs at you and you'd play them back to me!") (had an Alice Cooper songbook; diagram for Eminor, Ken Kaiser, that was 1973! Studied that and other songbooks more'n my so-called homework....."Schools Out Forever!"). "That was the best party I'd ever been to!"- Sleazegrinder re-quoting Harold madison Jr about my 30th at Johnny D's, Allston: 'that was the best damn party I ever been to in my LIFE!"-high praise for Highland from Mr Butch!). There was Murder Moment (camera lady discussed mass murderers; QUITE interesting), burlesque on a riser as we played; like I said, almost, Shindig meets Playboy After DArk!. A magician too, he's got a casino gig. A young rockabilly lass whom sang with Chris/Andy/Odd house band songs from SECOND Cramps album (songs Mary Lou Lord taught us....maybe SHE should dress up like Poison Ivy!); senior moment, forget her name and band but they playing Jungle soon with Fireking! And SPEAKING of Detroit, The Gala didnt have ENUFF good things to say about playing Cleveland and Detroit! "People would say I drove a half hour to see you! Not in Boston"-Chris Gala! The gang did a group dance (Laugh-In meets Shindig!) I had some damn fun. "dazed and KENfused trying to remember it all...and LASTLY, a 15 year old camera lad mentioned the vintage shoppe next to graveyard next to Market basket plus, soon, he shall be fronting the house band singing Stiff Little Fingers/Dead Kennedys etc. born in 2004?!??? A Future Ken Highland in Training! Same age i was when I bought both Elektra Stooges albums! There IS hope for the future after i pass! (reports of "My Death" (Jacques Brel): "did you hear Kenne Highland passed?" "No. what? Gas?" sauerkraut from Bronwyn! Schmel herbie Hind: "that food went straight to my ass" from his book of Armenian-American Wit and Wisdom"......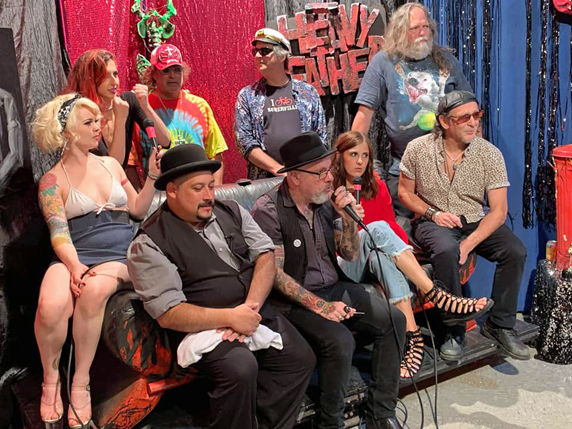 Glider with Heavy Leather Topless Crew
Friday, August 16, 2019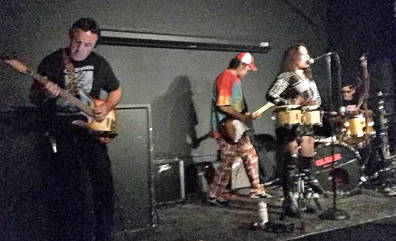 Sarah and The Scaliwags at The Jungle

day of Thor ides of august. The Jungle, Union Square, Somerville. Justine of Unclean and "Uncle" Tom baker wuz eatin' at Bronwyn, there specifically to see Sarah and Scaliwags. Nice room, stage was Bunratty's size, Sara seemed comfortable on it. MJ Quirk had a Lyres "longhorn" bass, didnt miss me a note. i was impressed Schmel Herbie Hind did solo on "Til the End of the Day" note for note (Afrika Korps covered that on first album; Justine from Moose and the Mudbugs DID ask what album "dont get fresh with me" was on). Some change-up with Cal cali fronting and Sara on drums. Pleasant surprise was "Caroline Says" good male/female harmony with Cal/Sara and Sara drumming like a Virgo gay hathaway (which is an oxymoron; you do oxy, you're a fucken moron!). Once "Loose" by Stooges was done and Schmel herbie Hind doing Ron Asheton solo note for note, Sara drumming, Justine of MALACHITE got me up to dance! Well, we got Michigan roots....Crunchtime followed and I warned Justine of Swank I'd be quoting her: "uncle Ken what was that band with Leslie Greene/Johnny McCarthy?". answer: Buzz and the Gang! Billy Harrison on bass, 20 ashford street resident '82,from Hell Toupee brought in more '80s memories. Great set ending with Buzzcocks "ever fallen in love" and Godfathers "Birth,school,work,death" (my life if not saved by rocknroll). Lastly Glider, audience included triple Thick Mitch and Nick Fuck from dead City Rockers. We ended on a dime on the originals we recorded. covers: "be more flamboyant"/'you're gonna miss me"/"psycho"/"sunshine of your love" (if the Afrika Korps coverd it September '77 Fort Meade Maryland, Slickee Boys opening....Schmel herbie Hind and i are like me and Jay gruberger with the Cream covers!) and "what goes on" (I did some oud-like licks on G string; "the armenian connection"!). Fun tyme had by all Jungle's Thor's Day schedule is 'da fockin' ballz'....good excuse to eat at Bronwyn!!!!!!!"