8/20/2018
Monday, August 13, 2018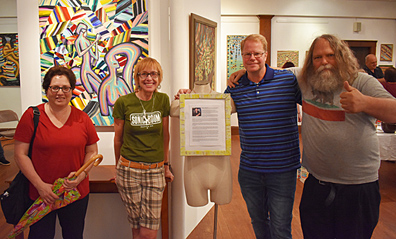 Julia Mongo WMBR, Joanie Lindstrom,
Brian Coleman and Kenne Gizmo
Photo: Blowfish

"saturday 11 aug 18 (i met carl biancucci that day in '74), me/blowfish/miss lyn go to nave gallery, somerville, a magnus johnstone exhibit. Joanie from WMBR has alerted Blowfish but glad I went! though descended from Moffats from Forfar, scotland (birthplace of BON SCOTT!) who, along with the maxwells, did FEUD wi' Johnstones along the Scottish borders, I get to make "reparations" and push his product(s). Buy Magnus's art! His soul 45 collection was spun by Lost and Found's Brother Wayne on TWO turntables but most important of all was meeting Brian Coleman. Here's the network of RECORD COLLECTORS (Miss Lyn's next husbands?): Brian bought PHIL "what goes on" MILSTEIN's copy of boston groupie news board game from BLUE BAG RECORDS, Mass. ave., ahlington (Dred Foole performing there SOON!) that's CHRIS GUTMACHER who knows Gizmo Eddie Flowers (Chris also was the Pete Best of Bullet LaVolta). Brian might count as a "record geek" and his book of old Boston ads (that david bieber/phoenix archive is astounding; he was there but like certain Kinks groupies "you wouldnt know him"). Let me plug Brian's book! www.BrianColemanBooks.com or (card): Brian@Good-Road.net . No AMAZON for him; buy it from him di-rect! (I got a promo copy, but like my indentured servant ancestors, I am "earning my keep" with FREE PUBLICITY!!!!! I could blather on about the book, but the BEST part; FUCK them honkie mofos at the rat was Roxbury's lucious unknown r&b scene! posters for Margo Thunder at Highland Tap? Energetics?! Roscoe's! Some of my Puritan ancestors did live near Dudley Station and so do I, mofo! closest thing to the Motor City! and I DO LOVE Wayne Valdez inn sqaure men's bar july '83 calendar: wednesday 13 july 83 Plan Nine and the Hopelessly Obscure. REASON ENUFF to BUY (dont steal!) THIS BOOK! as if you Kenne kollectors "cant get enuff"....I'll even sing it for you! (I know Mick Ralphs solo too; "note for note"-Solomon Gruberger!) (let's see if Ken kaiser thinks THAT's anyway to end an article)"......

Tuesday, August 14, 2018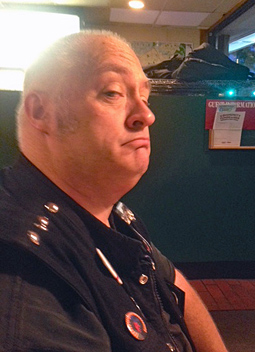 "sunday 12 aug 18, go to arlington Mass. (home of the frantics!) to jam with Mad Painter. a lot of fun! we made a recording of me singing small faces 'afterglow", Mach Bell used to cover it, liked Alex Gitlin's Ian maclaghan keyboards and said you have to be brave or KRAZEE to attempt Steve marriot, but he liked my vocal, so fuck it, go for it, let's see Chris Cote do it better! (there was a Humble Pie thang at Right Turn, two Jumper Cables plus Pie drummer, but vocals was Mister Upper Handyman Crust, whom, if Carl Biancucci said handled Steve marriot perfect; wait! i saw handymen do "30 days in the hole"....all it is basically is my "kilebasa" vocal). Then I learnt their album, using John Geary's guitar: me: "alex ,that sounds like deep purple";"alex, that sounds like Uriah Heep"....Alex and John Geary (bass/guitar) met at NORTHEASTERN over uriah Heep! My dream finally becoming true....it's like the Gruberger Brothers and love of Mountain! 19 year old "Whizz Kid" Flynn Young on Kenne Jones drums LOVES glam-rock and since his dad was in silver star and jukebox angels ,he quips "glam rock in Boston ended with my birth", since Dad quit band, married,kid...who rocks! you should see him do Japanese noise-core! "I'm not in love 10cc...1-2-3-4!"....like one-a them wind up monkee drummers! we adjourned to papa gino's mass Ave., ahlington where, if this were 16 magazine i could give you SECRET FACTS! (centerfold is mark Lindsay and Miss Lyn kick yo ass draw a mustache on him; her granny woulda throwed coffee mug!): Alex Gitlin took classical lessons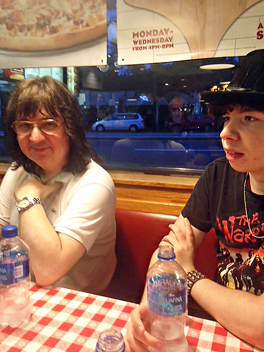 til age 8! (John Ptingilo, whom auditioned after Flynn's dad left Silver Stah, thought he heard a Procol Harum riff and he's right! ALBUM on youtube!). John Geary has a hat collection to rival larry hagman! we also discussed what era Zappa we liked or where was "cutoff point"; after discusing THE DEAD, he also admitted his hat collection was Pigpen inspired or something like that). lastly, Flynn Young, so damn skinny he only wants to eat a (Moby) Grape doesnt wasnt his photo taken without his makeup on! But sending BGN photos anyway....he's an '80s "freak", this kid born in '99 and a great lover of glam-rock. i SHALL be doing more musical misadventures with these Katz (wish it was Steve Katz, BS&T, but...)....soon! AHLINGTON! Home of the Frantics! (John Ptingolo as NY Dolls-ish late '70s,pre-MIAs glam-rock!)".......

Wednesday, August 15, 2018

"wednesday ides of august 18, day of Wodin. club linehan-ago-go practice, taking a vaccation day tomorrow but (Jody) Moore later on that! So I got tyme for.....DEAD PEOPLE FACTS! Helena Terrace of the Rock Record (9 July 74 Cub Koda interview) told me about the we're related app (FREE!). Since I turnt her onto Brownsville station and dead people, figger i check this out. a lotta ole Yankee lines with celebrities whom make more money than me BUT: ah is 8th cuzzin to Miley Cyrus! (so Dad were seventh cuzzin t' Billy ray!). this COULD be fodder for Vulcher, but til then....eight genrations back, Miley and I de-scend from Margaret "Marga" Goldsmith 1675-1739. researching further on google, www.colonial-settlers-md-va.us. meaning southern maryland and virginia northern neck counties, like Dad's seventh cuzzin Don's Knotts family (read Vulcher!) I find Goldsmith info. Though truth be told, Blowfish's sister is my REAL wife with her love of dead people, i shant bore you too long (would you rather be waterboarded?!?!)...her father John Goldsmith, born 1636 england, died 31 july 1683, saint mary's county, maryland; go on youtube to where i sing "jailbait janet" with slickee boys, i was a couple counties away from there about ten years back...."thomas gerrard demanded 2000 acres for transporting in 1650 (20 named persons including man servant JOHN GOULDSMITH)"....basically, me, dad, billy ray, miley descend from a teenage "man servant" whom died a planter (watch ROOTS, you get picture) and out of this we got one combat photographer and three great entertainers! (Billy Ray also claims a Cherokee bloodline so maybe Miss Lyn is HIS real wife?!?!?!? that reminds of me of the tyme i was in rhode island watching Tiny Tim drunk off my ass and i started dancing with Joe Coughlin's girlfriend to "achy breaky heart" to this Portegei country band.....damn I fucken MISS DRANKIN"!!!!!!!!"...........

Friday, August 10, 2018

"but deutsche welle app told me Lady Soul died, then my french newsapp, then Huff Post...world-wide sadness. So, let's see, practice focused on saturday 8 sept 18 Hearing Room, Lowell,mass. velvet underground gig, me, MJ Quirk and John Keegan making glorious noise on banana album songs BUT "pale blue eyes", bluegrass style, known as LOU GRASS!, give it up for Joe "the Mighty' Quinn on bass and Kevin Linehan on drums; I sez: "you know that Irish music you play with Rob Lynch in Ben gardner's Boat? double-tyme it and it's blue grass!" Like Davey Crockett and his "one-shot" (otherwise he'd'a starved; a children's record ma bought in '63 when age 7, manassas, virginny, I got my distemper shots or some kinda 'noc-ewe-lay-shun); they got it right the first tyme, fucken bullseye and when i run for president on the Abe Lincoln/log cabin/Ken Highland/virginia trailer tail ,Rob Lynch offered to be my white cook rib-a-geddon cook! does this mean vegetarians wear a scarlet V? we also practiced for the rat beach party sunday 2 sept 18 gig with Jody Moore doing a set. Future/Gigs: Bob Roos of stigmatics/flying fish offered saxist/BGN writer JOHN KEEGAN ("Kenne, i read your column, i like seeing my name"....who the hell you think i am, AJ wachtel in the Beat?) and this gig in october (I forgot date is in: WAKEFIELD, MASS! a swingin' place if i never knew it....hey! I'm from a small canal town in Bills country, playin' the 'burbs, you're like the real kids in france! (tho they like Jerry Lewis also....)....Harlequin reunion in Hull Halloween (that IS scary enuff!) and Alice Highland as Hixxgiving on Miss Lyn's birthday (17 Nov 18!); talk of a hawkwind tribute band! MJ Quirk damn so keep me busy...tonight, tho, i go to that ole holiday inn near WBCN that has a record library (Miss Lyn translate that- OK Kenne means he's going to the Verb Hotel to see the OC45 Free show-ed); yes, I'll be AT LARGE!"....