8/17/2015
Monday August 17, 2015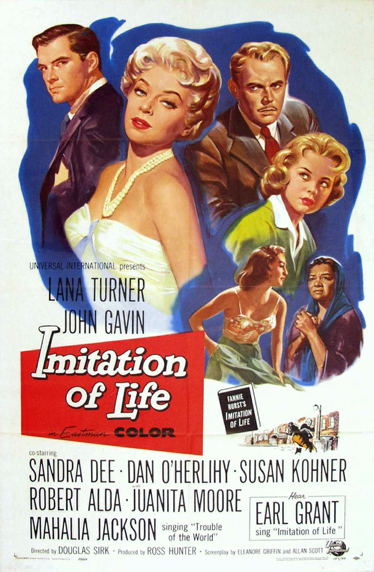 Imitation of Life
Imitation of Life, brattle theater. released 30 april 59, I was three years and living in Wallace NC as was ML Carr! considering the subject matter, when dad was station at camp lejeune, NC, on-base I DID have black friends but as far as the rest of the tarheel state went...
so i've seen this turner classic but LOVE IT on the big screen, about the mulatto whose father was "almost white" "passing for white" and rejecting her black mother; kinda the reverse of me and my WASP mother coz, at cantab blues jams and blue hill ave. gospel performances, I was tryin' to be Black Like Me or do the whole Mailer "white Negro thing".
so, Kenne on koffee, what I like: the '50s! rotary phones! sandra dee! (she acts SO "blonde")...white-wall tyres on vintage cars! (oh wait, they were NEW!) Lana Turner lookin' like Joan Crawford! a bunch of outdated '50s talk i.e. the two lil girls: "what colour was jesus?" (I've read a lot on that in the plain truth, so he allegedly looks middle eastern, the painters in Florence made him look "white"). Troy Donahue beats up the light-skin girl: "is it true what they say at school? that's yer part- nigger?" to quote Jay Gruberger quoting me acting like my WASP mother: "frankly, I was shocked"; this was NOT the usual troy donahue role! ok yes, lana turner "climbing her way to the top" with sleazy agents etc. who all dressed and acted like Mad Men! (an era where people like my dad ALL dressed dapper and really DID "love thy neighbor" and i DO mean biblically! I got a bastard half-brother who's turned up and do i EVER love the scandal!) so this movie is EXTREMELY melodramatic, over-dramatised (my favourites!) and final reality check: the light-skinned actress was Mexican and Czech-Jewish! once at harvard coop, i read a GREAT film book about Jewish actors in blackface (you can actually TELL in birth of a nation, another CLASSIC film, despite subject matter, fucken get over it, history DID happen, cain't "white-wash" it!)
support the Brattle, get a membership, watch the HP Lovecraft fest AND on sunday 30 august 15; ALIEN/ALIENS double feature! OH!...the music of imitation of life: earl grant in intro! Jo Ann Greer "ghost-singing"! and fucken mahalia jackson at the funeral scene! and to think i'd started out my day with skippy white playing reverend cleophus robinson!".....
so oi'm readin' the Bel-fist telegraph, oi am, and playback fm had a lil search engine that could on "what movie was #1 when you were born?" 2 april 56; The Searchers with john wayne! (i was in a trailer park in quantico, virginny). "what movie was #1 when you could see PG-13: 2 april 69, 99 state street, brockport, i believe i'd just got rubber soul in mail from capital(ist) record club, still love that 11 song rainbow-label american pressing...answer: Goodbye Columbus! which i still have yet to see! good nostalgic fun for baby boomers! have frank lima cue up my kinks 8-track with "young and innocent days"!"...
"Trackin' Gizmos World Tour 2014 (Gulcher) airplay; seems on WMBR, Joanie played "dont get fresh with me" and Mully (whom i never met) played "devil talks in tongues"! we appreciate all airplay even goin' back to first Gizmos ep, Oedipus, WTBS, now Ma's "kid is finally famous and cool"".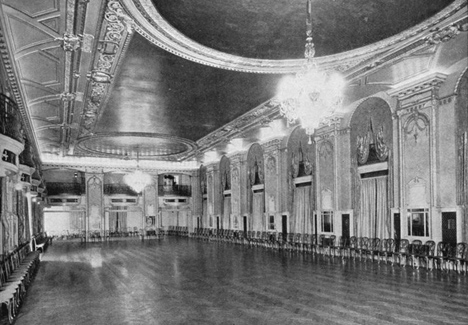 Grande Ballroom
stumbled acrost some Motor City madness tryin' to figger out what dad's ma (born 1914) did as a teen (1932) til his birth (1934) and a medium DID say "she says she likes to go out dancing". i looked up mileage from Detroit's Tireman neighbourhood to Grande Ballroom (and 60 years later Maxine Highland's grandson was diggin' Kick out the jams!) but Dee-troit had quite a jazz scene! there's a book kinda called Before Motown; the history of detroit jazz 1920-1960 BUT things were VERY segregated (and i know how prejudice my grandmother was) so "hot jazz" = "Negro" and "sweet jazz" = "acceptable, white music". BUT the crossover WITH youtube videos was the Casa Loma orchestra; lotta jazzbos have wrote wikipedias and other articles if you wanna be "Hey Swing Mon" and if you had watched Swing Kids movie, Benny Goodman allegedly "was white, played black" but looks like Casa Loma kicked out the jams and played so "hard", Harlem bands "respected them more" (my quote). so if my grandmother was a teenager, steppin' out with a married man and havin' his "love chile" plus a photo of the two of them and her dress like a flapper and smokin' a cigarette...they DID appear on Camel tyme or some such, sponsored by Camel cigarettes! narrowin' down this family mystery but learnin' a lot of dEE-TROIT history though i got no one to ask. there are even forums with what the Grande Ballroom looked like in 1928 floor plans! and it's haunted too!) one last coincidence (george noory is from detroit and he says "there are no coincidences!"): Casa Loma DID started recording in 1929 but later did an album of Hoagy Carmichael toons; he born in bloomington indiana and i left my grandmother's funeral in dee-troit, moved to bloomington, did the Gizmos....and never got to ask her about the Grande Ballroom!".....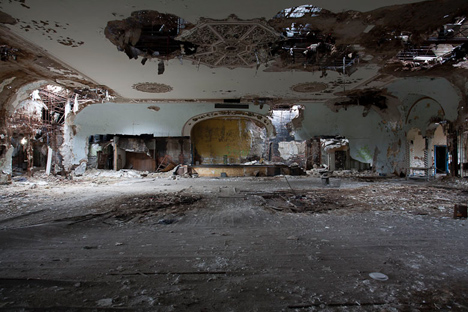 Grande Ballroom - Detroit
MORE Casa Loma facts; Ida may: the complete recordings are archived at Northeastern in boston! ("Best Bette" is an alumna). #2; Camel CARAVAN with "Smoke rings" as theme was the radio show; a later guest was Xavier Cugat! Ken Kaiser and i discovered a Cugat album through somebody 30 years ago; at the end of each mambo it sounds like he going "ugh!" but i think it's "dido"...let's research Cugat, zoot suiters were more punk than those british panty-waists anyway, they had riots in the '40s!""....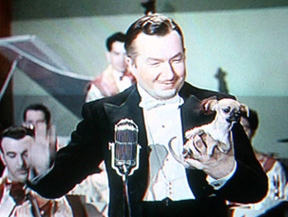 Xavier Cugat

maybe i know trivia ONLY Frank Rowe would know (and ma's grandmother was a Rowe, the other was a Veilleux) BUT xavier cugat born girona spain and his website gives some great ancient history facts like the fact that Hannibal (not The Mighty Hannibal, soul singer) passed through Girona (notable Jewish population there too in 1200s) on way to Alps to sack Rome...I always wondered about the war elephants and read all about it on wikipedia! Hannibal used 38 war elephants, none of whom survived the Alps and they woulda been male coz of testerone and war...when the Gizmos tour Italy with Mad Max auguste 2016, NO war elephants will be used for hauling gear! those poor guys, perishing in Alps....

Now researching hillbilly music in detroit coz mah granddaddy McBee had moved north coz of auto industry; so check out: The York Brothers! from Kain-tuck, 1947's "Hamtramck Mama" was BANNED by the mayor coz of it's portayal of a "red-hot gal"(hey! quit talkin' 'bout my grandmother like that!) and it just screams ROY SLUDGE!!! they also sang about other Dee-troit neighbourhoods where hillbillies had came north to work in auto factories and them juke joints woulda made the Rat look like a DAR meeting! lotsa good Dee-troit rockabilly since Appalachia DID move there; but good to know that 30 years before the Gizmos or even 20 years before the MC5, somebody else was gittin' banned! ('course me and Sonic Smith got roots in west virginny, so.....)"....

and let's not fergit timmy's organism whom played mutant fest with the Gizmos 11 july 15, had a great tyme after the show talkin' 'bout Dee-troit ("we're drivin' home TONIGHT coz we're playin' the 50th anniversary of the first MC5 gig in Linkin Park"; wicked nice guys and LIKE them on facebook!".

hamtramck mama was 1947, dad was 13....he MUSTA heard it! it's like "dirty water" for boston; an anthem! (but more obscure!)"...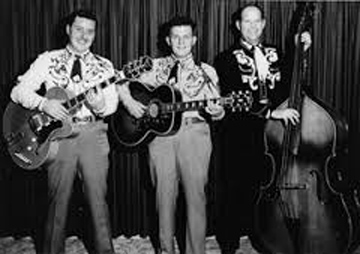 York Brothers
Tuesday August 18, 2015
burn the fiery cross and lemme spill a few (Mac)Beans:
Craig Willis Bell (Rocket from the Gizmos) working on credits for new five-song Gizmos e.p. "they're really rockin' in bloomington" BUT "they're really rockin' in BOSTON!"
i'm playin' lead with club linehan-a-go-go at rat beach party but it's "right after Black Souls";NOW i am psyched to go to where the Mary and John landed with Dad's Phelps ancestor who has a wikipedia entry for settlin' dorchester, mass. and also connecticut!"....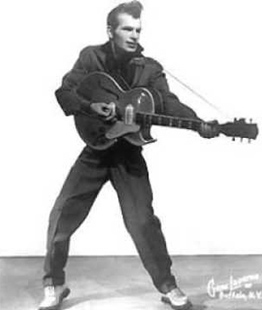 Ersel Hickey

bopping detroit is the website and we further research hillbilly music in dee-troit or my grandaddy aint a McBee from WV! earl songer and his roadside ramblers....i feel like those Gizmos fans who come up to me like i'm Ersel Hickey or sumpin'; THIS shit's the real deal! why! coz earl wuz borned WV, worked at the same ford plant in dearborn, michigan (large lebanese population there like casey casem/george noory) and met his future wife thar! it's on all the site, need to see if some collector put up these records on youtube....and the York brothers "Hamtramck Mama", "highland park girl" were an influence on the Eberle Brothers! (it means like "pig farmer" in swiss german). thus that = the beatles! celtic music worldwide, in the end!"....

Boston BeBop News: Nacirema Club and Blue Bird Inn, both wikipedia, Tireman neighbourhood jazz clubs; miles davis played blue bird, it's 3 blocks from where my McBee kin lived on allendale. Tireman was the "Jim Crow" line; kinda like how dorchester, mass. is divided (STILL!); these ole dee-troit jazz clubs=storyville, south end et al. boston but of interest to me as i do family research on my dad"...

1940 detroit census; the McBee brothers (dad's father and uncle) are in NW Goldberg neighbourhood, where Motown started! mapquest puts them REAL close to Motown museum! Now i need to see when Berry Gordy moved into said neighborhood"...

Bad inc.; Bad company/paul rodgers tribute band out of NC wants me to "like" their page! well, I did "LIKE" Bad Company opening for black oak arkansas summer '74!"

some youtube footage of billy borgioli tribute; Last Reflections on a GIG, NOT shot by Gy. sgt. byron grant highland's oldest son. I look like I ready to sing "city of night....city of night...L.A. Gizmo...", Blowfish is standing talking, but the Nervous Eaters! at first i thought are the Classic Ruins playing "Swalbr"? otherwise, as i remember, it sounds like they're gonna burst into "oh well" at any minute! and THAT, from ME, is a fucken compliment, ESPECIALLY the guitars, as "I'd better get my skates on" (John Cale when he heard the feedback in small faces "whatca gonna do about it"".....

Wednesday August 19, 2015

More motor city madness (Detroit groupie news?);1943 john lee hooker used to show up late at the Apex Bar and the owner went "boom boom, you late again!" SO since I HAVE covered the Animals version of this classic in various combos, my grandaddy McBee lived only two miles from there (woulda had to pass the future home of Hitsville USA but in 1940, the Gordys still lived on cass corridor); my father and grandmother were close to Grande Ballroom (how many tymes have i covered the Kick out the Jams album?!) and woulda gone past my grandfather and his Scorpio wife, then Hitsville to take 9 year old Byron Grant Highland to Apex bar (okay, this did NOT happen but Apex bar is close to hamtramck car factory, so, whichever "colour" you were, you either saw John Lee Hooker or else some great hillbilly music! I woulda gone to both, but then again, I was livin' down south whilst everyone was "keepin' an eye on the prize""....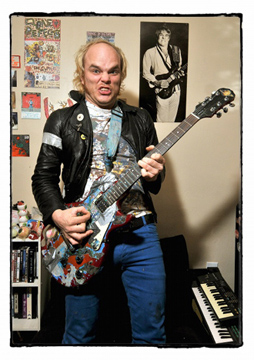 Tim Vulgar
Photo: Doug Coombe

did some research on timmy vulgar; he introduced the Gizmos in bloomington 11 july 15 and his band timmy's organism played the MC5 50th anniversary gig THE next day! turns out THEY are from hamtramck and there's a Labour Day punk festival Timmy puts on (just google Timmy Vulgar). He is also a renonwed Mexican chef! (see video!) AND was in detroit: uncensored history book, a FREE google book read; "his generation" is white stripes/gories/detroit cobras;to me "kids" and from wikipedia I KNOW Jack White was In Utero may '75 when i was at my grandmother's funeral in detroit. and one last FINNISH fact: Timmy's real name is Finnish ending in "en" or some such, seems those are folks from east Finland; more Finnish facts: muck and mires played there with roky erikson! MOTO saw a Finn with a Gizmos jacket! Dad's McBee uncle married a Finn from Ishpeming (maiden name had that "en" ending, dad was a Finnish immigrant who was a blacksmith and her and Wilbur Darling McBee married by a Lutheran pastor in dee-troit in '29! 1930 they lived 3 blocks north of Tireman and all those great jazz clubs!) Gizmos WERE offered a Dee-troit gig, so "give me my flowers while i'm living", hope it happens! and Timmy's bassist knew EXACTLY where my great-great-great-grandfather Highland was buried in Salem-Walker cemetery (of course THAT count y=Cub Koda and the Stooges!)".....

Thursday August 20, 2015

let me plug a couple September shows i have coz otherwise it's weekends at the Brattle!

ok, saturday 5 september, me and the Count play velvet underground covers at The Cantab down, Lou's syracuse university buddy Nelson Slater also on bill (he's a BIG UFO-oligist AND remembers when felix cavaliere released "do the syracuse"!);also ALICE HIGHLAND.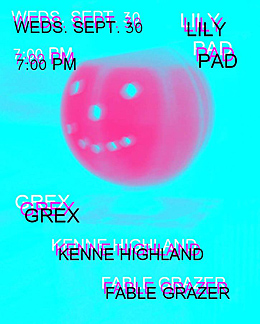 GREX

wednesday 30 sept 15, lily pad, inman square, fable grazer, kenne highland OF the Gizmos, GREX; MARC DRINKWATER, fable grazer has submitted a poster to COMPASS; havent even met this kid but i like his work!

i started researching Irish showbands coz researching dad's belfast-born stepfather led to Van Morrison, who started out in showbands, as did rory gallagher. plenty of LOVELY sites, my grandparents WERE in belfast in '64, but as retirees, i doubt it was their 'scene" (I was in manassas, virginny reliving the civil war and unaware of the Beatles!). Punchline: Maxine Highland's great-great Robert Hetley born DUNGANNON, county Tyrone (came to ontario mister potato head famine). and what's left behind in the ole country? the Answer (opened for AC/DC!) from ulster have a drummer name Heatley AND in Dungannon, country Tyrone, me olde ancestral home where me great-great-great favours US Grant and Van the Man: BRENDAN AND THE HUSKIES! do they cover "i wanna be your dog"."two-headed dog"? "hey bulldog"? "how much is that doggie in the window"?"....

found a brendan hughes and the huskies site (he from my ancestral home of dungannon, ulster): lost his site age 24 but took inspiration from american country singers! pictures with charlie pride, dr. hook...new 2013 album he covers "okie from muscogee"; I LOVE Irish-country! they sing with brogue, not twang!"...

another dungannon PUNK band: the inflatable dolls on SPIT records! got their start about '79 doin' ramones and DAMNED covers! sounds pretty cool and I DO have ancestral roots there!"...

in my research of irish showbands, just read of the 31 july 75 Miami showband massacre; there's a BBC nor'n ireland special on it and i DO believe the british army was behind "the plot"....and where was I? Mick jagger turned 32 on 26 july 75, so the stones/jazz crusaders played IU, I paid $8, POL POT hadn't taken my record collection...let's just say between cambodia and nor'n ireland in '75, "I'm so glad I'm livin' in the USA"! but plenty fine irish showband toons and the Irish country music-awesome!"....

Friday August 21, 2015

brattle theatre double-feature for 125 years of HP Lovercraft: NIGHT GALLERY (with rod serling!): pickman's choice! loved all the victorian gothic clothes! call of cthulhu: "man inherits his grandfather's papers", done in 1920s silent movie style, obsessed with Cthulhu cult;1925 calendar; has bad dreams 1 march and they all end APRIL 2! why all this horror 31 years before my last month of gestation? am I really Kenenth HELLBOY?"...

also at brattle last night was Laura Markley of the Noise who DOES read this column and DOES understand all the western NY references! gave her a complete history of Judd Williams and the Swing Set, starting with Matthew J. Sabo (brockport high '74, taught me barre chords, named me Gizmo, had punk band the party dogs) telling me "there's a band on the sweden-walker road (hamlin NY) called the swing set who sound just like the chesterfield kings"; DID confer with Walt O'Brien, Riveria Playboys, that he DID live on same road my grandmother Blodgett born on. Syracuse is one reason Laura should see NELSON SLATER at cantab as Kenne and Count cover lou reed, since nelson and Lou AND felix cavaliere and a blues magoo and maybe DIO, all went to syracuse orangemen frat-rock bashes (Utica club or genessee? MUST ask nelson!!!!!) in Laura's honour, let's youtube felix cavaliere's "do the syracuse" for my homegurl, yo!"....

also, lemme mention All The Rest Burlesque, andmikey shake/roxy shake; some info from this IU grad, WILKIE SOUTH dorm (read review of Double Live Gizmo on Gizmos facebook; a 21st century Gulcher magazine!); SO UPCOMING shows are halloween night, P.A.'s lounge; maybe i'm roky erkison with triple thick someplace. also a christmas show and the band, after the burlesque could be: ME! mikey/roxy saw rockabilly yobs/gizmos in october, so HELLO WORLD, they even saw KEN KAISER! always checking my in-box for offers i SHOULD refuse!"....

ok, George Noory, why did Jimmy Hoffa disappear one day next to the Miami irish showband murder in ulster? something to think about! (Jimmy Hoffa's son graduated cooley high, NW detroit '59, my dad was '52, then went in marines; will have to measure out distance of Highland/MacCutcheons and Hoffa!"....

Saturday August 22, 2015

"Gee Julie just flew in from Berlin (and boy are her arms tired?) and did NOT beware of half-Greeks bearing gifts so now have a Viking shirt from ICELAND! look for me to wear it at september gigs! 11 pm Peter Sheinfeld was ROCKIN" at night, 1330 AM, WRCA, with some Joe Turner from 1950! also Pat Cupp and his Flying Saucers, google-a-ble rockabilly music hall of fame info; his career kinda started april '56; so did mine! "I saw you cryin', in the trai-ay--ler"...and did elvis do a 3 April 56 tv performance?" (Yes he did!! The Milton Berle Show!- and here's the viddy!!-ed) ...

AND Hendrix with curtis knight, maybe, surf instrumetal heavy on the whammy bar! midnight is WRCA comedy show, so MEL BLANC voices plus "lucy in the sky with"...william shatner! followed by "tip toe through the tulips"! 0100= midnight express theme and Coast to coast! (after a month and a half of Home Alone, MacCauley Kenne is drivin' Gee Julie MENTALLLLLLLL!!!!!)...so check THIS: host was the canadian from toronto that does the conspiracy show, 740 AM ZUMA and he said he was watching miami-NY game with sound down, put on some music and "flew in from miami beach BOAC" = Miami playing, during "revolution 9" they go "block that kick! block that kick!" which happened on the tv RIGHT as John Lennon got shot...i WAS watchin' that game with Ken Kaiser, took Comm. Ave. train back to allston, THERE WERE NO CELL/TEXT PHONES OR ANSWERING MACHINES in 1980 (and ronald reagan had just got elected and i'd run into patricia ragan in greenwich village with the slickee boys!); Ken Kaiser called the house, Lennon shot, but this canadian, eh, lissenin' to white album...ok, yer a baby-boomer if you watched tv with sound off lissenin' to music...those WERE the fucken days!"....

goin' 'round the bree-tish emahr a bit on yew-tube: irish showbands are the bomb! imagine liverpool bands doing american music but with the brogue comin' through! lovin' it! Joe Dolan in his 1975 wide tie and moves/wiggles IS the Irish Tom Jones! fookin' bril'ant, 'tis... bu' less go daown Oz, where I 'ave Grant cuzzins from Kent UK in the western Oz aout-bock! the sunny girlfriends! damn good country harmonies but then that broad Aussie tawng slips though when they troi to sing loik a suthin' yank! "kicks just keep gettin' harder to find" and more fun than Mark Lindsay and Greg Prevost on a beach in Hawaii with Greg wearing a tri-corn hat!"...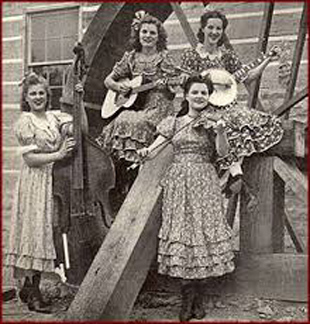 The Coon Creek Girls

"youtubin' to ole hillbilly music; carter family isnt that rare, but there's a clip of "wildwood flower" and whomever Carter, finger-pickin' usin' a capo! ah caint do thet! rare = the Coon Creek Girls, all female ole-tymey band from '20s; all those '20s hillbilly records are classic and i aint yet been down bristol virginny to birthplace of country music; basically carter family recorded about '26 and they WERE the Beatles coz then the major labels, TRUE TO FORM EVEN THEN, figgered "we'll sign up ANYONE livin' in a log cabin in apple-lachia!" and they got some GREAT stuff also! clips of folks clog-dancin' in the hills to the banjer...one shot was just outside of asheville NC, I played old-tymey string band at jack in the wood; just followed the rhythm player ("why, she's one the best 'round these parts!") and played notes luther perkins style; the REAL roots of "i walk the line"! yes, geeking out over this but wouldn't you? and don't get me started on double-entendre "race records" of same era! ("my man loves me like a washing machine"; guess she WANTS the kielbasa!)...

my FANATCISM pays off! "hornet's nest" by hendrix and curtis knight, 1965 or so, on youtube, SO ahead of it's tyme; imagine jeff beck or link wray playing "the ox" off my generation with a swirling organ and a davie allen fuzz riff...this just SCREAMS Blowfish and if tsunami of sound DONT cover this...the Korps will! (hmm, good threat..now to follow through on promise and have MJ quirk figger out the chords! this IS a rareHendrix instro, i never bought those budget hendrix records coz RULING STOOGE (R. stone) made it sound like anyone's early demos released for a cash-in were equal to an O. Rex record! sorry, Jimi, even when you were a lil boy playing a BROOM in seattle could you never equal the depths of O. Rex covering "gimme shelter" grand funk style (though WMFU gave it some spins...17 year old ken highland, recorded sunday 3 june 73; day after lydia KOCH (lunch) turned 14 in ROCHESTER and also same month i had my high school yearbook photo taken! "My head's in '73" and '65 with pre-experience hendrix!)"....