8/25/2014
Monday August 18, 2014
meeting Gee Julie in Harvard Square, I ran into.....Miguel D'Amour! He's STILL playin' music! (he was on "best bette" and "twin cities" Hopelessly Obscure e.p.). He's playin' with a dude from The Venutians and toss in the Beachmasters and the H.O.s and we're SO intertangled....Pete Frame got nuthin' on mah MUSICAL family tree! (i.e. four Spencer brothers come to 1600s new england from olde england and i descend from THREE, so my uncle/cousin Howard Spencer Blodgett was 12th cuzzins to Princess Di's pa!) (EMPTIED the slop jars on the Blodgett farm too!) Looks like they're planning a German tour and label once they find a rhythm section and one-a their songs sounds like "I-I-I-I'm not your best bette!" (as sung by Micky Dolenz).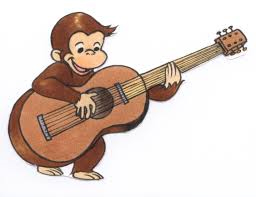 Julie then amused me and agreed to go to the (World's Only) Curious George store ("like" us on Facebook!);then Brattle Thee-ate-er had "Rich Hill"; a doc-u-men-terry on po' white traish in Missouri; REAL depressing and like Elvis sang "clean up your own backyard", I sang "amerika first" and THIS is the war on poverty? Though one "drifter" parent did a good Hank, Sr. impersonation and played pretty good guitar, but still a dreamer and a drifter, other kid's maw wuz in jail (watch movie)...sad, sad, sad and due to schadenfreude, I thought I lived white traish but these kids wuz WORSE! smokin' at 14 also, piercin's....file next to Harmony Korine's Gummo,which I think was lower Ohio, which looks like upper Appel-achia OR West Quincy, Mass.
Tuesday August 19 , 2014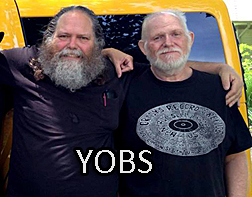 so, Saturday 4 October Rockabilly Yobs (Gizmos/Afrika Korps Sugagroup) play the Midway (4PM early show!) and the next week on Saturday 11 October Gizmos play Union Pool Brooklyn, NY; check the invite, we got a She-Wolf and a couple fanzine gals! One not in attendance is Natalie MacDonald,who did a T. Rex fanzine in '73 and met Kenne Highland AND Marc Bolan within a year! Depth Charge! is her website, full of her mentoring by Lillian Roxon (whom also mentored a Slade Fanzine, David's Girls and rock records, but these lasses went from David Cassidy to David Johansen within a school year, back in "head's in '73")....another brilliant thang about Natalie's site is we didn't swap genealogical info back in '73 ("who needs genie, when you got....T. Rex?")....but as adults I have 1) discovered we're cuzzins (blue-blood Yankee lines) AND photo of her daughter on a DAR ancestor grave with caption from a T. Rex toon...."Children of the Revolution"! who settled colonial Dedham, Mass.? ancestors of me/Miss Lyn/Natalie MacDonald/Edie Sedgewick/John Kerry and i think i found kinship between me, Nat and Mitt Romney, which she DONT want! last tyme I seen her, she had went college with Ken Kaiser's Kollege of Musical Knowledge and we's recording Hello World; Twain recording studio site lists all the JAMES BROWN/Kenne Highland records he did! ("Joyce....wah! good God! hit me!")".
Wednesday August 20, 2014
lissened to some Chuck Jackson on cd and Chuck Berry's "Come On" on cassette; the G to E is the Dolls "Lookin' for to Kiss a Juvenile Delinquent"! Coast to Coast had a call in about half-human/half-alien folks a-walkin' this earth and WJIB played "Telstar", which Ken Kaiser played on vinyl 45 in Kaiser Stadium, Teaneck, NJ, Elston Howard, neighbour. Gonerfest is puttin' up Eddie Flowers til I hit Boston and in five weeks I leave for Gonerfest; yay!".....
Saturday, August 23, 2014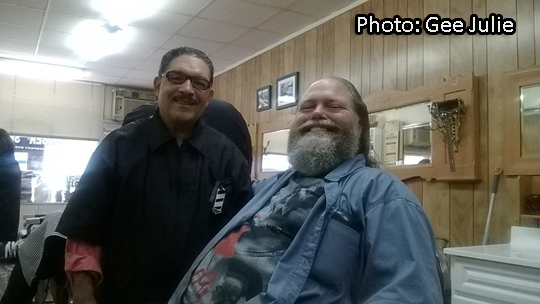 21 august 1977; Afrika Korps live at Cantone's! 21 august 1862; my grandaddy McBee's grandaddy Elisha M. Darling joined the 14th WV in Blacksville, WV (population: 171!), but 2014 (EM Darling captured at Cloyd's mountain, POW at Andersonville BUT our Union preserved so) me-n-Gee Julie first stopped John's Barber shoppe, Prospect,street for "shave an haircut";$45?!?!?!? went next door Venus Hair and Beauty for mustache wax (look out Michael J. Epstein!) and they have Nollywood DVDs for $2.99; African blacksploitation! then a lovely meal at Casa Portugal, then a stop into Fernandes Fish Market (Portuguese music casettes!) AND Girofle, having BIG sale....this lil Portuguese religious accessory store goin' out of bizness! (so's Fernandes)....mom and pop stores in Cambridge, truly sad BUT Gee Julie got some wicked cheap Portegei-thmed stuff, so y'all go before they close next Saturday! the owner, a real nice man from Azores.....Friday night, I tuned into WRCA 1330 AM, 8 pm is a Spanish "oldies" show, so (Spanish-spoken, for the hearing impaired) "Los Champs!" and "Tequila"! (early Seals and Crofts! this was THEIR O. REx/Gizmos!) then the country oldies show comes on 9 pm, and Loretta Lynn artist of the week; I like these djs: "we opened with Loretta's first 45 on Zero Records "Honky Tonk Girl" from 1960"....and it's a classic! she wants to party it down, great lyrics....more Gizmos gigs coming and I gotta wear support hose on the plane/bus rides...but still walkin', still playin'....AT LARGE!!!!"......
Sunday, August 24, 2014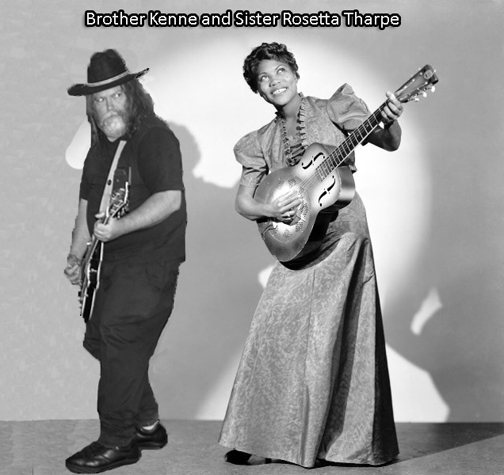 working a lot and saving money for Gizmos in Memphis, so merely lissenin' to "Radio Radio" but not a BAD thing! Washington Nationals game on ESPN radio (WEEI 850 AM), then some good blues by Holly Harris on WUMB and some good jazz on WGBH. woke up to 1330 AM and reverend harold branch and slim and supreme angels "give me my flowers while i'm living" followed by Skippy White whose "Precious Memmory" "oldie" was.....Sister Rosetta Tharp! PLEASE photoshoppe me with her! again, I play a lot of blues/chuck berry licks to gospel on radio which is what I did during my gospel career in da hood. Now Sunday Down South, WSM, Nashville, Tennessee, a lotta preachin' and Southern gospel AND y'all kin win tickets fer Merle Haggard at the Ryman! (well, I got to see Merle ALLIN this year).....Ken and Mike Quirk in the Count's Love and Flame this comin' saturday (August 30) at Cantab! Lady Caroline too! come on down! (and Nelson Slater, 1976 RCA lp, produced by Lou Reed!..hmmm....baseball/blus/jazz/gospel/Lou Reed....and Miguel D'Amour goes nutz follwin' it all! toss in them east cambridge Portegei stores....Ken Highland at large! (AND eatin' (John) Kale soup and linguica!)"......