08/27/2018
Monday, August 20, 2018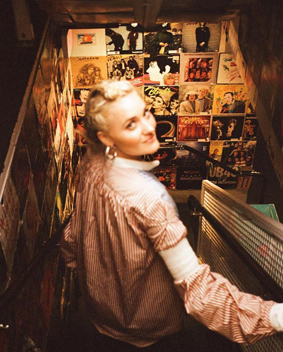 Verb stairway to vinyl

'friday 17 aug 18, Miss Lyn sent me to see OC45 at the Verb; i watched one song, young thrashing and jumping about but it's taken me an hour in HOTTER THAN HELL weather to get there and THIS geezer was hongry and need a seat! ('does anyone know what a CHAIR is?!?!?!?").....so I knew this Holiday Inn and the 1270 is now, like baseball tavern; $55 parking! musta been a home game, I am happy for Sox fans that they are kickin' ass! so the verb, is it, way the Grand Funk better than those sterile chain of a Hard Rock cafe! Ida may: SUSHI whilst listening to "looking at you" and "search and destroy" as dinner music! college kids still drink scorpion bowls! The band was outside in an enclosed area, the real action is INSIDE! climb down the stairs to the loo, wall plastered with ALBUM COVERS, including Solo Loco! TWO turntables, one with Abbey Road, one with Aeroshit. guitars and amps and coffee table books on rock in lobby! A very splendid night even if i got lost in the Fenway and ended up at Symphony Hall! My fat ass needed the exercise! like climbing Mount Motherfucker, M-60 machine gun on my back THEN seeing the Ramones "in that warm california sun", auguste '76.......

Tuesday, August 21, 2018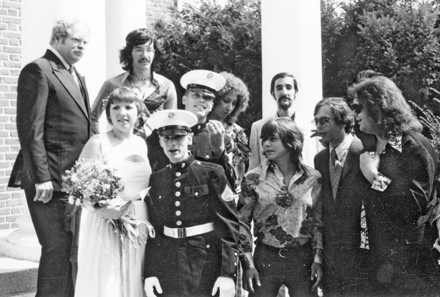 PRE-WTBS nuptuals

"Monday 20 aug 18; in 1977, according to my ancestry.com we're related app, two of Walt Disney's cuzzins got married on WTBS by the Reverend Willie B. Felt. mutual ancestor: "Ryse Rice Cole 1589-1646; Walt's cuzzins married into the Pierce family from when sprang President Franklin Pierce, Barbara Pierce Bush, W and Kins we ashamed of! But we'll save Dead People Facts for next issue of VULCHER except Rat Beach Party, unlike club bohemia, still going strong, only Lou Reed is dead. So, in a nutshell, Love in Flame practice. The Count and the Lady (Caroline), Ken and Keegan (BGN! writers that have been musicians AND Gizmos!) and new rhythm section: Roberto from cantab jam and on drums, havent seen in forty years: Robin "Sir Lord" Baltimore! Why do I have Blowfish's guitar spot? Roberto is one of those seasoned Cantab jammers whom I have ran into at both Cantab blues jams and/or in Boston's Baptist churches doing gospel; REAL tight on arrangments and like James Brown's guitar player, hit the first through fourth strings coz the bass will hit the guitar's bass notes. i wont go into Firths of Fourth etc. I been playing "Be my baby" and "summertime" WRONG for years! "sister ray" into spencer davis "somebody help me" into "jumpin' jack flash" (how any Jimmy Miller stories can YOU take? and they're never the same!) also the Count's "I want you sexually" which is a T. Rex vamp in G off the Count's Gay album ("makes Transformer sound butch!"-Krazee Ken Highland, Auguste Pages!). This band (one of THREE!) is Rat Beach Party saturday 1 sept 18, same night Mad Painter plays club bohemia's final night. Mickey Bliss's daughter passed her bar exam! I did too....count the fucken empty beer cans! (GENESEE!)....Mad Painter c note Hull friday 2 nov 18 with Harlequin! (close down a club in town, but like Medusa, a new one WILL spring up! and rocknroll AINT dead in Boston's 'burbs, the Midwest or the (Wilkie) South!".....

Wednesday, August 22, 2018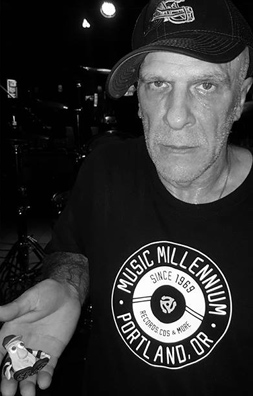 Johnny Blitz

"I WAS gonna bore you with my we're related app and how my mother is eighth cuzzins to Bill Monroe through a Connecticut Yankee (grave is in NORWICH) BUT, even better, amongst the living: INSTANT friendship reply from JOHN MADANSKY! If you havent read the BGN since sat 16 apr 77 that is Johnny Blitz from Dead Boys!?! Now if I can only find Jimmy Zero....oh wait! He's wearing a drink Miss Lyn poured on his head! (Ha!! yes it was a shot of whiskey if I remember right!!-ed) is that any way for a cuzzin of Walt Disney to act? (can't resist slippin' in a lil "Gene Genie"!)".......

Friday, August 24, 2018

"day of Wodin, 22 august 18. by the tyme you all read this, double practices and Rat Beach party be DONE! But thank God we GOT a place to play, Club Bohemia closing etc. Lady Caroline was Club Linehan-ago-go's "Nico"; I think MJ Quirk calling this Velvet Underwear, Hearing Room Lowell mass. saturday 8 sept 18. John Keegan WILL be on sax, Joe Quinn/Kevin Linehan, bass/drums, me and Q guitars and Lady Caroline. I have a buncha stuff after that but at moment, my mind is a "Foggy Notion"...The Q is talkin' all kindsa tribute bands: Hawkwind/Phil Spector etc. and in his i-pad we have 1200 songs! Before the WONDERFUL, NICE, GREAT GUY (he reads this, he does!) John Keegan, like Slade "take me back 'ome" b/w blues project live at cafe a-go-go, chuck berry's "I want to be your driver", the Q and I and Lady Caroline were working on a Status quo version of "he's got the whole world in his hands" after, of course, I sang "caroline" by status quo to lady caroline (Monday, I sang "Susan" to Susan "Keegan", then, ON mike; 'well, Johhnnn (Brockport accent), that oughta keep you out of the dog house". No wonder I been married and d-i-v-o-r-c-e so many tymes. to paraphrase ole Hank "i aint gonna change and YOURE gonna leave!".......