8/28/2023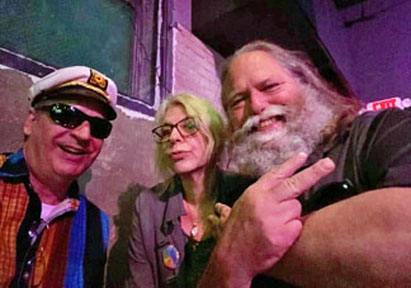 Captain EC, Gee Julie, Kenne
Monday, August 21, 2023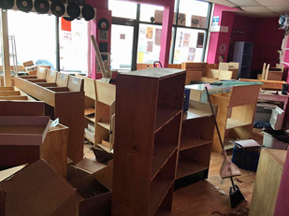 Empty Grooves after 12 years

Sonntag 20 august 2023. "Gudbuy T' grooves/Gudbuy T' grooves/you were a gud store with many bar-gans"....The Gospel According to Saint mach whose profit (more like a loss) was the Wisdom of Solomon (Gruberger): 'you gotta hear this Thundertrain record! It crosses Slade with brownsville Station'...ok not in mood for "Arguing with ghosts" "Ia jay co me" (the Rokes singing "let's live for today" in italian). Somerville Grooves moving to five minutes from melrose HIGHLANDS commuter rail, place was pretty cleaned out but i bought my final 13; r & b 45s and classic rock albums BUT in the free bin outside; TWO Chase albums! Plus,up front WAS a Justine and Unclean album in local section and since Anklin dan Shirley left it there, I'll tell 'im wot's Epic: TWo FREE CHASE albums! mr grooves sez horn rock dont sell much "folks might buy a Chicago album but they wont buy a blood Sweat and tears album"...Me, attempting to be tragically Hip and not "lose my new wave kool"; "oh yeah i was listening to BS&T then i bought Funhouse about '71"....Gudbuy Mister Grooves! "So Long it's bin gud t' know ye" (Noddy Holder covered Woody Guthrie? "dis i aint NEVAH hoid", Jimmy Durante and his MAJestic FOCKIN' NOSE, Miss lyn sings "He's just my style"".......

Tuesday, August 22, 2023

Sonntag 20 august 2023. took a listen to a Somerville grooves lockdown purchase from about three years ago. In a bag of THIRTEEN, I'd paid $1.99 for the Vilancicos album on Spain's Belter label by manolo escobar; www.independent. co.uk proclaims "Manolo Escobar: singer hailed as "the elvis presley of the rumba' (or "spanish folk dancing). wikipedia says he "was a Spanish singer of Andalusian copla"; either way it sounds great! lots of youtube videos. There is one song that does a "25 or 6 to 4'/"N.I.B." descending flamenco riff that I enjoyed; you MAy even enjoy a somewhere in SOMEBODY's archives Dec '73 version of ME singing black Sabbath's "N.I.B."! in a fake british accent no less! YIKES!

Wednesday, August 23, 2023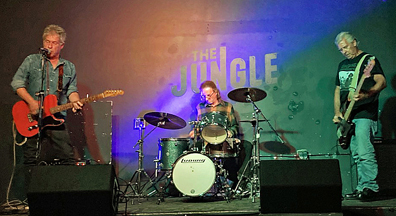 Classic Ruins (photo: Gee Julie)

Dienstag 22 august 2023. the jungle, from "If six was til nine". Frank Rowe had got a gig offer from Suzanne Boucher, whose husband Tim jackson, drumms on that five dollar copy of the Robin Lane album at High Fidelity. Did NOT do my homework, so lettuce say there was a bluegrass trio; banjo/mandolin/upright bass great harmonies followed by a soulful guitar/drums duo and I enjoyed both, just it wasnt listed on Jungle calendar. matt Burns of V drummed with Classic Ruins with the 72 year old Jeff Beck clone Frank Rowe and Carl Biancucci of Tea in China (Varulven!) Jack Bruce-ing it; Matt Burns (Nightland) drumming. All the hits plus Link Wray/Larry Willams (captain easychord singing along; gave Miiister Binacuci his Michael MacDonald impersonation later which "keeps you runnin'" (out da moddafockin' door!). Last tune from Captain Encore was Cream's "tales of brave ulysses" with Matt channeling Ginger Baker! ALWAYS remember ma would say "my grandmother was a Rowe" (Frank and i discovered at a Lyres gig we AINT kin) and the B and B (Biancucci/Burns)rhythm section ARE on my Be More flamoboyant/howl of the soulcake cds on Dino. Lastly, let's drunkenly say early '90s before my last marriage to Taylor Swift's cuzzin, Saint Justina Covault DID channel my distant cuzzin Me Patti Smith as we covered MC5's "llookin at you",me at Tyner/Kramer and the Be More Flamobyant (hear it on Sirius!) lineup pumpin' away. let's see, if the 72 year old frank rowe STILL plays like Jeff Beck: "iyt's gonna be epic!" video by Gee Julie on my "chick phone"....


Thursday, August 24, 2023

"Sonntag 20 august 2023. SyFy channel had Twilight Zone 0800-0900, even a show from 17 Nov 61! after shopping at Somerville Grooves, I binged out on Pitch Black at 136 pm, then 406 The Champion of Riddich but NOT 636 pm Riddich.is Vin Diesel and this grade Z trilogy is like a Plan Nine version of Mad Max. Even Miss Lyn had to wonder why Dame Judith Dench appeared as a spectre! Oh,well, what ELSE was there to do on a "Not very august afternoon".....

Friday, August 25, 2023

"Sonntag 20 august 2023. A "Not very august afternoon" (think I bought that Beacon street union album five bucks somerville grooves) and on WMBR: A Program of Jazz 6-8 pm. Charlie Kolhaise was host (saw him play the Outpost the once and he mentioned his "student", John Keegan.) What I remember before "Golden Slumbers" was "imagine yourself in Paris in 1961"; I call this "tootie toot Jazz". There was also a SPLENDID set of jazz/blues performers; maybe it's all on WMBR's Trackblaster? Either way, a splendid show to tune into; I feel like kerouac OFF the Road and in Bed! Prone! Like a Coffin!".....

Saturday, August 26, 2023

"saturday 26 august 2023. TYPED on "A not very august afternoon""when's your next gig moddafocka" queried my distant cousin Boston music hall of fame Sainthood Justina Covault.

and that IS saturday 2 sept 2023 Mad Painter at parkside lounge with the "Slum Goddess from the lower east side" (only captain Easychord knows what the FUGS I'm talkin' about). Booked by Anklin Dan who has "gone to the barge Inn and had a couple of beers". HOW EPIC will this be? how about my fifteen cent purchase of Yardbirds "heart full of soul"/"steeled blues' WITH picture sleeve bought from "College Kids" on college street near SUNY Brockport NY where later that month about Edgar Holland Winter said "we're gonna play a new song for y'all called "Frankenstein""....