8/29/2016
Monday, August 22, 2016
Tokyo Tramps
"Friday 19 august 16 sally o'briens. portegei supper "any kind of fish you like" J and J restaurant Somerville, with CAPPUCHINO, so I was a Cappuchino Monkee. Saw the Quincy crew with my doppelganger Chip Langille and we watched Larry Rhodes and the Rhodes Scholars. He's from near Bakersfield, so does THAT kinda country, Buck Owens, Flying Burrito Brothers etc. sings and plays walking bass, another guy on guitar and another on guitar/fiddle. They have the "happy hour" slot: note to self: go check these guys more often!
Tokyo Tramps awesome as usual, MJ Quirk noted how they're channeling they're inner Robin Trower/James Dewar and it's true! as in Jay Gruberger woulda LOVED these guys! I forgot what blues-rock standard they did, but then Yukiko played like Jack Bruce and can outplay Carl Biancucci in high heels ANY day of the week! (what is this turning into O. Rextasy/Raunch and Roll?). and then....DRUM SOLO! this kid is good! he's a Berklee kid, friend requested me, from Kuala Lumpar (also a Gee Julie favourite band!)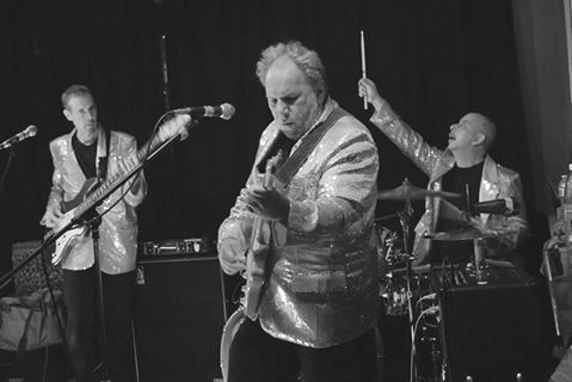 Tsunami of Sound
Tsunami of Sound have the fire-pots, the gold lame coats and are SO fuckin' tight (as are Tramps), loved hearing "Mr. Moto" and Rick Sanger's drum solo during "wipeout" means...do the New Math he went to high school with Rock Corraccio of Boize= he leanrt it from the 45 in THAT year! speaking of old surf, Chip Langille told me his dad played golf with Lenny Baker, Sha Na NA SAX PLAYER; research = he and drummer Jocko were in the Pilgrims that played Nantasket Beach (PLUG for Rat Beach Party, I do three sets Saturday 1 October 16!); there's also a Rockin' Ramrods connection. maybe Blowfish will chime in.
as for the Hopelessly Obscure, Motor Oil meets Dirty Water (copyright Smitt E. Smitty; he had his thinkin' fez on!) and it was all the "hits" plus "ramblin' rose" (I been kickin' out that jam since O. Rex april '74);"UNDER MY WHEELS" (O. Rex Sunday 3 JUNE 73!), "strutter" (Kiss; that good band I saw open for Stooges 31 dec 73!) and encore of "black to comm", which eddie flowers says I had on an Mc5 bootleg back in '76. NO covers past me turning 20, so "Terminally Teenage" (new song, in key of T!). we made fiddy bucks, Ken Kaiser had more fun than 39 years ago rehearsing for my first wedding after Groucho Marx died, but the guy havin' the MOST fun was Tom "Herbie" Highland, Peter Frampton hairdo, "makin' out with some chick man"....hey it was 1977 and he was a Brockport Blue Devils jock...STILL brags about his "conquest", then I had to tell him "she died, man"" (That chick was Joanne Cullinane RIP-ed) ....
"Angela Sawyer playing MINDROCKERS at the Brattle, a youtube mix! good British pysch. as for movie Cosmos; fucken weird....(Brattle membership discount= $9; i coulda bought fake beers and watched the boring ass Olympics, but Saturday night lissening to Buffalo Bills-Giants 21-0 on my Bills app, MC, I-phone five....was more exciting than this fucken movie! watching poker on ESPN at pizzeria uno more exciting!). a French movie, a law student flunks out, tries writing a Sarte-type novel and this movie was reviewed as "existential excess". hanged sparrows, hanged chicken, a hanged cat (don't worry, all FAKE, they showed that in credits), unrequited love with a married woman, a house full of eccentrics (especially the matriarch/patriarch), a lot of emotional French tazzing (that I like)...God rest her soul, but my distant cuzzin Linda Garrow Highland LIKED all them pretentious French movies which are existential, smoking, slouching, pouting, philosphising, yelling...I almost felt like I was trippin', so let me toss in Fellini on LSD. More exciting at Coop reading Rita Coolidge's bio of growing up Cherokee down south and she IS "delta lady" (Leon Russell, born april 2, basically saying "she's the best girl on the planet"; whoooo!!!!!").....
"Chris Walken sent me a friend request; seven mutual friends; took a look folks liked his films and someone posted the Christopher Walken school of English. guess i'll find out if it really IS THE actor".....
Tuesday, August 23, 2016
for some Hopelessly Obscure reason I woke up 10 pm, radio on, 1200 AM, bloomberg radio, usually borin' ass business talk but I DID discover that Charlie Rose show is on ten til eleven. Has interesting interviews at least, is calm, no right-wing ranting like the rest of AM radio (though I DO love the conspiracy shows! "that's entertainment"!). so maybe he was interviewing Amy Schuler or somebody, but "in other news", toots thielman died age 94 in his sleep in Belgium". this dude's musical career was longer than my...well, there's a toilet in Japan for that! still, age 94, died in sleep; best way to go! an umbrella for that daily "rain of death" (Ken Kaiser sits there, open-mouthed going "wow", like a 1975 Brockport NY stoner!".....
Wednesday, August 24, 2016
Rick Sanger, Tsunami of Sound, was SO impressed by the 2016 Hopelessly Obscure that he's actually WILLING to offer us more gigs! (didn't even have to twist his arm, though, I "aint too proud to beg"!) "on be-haff of the band and micelf, oi'd loik to thank you all for coming. Oi 'ope we pahssed the audition". Rumour has it "I want to be like Flowers, Lennon and Bear"..."..
"Boredom = googling west Virginia white trash on youtube and I get....Jessco White!!!! back when Monica Lewinsky was in the White House, Joe Coughlin (RIP) lent Linda Garreau Highland (RIP) a VHS (no longer manufacture) of ole Jessco. I was only JUST discovering my dad's West Virginny ancestry but having been to north-central WV (Don Knotts based Barney Fife on Morgantown, WV coppers), it aint NUTHIN' like Boone county, WV...might be proximity to Ken's Tucky! Hasil Adkins from a minin' family there and Frederick Dewey "sonic" Smith born Leet, WV September '49, THEN moved to Linkin Park. so (being the CHAIRMAN of the Bored), how fur back they got that White family. William White 1710, frederick county, virginny. where hell's that? AND my sister, when stationed Quantico, virginny drove me and Linda Garreau Highland (living then) to Patsy Cline's birthplace! (Winchester Va.). what a hotbed o' music! ole Virginny Paterson, Levon Helm's German ancestor buried there, Martha's Hull dad has ancestry there and my granddaddy McBee's granny Knotts was a Morris; before SW Pa. (near Vince's Furnier's), my Morris in 1700s was in Apple Pie Ridge, WV. takin' Amtrak chocolate city to Iron City and I WILL pass by Harper's Ferry and Martinsburg, WV. for Gizmos World Tour so help me pay that $298 Amtrak ticket (going into Rocket from tombs bassist craig bell's pension!). also, since Nancy "New Age" Foster is from an ole Virginny family, thursday 8 sept 16 is the return of NEON NIGHTS at the cantab, so this will be the MONTHLY Rat Beach Party, dont forget the one I'm doing three sets at Saturday 1 October. obviously resting up til I do gigs galore".....
Thursday, August 25, 2016
"Ida May: you can get Coast to Coast AM, at least the year 2016 (you need some kinda windows for Miriam Linna in 2015) on youtube, I'm "happier than a Gizmo in Bloomington!" (hear THAT quip on Double Live Gizmo, Gulcher, the 2014 tour live cd.). BBC Ulster 0630: Sean Coyle, i t'ink is 'is naime: yesterday was Sad Song Wednesday, thursday is toe-tappin' Thursday! "for the jumpin' jivers"; played a Buck Owens toon, I guess this is western swing line dancin' popular in Eire. He then went on about a bloke in a show band went to USA "cos that's whar Elvis and John Wayne wahr; mebbe 'e'd meet 'em!", bloke came back lookin' like a Rockabilly Yob (Suz Motta whom books unnatural axe etc. in Roma is ok from earthquake; Mad Max of the Gizmos was in Eire and probably listening to Earthquake on Bersekly Chartbusters; that poor town has become Pompeii!). back to the showband bloke: "e's probably retoired now, 'avin' coffee and a cigarette and listenin' to the wireless"....BUT is he a KEEGAN fan for Mayo?
more ulster banter: "an' now 'ere's a wee song from Johnny Mathis" and "chances are"!! this is like WJIB (send money, i did!) in Belfast! lastly, Billy Miller, Norton Records, having more surgeries, so send Miriam Linna some "Good Vibrations" and Preacher Jack also hospitalized, a special shout to Willie Loco! played monthly with Preacher when Granite Rail in Quincy open and he was a fan of ME!?! he also hung with cuzzin-lovin', wife-drownin' Jerry Lee Lewis who DID say: "Preacher, you always love the Lord.....and also as many beautiful wimmen as possible"...I try to do that but these days I ask fer a family tree first!"...
"Merle Colby Allin, Jr. of Malpractice has been sharing a lot of photos of him and brother Kevin, also in Malpractice (O. Rex was in Rock Scene fall '76 in BANDS TO WATCH OUT FOR and acrost the page was NH's Malpractice, Kevin Allin drums, me in '76 wondering "is this that same guy wrote me from Circus magazine back in '71?". UNSEEN photo is married GG and wife and they're surrounded by Curious George puppets!....and since I love wiseass Facebook comments: Me: "never knew GG Allin was playing with the puppets". Terrydactyl: "I always knew""..



Kenne
with his Curious Georges




GG with Nancy
and stuffed animals
Friday, August 26, 2016

"let me put in a mention that I've known my facebook friend Jon Mendelsohn 75% of my life, reading his rantings in Rolling Stone as a Brockport High School teen. He has "Mendel illness", a kinda facebook blog, since he's "of the age" to "write his memoirs". One is his relationship with my Facebook "friend" bev bevan ("another close personal friend of yours"-Blowfish, late '70s), Move drummer. I GUESS with Jon raving about the Move's SHAZAM, that piqued my interest, though I wager Solomon Gruberger taped me their UK releases on cheap, hissy, cassette tape that sound like the O. Rex maxi-e.p. Thinking back, maybe an influential late '71 piece he wrote was SUPERSTARDOM IS MY DESTINY;"think about it", yardbirds fans: frustrated rock writer wants to do real rocknroll, finds an Iggy-ish lead singer name Mister Twister (I maybe owned Funhouse by then, so "school's Out", after work and school would probably lissen to Iggy and read this article, age 15). "Tell Me", Stones fans, this didn't begat the Gizmos?! of course I'd say the same thing in Vulchur, but, in THIS MORTAL COIL, I did leave Mister Christopher Milk a message about said article, life-changing, like anything else written by Bangs/Meltzer/Saunders, yea, yea, yea...I think I was "discovering" the Kinks in '71, so Jon Mendel-Milk mighta raved about all the GOOD British rock bands (panned Led Zeppelin though so I think I got "out" of them and into "real" music or however you want to say it. all this was a dunkin' donuts muse whilst stuck in Dudley Bus traffic this morn"...