09/03/2018
Monday, August 27, 2018

"Day of Saturn 25 August 18. Ida May: COAST TO COAST AM 0100-0500, FRIDAY night guest was Jason Heller. on my wall 5 june (my cuzzin martha Hull birthday) rollingstone.com "jason heller's new book strange stars explores how sci-fi infleunced the muscians of the '70s. Below read an excerpt on how David Bowie created Ziggy Stardust".

Now even more Ida May: in '71 Bowie picked up Funhouse (same year as me) and went "Iggy...Ziggy!"....The article and the radio show also tells you what sci-fi writers Bowie STOLE from but you can read about that in Frenzy #3. Other obvious and not so obvious sci-fi rockers: Crosby/Paul kanter/Jimi ("everyone thought it was the drugs but Jimi was really into sci-fi"....Hendrix as nerd? well he was blind/left-handed and great guitarist like...ME!) blue oyster cult....I forget but MAYBE youtube will rebroadcast that Coast to Coast; i've fell asleep then next day listened to it on youtube....vacation in Coumbus Ohio! coast to coast, who killed RFK! I really did!....

ok, so Miss Lyn and Blowfish say let's go to the Midway afternoon show catch Evert. I was standing outisde talkin to bassist Joe Packard and sound/door guy puts a wristband on me: "Joe doesnt have a guest" Me: 'shit, i gotta write something nice about you now" JP: "keep being At Large"...I'll let Blowfish review the other bands, let's focus on Evert (I was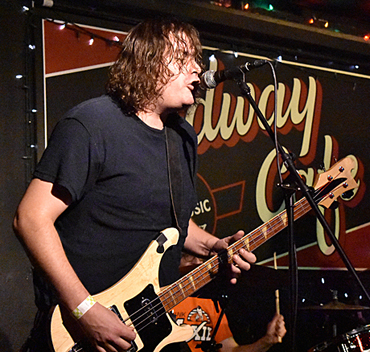 JOE PACKARD!!!

their guest! is this payola?) Now when MY cuzzin Bill Clinton was president (better get a DNA check on Monica's dress) Jim Alger (who favours a clean-shaven me; quite a Bonnie Scot is he!) and drummer Matt Burns had SPIKE but this is like how Grand Funk surpassed Terry Knight and the pack coz they got JOE PACKARD!! on bass! hey! i'll quote ME on my facebook wall 1828 (it was 0228 sonntag in deutschland!) "Paul Lovell, me and walt disney's cuzzin Miss Lyn just caught an amazing set by Evert. Matt Burns of Gizmos on drums! so let's see. 1969/70/71 power trio. Grand Funk. Bloodrock. Sabbath, UFO. Humble Pie. Blue Cheer." ....Blowfish asks "where's that from" and NAME THAT RIFF: Blue Cheer speeding up the intro to "satisfaction" on second album". Blowfish: "I thought Grand Funk and Bloodrock too. I wasnt going to mention it becasuse I thought maybe I was mistaken but....Gizmo confirms". So to clarify, Jim Alger does kinda sing like Bloodrock's Jim Rutledge and Matt Burns REALLY gets to do some rolls on the "jam" songs but JOE PACKARD: overdriven fucken Mel Schachter bass REALLY drives those songs making this the "better than Spike" Aldrich band (Blowfish liked songs and guitar playing too, but yea yea yea)....so where in the Grand Funk WAS everybody? The place was empty!! just like when i went to see Mad Purple...i mean Painter!"....

Tuesday, August 28, 2018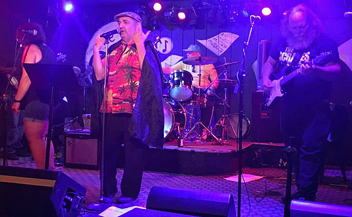 Love and Flame - photo: Brian Young

"Monday 27 august 18, a practice for saturday next Rat Beach Party in Count's band Love and Flame. be my baby/pills/summertime (Joe said i nailed the james Gurley riff!)/sister ray/jumpin jack flash/let it bleed. Robin Sir Lord Baltimore bashin' on drums, Roberto all OVER the place on bass, lady Caroline handled the ballads as John keegan and I did jazzy interludes, guitar and bass with my Wes Montgomery-cum-hendrix octaves on the Keegan Strat. The Count making grand, dare i say SPECTACULAR plans for future gigs etc plus I WILL let this one out of the bag: Middle East, Club Bohemia Night, SANCTIONED by Micky Bliss,the Middle east home of "dead Boston Clubs", like ManRay Night with DJ Chris (Figures on a Beach) or we do have RAT BEACH PARTY....anyway there IS hope! I did confer with the Count that I print it and it's false, it's libel, talk is slander, so let me libel the TRUTH that Joe Vig, one-man promo machine who got saturday's Hull gig in "a bunch" of newspaper (if I guess at the amount: that's LIBEL! sue the kilt off me!) may just save Boston rock "After All"! ("oh by jingo"......)"

"Lindley McKellar came all way up from Eddie Flowers birthplace of jackson, Mississippi for the Gizmos "Disaster in Dayton'; Eddie was so pissed off, I had him write "gonna beat you like a red-headed stepchild" ("y'all might think i'm a peace lovin' hippie/but dont mess with my friends by Missippi!" b/w "Georgia Skinheads Must Die"! So EVIL ENGINES is his band playing with STATE OF THE UNION, they're on tour, it's tuesday 4 sept 18; after rat Beach Party so i DO wanna promote it NOW!".....

Wednesday, August 29, 2018

"another bit which equals a gig; out of the blue benefit, address looks like it's acrost the street from o'briens. 20 minute acoustic sets BUT you got Richard D. Mirsky (Wayouts); Frank Rowe (Baby's Arm); some Count from Auguste Phenonemenon; even a Gizmo! Cantone's unplugged? Gee Julie wrote some songs in Germany, so gonna write music to them, so this is perfect "Vehicle" to debut them; otherwise, I'd rather be singng Ides of march covers! (c'mon, man, "Vehicle" is MADE for me!)".......

"though I have mad painter practice 5-7 pm sunday 16 sept, Bob Colby's farewell, at ONCE and it's free! this is both a hype and a reminder to me! Met Bob Colby July '77, Nervous Eaters/Atlantics; FRENZY magazine! and more".....

Thursday, August 30, 2018

How DID i let day of Wodin 29 auguste (pages) 18 escape without mention of my cuzzin GG allin's 62nd birthday? well, I did. Another practice for Velvet Underground covers at Hearing Room, Lowell,Mass. saturday 8 sept 18, thank you Andy Excuse! workin' on the harmonies! drummer Kevin Linehan and lady Caroline harmonise well; with my Lou-grass version of "Pale Blue Eyes", I put "deliverance" in intro and end with "beverly hillbillies theme"; needs spoons! Drummer kevin Linehan liked my jazz chords on the John Keegan Strat for "i love you suzanne". Mike Quirk and I trade off verses like ZZ Top's "Beer drinkers and hell raisers" on some Velvets song ("Some Velvet Morning"?) AND: John Keegan lead vocal on "what goes on". I like the stuff with the drones, always fun, makes guitar sound like a sitar kinda. There ARE more gigs of "the gang" but if you're not at Rat Beach Party, Lowell is the next one!".....

Friday, August 31, 2018

"day of THOR,30 aug 18; no Gravedancers practice YET for friday 2 nov 18, hull C note so i got to chill out with Rockford Files reruns and facebook friend Michael Snider's Northern Soul facts (on my Facebook wall). It all started when I remembered how Metal Mike Saunders was MAD for Ral Donner, so i posted a yotube 45. Ral was kinda Elvis sounding but Mike Snider tole me he's a Northern Soul "hit" too and dang! didnt one 45 sound like Tom Jones! BOBBY GOLDSBORO has northern soul hits! forget "honey" etc. discogs.release lists "too many people" as "reissue for the northern soul market. there's a united Artists maxi-single (like T. rex and O. rex!) release 23 Feb 79 (sold more than Hello World!). "too many people" played at Wigan Casino! originally issued in US in '67, two years before "honey". ditto, wigan for "it's too late", united artists 980, US release 5 Feb 66. If you mofos had bought these neo-Motown 45s, you'd have prevented "Honey"! BUT, after the death of Sid AND nancy, up Wigan way it was a "floor stomper" or some such Brit slang..."only a northern song"? -Beatle george. if you REALLY want to get FANATICAL!!!!! (COFFEE!!!!!! i like both "black coffee" 45, Humble Pie (picture sleeve/draped Snoopy bust) AND Gizmo Rich Coffee, who DOES tie into this!) GO TO soul source.uk....Look At Your Box Now, Michael Snider knows Eddie Flowers, whom, as a Gizmo, I introduced to Rich Coffee,whom, in LA, played with Sky Saxon and.....back to Man of the MATCH: MICHAEL SNIDER!!!! fucken "pushin too hard"-Seeds (GNP cresendo, met the son of the preseident at Seeds movie couple years ago) AND this 45 also, STRANGELY, is a Northern Soul "barn burner" or whatever the Grand Funk gets people up on the dancefloor. Thank you Mike Snider for this column, Goldmine meets "Landmine" and as y'all read this: Rat Beach Party in Hull,where the Zmasry and John landed with ancestors of KH/Bebe Buell and Britney Spears!...and Johnny Black"......