9/7/2015
Monday August 31, 2015
after watching the Buffalo Bills VICTORY (i believe the score WAS 39!) at the Red Hat in ole scollay square, i tooned into my favourite WMEX oldies 6-9 pm. the dj had taped an interview with gordon waller (born scoot-land!) of peter and gordon and had also took a photo of him with buddy holly's widow. also heard some peter and gordon...(in mono! on AM! like 50 years ago!). hollies "on a carousel" (with "mad at the world" intro) and a guest in this marina bay radio station was from a quincy band that opened for THE RASCALS in '67 (Rebel Kind? need to research!); they (Rebel Kind) usedta cover this hollies toon! also mention of a band "they were from rossie" (roslindale). after Them's "here comes the night" and an animals toon like "gotta get out of this place" (ulstermen and Geordies on my AM!) a request: "if you did something significant in boston music during the '60s and '70s, we'd love to interview you"....let's interview HELANIE SAAD! (70 on 29 september!); dj could play some GREAT Kinks IN MONO, she could tell stories...."Not mental enuff"!".....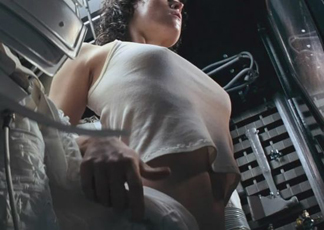 Sigourney Weaver

brattle double feature of alien/aliens 115 pm til FIVE HOURS later (scottish air condition coz i paid $11 with membership!) and ran into nick blakely whom books GREAT shows at midway cafe! alien released kinda near memorial day 1979, i marched in a parade wearing dress blues in Charleston SC (a wee bit hot) and now this movie seems kinda dated and camp. background props are more sophisticated, everything's computer generated. wikipedia facts: the spacecraft's cat is named JONESY! (See YouTube tribute to Jonesy!) Sigourney Weaver in tight t-shirt, erect nipples and panties whom then kills aliens is obvious sex and violence. when the crew is dead and Jonesy (red tabby) rides on shoulder, all is ok. aliens: summer '86 (hopelessly obscure e.p. on arf! arf! came out): sigourney/jonesy in a sleeping pod, all curled up; she's been adrift 57 years asleep! this one is more Rambo-type action with "colonial marines" (one sgt. actually did 6 years in the Corps; DAMN good politicially-incorrect dialogue!) the rescued lil gurl Newt is funny, actin' like everything's no big deal, sigourney again in t-shirt/panties then she kicks ass (butt-crack scene tho! the R. Meltzer/R. Crumb in me took notice!) lotsa explosions, dead aliens, a bad guy that looks like Kenny Kaiser (named Reiser, i believe!), an android ("I prefer artificial human", very Spock-like, obvious influence)...hey what the GRAND FUNK ELSE is there to do on 30 aug 15? (30 august 87 i woke up on alpo and hail mary's floor in east boston, but sadly, that and "my ballroom days are over, baby""...".....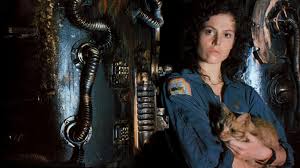 Jonesy and Siggy

Aliens 1986; actor Paul REISER in this 1986 movie does slightly favour Kenneth KAISER, both born two months apart, same year, only in '86, I KNOW Kenny was playing in the Beachmasters and NOT starring in a hollywood film! or was he?"....

saturday at the red hat, the score was Bills 43-steelers 19; which if ken kaiser looks at it last number of each IS 39! "Highland, quit looking for 39 when 39 isnt there"-Ken Kaiser, 1983"...

reasons to pledge to WJIB; sunday music country memories! here's one i never heard! rex allen "dont go near the indians", was a hit november '62, which = Bay of Pigs, duck and cover, me in first grade clyde erwin elementary school and december '62 i believe "ballad of jed clampett" was a-toppin' the charts. lyrics ARE on line, but a settler's son was kilt by indian, so he swiped indian lad, raised him as white but kid always felt indian, had dark hair, ""the paleface gurls didnt interest me"...shades of "Kaw-li-Ga" spies an indian maiden and finally his white pa tells the truth: "that's your SISTER!!!! an' that's whah ah always say "don' go near the indians"....some songs just SCREAM Kenne Highland!!!!"....

did a lil homework; WMEX, Jimmy Jay does the Rewind show (like it on facebook!) and through a boston music webpage our own Blowfish reprinted a LARRY AZRIN (this guy IS records!) KILLER CHILDREN (another fanatic) article on '60s Boston garage bands; one paragraph: "the south shore was a whole 'nother scene" BUT rockin' ramrods were house band on nantasket! (RAT beach party)! so THIS crew woulda seen Rascals in quincy (?) '67....DECADES before all those south shore hardcore bands! (who are good people though!)...ok, mind set at ease"...

Tuesday September 1, 2015

whilst fixing the Gizmo-bile in ye olde Mauldon, Massachusetts, I discovered the Doo Wop Diner! menu is named after "oldies", lotsa great '50s memorabilia on wall, I DID mention to Gee Julie: "you dont remember the '50s! you only saw this on Happy Days!" lotsa BAD '50s diner food, but tastes good (i was only being slightly health-conscious with vegetarian-Buddhist gurlfriend) SO had: BIG BOPPER BEATERS, which IS egg beaters. JP Richardson DID weigh 300 pounds vs. my 281 But it was a fucken airplane killed him not his diet! (though that WOULDA!) Gee Julie had a Patriots waffle (red, white, blue) and i got a kick out of the "deflategate" breakfast: one of everything! and $5.99 for a burger all day, not that I need it...also found: the Malden senior center! pretty cool! with a library! so whilst waiting for the mechanic i read The Girl Who Walked Home Alone - bette davis bio by charlotte chandler; Bette kept braggin' about being of puritan descent but she cussed like my dad's mother! a GREAT book!"......

got news from Johnny Black and Allen Devine is indeed on my "people who died" list for next jumper cables gig. he DID friend me on facebook, married, living in DEUTSCHLAND and my last email; "kenne, they really enjoy the old Rat rock over here!"; Gizmos world tour?! So let me mention when George Harrison died, Allen was asa brebner's second guitar and he did a PISSER "while my guitar gently weeps"; told me he'd been George in a Beatle tribute band and he was melancholy enuff! also in salem, caged Heat/vatican sex kittens, terr-dactyl and zeppelin's "since i've been lovin' you"! Allen had technique! GREAT guitarist, RIP, I still got them "precious memories" as skippy white sez, so alan's "gone on home" and "Give me my flowers while i'm living"!; come to Grex/Kenne lily pad wed 30 sept 15 7-10 pm!".......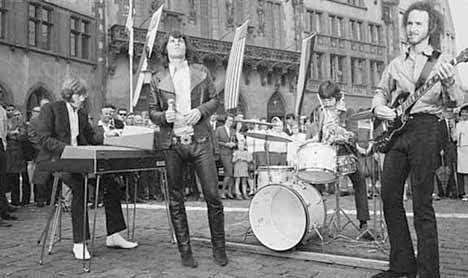 The Doors

"Brighton Allston historic society! doin' '60s research; the Doors played at the Crosstown Bus in Brighton Center (where i wrote "rain of death"!) and steve morse saw it, wrote about it! other cool '60s stuff, harvard stadium early '70s gigs, up to aerosmith on Comm. Ave. AND Mr. BUTCH! (yes, Mr. Butch IS allston history; met him near macy's liquor and last saw him alive on Harvard avenue: "hey! Kenne Highland, you got fat!"; my uncle john blodgett told me "kenne, you're as fat as a hawg!" (and our grandfather's prize bull was JOLLY COUNT!); uncle John and Butch, RIP."....

Wednesday September 2, 2015

"two more things to do in Mauldon, Massachusetts whilst Gizmobile in garage; there's a crematorium and Gee Julie photo of me, caption: "i went to Burning Man!" (bad taste from guy holding green vinyl Lenny Bruce album in instrument/record store before "disaster in dayton"). GOOD taste was a Vietnamese restaurant, wicked cheap for dinner and they were playing what was basically Heart's Greatest Hits! (the Wilson sisters are Marine brats and they have a statue in haverhill massachusetts of some colonial ancestor; i first heard "magic man" on WCMF, ROCKchester after i got out of Parris Island bootcamp, later that month saw Ramones, wrote "Califawnia Gurls" but in '76 HEART sold more units than the Gizmos! wicked great band: HEART! and go see KANSAS in providence rhode island, home of HP Lovecraft; or is that (Kansas) a horror show?"..

ken and gee julie at used car lot in ye olde mauldon, Massachusetts; see Jaguar E-Type, italian flag decal on window; a real "Boss Hoss". Gee Julie: "Kenne, you could never fit inside that thing!" Hey! william the conqueror was 300 pounds! But yes, guess I shall have to console micelf lissenin' to the E-Types"....

just when i thought i knew every '60s exploitation film: BLONDE ON A BUM TRIP! music by the E-Types (saw an E-type car in Malden!) and "I love you, yes i do" by the vagrants; leslie west on guitar! O. Rex with carl biancucci covered some Vagrants toons in '74, dont think it was this one, though...also: The Bit A-Sweet! wicked rare!"....

from Allen Devine's facebook page, note from wife, not facebook, but he left some "final words", had cancer, thanks to all for being a friend, left wife and daughter and now (my quote), "His Guitar Gently Weeps"....my final words, when ah "go to Glore-y"; my Neanderthal ancestor Ooh, who left Australopithecus corpolites about woulda grunted: "ooga, booga and live life like Curious George"...this quote being PRE-HOMOUS! PJ LeBlanc's final words: "yee yee and stay mental!" (I'm sure he'll leave with a smile on his face)....but i always said and you can even ring up coast to coast: after Armageddon, all that'll be left will be me, PJ LeBlanc (friend him on facebook!), "cockaroaches, you bug me" (Jay Gruberger) and Keith Bowniece"......

reading reviews of new chrissie hynde bio: re, her disapproving parents; "if it hadnt been for them, I'd be married to a biker in Ohio and looking under the couch for my teeth"...IDA MAY: then she'd be...Chrissie HIGHLAND! item B: first heard first Pretenders album in a south carolina trailer! and the SC station gave a "warning" coz "private life" was gonna be "way-out"....well, we'll let mah cuzzin Miss Lyn complete THAT story!"....

Thursday September 3, 2015

alice highland practice at 119 gallery in lowell; 2000 joe browns and mike "best guy evah" lyons on double guitars, check this: "long way to go" break sounding like yardbirds "psycho daisies" and "muscle of Love" solo soundin' like yardbirds "little games"! Glen Buxton with his McBee ancestry surely smilin' down on this! MJ Quirk (bass) wants to book a halloween show so contact him! Matt Burns (V's drummer) will blow your mind on "under my wheels" and other love it to death/killer toons...he plays like he were Kelsey Simpson (Gizmos) uncle! (vague family resemblance too!) "Give me my (gigs!) while i'm livin'"!".....

rich's rocknroll rants and raves, Richard F. Coffee, Gizmos, brings you the Las Vegas Groupie News! (good reviews of garage bands, check 'em out!)"....

Friday September 4, 2015
Keegan in the Jiblantos
Jiblantos, sally o'brien's: Matt Burns of Whack the Cat described them as "eclectic" and this sextet certainly dabbled in a myriad of styles; take guitar/bass/drums power trio and add "exotic" instruments; accordion AND trombone one woman played, so she had a cajun/zyedoco feel to accordion and ska to trombone; lady on violin was a cross between It's a beautiful day and Papa John Creech and let's NOT forget John Keegan on sax and VOCALS, he is on latest Double Live Gizmo cd. guitarist could play some good blues on his Tele, bassist was in the Jay Gruberger/Carl Biancucci mode with some Larry Graham finger pops and drummer was very solid and wearing headphones like when i saw danny seraphine and chicago at IU december '75. in fact, this world music sampler band woulda been right at home on BBQ records in the 1975 pre-Gizmos Bloomington scene and could even have played the Bluebird! Ken Kaiser showed up so HELLO WORLD/UNIVERSE and we all danced to a "goo goo muck"/"tequila"/"gloria" medley but what blew me away was "a Don van Vliet cover" of "ZIG ZAG WANDERER"!!!!! YES! I shall be going again to see these guys, Gee Julie too!".....
Saturday September 5, 2015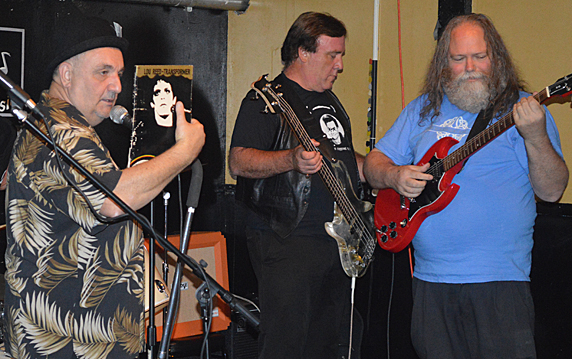 Playing with the Count
The Count's BEST band EVER consists of Joe, me and fred pineau on guitars, lady carolyn sings, MJ quirk-bass on john morrill (THEE PSYCH-O-DAISIES) on drums plus john keegan on sax! basically covering lou reed's Transformer and rocknroll animal albums, YOUR Head will be in '73! Besides saturday cantab gig, I DID sign on for john lennon's birthday (9 october) at rat beach party; everyone was sober, mature and a joy to "work" with! professionals and i'd never played with fred pineau before; he started playin' in '62 coz of link wray's "rumble", i started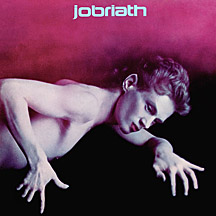 playin' in '70 but we're both fans of NY Dolls AND first Stones album, so a lot of "guitar-weaving"...cant say enuff good things! e.g. Lou reed's "hangin' round" fred does a chuck berry-cum-"talk to loretta" chord in G, I do "johnny b. goode" on two high strings to complement, then i do rhythm while he does solo...and THIS is Ken Highland for Giztar Player!"....

JOBRIATH facts! Jobriath "conscripted" into the MILITARY in mid-60s (it's on find-a-grave: Private US Army; real name Bruce Wayne Campbell, born in pennsylvania trailer park! (hmm, i already got THREE things in common with him...)...but also important is i found jobriath tour dates! monday 5 august 74, eddie flowers and i saw Jo at the happy medium, chicago with Ed Begley! the following sunday i met carl biancucci at a flea market in rhode island! and THAT was Jobriath's influence on the Gizmos and Jumper Cables! (actually they even ADMIT to a Bowie HUNKY DORY influence which is why i like the first Jo album AND Gene Dante!) AND, two years after seeing Pvt. Bruce Campbell US Army, I, Private KE Highland was in Creem magazine with Gizmos! does this violate don't ask don't tell?)"....

Sunday September 6, 2015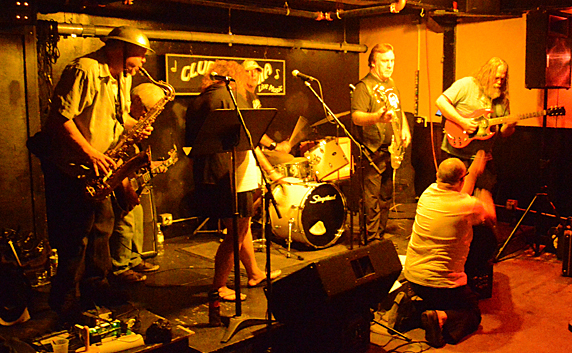 Playing with the Count
Great fun at the Cantab as Blowfish will tell you! Elsewhere opened, kinda grunge, covered Lou's "rock and roll", drummer had been in Standing on Earth, looked and played a wee bit like John henry Bonham. the Count was amazing! best band ever! me and fred pineau (atlantics) crossed rocknroll animal with the MC5 and/or Page/Beck in Yardbirds,the Count was in "rare form", Lady Carolyn sang superb (especially "as tears go by", i added some nice embellishments as Fred hit chords) and MJ Quirk and John Morrill solid rhythm section. Ken kaiser left his rabbit at home but showed up with L/Cpl Donal Buckley USMC whom i guarded the NSA with! Nelson Slater did a long set, he's as skinny as Willie loco, though i kinda thought the vocals/keyboards favoured Suicide (whom kaiser and i saw open for runaways and ramones january '78!) guitarist played a red fender Mustang like I used on O. Rex maxi-e.p. and am holding in the issue of rock scene where on opposite page is Kevin and Merle Allin in malpractice; between ostrich guitar, Nelson's keyboards and a John Cale-ish violin, it resembled the Korps meets Pep Lester as Hoplesssly Obscure at Down Under december '82. laslty, alice highland, cut short like a "disaster in dayton" had all the ladies dancing! Paula Worsley was doing the twist in her chair, so i grabbed her arm in a most GG Allin way and I was Whirling with Worsley! Gee Julie videotaped, Mark Davis did superb sound, there will be more gigs, both bands WITH Black Souls vocals!".....