9/1/2014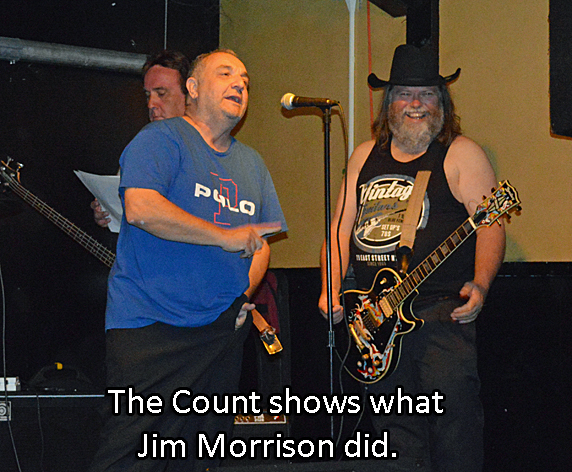 Sunday August 31, 2014
a very fun gig at the Club Bohemia/Cantab, Mass. Ave. Saturday 30 august 2014;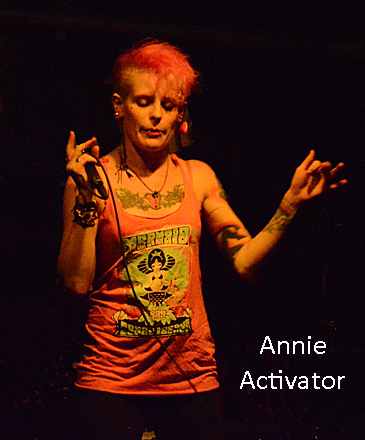 Last Reflections on a Gig: opener was Guns of Brighton, very Clash (first couple albums)-sound mixed with STELLAR classic rock covers, note-for note, as Sol Spector (RIP) usedta say: "jailbreak"-t'in Lizzy/"ace of spades"-motorohead/"uncontrolable urge"-Devo/"dee-troit rock city"-Kiss, lead singer had a headband and favoured Mark Farner, I.M. Happy. Annie Activator from NYC had a pink Mohawk-ed/tattooed female singer and a couple guys would be backing up the Count; good "old-school" punk, i liked it. Love and Flame: I been performin' with the Count since 1978, always fun. opened with "18", band was me and MJ Quirk (T.Bass Player), Danny Rybar (guitar) and drummer from Annie Activator, who was quite good (forgot name and it wasnt Kenne, so....), Lady Caroline sang GREAT on Love and Flame toons (I added embellishments, usin' a lot of JIMMY MILLER-era Keith Richard licks) and the Count was funny as hell with stories; he leaned on the mike like Sinatra! plus did a Jim Morrison exposure act, funnier'n hell, with finger through zipper....ok, so Count originals plus Lady Caroline Pretenders "Mystery achievement" and lastly "Sister Ray" where we opened with CCR's "born on the bayou" and weaving throughout "Sister Ray", I tossed in "smoke on the water"/"roller coaster" and "into the sun" using a John Surette rock opry guitar pick! lastly, Nelson Slater,1976 lp produced by his college chum Lou Reed; Nelson wicked nice guy, tall and skinny like Willie Loco and playin' keyboards with a dude on a red fender Mustang doin' "ostrich guitar" "heard her call my name" leads and a rhythm track; two man-band like Suicide! not well-attended/no money/people got NO TASTE! (I did; I LOVE Rory Gallagher!) but I now have the Count's Gay album autographed FREE and lemme put THIS quote in print: "The Count's Gay album makes Transformer sound butch!" (Joe Vig loves this quote, so no lawsuits here, besides I WOULD stand up butt-nekkid and kilt-less in a court of law if ye tried to git me MOOOONNNEY!!!!$$$$$$!"....
Lest I fergit, I got a Collectible Videos (MAYBE) cat'logue with "CULT MOVIES" on DVD; wicked good bargains and for under ten bucks got "A Box of Rock'n'Roll" with "3 Rockin' hits for one low price" Wild Guitar/Rock Rock Rock/The Beatniks, so me, Gee Julie and Miss Lyn had a b-movie fest BEFORE the Count gig last night. BE MORE FANATIC (and Mickey Bliss DID play my Be More Flamoboyant cd before I went onstage with Count Joe!) and read the Wikipedia entries on these Schlock around the Clock b-movies in the links above and Ken Kaiser and I SHOULD cover EVERY song! (Chuck Berry doin' 'you cant catch me" and duck-walkin' got me ready to rock last night plus a cassette with Sonny Boy Williamson singin' "Fattenin' Frogs for Snakes" or similar reptile reference). Two more Count facts: not only are me/him/MJ Quirk WJIB lisseners (Joe" "we're ALL WJIB listeners!") but Joe has Lou Reed ON WJIB as a guest! (AND videotaped me meeting Lou at Tower Records, so...)....I knew my guitar was in toon playin' along with WILD GUITAR! Some GREAT songs there and Amazon DOES have it for sale! Get It! (isnt that a Gene Vincent toon?".I'm a ROCKABILLY Yob!!!!!".
Monday Sept. 1, 2014
a few thoughts on Labour Day (why not Tory day celebrating Margaret Thatcher? Maybe my friends in the ole country DONT want that)....IDA Mae is "Radio Radio"; Coast to Coast had a discussion 0100-0500 on Bigfoot; TWO reasons: me-m-my dad/cuzzin wuz size 13 and his grandaddy McBee born on Paw Paw Creek, West virginny and they IZ Bigfoot sightin' in marion county, west virginny...AND WJIB played "ding dong the witch is dead" by the Fifth Estate AND Lorne Green's "Ringo!" Cryptic, so obscure (that's the station Count Joe had LOU REED on!)....1989 Boston Globe calendar (maybe date) but took MTA comuter rail to Lawrence, Mass. (I believe they tie their children to garbage cans up thar) and I, Coinneach MacBheath saw the Clancy Brothers doin' "Wild Colonial Boy" at the annual Bread and Roses she-bang...gittin' stuck at that Lawrence MTA station, though, you better hope is good weather!; lastly, Brattle Thee-ate-er, Hah-vahd Square has a double feature of WOODY ALLEN's Manhattan/Annie Hall today and it is a definite possibility! three weeks til Gonerfest in Memphis but goan have fun and Sports 56, AM 560 Memphis talks 'bout college football and fishin'! to pair-a-phrase Mae West "I usedta be a good ole boy, then I got worse".....
this news traveled fast in TWO languages between TWO Gizmos (Krazzee Ken/Mad Max) in TWO countries/TWO continents: my Facebook friend Dennis "Machine Gun" Thompson selling his 1969 Ludwig drums! Some collector gonna pay some money and kick out the jams on those mofos!"......
Tuesday Sept. 2, 2014
a double feature at the AIR CONDITION (Gee Julie had to wear my hoodie!) Brattle theater for a double feature of Woody Allen Annie Hall and Manhattan. what HASNT been said 'bout them classic '70s movies; I Laffed Out Loud (much of the humour still relevant!), fashions were better, landline phones and other "antiques", great acting AND Marshall McLuhan, Woody takin' the piss outta pretentious NY intellectuals; warning: some of this films allude to love of young Lolitas and that case been busted open, but I'm goan leave that alone, let God be the judge. lookin' to halloween and new Brattle Thee-ate-er schedule, there's a week of William Castle films right about Halloween, some of which I can see before Gizmos play OHIO!".....
Wednesday Sept. 3, 2014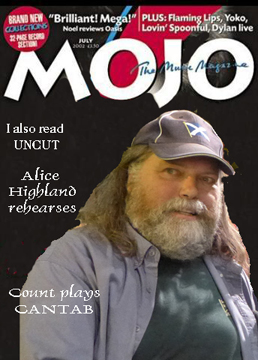 last night decided to hang in Harvard Square at the Coop; author readings at 7 pm, renewed my Coop card for a dollar (10% off on ANYTHING) and whiled away the evening nursing a cup of coffee reading Mojo and Uncut, two fine classic rock British magazines. Both worth buying and here's one classic rock fact: Phil Collins WAS in a 1964 crowd scene in hard day's night, but looked too glum, so he ended up on the cutting room floor! He also said he then met Paul/George/Ringo, told them and their minds were blown! Good Robert Plant article too, so pick up MOJO and/or UNCUT (BOTH have cds!) at the Harvard Coop!".....
Thursday Sept. 4, 2014
last night we had an Alice Highland practice for drummer Matt Burns (of V!) 60th birthday sat. 13 sept 14, Lizard Lounge. lemme make a few local plugs; I met MJ Quirk (bass) and Matt at Union Square DUNKIN' DONUTS (Alice Highland buys there!), drove to Lowell lissenin' to 98.5 FM sports radio and practice was at 119 gallery, Lowell, Mass. where guitarist 2000 Joe Browns "knows people". add "best guy evah" Mike Lyons on lead guitar and we ARE ready to play anytyme, anywhere, anyhow in-between my Gizmos World Tours. set-list is from love it to death/killer/billion dollar babies (saw that tour sunday 3 june 73)/muscle of love and dennis dunawau/neal smith ARE my facebook friends (think i have some kinda michael bruce thang too)...one more practice and Joe Coughlin (RIP)'s idea/dream will live on and Matt, age 60, doing THREE sets that night, then The Handymen play! a GREAT night, this is my pre-gig hype! call me Publicity Hound (the Count is Publicity machine!)".....
Friday, Sept. 5, 2014
went to check my PO Box (300817, jamaica plain, mass. 02130-send money!) and got ASPCA membership. Then, in search of a "large-size Dikon" (buy "She wants the kielbasa" by Johnny and the jumper cables on stanton park) at CITY FEED, it was FIRST THURSDAY, all kindsa music, but at City Feed, walked into Love Love and Chris Toppin (Ex-gurlfriends played a lot of chet's last call gigs with me in 1987) on a vintage Firebyrd bass. two guitars/bass/drums/california/country/rock,so check this: if Emmy Lou Harris had sang with the Flying Burrito Brothers at ALTAMONT! (i LIKE IT....i like it one bit!) and the a capella murder ballad had me McBee bluid boilin'! also, before COAST TO COAST, I had WRCA 1330 AM on and maybe it was 1 AM, but they were running Peter Sheinfeld's Rockin' at night so I know I did NOT dream hearing vinyl pop of 78s! the other early morn, Danny Stiles (Vicar of vintage vinyl!) was playing a 1909 78 rpm PLUS the full entire version of "Popeye the sailor man" with ALL the words on 78...yeah, THOSE are the kind of records to collect!".....(who's been dead since 2011 but is still in syndication!).....
Saturday, Sept. 6, 2014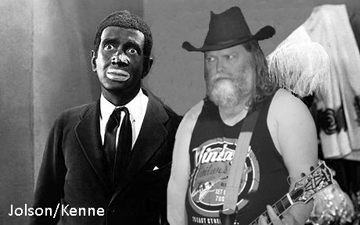 My leg really achin' with this rain thatsa comin' , so I missed The Dictators at Middle East BUT was tooned into WRCA 1330 AM and thought I heard an old radio show...later Danny Stiles (RIP),Vicar of Vintage Vinyl, was playing an ole broadcast of Eddie Hinton on a Bing Crosby radio show and the joke was importing a bunch of Al Jolson fans from Jersey to NYC...oh hell! (an influence on David Lee Roth besides Jim Dandy and Black Oak!) other good radio moments were country oldies, WRCA and Ray Stevens singing "everything is beautiful" (REALLY! a JOY to hear cf. with the crap out now and that f---in' Disney channel...) (teenybopper crap and MY GENERATION had BETTER bubblegum musik!);also from my youth on WZLX, classic hits two-fers: Aerosmith "woman of the world" off get your wings which you NEVER hear! reasons I liked them and this album in '74 (when memorial day they blew away SLADE; read about it in Hyperion, i still stand by my opinion, only reinforce this morn)....as is: there's a Yardbirds rave-up in middle with Steve Tallerico on harp ala Keith Relf! plus a Jeff Beck "shapes of things" Truth solo by Joe Pereira and chords c/o "Comunication breakdown";they were wearing their infleunces on their sleeves ('74 aerosmith) but i dug 'em...now WAJR morgantown,west virginia has Boise vs. Michigan state college football...yep it's THAT tyme of the year!"......