9/9/2019
Tuesday, September 3, 2019

Freitag 30 Auguste pages 19, 8 pm, brattle thee-ate-er, $10 if you're am member: La Dolce vita! There was a circa 1989 Fellini fest Brattle where first I saw (youtube>watch) Nico's Entrance in la Dolce Vita- youtube. http//books.google>com>books has Richard Witts biography and autobiography Nico: Life and Lies Of An Icon. here are some Hopelessly Obscure facts re: her being listed as Nico Otzak : "it was Nico otzak, and nobody knows why. During the filming Nico met Anouk Aimee, who played maddalena. She said the film star told her, "it's funny, you have the name Nico. my husband was called Nico. We're divorced now. he was Greek, and used to run a nightclub in paris'. Nico didnt dare breathe a word'. Now THAT is a Hoplessly obscure fact to share at Brett milano's trivia OR at "all tomorrow's parties


Wednesday, September 4, 2019

Saturnalia 31 august 2019 Rat Beach Party SEVENTH YEAR! C-Note, Hull Mass. Blowfish said it ALL in Boston Groupie News (hyperlink) so I may as well "embellish the truth' (or listen to jeff Beck's truth) whilst playing along with 13 gauge strings on a $100 acoustic guitar, tell me THAT dont build up hand muscle besides "Pumpin' (My Heart)"). Spot on with Mad Painter: Deep Purple/Bloodrock/Iron Butterfly keyboards, read all about it in a McGanns review from my column 2017, glad rest of world catching onto Alex Gitlin's "vision" plus all that 1968 Hammond organ was the vanilla Fudge stealin' from the Young rascals stealin' from the vagrants...if Dad's Loyalist ancestors hadnt become Canadians, I'd have been in the Illusion or many other spectacular Long Island bands. WHY do i ANNUALLY replace Blowfish as the Count's guitarist? Answer: keith Beauniece; Stooges covers. Count: Lou Reed covers. (so far both sets brought to you by the letter V: Vanilla Fudge/Velvet Underground). Teen band The Fringe did a Dylan song "Faster than the Speed of Life" and it sounded like Mott the Hoople! Did i really see teens slam dancing to the Beatles? Baabes, simply, now have the DMZ mantle for Dolls meets Nuggets album ala DMZ saturday 26 march 77 CBGBs. 'Nuff said! (as for comics: make mine Marvel! When I used to make my cuzzin Miss lyn watch Marvel cartoons down in laurel Md. she thought the Hulk was a "punk"; "I dont need anyone/Hulk just want to be left alone"...hmm,"Mama said there'd be days like this!". GLiDER got the Jason Ring nod of approval when Sonics/Thirteenth Floor Elevators covers were done and "Be More Flamboyant"? He 'walked right up to me/gave me a great kiss!" GLiDER plugs: Lyres show at Once Sept 21 and goddam, the new record sounds pissa! The way I wanted Music to Kill By to sound! Club Linehan-ago-go had folks dancin' to "Tallahassie lassie' and the Count liked lady Caroline's "Of yesterday"; trade secret, mix "two Headed Dog" with "Just Let Go" by Eden's Children octsave chords (Richard Sham Shamach!). Hardwired had Greg the soundman fronting and they covered gang Green's "Alcohol"! The next day after four sets I was bedridden and Braveheart was on BBC America, so i was damn sure all set"....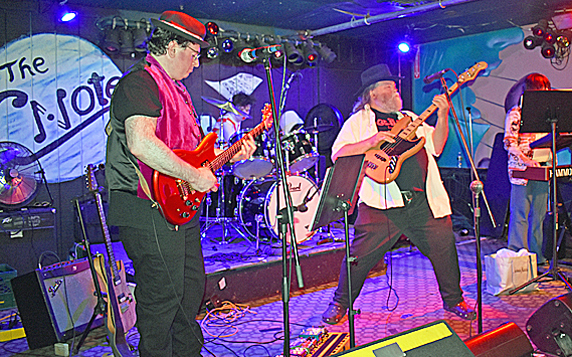 Mad Painter at the C Note

Thursday, September 5, 2019

Til Tuesday 3 Sept 19, Brattle thee-ate-er,$10 coz i'm am member: BLOWUP! Some tyme about late '60s junior high, brockport NY, the Seymour Library had the herbie hancock soundtrack with yardbirds "Stroll On" plus I remember MAYBE circa 1969 watching jeff beck smash guitar on a lil black and white TV eye on me (whilst future Gulcher mogul Bob Richert was a SUNY brockport student)....ALWAYS good to see yardbirds on a big screen! (my junior high led Zeppelin memory: "wow that's Jimmy Page! he was in a group before Wings!"). I have an Aerosmith bio where they ADMIT to stealing from "Stroll On" (Slade/Aerosmith memorial day NYC, Solomon Gruberger re Joe perreira doing "train kept a rollin'' solo: "He sounds like Rory gallagher!" ("Jeff Beck wouldnt have played it like that!" we'd seen Dolls/Quatro previous month and february in Rochester: Sabbath/Bedlam!). I really thought circq 1975 that Aerosmith was gona be the next yardbirds but then '76/Gizmones and ramones, punk happened etc). Rest of this movie: the fucken mime troupe playing tennis! I need to be as stoned as that bird in the movie at a London party (swingin' London for scenery freaks is a boon!). "I thought you were in paris". her: "I AM in Paris"...'when i'm high I AM Odetta"...."Dont bogart that joint my friend!"....do i spend too much offstage tyme in movies maybe?"...

Friday, September 6, 2019

day of Wodin 4 Sept 19 Brattle Thee-ate-er, $10 member ticket 930-11 pm. Blue Note records: behind the Notes. (trailer!) There were TWO American labels that came to be coz of Heidler's rise to power in 1930s Berlin; ein: der pater von Aram Heller, Stanton Park records and the two dudes whom formed Blue Note records 1939. looking at album discography: Miles davis volume one 1952-1953 sessions, my parents met in 1953. Jutta Hipp- at the Hickory House, volume one 5 april 56! ("I lost it when I's only three days old"...)....female jazz pianist, born Leipzig, Weimar republic "initially listened to jazz in secret...not approved by Nazi authorities",world war II refugee, Leonard Feather brought her to states 1955,so "Sieg hiel mofos/Amerika First!"....Blue Note has Monk lps from '47 and you can hear influence in Willie loco alexander. Jimmy Smith/Thad Jones/Horace Silver/Kenne Burrell/fats navarro/Sonny rollins/Coltrane....shit! outside of Gulcher and varulven what label has 60 years of high quality? Keeping current with hip-hop, they also signed ravi Shankar's daughter who took all the Grammys for that Carole Klein tapestry-sounding outtake hit song. And speaking of Grammys and Ducky Carlisle, since Norah Jones DID sleep on his basement studio couch and i played his 1973 Fender Precision bass on Glider Glider album....dunno if it'll get a Grammy but it IS the way music to Kill By shoulda sounded! Wrappin' and rappin' fo' the week: Blue Note docu-men-terry goes til day of Thor (12 Sept) at Brattle, GLiDER GLiDER to be out next year and lastly, see y'all that Lyres show the Once....if you read this Monday 9 Sept 19, that Once show is saturday 21 Sept 19; which as everyone knows, is NEXT WEEK!
from Behind the Notes