9/11/2017
Tuesday, September 3, 2017
Labour Day AXS channel Beach Boy binge watch. the beach boys 50-live in concert; of note lead guitar Dave Marks (first five albums) and a Cowsill on drums ; THIS is how I want the Gizmos to KENtinue! The Beach Boys: an american band. 1984 documentary, research by dennis diken smithereens drummer whom i discussed brian wilson with '85, Rat when i opened for them. The Beach Boys 50- doin' it again and there ARE no coincidences! the Eflat "little queenie" riff from when i had 20/20 back in '69 damn sure sounds like "thats cool"! (me: 8th grade, future Giz-mogul Bob Richert senior at SUNY Brockport NY). But my FAVOURITE was the over-dramatised the beach boys: an american family ; dad was an asshole, brian a burnout but the BEST acting was charlie manson and dennis wilson! charlie steals the fucken show in the studio singing "cease to exist"! I HAVE heard that charlie album, it IS wack....how history WOULD have changed if only he'd had a recording contract....my life sure did! otherwise i'd be a career marine"....
Wednesday, September 4, 2017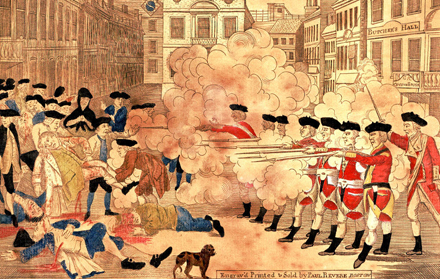 "Free Tuesday Lectures at old south meeting house. looks like i'm cuzzin to a Tea Party dude and this is where it all began and i DID chew ear off folks working where i should be in colonial attire. tonight's lecture on paul revere, barraged Gee Julie with caffeniated facts so hey "Gimme Back My Column" ("coz i need it bad,currently, outside of vulcher and facebook, only one that i ever had"!). So ole Paul's pa was a Hugenot, buried in ye olde granary right near park street. born 20 nov 1702 riacaud, france. couple hours from toulouse where gee julie was besides ancestral Lembach and four hours south of where the cardinals sailed to montreal (Simon Jean Cardinal born 1631 la rochelle; i think dad had a hugenot there)arrive 29 sept 1659 montreal, same year Ma's Veilleux ancestor was in quebec City with madonna's Fortin ancestor and Touissaint Giroux and those "drunken fools" Le Sotte). ok enuff Dead People Facts, Appollos Rivoire's son Paul was quite an engraver; boston massacre has red coats shooting but check out calm black dog in foreground; if my Puritan ancestors had called in to Coast to Coast AM (telephone invented near gummint center i think or else i'm a Gummint JACKASS!), the black dog symbolises Satan....dudes, i played led zep IV backwards and it says so man....either way sitting in hard back 1700s church pews is da bomb yo! attend more free tuesday lectures and like plan nine sing (youtube) "step out of time"!"....
Thursday, September 5, 2017
"ran into ray boy fernandes yesterday Mass Ave. He was on his way see alvan long who has a studio goin' down TT's street past Man Ray avenue. i remembered alvan from november group and ray mention Down avenue. as usual i am in constant flashback but when i lived in brookline mass. 1984-1986 there was a cool used book store and they had a metal rack outside bargain paperbacks. I found THE VELVET UNDERGROUND paperback as in where they took their name and clerk (Alvan) let me HAVE it gratis. I then to improve my instant karma gonna get you, passed it on Jim Condon who had played bass with me plus was in some velvets books as an "authority"..."and then he died" as all the blodgetts end their tail. hadnt thought of alvan for a spell but what a wicked nice guy!"...
Friday, September 6, 2017
"through a random event thingie, facebook, german consulate, boston told me of an event six pm thursday 7 sept 17. got there late after work,security i.d.ed me and they wouldnt let me in being over an hour late BUT i now know how to get to three copley place #500, boston; it's on the fifth fucken floor! walked past all these designer clothing stores, wicked fucken excess and gross geldt whilst hurricane victims aint got shit and yardbirds "aint got you". SO maybe sunday 24 sept 17 i'll go watch the kraut elections,"stop by between 1100 and 4 pm sonntag"....be intersting anyway, as is; so fucken glad is fall, lots of events and facebook keep sendin' 'em! no gigs til rat beach party so i can do something other than watch direct "TV Eye" on me"....