9/12/2016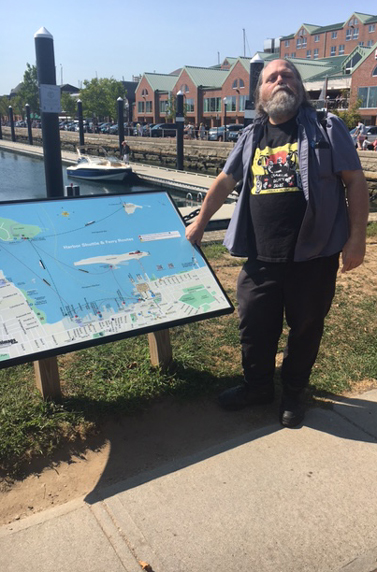 Kenne Arrives at Newport Harbour
Tuesday, September 6, 2016
| | |
| --- | --- |
| | |
"brattle double feature Saturday before I summered in Newport the rest of Labour Day weekend. $11 with membership! everybody wants some takes place 28 august 80 (Ken Kaiser and the Heroes at underground with BIG WORLD Tuesday 9 sept 80!), so the Korps was New Wave, but this is the story of my jock brother Tom "Herbie" Highland. Baseball team partying and chasing girls in Texas, kinda like the Marines I was station with in South Carolina (Cantone's was culture shock, of course). But a nice period piece, great soundtrack, seeing a VINYL album of P. Funk and "give up the funk" playing back at the frat house that was like my Marine barracks. dazed and confused was 28 may 76, i was in boot camp in Parris Island but if I'd stayed in Brockport, NY I'd have been the 20 year old loser chasing high school freshmen like Mathew McConaghey (inspiration for "cavewoman" and "winner by elimination"). seeing 8-tracks in Texas trucks playing Foghat or Black Oak Arkansas's "lord have mercy on my soul" or even me, "jailbait janet" and "cavewoman" singing "go go go jim dandy" From a Buick Six (not really, just felt like mentioning Zimmerman)....yep '76-'80 WAS the gud ole days!"
"researching schlager musik von Deutschland; ROLAND KAISER is such a singer. has a website proclaiming: KAISERMANIA!!!!!"...."LIKE ROLAND KAISER on facebook!"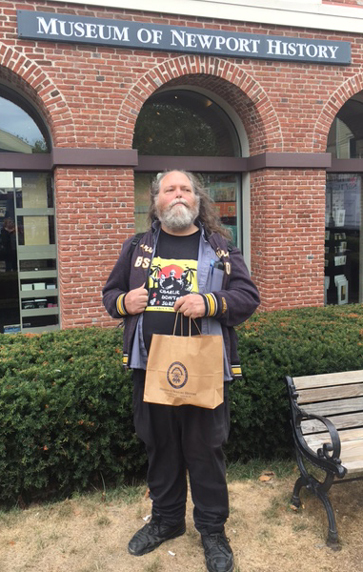 Kenne Gift Shopping at Newport Museum
Wednesday, September 7, 2016
Schlager musik is where it's at! (Gee Julie ist in Deutschland, thus my interest this week. what kind of radio is she lissenin' to queries Kurious Ken. First I find Radio 21; "Bester rock-n-pop!" it'd be generic classic rock BUT you get punk like the 1993 Die Totten Hosen, though it's '90s grunge-pop, sung in Deutsch. But since SCHLAGERS seems to be a dirty word over there (it's Deutsch "easy listening" is all, music fur oma und opa) and I find JUST for Pierre le Coutre und Heidi Malone (mein go-go dancer von Flensburg von Worcester!): DIE SCHALGER GARAGE, FLESNBURG! Vas ist los? Roland Kaiser ist der sanger "Ich liebe du, Laurie"?!?!?!). COULDNT resist this morning, watering Gee Julie's plants: MORE SCHLAGERS!!! Musik fur hausfraus!!! DIg this! engelbert Humperdinck's "last waltz" und elvis (DER KOENIG!) "devil in disguise" sung in Deutsch, my fall '81 beginning Deutsch class (got a C!) coming in handy ("teuful in disguise" or something), and "LIght Dawns Over Marlbehead": SCHLAGERS IST DER DEUTSCHEN WJIB!!!!!! send geldt to WJIB like I did, Herr Bittner ist MOST happy, keep SCHALGERS on the air world wide und....KAISERMANIA!!!!"...
"for dinner, much to chagrin of Gizmos/Hopelessly Obscure fans von Deutschland Harry Vee und Pierre le Coutre, I "eyed" HEINO youtubes! Schlock und Schlagers! peroxide blonde hair, a cross between "Be More Flamboyant" Liberace and max headroom! I am proud of micelf reading subtitles with my one semester of college Deutsch; something about "komraden" and wine, folks dancin' like it was a saint Stanislaw party in Cambridge...almost as surreal as '70s Turkish films! (ala Star Wars!) I, again, only Deutsch-obsessed as Gee Julie recently there"...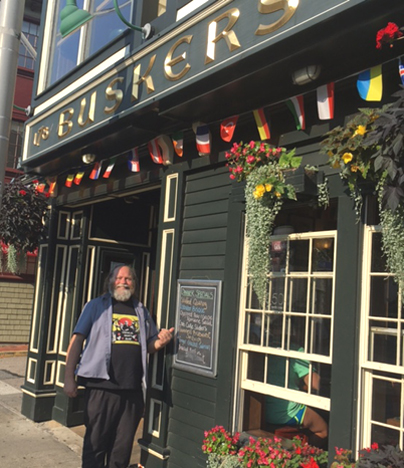 Buskers Pub in Newport
Thursday, September 8, 2016
| | |
| --- | --- |
| Die Verrohung des franz Blum Die Verrohung des franz Blum | Uh Oh!!! |
Deutsch youtube for supper: Die Verrohung des franz Blum. 1974. well-to-do young lad wrongly accused of crime, life is jail...Count of Monte Cristo, jah? For the Fassbinder FANATIC (c'est moi!) All Kindsa Fassbinder films on youtube..."where do I begin?"= SCHLAGERS! (cant forget youtube of Roland Kaiser und KAISER POWER!). watering Gee Julie's plants whilst she in Hannover (all I get is Snyder's of hanover pretzels....Charlie brown gets a rock...)...Sir Doug's "Mendocino" sung in deutsch! which figgers, lifted leg on Doug Sahm's family tree and he's from those Germans that emigrated to Texas (GROSS population thus Braunfels, Texas), brought the accordion music so that Herr Meyer could play on a Vox for "she's about a mover" etc. wonder if there IS an article on influence of German polka on Tex-Mex music?".....
to close out the week, let's mention next week's gig: Gizmos in Bloomington, go fund me. LOOOOONNNNGGGG train/bus ride so call/text 617-803-1289 and my stops: Wednesday 14 sept 16; washington DC layover 0900-4 pm, meet me at dad's grave in Arlington; Thursday 15 sept 16, i'll be in Columbus ohio; Friday 16 sept 16, be in Indianapolis Z(home of wes Montgomery!) and then Gizmo gig Saturday 17 sept 16 (40 years of Patricia Ragan, Punk magazine, who first wrote me at po box 635, bloomington, indiana 04701 "I stalked you through lester bangs".). So if you want LIVE Gizmo news coverage, call/text 617-803-1289!"...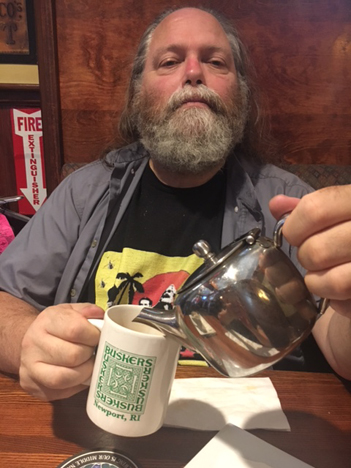 A Spot of Tea at Buskers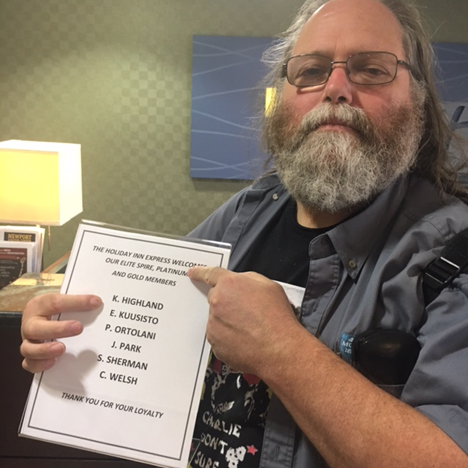 Kenne Elite Spire Member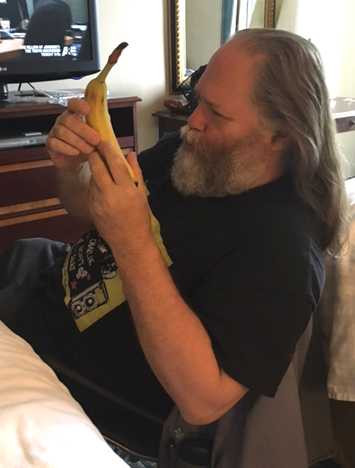 Kenne contemplates free banana in hotel room