9/13/2021
Tuesday, September 7, 2021

"Sunday 5 Sept 21. Received from Rockin' Bob Cenci, a t-shirt and one Rockin' Bob CD with Bob Furapples on drums! Jerry Kids and F.U. s supergroup!

0800-1200 WJIB 740 Am classic country. "A Boy name Sue"- JR Cash, big summer '69 Rochester radio hit. a Buck Owens toon. Shirley I heard Dolly Parton duetting and it was "Holdin' On With Nothin'" with Porter Wagoneer; mah cuzzins next door usedta watch ole Porter's show. They's youtube of it too with Dolly's B-26 hairdo! (half of a B- Fiddy- Two). lastly from 1967, Charlie Walker with "don't Squeeze My Sharmon". Ernest Tubb done wrote the lyrics! Guy tries to dance with another gal's gal and y'all better hand him a can opener to open up a can of whup-ass! More news: Kim Simmonds and Savoy Brown announced the passing of Rickie Lee Reynolds of Black Oak Arkansas; Ricky was a facebook friend and had ALL kindsa tales and vintage photos...Dino Records AND Frank Lima both told me of this BUT: bright side: I known Frank Lima since I only READ about Black Oak Arkansas (Lester Bangs rave review in Fusion and by God he was RIGHT!). And perhaps it was Rock On #5 I reviewed first Black Oak. BUT and Dino records will agree with this or eat a cantones pizza: at least JIMMMMM DANNNNNDDDYYY is Still Alive and Well!!! Channel smurfin' at 619 PM 1510 Am WMEX oldies: "summertime blues" - eddie Cochran and "for what it's worth'-Buffalo Springfield! Indoor fun and Fug the Sun, I'd rather listen to Grand Funk Live album "Into the sun", all 12 minutes of it (which DOES sound like KH's Air Force! Air Force sounds like Railroad...I like NOIZE!!!!)"......

Wednesday, September 8, 2021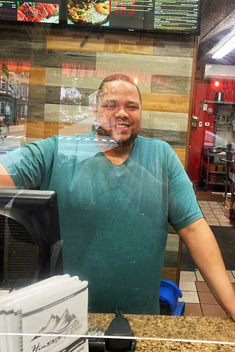 J Dawg!!

"Sunday 5 Sept 21 (part two). Supped at Himalayan Kitchen on Bow Street; Gee Julie likes the Nepalese food and I feasted on some damn fine ribs. LIKE them on Facebook and owner J Dawg showed me a write-up in the Somerville Journal! An eatin' place worth supporting.

Also in 02143 zip code was a FREE show at the Jungle! I walked in as MC5's "lookin at you" played over PA then Stooges "I got a right', "Six pack" by Black Flag, Iggy's "five foot one", Dolls "Lookin for a kiss","Kick out the jams", "I wanna be your dog" etc. 1973 me would have LOVED all this Stooges/MC5/Dolls! What Famine opened. there was a guy on fuzzy acoustic lead guitar and a lady playing electric fuzzy hollow body guitar. Their facebook says "surf-punk"; I say My Own Worst Enemy meets Tyranosaurus Rex (very marc Bolan leads and rhythms). The lady had a strong Melissa Ethridge-y voice and they had good harmonies. There also was an attempt at a ska rhythm. Next up was Eddie Emerson whom I describe as Kobain country. That's Nirvana unplugged meets Hank Williams III. Schmel herbie Hind walked in during "Age of Paranoia" "on a lighter note', he said (per my Highland-glyphic notes).My notes say there's my "reincarnation" D-drone riff, a Lou reed vocal and Black Sabbath chords. Also a reference to "artificial intelligence"; I like this guy! he was joined by another fellow as they sat in chairs, acoustic and harp ala Sonny terry/Brownie McGhee. I cannot say ENUFF about Captain Easychord! I discovered him solo at a tavern at the end of the world Natalie Flanagan open mike but now he's got a "Powerhouse" band! Gee Julie saw him at the Midway with the reverend Leon Rich on bass (he'd played with Anderson Mar (RIP), Rochester NY homegurl) and Matt Burns of V on drums. that was 11-17-70, Sir Reginald Kenneth. Post-gig Monsieur DePres said adding Schmel herbie Hind on guitar: "I now have my Davey Johnstone". Influences; 1973 Elton (Piano Player/Yellow Brick road NOT the Leon Russell-inspired songs that Silver metre covered) (bouncy pop versus gloomy ballads, tho I preferred early gloomy Elton micelf, agin). I also hear jaunty mid-period kinks via Butterscott; Something Else/Village green etc ESPECIALLY in a tune about Davis Square where el capitain name checked local landmarks ala Willie loco on "Mass Ave.". lastly, other ballads echo "Love of my life" by Queen, tho Schmel/leon/Matt give it a heavy Queen meets Ziggy sound...ALL so 1973! "Like a pop mad painter' says I! (They lean more towards Uriah Purple, Also two great 1973 live albums and a Hammond sound). Schmel also did some very melodic leads And BACKGROUND VOCALS! (THOUGH) "I encourage Schmel to play like Ron Asheton in happy the Clown. I departed before Johanna Tulloch whom was dressed like the original album cover of man Whom Sold the World (a favourite Bowie album of both Giz and Lunch!) so sadly I missed captain and clan singing along with a Ziggy cover. DO like her on facebook...I think it was "moonage daydream" and scheisse, I missed it! or to quote ozzy on '74's Sabbath Bloody Sabbath: "you missed it!""....

| | | |
| --- | --- | --- |
| What Famine | Eddie Emerson | Captain Easychord |
Thursday, September 9, 2021

"day of Wodin 8 sept 21. What BETTER way to spend Aimmee Mann's sweet 16 (backwards) birthday than a Kenne Highland Air Force practice! This was dress rehearsal for Sunday 12 Sept 2021 three pm Midway Café. Frank Rowe's seventieth. backline from Miiiisstter Biancucci, means I am using a tiny Fender amp. My lineup is me-guitar and vocals, John Keegan-sax, Schmel herbie Hind- guitar, Captain Easychord- keyboards, Lt Larry Newman USMC-bass and Al Hendry-drums. We did a facebook live of "dead Boston clubs", sounding very Stooges, vocals and sax and a lotta Funhouse free jazz. AS YOU READ THIS you can check us live! Next show: Pete's Grille, Quincy, Massachusetts Friday 15 oct 21 1130 PM (ALMOST ny anniversary of meeting the ramones in DC in '76!)"......

Friday, September 10, 2021

"Ein gut Freitag! Micky Bliss rang my mobile and the Cantab /Club Bohemia is reopening late October/early November.

UNDER legal advice you MAY call him at 617-846-1788 for Future/Gigs. he appreciates all that the BGN will do to promote this etc. Micky Bliss; been doin' it since Cantones!"....

Saturday, September 11, 2021

"Saturday 11 sept 21. Gave a listen to Greg Paquette Retroactive, a very pleasant 2020 American cd I got from Joe Vig. Though all I need to say was Joe Vig talks to Greg Paq at http://joeviglione-going trackbytrack. blogspot.co.... track by track analysis of each song; and as a lyricist, I say insightful lyrics. Further Paquette research (AND points for this!); a big fan of Dc's own Roy Buchannon and Danny Gatton, two big guitar hero legends when I was stationed in Maryland (don't worry...the NSA is reading EVERY word I write/ 'every breathe I take"...)...lastly, it says he graduated UMass Boston 1982; well the BU babies saw Berlin Airlift and the Runes and 13 march 82, Hopelessly Obscure played with The Accidents at cantones and I met Richard D. Mirsky. And let's not forget Ronald Reagan! But, yeah, if Americana is your bag, check out Greg paquette! Even more cryptic: Creem headquarters in walled lake, Michigan and lester bangs was only 13 miles from South Lyon Michigan where all the Highlands are buried! Dead highlands hangin' 'round Creem headquarters. And this IS a good cd; COUNT on it!"...