9/18/2023
Monday, September 11, 2023
Freitag 8 sept 2023. Mad Painter practice. Gigs et al on the mad painter Facebook page. Tonight's jam was Alex Gitlin messin' with "Try a Little tenderness" and having Doctor's Demoneto's birthday i HAD to mention jack Webb's version of "Try" on Rhino's Golden Throats, owned by the "Princess of the trailer park" (howl of the she wolf cd on DINO!) whom is/was Taylor Swift's cuzzin"....

Tuesday, September 12, 2023
Sonntag 10 sept 2023. Ken and gee Julie attend 2023 Greek Food festival dormition of the virgin mary orthodox Greek church. $26 roast lamb plate, food was excellent; Gee julie ran into a couple lady friends AND her cuzzin Sabbath Drums, Deep purple tribute band Stormbringer.sabbath was making the rounds of the Greek picnics in between gigs; Andover, Somerville and was gonna meet his cuzzin at the brookline fest! "I heard there were a couple hot chicks singing in the band"; me" "y'all sure they aint yer cuzzins?" Sabbath: "You never can be too sure!" gee Julie took photos inside the church and greek danced with her friends; a fun rainy afternoon AND the greek band was singer/keyboards/ guitar/.drums and bouzouki!".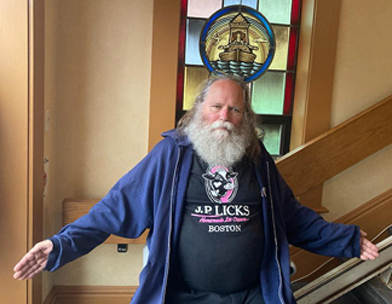 Kenne as a Greek Saint??
Wednesday, September 13, 2023
Monntag 11 sept 2023 "3 AM or nearer" (Guess Who song) and Coast to Coast AM bumper music was John Lennon's "Mind Games". released 29 Oct 73 and my KENsensus was that the 45s off Raspberries side three beat the Beatles (and Who, etc) at their own game, though I did prefer the b-side "Meat City' (more rock). Another anecdote was "Jailbait Janet"'s boyfriend bought the album, was so disappointed, he sent it skimming acrost the bedroom floor! (whipped it off the turntable). and you WONDER why "My Head's in '73""....
Thursday, September 14, 2023
day of WODIN 13 sept 2023. kenne Highland Air Force practice, first tyme since Quincy Porchfest; was that in June? Al Hendry(drums) and I channeled the White Stripes jammin' on John Lee Hooker's "Boom Boom" as I tested John Keegan's mikes. Also in attendance was Larry Newman, bass, Captain easychord-keyboards and Schmel Herbie Hind on guitar. "New" song was Dolls "Personality Crisis" for a 50 year anniversary tribute comp I was asked out. Psychedlic standouts were: "reincarnation" off my $20 Stanton Park album, "The Family" (Schmel and I did a lot of double leads, mine were of hendrix/Beck variety) and Captain Easychord was stellar on Doors "Five to One". Got a mess of kids comn' , maybe I wont see y'all"..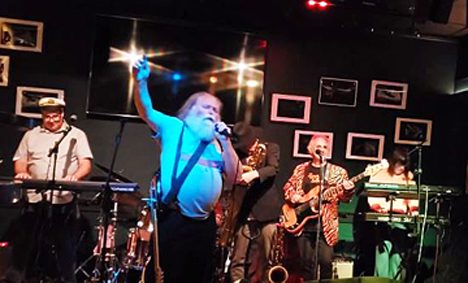 Sneak Peek of Square Root Airforce show!!
Friday, September 15, 2023
"day of Wodin 13 sept 23. 645 pm. WMBR. sonic mood ring show. they played Yoko Ono's "remember love" b-side to "give peace a chance"! kinda rare and a b-side. My first anniverary in Montreal with "the princess of the trailer park" we stayed at that hotel, "for what it aint worth", though Taylor Swift's cuzzin was NO Beatles fan! anyway, nice to hear Yoko b-sides before Kenne Highland air force practice"
Saturday, September 16, 2023
saturday 16 sept 2023. as my late great tenth cuzzin once removed asked at the Burren: "whe's your next gig moddafocka?'. ssssso:
saturday 30 sept wookiestock in quincy KH air force.
monday 9 october mad painter at jungle. then dan anklin tour:
thursday 26 oct- erie pa., friday 27 oct -syracuse ny and
saturday 28 october park side lounge lower east side NYC.
til then, harvard football on WHRB 95.3 FM; now DAT iz da (foot) BALLZ!"...