9/19/2016
Monday, September 12, 2016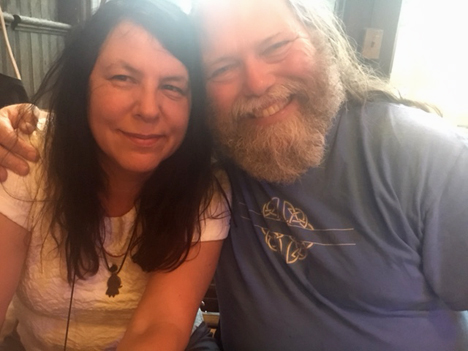 Kenne and Julie reunited
"On Friday Gee Julie just flew in from Deutschland and boy are her arms tired! But five generations ago, her Saxon-Prussian ancestors took the boat to Buffalo NY; way, as a fifth generation octo-Kraut the Boston Groupie News staff took her to Jacob Wirth's in Boston for some essen und trinken!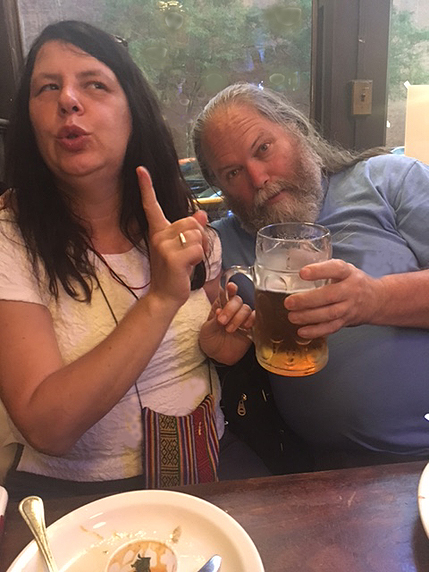 Julie and Kenne celebrating return
"Come Saturday morning", kickin' out the jams with the MC5/I-phone five: NPO Radio 5, nostalgia from Hilversum, Holland. This is der homeland of the Easybeats bassist and EVERY DAY I heard a Q65 toon ("Ann" was a b-side!) plus lesser known "international" hits by Detroit Emeralds etc.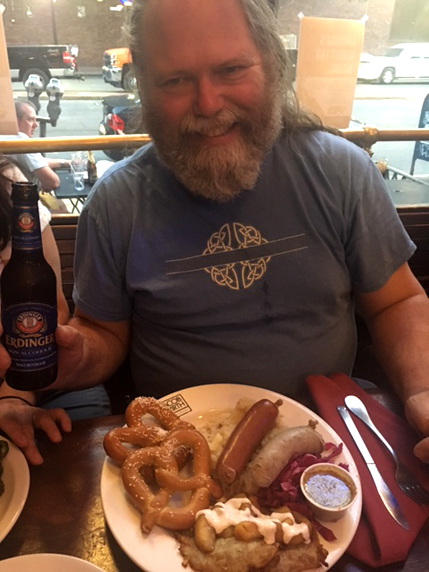 Kenne with German sampler
The JP Music Fest was attended, Rick Berlin did a superb job and Babaloo's "punk-mambo" quite danceable and I REALLY liked the trumpet player, nice and brassy. Indian food and jet lag = lissen to WMEX and Jimmy Jay (read about it in Vulchur!) and he mentioned the Italian feast in Cambridge and played "tie a yellow ribbon" and a long disco mix of "macho man" since Tony Orlando and Village People WERE performing. Bob Bittner country oldies (send money for his WJIB fundraiser!) played Hank's "never get out of this world alive" and ernest tub's "pass the booze" BOTH classics. Surprise ring-up from Drew Townson and we attended the Bills game (losing to baltimore) but we DID tackle a garbage plate AND wings of which there WAS no defense. Drew played me Girls Gun and Glory which he produced; I said "Tom Petty meets the Mavericks" and he said I was "spot on";"Full Moon Fever Tom Petty on the fast songs and the Mavericks on slow songs";Duke Levine on baritone guitar! More jet lag but I made Gee Julie lissen to ZUMA 740 AM Toronto, some show called Legends, documentary radio with FACTS and music, Leonard Cohen/Frank Sinatra/Elvis. a fun three day weekend with Gee Julie!"....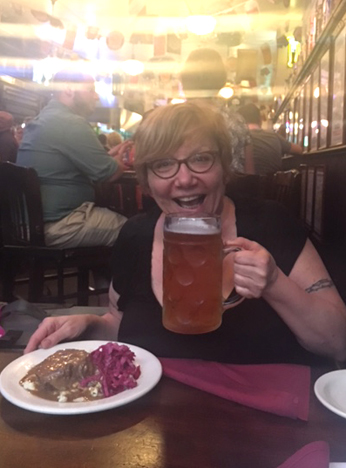 Fifth generation octo-kraut. Skoal!
Tuesday, September 13, 2016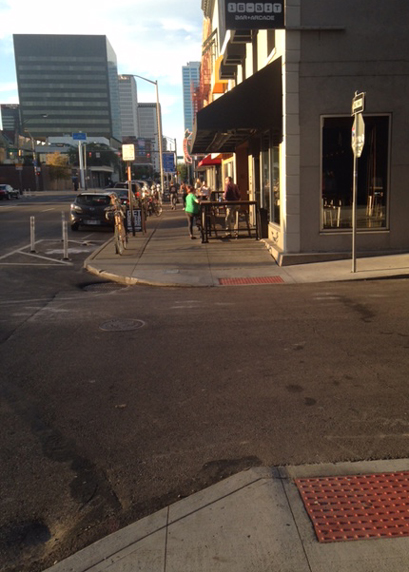 Positively Fourth St Columbus OH
Before I catch that "Gone Dead Train" (off my $2.99 8-track, Greece NY town mall bought coz of my facebook friend John Mendelsohn's review in rolling stone '71!) for Gizmoville, I return to Boston right about tyme this goes to "print" and the following Saturday in Portland, Maine is almost a Hopelessly Obscure reunion counting the spirit of Jim Condon (RIP). The Korps, Robbie o' clan MacKenzie's band and Miguel D'Amour's band plus Chris Brood (dancin' to Hopelessly Obscure since debut July '83) and the Flipsides. I shall be staying in the same room that Ric Coraccio stays in, known by Geets Romo as "the corracio room". Though I will probably watch the Bills game, Columbus, Ohio DOES have Guitar Wolf and Cheater Slicks which is where the Gizmos Columbus fans will Shirley bee. "The Midwest can be alright"!".....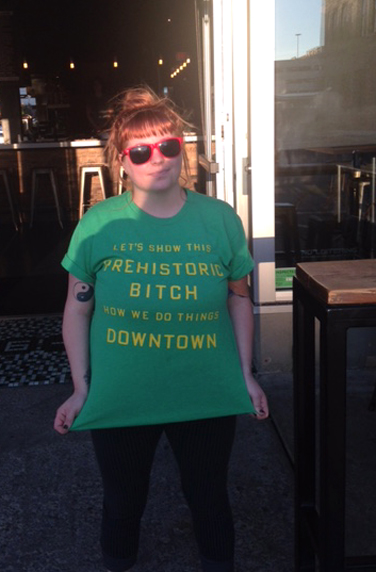 Miss Lyn Clone at bar in Columbus OH
Wednesday, September 14, 2016
Kenne took off on a train at 9:30PM Tuesday heading to Indiana for the double Gizmos show.
Today he arrived in Columbus, OH and sent this from his iPhone5:
Positively Fourth Street Columbus, OH where Gizmos is on the jukebox. Has a restaurant row of hipster eateries. One bar serves no food, only drinks, with a younger tattooed Miss Lyn clone at the door. She said to try Hadley's Bar and Kitchen they just opened up. I can get a veggie burger at a buckeye version of Charlie's Kitchen. No wonder Cheater Slicks moved here.
Guitar Wolf and Cheater Slicks are playing tonight. But instead: I've discovered the Comet Cable Network, Columbus Ohio. Watching The Tunnel a 1935 British Sci-Fi movie and then for the next 24 hours until I leave for Indy! Then I fell asleep watching Law & Order.
Friday, September 15, 2016
Arrived in Indy. Had supper, watched TV and fell asleep.
Sunday, September 18, 2016
Gizmos show was amazing! Full house. Made $800 per band. Today I'm hanging at Vulcher magazine headquarters 'til mah bus at 8PM. Just left there and am now hanging with Craig Bell who has Boston shows coming up real soon.
Though the texts were cryptic (of course) Kenne, luckily, sent photos.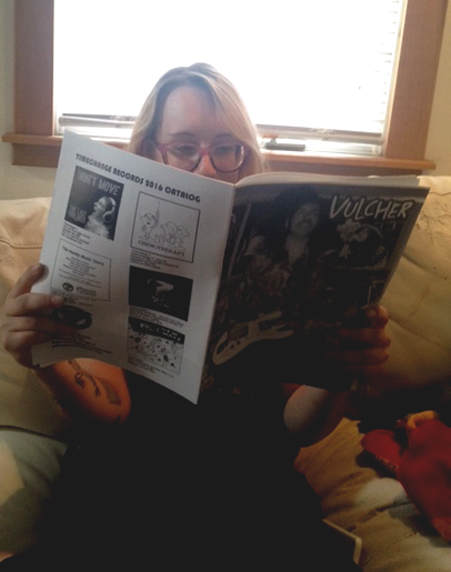 Kelsey Simpson, editor of Vulcher Magazine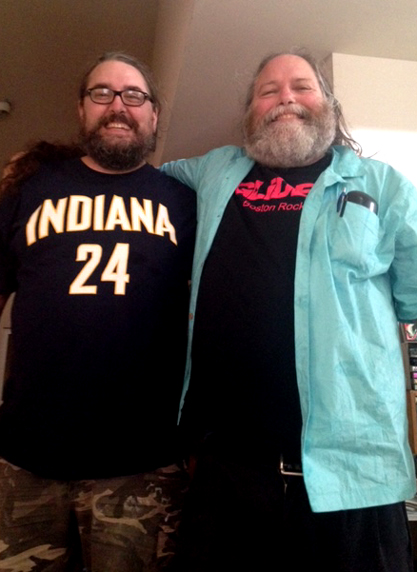 Rippy from Deezen and Kenne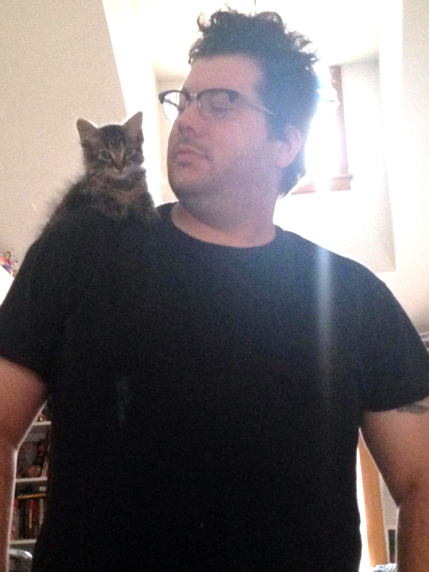 Sammy Gizmo with Acorn, Furry Purry Epaulet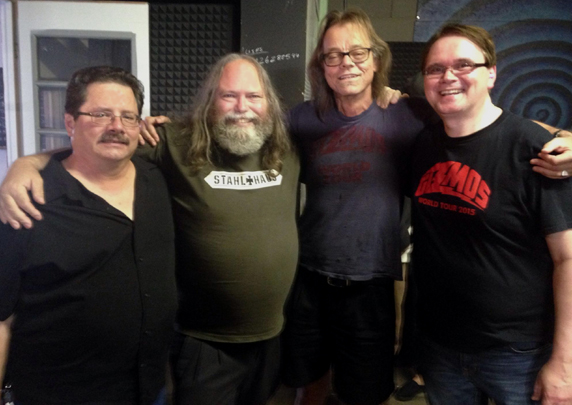 Dave Sulack, Kenne, Darryl Frasier, Ted Niemic