9/19/2022
Monday, Sept. 12, 2022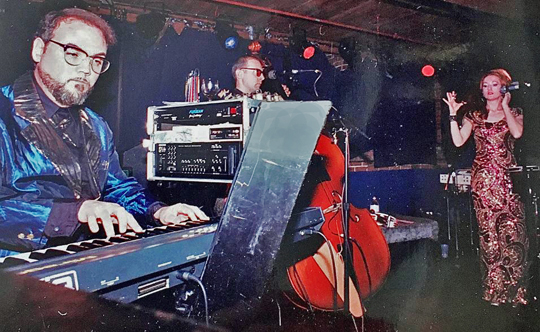 Brother Cleve in Combustible Edison

"saturday 10 Sept 2022. I was eating carne asada at El Poltro, Sox-Bald-a-more 10-3 and my cuzzin Miss Lyn tell me Blowfish say Brother Cleve had passed on. I know I was partying with the Billy Goons June of '82 and last tyme I seen him was some Wayne Podworny art show with two Miss Lyn pieces in it. SO, a sober memory; he was a clerk at the old mass. Ave. Stereo Jack location. "Kenne I've got a record for you"; Colonial Drinking Songs or some such "in case you wanna fill your tankard and dress like Paul Revere and the Raiders." i bought it! Another good memory about the Suede Cowboys: "me and Bob Suber 9sax) were trying to sound like mandrill as much as possible"; the wide VARIETY of music this guy knew is,sadly, a great loss and if they burn all the rock bios at 451F., even I and I COULDNT stand on the outskirts of town recittiting it....i HAVE since bought mandrill and Osibisa albums at SOEMRVILLE grooves! Mitch Cerulli SURELY let Bob Toomey into heaven coz he DAMN sho' on the guest list! (me, I'm still in puragotory with you mofos)"....


Tuesday, Sept. 13, 2022

"sonntag 11 sept 2022. 5 pm. SS Cosmas & Damian Society American/Italian festival. did NOT know this lil Italian church existed! (photo).vendors with food and t-shirts AND on the lil stage (photos): Smokin' Joe and the Henchmen doin' Motown/ Coasters but what wuz da ballz was ides of march "Vehichle" with me singin' in the crowd with my big ass deep boomin' voice".....

Wednesday, Sept. 14, 2022

"day of Wodin 14 sept 2022. 0248. woke up to coast to coast AM and pat Boone was the guest! RIGHT when he said, "I'm a descendant of Daniel Boone's son james". Other folks called in (with Southern accents!) claimin' they was kin but even better; Pat's pa-in-law was Red Foley! ("chatanooga shoe shine boy" at the jim-10!). SO, if'n Debbie Boone descends from pat Boone AND red Foley....that DOES light up my life!".....

Thursday, Sept. 15, 2022

"day of WODIN 14 sept 2022. another great Kenne Highland air force practice with Brother Cleve (RIP) Shriners-induced SOBER mishegas. Highlights (always!) were the jams betwixt Al hendry (drums) and Larry Newman (bass00 ) and captain easychord (keys), them being Blues Image "ride captain ride" AND plastic ono band's "cold turkey"; if you heard Tom Depraved (tres fou) vocals on latter, he would be fired (twice!) from some bands! I encourage fun and chaos ala the 1976 Gismos, My Way"......

Friday, Sept. 16, 2022

"Freitag 16 sept 2002. coming up besides another Kenne Highland Air force recording session next month hopefully, mad Painter on WMFo, day of Wodin 26 october 2022, WMFO, nine pm or so: toon in!"....