9/22/2014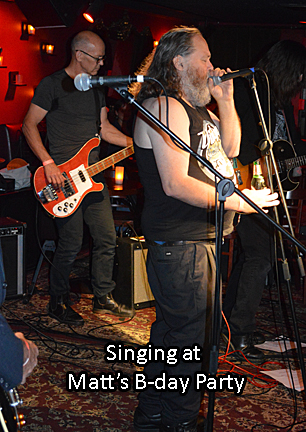 Monday Sept. 15, 2014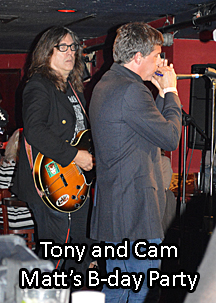 Havin' a wild weekend, so let me name it all: Matt Burn's 60th birthday at Lizard Lounge was star-studded, some notes on music: Litehouse did "search and destroy" and buzzcocks "never fallen in love" AND "1926" with Gary Gogol from V (lookin' like Sally Cant Dance Lou Reed!); Matt drummed with all, so "Sweet Jane" was me, Litehouse and as Hunter/Wagner, Gary of V and Tony Kazcynski of Figures on a Beach. Kim and Cam Ackland of Prime Movers followed with Litehouse as their band and a bunch of STELLAR r&b covers like "i can tell","down home gurl",Cam on harp, a more r&b direction than his garage bands, and wife Kim soloed on some GREAT Larry Williams covers, very soulful. They were sort of an Ike and Tina duet, I really enjoyed it....BUT, I love ME to Death, so Alice Highland was me singin' Alice Cooper, MJ Quirk on bass/birthday boy Matt on drums, 2000 Joe Browns and Mike "Best Guy Evah" Lyons on guitar and makeup by Gee Julie! all it was really was me singin' to my Cooper 45s In My Room (8452 ridge road, brockport NY) Back in '72, now I have an audience that aint a mirror (though I DID sing to the barroom mirror with ME in it!) lastly the Handymen: Charles Hanson on gtr/Jim Haggerty-bass, Chris Cote-gtr/vocals, Tony Kazcynski-keyboards/vocals and Jim Janota (Underachievers!) on drums. all cover for Matt, highlights: Tony sang "all the way to Memphis" (Gizmos at Gonerfest 27 sept!) plus "96 tears", "all day and all the night"; Jim Janota doin' mitch mitchell drums on "manic depression" and "crosstown traffic" and Chris Cote TOTALLY doin' Steve Marriot on "tin soldier"/"hot and nasty"/"30 days in the hole"; I was dancin' to Humble Pie covers on a bad leg! Matt, age 60, said he felt 21! A Real Good Tyme Together!"......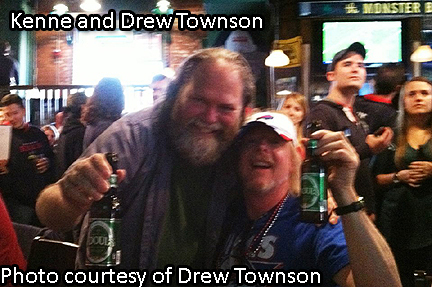 got a call from Drew Townson of Derangers and we were supposed to watch Buffalo Bills game; me: "I gotta wash off my makeup!" Alice Cooper and Buffalo Bills; THAT was Brockport, NY Head's in '73! Bleacher Bar in Fenway Park, acrost the street from mama kin is THE Buffalo Bills bar in Boston (plus Harp, near Chet's) "We" meet Miami (SQUISH THE FISH!) and i met lotsta western NY transplants in Bills gear who knew where Brockport, NY was! even the menu was "local"; $10 trash plate (Better at Brockport Diner!) and GENNY LIGHT on tap; then Drew had to rush to Rick Walker's rocknroll cowboy clothes since 1932 www.rickwalkers.com, 306 newbury street (was Mystery Train records). Bradley J. (WBCN,now WBZ) interviewed me, Drew, Rick Walker, Dave Foley about boston's country/americana scene,"embarassing" moments on stage (me: loss of kilt at Kirkland!) AND I explains how the Scots-Irish became "hillbillies"! reasons to shoppe there: Joe's truck stop played fiddle/guitar/standup bass hillbilly "old tyme" music which made me GRIN, they got bib overalls in mah size and other fine clothing AND, by the door, is Henry the Rooster! (yes, LIVE poultry on Newbury street); and I DO want a photo of me and mah pal Henry! a splendid day off from work!"......
Tuesday Sept. 16, 2014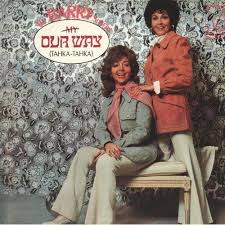 Monday and Wednesdays at Goethe Institute Boston 7 pm, $5 is "Made in west/east germany: WWI"; it's been 100 years and dad's mother born same year in Detroit, but her mother was a Fischer, who went Deutschland-NJ 1700s. Monday was Kaiser, Burger und Genossen, west germany,1971 die-rector: Franz Baake (almost like my North German Rock On editor, Alan Baase). "rare, original footage...Wilhelmine Era"; 1891 footage! afterwards, tuned into 1330 WRCA and caught another Danny Stiles (RIP), "Stiles on your dials" show and he did a dedication of what SOUNDED like a Yiddish version of "Mein Veg"....Sid Vicious (John Ritchie) aint got NUTHIN' on this version, which I done google-ated see the links above and below!; LOVE furrin' language versions of english-language pop songs! wednesday there is another Geothe Deutsche kino , $5 and a concert on Thor's Day....and maybe a Boston center for the arts thang friday, but will only mention if I attend, the rest is Geothe Institute, Boston: events! und Das ist a Real Cool Tyme....in der abend!"(Broken Jug covers Stooges!)".......
wikpedia lists the Barry Sisters doing a Yiddish version of "My Way" in 1973 (the year of O. Rex!); also sez liner notes on a MAINSTREAM album; my FAVOURITE label in 1968 with Janis (Big Brother) and the Nuge! (Amboy Dukes) (45s I DID own!)".....
Wednesday Sept. 17, 2014
A Hard Day's Night last night, so I tooned into WEZE 590 AM, religious radio; Dr. Tony Evans, a black preacher out of Houston, Texas, very fiery: "let your yea be yea....and your nay be nay!"- Jimmy Cliff reggae toon covered by Brownsville Station as "let your yeah be yeah"! (also covered my last birthday by me and Tony Kaczynski of Fireking; Cub Koda and my great-great-great Thomas Highland both buried in Washtenaw county, Michigan- Ann Arbor area!) then,"I'm only Sleeping" ended up with 1330 AM WRCA and Danny Stiles (RIP) on your musical dial was playing Eddie Cantor! followed by Rockin' at midnight (more like 2 AM or Nearer) with Peter Sheinfeld; "I play jump blues, r&b and a little doo-wop"...SUCH a great show! the 1951 cuts I heard sounded like first Barance Whitfield album with Steve LaGrega sax and Peter Greenberg (DMZ) guitar and Howie Fergusson (Real Kids) drumming. I kinda heard an announcement about "email me and we can tell you who is the artist on what comp" but dudes....78 rpm surface noise in MONO on an AM radio..."I heard it on the X"!"......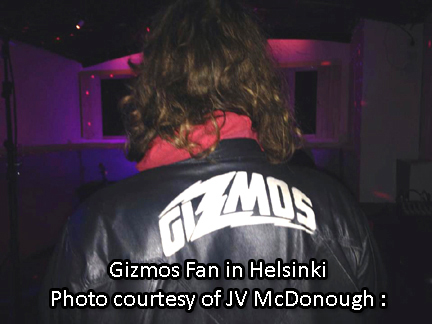 newsflash! JV McDonough of MOTO sends photo from Tres Bones, Helsinki FINLAND (yes, family tree dna sez i got matches there!) and photo is of a dude wearing a black leather jacket with red Gizmos logo on back; JV writes "Gizmos fans are everywhere!" all i can say is "what the, what the, what the, what the F@@@?" (fam'bly publicay-shun). though Muck and the Mires DID tell me they played Finland with Roky Erikson...reckon is my turn! with Gee Julie on makeup!".
Thursday Sept. 18, 2014
on the day of Wodin: Goethe-institut, boston presents ($5): Der Untertan (the Kaiser's Lackey, or Kenne Highland recording Hello World (Gulcher! Herr Riechert, Alsace-Lorraine ancestors!). "biting historical satire-based" "critique of conservative and militaristic Wilhelmine Germany". I COULD stop here but Gee Julie and I did a Siskel and Ebert/"Men on Film" discussion before truckdrivin' (in Wilkie South!) to TRADER JOE'S (Brookline, Mass., Beacon Street (Union)). so next to Jack Benny's To Be or Not to Be and Mel Brooks "Springtyme for Hitler", this 1951 east german die-rector Wolfgang Staudte parodies the whole "we MUST have ORDER" Kraut mind-think (I got it 1/8 of the tyme) and the "ambitious man" (who steps on everyone on his way up and worships the KAISER) (down to waxed mustache!) DOES have a wealthy Frau that favours MJ Quirk's schatzche DONNA MORAY! (Gee Julie and I agreed! She's a movie star!) there's a worker's revolt, but remember; this is an east German COMMIE film, mofos! Amerika First! Plus when Deiderich Hessling (ambitious Kaiser kissass, which sho aint me!) joins the Neo-Teutons...now c'mon man that's refering to rise of national socialist Nazi Punks Fuck off party! there's a DEFA Film library, UMASS, Amherst, SO many good east German films now I am finally seeing! Ich liebe Deutsch keno! (UND der Broken Jug "rain of death"!)"....
Friday, Sept. 19, 2014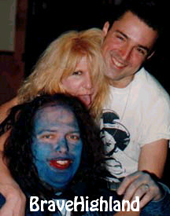 Wrappin' up this column, as "Busy Man" before Gizmos at Gonerfest in Memphis next weekend Saturday September 27th! WUNR 1600 AM 8-10 pm has The Irish Hour! (I think WROL still has your Irish hit parade)....lissenin' to Irish music sober....yikes! and for the other Celts (not Welsh): Georgy Noory, Dearborn, Michigan, COAST TO COAST AM (WRKO): "well,scotland has decided to stay in the union" (Ma's great-great-gran born on boat coming over from scotland, landed St. John'S,NB ,so I'm actually closer to what canada does than "the ole country"); Norry plays excerpt from BRAVEHIGHLAND (use 40th birthday photo of me painted blue with Johnny Boucher!) about "frrrreedom...ye waunt frrrreeedom" for a spell, then special guest "he doesnt have any scottish bluid but is an expert on UFOs" to which said guest (c'mon, man it's 0100, you think i remember EVERYTHING in my sleep like Son of Flubber?) saith: "actually, I DO have a wee bit of Scottish blood plus a bunch of other bloodlines",THEN launched into a UFO spiel....genealogy and UFOs; why, that's simply OUT OF THIS WORLD!!!!
ok, so next saturday, Gizmos, Gonerfest, memphis, my cell is 617-803-1289 if you want Charles Kurault, ON THE ROAD with the Gizmos! two other plugs, unless i fergit; lissen to Paula Worlsey on WMFO coz I.M. 'sposed to call and Catherine Capozzi Bring Us your wimmen kickstarter (the gowns are Gene Dante FABULOUS!) mention on French Toast, WMBR (I helped them fundraise once in '90s; GREAT show if your mother is a French chef)...Das ist ALICE and buy more Mentors records!! (or Gizmos, same thing ,same subject matter; the Gizmos cd at Cheapo Records FINALLY bought used by Tony Kazcynski of Fireking, so a great Midwest band bein' lissen to by a great Midwest musician, whom sang "all the way to memphis" superbly, as I leave Boston by greyhound wednesday 9/24/14 10 pm, arrive friday 0700!! down the street from Sun Studio!"......
Sunday, Sept. 21, 2014
Everyday SHOULD be a saturday!" phoned into Brian Young Crash Course for the Ravers WMFO at 3:10 pm, a fun interview on the upcoming Gizmos World Tours. then Miss Lyn played me and Gee Julie a movie called Hank Williams The Show He Never Gave; brilliant! Hank give a great performance, with all his hits then during a break gets drunk off his ass with the janitor and then he's noddin' out after shootin' up but THEN actin' like a Southern preacher and goin' into "I saw the light!" take THAT Johnny Thunders? Sid who? Hank done it all and died on the WAY to the gig like GG Allin in reverse (died AFTER gig!) (you can watch it here in its en-tire-ty) supper at Hit Wicket in Cambridge, cricket-themed restaurant, though they had college football playin' (?) plus soccer/rugby (no cricket match?!?!)…and a bachelorette Paint Night party; lastly Gee Julie and I had Coast to Coast AM on at 4 AM and the guest wrote a book called Gonna Have Some Fun Tonight about the Beatles US tours! what else COULD be said about the Beatles, but this is FANATICALLY researched! (and $175!) so I have a date: Beatles last concert candlestick park 29 august 66; I get my first guitar 25 dec 70, Afrika Korps live at cantone's 21 aug 77 and Gizmos headline gonerfest memphis 1 AM 27 sept (actually be sunday the 28th....lissen to Coast to Coast or go on stage....hmmm.....) yep 28 years after seeing that Beatles gig on tv at 99 state street, brockport NY, I Ken Ono Gizmo Highland HEADLINING! "the dream is over...Gee Julie and me...and that's reality!"".....