9/25/2017
Monday, September 18, 2017
fall open house, thursday 14 sept 17, french cultural center boston. when i was living with the late great Mark Darling Giroux and watching le Sotte decline of franco-american society, a globe calendar listing "hipped' me onto this place, been a member since (now get senior citizen $40!). (so if your name is Cardinal and vous j'adour vin; this be yo maison!). raffles for french lessons, memberships. le vin (I have a walloon ancestor name laVigne, which is what he made; common ancestor of FDR, KEH, Kurt Cobain and captain beefheart! (Kenne, are you related to Avril Lavigne???-ed)). food: potato chips, bread, cheese, quiche. stephanie mckay sang old school soul like "feel like makin' love to you"/"i'll take you there"/"mercy mercy me"; damn fine r&b songstress, backed up by seven string bass and keyboards. Ronojit Chaliha and Philip Chenjia Chuah; i smell berklee!.... Gee Julie had fun, we read a Strasbourgh magazine and Hugenots, Normans and Alsatians ALL invited! a spectacular to take dead ex-wife cuzzins so they dont think yer just a drunken Canook! Go today!".....
Tuesday, September 19, 2017
"saturday 16 sept 17 Gee julie was NOT Balkin' at the balkans (new Kenz song in B!) so we attend 11th annual serbian festival saint sava serbian orthodox cathedral cambridge massachusetts www.stsavaboston.org . similar to Greek church picnics as i peruse menu. 3 pm Balkan Express boston dd serbian folk music. they stay on the I chord just like greek music. accordion/vocal/bas & tambura/guitar....it was a week of accordions! german and serbian. inside the church was the "merch table' got a nice white shirt. lots of serb events coming up so as Zimmerman sang "you gotta Serb somebody" . beautiful icons in church and me posing like a saint. young ladies in ethnic folk dresses "TRADITION!" as i fiddle on the roof while rome burns. So attend a Serb festival if not, Divine whose mother was Serb will execute you for assholeism! divine outside trailer gun".......
| | | |
| --- | --- | --- |
| Kenne in new Serb shirt in Serb church | Serb fest merch table | Serb fest food |
Wednesday, September 20, 2017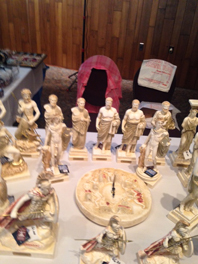 Greek statuettes

"sunday 17 sept 17 Ken and gee julie went to greek festival hellenic college brookline; good food, videos of saturday night's OPA! and i have photo of greek statues; when my dad did a Med cruise about 1959 he came back with an aphrodite statue, i remember this from kindergarten. then Gee Julie did bikram yoga, back bay,so i hung at boston public library, then had libations at Solas Irish bar. gee Julie met me, struck up a conversation with some harvard fellows from Japan whom had only been here a couple weeks. they spoke with us a LOOONNGGG tyme so i told them about japan society, harvard's asia department; why there's even a japanese meetup at the Globe restaurant which means they'll close that fucken place at last call before they get their food. ("agreed!"-editor). and THEIR joke not mine: Solas was playing sabbath and zeppelin, as i had fish and chips and watched NFl football and got wired on coffee but then on comes "highway star", the japanese fellows liked/knew the toon. i began explaining the history of budokan to them, telling them about Purple's made in japan album, a 1973 NJ stoner album. their comment; "no wonder we like this song! like us, we too made in Japan!".....

Thursday, September 21, 2017

"monday 18 sept 17. Miss lyn orders 'any kind of fish you like" casa portugal (grilled squid- ed) and i get beard trim and i look positively medieval! also caught Ken Burns Vietnam doc on PBS. closing credits: CALEB GARCIA! only appropriate that he worked on this doc then did Gizmos doc in Chicago this year. "i'm so proud"-beck bogert and appice version and yes I AM facebooks frends with vanilla fudge rhythm section! So Caleb did say my dad's footage last reflections on a war youtube didnt make the final cut BUT after mentioning my father's death in 'Nam and impetus for my artistic angst (and if THAT aint a crock o' Psyco-Babble, I'll play "psycho daisies"!) AND only apropiate that a garcia do this project since Dad has a garcia DNA match in Belize with swiss mennonite numbers though there's a lot of Mexico/New Mexico too; shit! Caleb even looks like my nephew jake! even WANTS to be distant cuzzin me; sung by the Kenz in our new toon "I'm as Kosher as Columbus". Meanwhile Raggs the cat cowered in fear anticipating Bigfoot sightings which DID happen in Dad's father's ancestral west virginnny".....
| | | |
| --- | --- | --- |
| Casa Portugal fish meals | Before beard trim | After beard trim |
Friday, September 22, 2017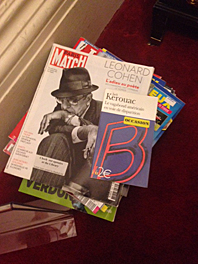 French magazine

"tuesday 19 sept 17. wonder women. anne plaisance and transition house. an art show of her paintings as well as tiny houses created by residents of transition house. gee julie signed book. hart by homeless battered women grant from cambridge mass arts council. also i in library. free french magazines. leonard cohen on cover. photo. and one dollar books. one jack kerouac photo. i forgot who catered reception but every tart i ate i sang 'savoy truffle' off beatles white album; yes THAT good! french cultural center, if your name is Cardinal, you will love la vin! (or be like Le Sotte mother!) (hey donchoo be talkin' about my mother like that!-ed). see you there!"......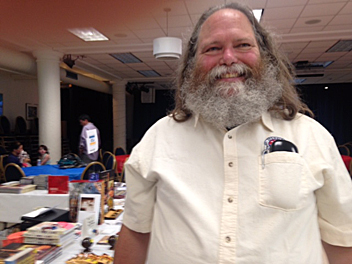 Kenne in his new Serb shirt