9/26/2016
Tuesday, September 20, 2016
"back from Gizmos World Tour. like Albion NY's Humans, I "take a taxi" (b-side of "warning"!) and the George Carlin clone cabbie goes: "the Gizmos? those guys were weird! they had a house on first street, usedta urinate on the steps; I moved out after two months" (this was Dale Burr Lawrence and Daryl Benjamin Frazier of Gizmos Mach II, according to Dr. Niemiec, no relation to "doctor robert" with Miss Lyn's butcher cover).
I established the beachhead ("The marines, him?") being there with the soundman and Danielle, who was using power tools in the bar and set me up with a six of O'Douls and no brown m and m's. According to Carlin cabbie, this address was the old recycle center; now has an art gallery and a punk club that looked like Spinal Tap's airplane hanger (opening: PUPPET SHOW!!! yeeyeeyee!) called The Void.
"Let the Music" and Mach Bell! "do the talkin'": Laughing Gas opened with Jetson's "Genetically Stupid" and guitarist was a cross between teenage Ken Highland and Elektra-Stooges Ron Asheton....get a DNA test...Dow Jones and the Industrials I always pegged as the Hoosier Devo and I complimented the Farfisa player in the white mad scientist coat, mostly asking him what kind of vintage keyboard he used and that Farfisa added nice eerie effects.
Gizmos Mach II had Tim Carroll warming up on "tumblin' dice" which begat "that's cool"'s guitar solo. Dale Burr Lawrence writes some good poppy Buddy Holly toons, Shadow Myers of radio free rock (I wrote a Thrills piece for them in '78 unaware that the bassist was KEVIN Allin's brother; not sure if GG had been invented yet), but, since the BEST Gizmo is a hee-land-er: Daryl o' clan Fraser! He actually sang the '78 Brit-punk toons in second Gizmos in both Unattached and SOV (sows of violence; guitarist was John Quinn of Jared on VARULVEN!). original bassist Dave Sulak showed up, spoke his part on "human garbage disposal" and I DID stage a photo recreating the sunday 4 april 76 photo, "I'm in love with Ken Highland and he thinks he's beautiful"; we had Highland/Coffee/.Flowers/Niemiec/ Medlock/Sulak (Taylor and Reeves?); to make this Meltzeresque :"this crossbreed of Americans, FIRST! with roots in western AND eastern Europe, with nary a Bohunk between them, are all STILL ALIVE AND WELL" (fuck it, i'm cuzzins with John Dawson Winter III, read about THAT in dead people facts, next Vulcher!).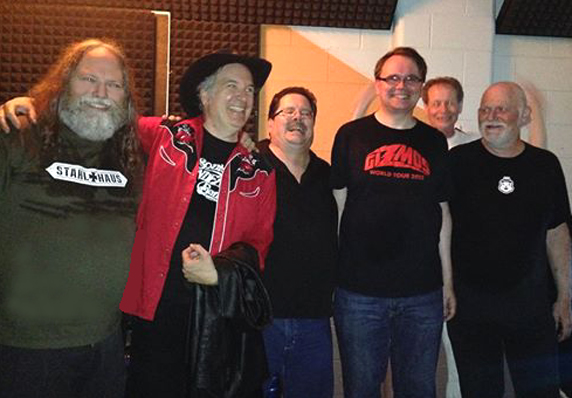 The Gizmos
and what did 120 paying customers see? The Giz as the Nuge doing Nugent covers during soundcheck (the september '75 album on Epic, from when I lived there!) and having been at my dad's grave in arlington that week (it says "michigan" on it), it WAS a Motor City madhouse! I also did my Wayne Kramer on my knees moves, but Alan Clark whom helped found Crawlspace had to do the Nigel Tufner thing coz i couldnt get up! (in an airplane hanger; TWO Spinal Tap references. Tribute to rest of band: eddie flowers, Dave Medlock on beer and tambourine; Dave Sulak hangin' tough (he'd MET Ted Nugent, so i shook that hand but i introduced him to..) TED NIEMIEC! also on guitar Rich Coffee and Sam Murphy (known to have kittens name Acorn on head!) AND our "Muff DRIVIN"" rhythm section of Melanie Coffee, bass and Kelsey Simpson drums anchored down this sausage-fest and these two wimmen rocked harder than christine nicks in fleetwood mac; they shoulda been Peter Green's rhythm section! Simpson/Coffee..i like it! i like it one bit! ("I'm SO glad" to be back in dunkin' donuts boston!).
excellent vinyl dj, playing DMZ's 'cant stand the pain" and AFTER we kicked out them jams and i'm countin' me money, side two of first MC5 album ("i still think it's dogshit"-lester bangs as he signed my kick out jams 8-track). AND lastly, Highland and Daryl of clan Fraser co-singing "muff divin" with me re-interpretating Jim Dandy's "Hot rod" rap off Raunch and roll; Black oak Indiana had ted niemeic as richochet reynolds and Highland/Coffee/Murphy triple-prong Celtic attack on lead giz-tars sounding like Black Oak played at 78 rpm...I DID see God! and made back me travel money; hoots mon!"....
had a six hour layover in Indianapolis so the Rockabily Yobs hung with the artists formerly known as Deezen. Besides meeting kittens Acorn and Mister Jinx, Kelsey Gizmo told me 'bout her granddaddy's '60s garage band so i'm gonna geek out on it like folks geek on Gizmos. maternal granddaddy Wayne Wilson was in Indianapolis's SOUNDS UNLIMITED and there IS youtube and garage blogs on them. Kelsey has a Sundazed e.p., recorded in Philly and they were auditioning for the Monkees! (so was stephen stills and charlie manson, but i digress...) Wayne looks like he could be in Dino Desi and Billy and side two of the e.p. rocks it: "gotta get away" was flip side of "aint got nuthin' yet" but it crosses Kinks "i need you" with feedback from "anyway anyhow anywhere"! worth the $30 it's going for! a personnel change and in come the Talbot Brothers; they later became Mason Proffit, then "Jesus freaks" in a Texas monastery; ALL google-able wikipedia facts!) A CRYAN SHAMES pop sound on a 1967 Dunwich 45; chords are A/D/G with Who-ish "la-la-la"'s, rhythm guitarist, who's two years older'n me was only 13! (like Jay Gruberger in O. Rex!) reason this record so poppy is songs and organ by Indy's answer to the Beach Boys: THE BOYS NEXT DOOR (who were Hopelessly Obscure til i googled this shit when I got on amtrak in pittsburgh ("and its raining!"). they even wore the stripe shirts! the dunwich 45 also on a dunwich comp and a neo-Pebbles comp called MINDROCKERS! (bloodstains across the midwest?).
I remember the mason Proffit album on Ampex (same label as Todd's 'we gotta get you a (cave)woman") in the cutout bins;"there are no coincidences" and it coulda been at Gulcher world headquarters before Kelsey was born (i'm talkin' '75; Talbot brothers drummer bein' her grandpa). lotsa youtube and wikipedia on Mason Proffit. was Kelsey's grandpa the Pete Best of the band? Since I AM enamored of pedigrees, that's maternal grandfather did an obscure '60s 45, Ma took uncredited photos of Zero Boys for American Hardcore, which i'm mentioned in and her paternal grandmother "dated" Glen Campbell when he was a Beach Boy! Glad I done Gizmos records in this millenium with my REAL kid! Now to show her the Ramones-y arrangement I have on her granddaddy's song".....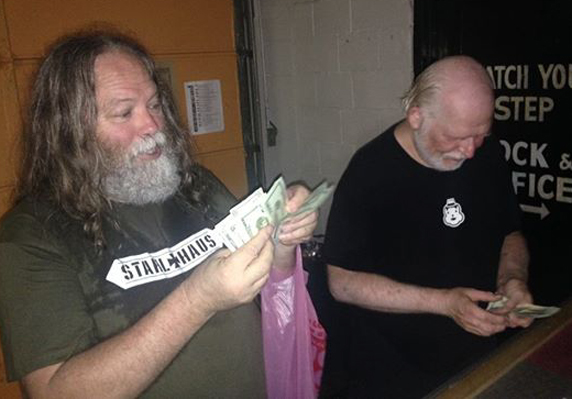 Kenne made his travel money back

Wednesday, September 21, 2016

"more SOUNDS UNLIMITED info; a future Vulcher article since it IS Kelsey Gizmo's granddaddy? Please note the Sundazed e.p.; four tracks recorded in Philly '66 and I further researched this "audition for the Monkees show" bit. side two of Sundazed ep has the Blues Magoos b-side "gotta get away", then "she", covered by Neighbourhoods from (Jody) Moore of the Monkees (future Monkees cover band?) I'll digress later how the Ventures drummer's brother from Canned heat played on that session. somehow got some record geek group post thing and they mention Sounds Unlimited recording "you're gonna lose that girl" and it's on a Dunwich comp (ok, I saw Help summer '65, strand theater Brockport Ny had a guitar within five years). You wouldn't BELIEVE (Wikipedia list) of whom DID audition for the Monkees show but Charlie Manson is an urban legend since he was still in gaol. (Beach Boys/Guns and roses and goody goody gumdrops DID cover Charlie though!) But besides partying with the Who and I believe even getting banned in Indy (where Frances Farmer died!), what I read is "in 1965 they auditioned for the Monkees but didn't make it coz they were "too wild"; this is the Yardbirds/Who/Kinks version of band, not the Mason Proffitt/country-rockin'/Jesus freakin'/pop version, though the constant drummer is the Gizmos drummer's granddaddy. so here in print, Vulcher Groupie News exclusive, "Gizmos drummers granddaddy fails Monkees audition: TOO WILD"..and I thought the GIZMOS were "punks" back in '76"....

"Larry the Mole Taylor. Wikipedia lists whom played on what Monkees cuts, e.g. Gizmos drummer's granny "dated" Glen Campbell when he was a Beach Boy; first two Monkees albums recorded '66, came out =Revolver, so they, like the Raspberries, another fine Midwestern band, were 'the new Beatles". So Larry's bro drummed with Ventures, Blowfish and Ken Kaiser, but he played on almost all the first Monkees album plus "she" and "stepping stone" second album. from '67-'70 he played bass on all the canned heat albums I owned SO pretending it's late '60s Brockport NY, "last train to Clarksville" I was a Boy Scout (saw the Doors on Malibu U. with my scout troop too...so THAT is what happened)....but about '68, besides reading about them in Teenset or some fab gear Beatle mag (I think Danny Fields corrupted me on this too!) and Bob "the Bear's" IMMENSE blues collection ("listen to this record; this guy was drunk out of his mind and kept the beat with his FOOT"...hmmm....John Lee Highland?). so I heard a raga lick then the boogie and the harp from "on the road again". Wikipedia leaks! (hey I guarded the NSA;"the marines him"?): Monkees records in '66-'67 then Larry the Mole plays Monterey and Woodstock! his career ended with Future Blues and early '71, 8452 ridge road, brockport NY , I quit playing harp Freewheelin' bob Dylan style and learnt cupped-hand little walter style Blind Owl (blinder than ME!) Wilson style off "sugar Bee" I think was track. Larry the Mole STILL playin' but Hallelujah album: I got busted at a Brockport apt. janauary '75, some stoner who was Dazed and Confused put on "sic 'em pigs" and dumbass redneck cop put his down RIGHT near a pipe but no drug bust for me! (only underage drinkin' and joined USMC a year later, police chief married Ma's cousin, so that charge kinda "went away"). to finalize this Larry the Mole piece, he played guitar from my favourite title: "down in the gutter but free"..."this is a song with a MESSAGE!""....

Thursday, September 22, 2016

"a good Hopelessly Obscure practice last night, "Two Headed Dog" being added to set. Next gig is next Saturday rat beach party. rode in John Keegan's boss hoss; we were talkin' bout the new car like a couple-a Beach Boys! "cars and gurls"...this morn Gee Julie says; "what happened to Bob Bittner?!" WJIB ALWAYS! "susan" by buckinghams and he STILL needs money, facebook page on that, send money, I did!"....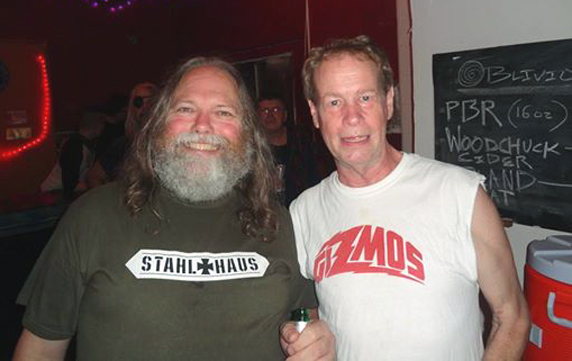 Kenne and Dave Medlock
Friday, September 23, 2016
"time to mention Rat Beach Party, since we had a Lou Reed cover band rehearsal with the Count last night. John Keegan conducted wearing his Ken Kaiser wig; we had Jiblantos drummer and also guitarist from his Steely Dan band; he and I play together like Keith Richard/Mick Taylor, this cat is REAL good. Lady Caroline/Mike Quirk. also at Rat beach party Saturday 1 October 16, club linehan-ago-go opens, Hopelessly Obscure closes...gonna a LOOOONNGGG fun day"....
"Jeff Beck friended me and thanked me for liking his music and believing in him...no wonder I started riffin' on "heart full of soul" doin' a Ted Niemiec toon in Bloomington at the Void with Alan Clark, Lazy Cowgirls at stage left, behind monitor!"...
"Tommy Chong RIP; "dave's not here" routine was on WCMF Rochester NY when BOB BITTNER was there but even more wicked rare is he plays guitar on "does your momma know about me"-Bobby taylor and the vancouvers! (HOPELESSLY OBSCURE soul!)"....
"like my doctor John 45 "I been hoodooded"! FACEBOOK FOLKS say it's a hoax, Richard Nolan, who IS dead sang "it's a surprise" and I wanna know where is my 45 of 'saint paul" by Terry Knight (it's on youtube!)"....