10/3/2016
Monday, September 26, 2016
"I decided to research '60s garage bands and bowling alleys and it was a common thing! perhaps Caesar and Cleo, pre-Sonny and Cher, were discovered in a bowling alley and there's a Buffalo Springfield bio Richie Furay helped write and they did their share of bowling alleys pre-"for what its worth". So Geets Romo ("Hey Beat Mon!"; that's his beatnik name!) putting music into Portland's bowling alley Bayside Bowl is FLASHBACK tyme!
So Robbie o' clan Mackenzie and his clan of Retro Rockers did "oldies" ONLY from vinyl, highlights being Beatle-perfect gurl group ("please mister postman" and "boys"), YOUNG Rascals "aint gonna eat out my heart anymore" and THE RESONATORS ("we played Cantones in '79!") "don't talk to me" (covered by Hopelessly Obscure AND GG ALLIN!!!). Next up was Chris Brood and the Flipsides, doing songs so obscure all I recognized was Huey Piano Smith and the Clowns "don't you just know it" in C. "NO Matter WHAT" band she fronts, she is as timeless as the Brood opening for Chesterfield Kings august '84, Geno's THIRTEEN Brown street, Portland. The Hopelessly Obscure were SO fuckin' tight (thanks to that iron fist of the very underrated KEN KAISER!) that I DARE say we were 1980s Slickee Boys tight (and opening with "jailbait janet" we had members of Tiger Balm/the Cartridge Family/Thee Psych-O-Daisies and some ladies with a GG Allin affiliation). MJ Quirk and Matt Burns are Johnny and the Jumper Cables tight as a rhythm section and John Keegan on cowbell/sax/wind tunnel/camera is the next best thing to Martin Swope or Brian Eno as auxiliary man. KENNE and ELVIS has five letters, and I stood down in the crowd doing my James Brown moves, as usual. Folks still ravin' 'bout my Bon Scott vocals on "kielbasa" but he WAS a bonny Scot, as were the Young brothers; AC/DC bein' THE BEST when fronted by Scotsmen! Lastly, Thee Downtowners rocked, Matt Burns having his birthday onstage drumming with TWO bands. bassist did some Gruberger-cum-Biancucci "hot lead licks" and I like the Jeff Cabot and Miguel D'Amour interplay; Jeff hit a lot of E and A chords, very '60s TEXAS PSYCH but fucken Miguel D'Amour...backup vocals (never did THAT in Hopelessly Obscure!) and his lead fills were somewhere between Varmints-era Billy Borgioli and Springfield-era Neil Young.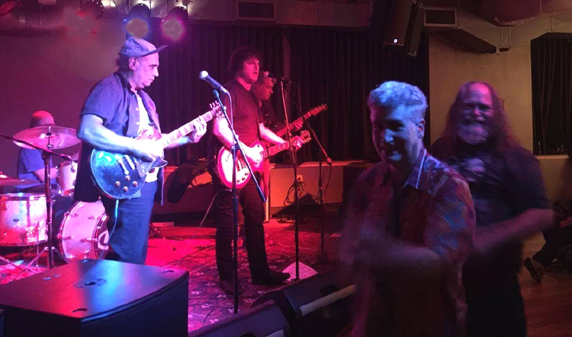 Kaiser and Highland listening to the Downtowners
JUST so Ken Kaiser gets the sports report; Ken and Gee Julie get off the Downeaster, "lookin' for soul food and a place to eat", pass all the Bills (yes "WE" won!) fans exiting the Harp; too crowded, so it was bbq platters at the Penalty Box! and what HAS Chet's become? THE Boston meetup for Baltimore Ravens fans! (Bills fans at Bleacher bar and Harp; you CAN google where all the teams meetups are)....folks in Ravens gear comin' down the steps of where I loaded in equipment....when stationed in Maryland, I watched nary a Ravens gig COZ THE SLICKEE BOYS WERE SO FUCKEN GOOD!!! (OR lissen to the American university station, flies on Ford fiestas playing Scrabble....I mean we're talkin' MYRON BREHOLTZ playin' Celtic music!)...so if I ever have a weekend without gigs I might go to Chets to watch Baltimore football!!!".......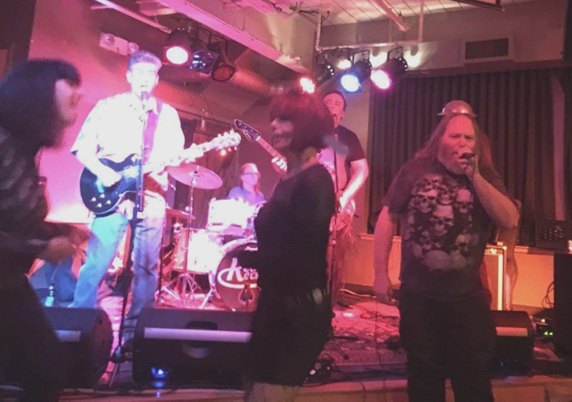 Hopelessly Obscure
Tuesday, September 27, 2016
"having supper lissenin' to WBGO 88.3 Newark NJ; the weekend they had a classic soul show on Saturday and in an PBS sort of way were giving away an earth wind and fire cd if you pledged. But last night was ROY AYERS. always enjoyed him; the soundtrack for COFFY came out on Polydor May '73, James Brown's Black Caesar, engineered by BOB BOTH came out on Polydor February '73.(I had a lot of Motor City 8-tracks blaring as I did ROCK ON, meaning Stooges/MC5 PLUS Screaming Lord Sutch!). OK, so in the midst of these blaxplotation soundtracks, O. Rex first got together sunday 3 June 73 before alice cooper/flo and eddie Madison square garden. and though Bob Both's discography DOES NOT mention the Coffy soundtrack with Roy Ayers, he WAS engineering JAMES BROWN back in '73, but by '78 was stuck with Kenne Highland/Martha Hull and HELLO WORLD....but tune into WBGO, it's like a NPR version of WILD!"....

Wednesday, September 28, 2016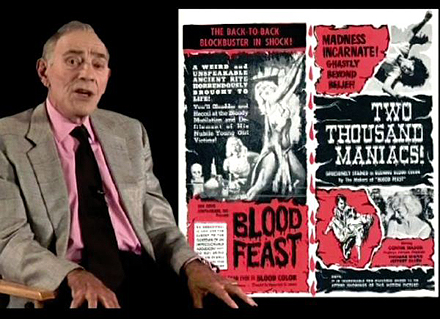 Herschel Gordon Lewis
"was lissening to the BBC yesterday at dinner and Herschel Gordon Lewis had died; when Linda Garreau Highland was alive she bought a lot of VHS from Something Weird video and I may have watched 2000 maniacs rented from Loony Toons, berklee with a Matt Burns roommate from Birming'am (Alabama, not UK, though she COULD be scarier than Black Sabbath when drunk). I discovered he was born in Pittsburgh; my granddaddy McBee married Mary J. Rego in an Italian immigrant Catholic church in the HILL area about 1924 and Andy Warhola was born there 1926. tyme to hit that 1930 census! Let me also mention that due to lack of turntable, when in Indy (WES MONTGOMERY!), I turnt down the latest Craig Bell vinyl, but he burnt me a cd which arrived. look for a Ken and Gee Julie review.
Fridays are where it's at in ROCKTOBER: 7 October Nancy Neon night at out of blue gallery;14 October craig bell midway café and 21 October Hopelesssly Obscure Ralph's Worcester. No Halloweeen gig? tyme for to lissen to "I scare micelf" or a recitation of "Tam o' shanter"; I think eerie is a Celtic word and Cyrus Erie were pre-Raspberries!".....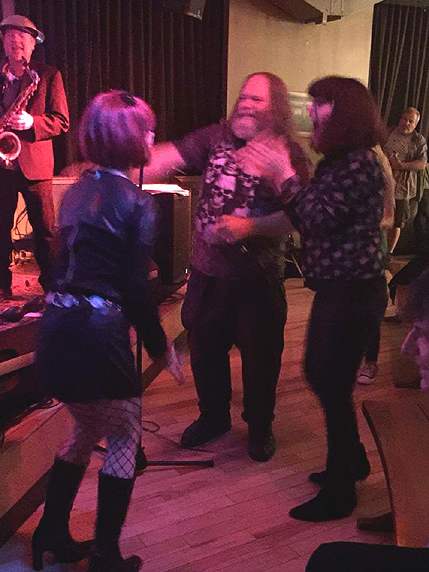 Kenne and dancing girls - Nancy and Chris

Thursday, September 29, 2016

"Before I head to Rat Beach Party, Nantasket Beach, this weekend (I COULD do On the Road texts; 617-803-1289!), let me say highlights of the Club Linehan-ago-go practice were the songs we're NOT doin' at rat beach party! "ran through" Roxy Music's "remake remodel" (where John Keegan REALLY sounds like Andy MacKay!), Hawkwind's "silver machine" and "time warp" and "sweet transsexual transvestite" off rocky horror. MJ Quirk kenfirms that Friday 7 oct 16, club linehan-a-go-go at a Neon Night at out of the blue gallery...might we learn..."Mass Ave"?".....