9/9/2021
Monday, September 27, 2021

"day of Saturnalia 25 Sept 21. Another good mad painter practice for Thursday 14 Oct 21 at Union tavern. Whenever I woke up "Sunday Morning" FXM retro had nuthin' but horror films! That's about a week's worth of column BUT....Witchcraft (1964). My kinda film! wiki: "in the 1600s the Lanier family buried a Whitlock woman alive as a witch" (Welsh actress NOT named Rhiannon!) Feud, boy/girl of opposing families fall in love "Just like Romeo and Juliet' ("hey hey hey!") The dialogue I remember most was "the Laniers were of Norman stock' (though Thomas Lanier "Tenesse" Williams was of Huguenot stock but they didn't KENsult me for GIZstorical accuracy!) 'while the Whitlocks were Anglo-Saxons, clinging to the "old" religion"...well, goll-ee Sgt Carter! ma's Blodgett ancestor that landed in ye Harvard Square of son of Robert Blodgett whom owned ye inn in Stowmarket on Hadley, ole chap (Suffolk county...I never left!). HIS mother (12 generations back for I) was Mary Whitlock born 1575 Winston, Stowmarket, Suffolk, England whom wasn't to my knowledge a pagan (Puritan son). HER father (14 "talkin' 'bout my generations") was Roger Whitlock born 1545 Copford, Essex, England, dying 1641; his grandson sailed to Harvard Square 1645 and died almost same year as grandfather! DARE I tell Ma the Whitlocks "stuck to the auld religion"? Bobby Whitlock is a high priest JUST for writing "bell bottom blues" off Layla album! Lastly, my dad's y-DNA is Saxon,so cue up Creedence clearwater revival's "pagan baby"!".....

Tuesday, September 28, 2021

"Monntag 27 sept 21 715 pm Somerville theater: Cry macho. At Ninety, older than willie loco, years old my distant cousin Clint Eastwood (BOTH my parents and him have same Bliss ancestor but Clint had a Bliss Parsons ancestor in Springfield, mass. ACQUITTED of witchcraft!); acting and directing Clint, at his age and still damn good! Clint is a washed-up ole rodeo star and Dwight Yoakum is his boss; Dwight had a son down in Mexico, so Clint has to retrieve (borderline kidnapping) the son from mother for Dad Dwight. Son is running wild on streets at 13 with his prize Fightin' Cocks (did Charlie Mackenzie manage HIM?) rooster name Macho (eleven birds were used in this film and despite cockfightin' NO critters wuz hurt!). A lot of misadventures with stolen/dying cars, Mom's henchmen, los federales and even a romance for ole Clint with a caliente chica! (Natalie Traven as Marta, a widowed granny whom you can like on facebook!). Music is Dwight Yoakum in texas AND GREAT romantic dancing (Clint and Marta) Mexican music on archaic jukebox. Clint knows about animals, so in Marta's town all of a sudden he's "veterianario": 'who do they think I am doctor Doolittle?" if this were in Macchu Picchu we'd be seein' him waitin' on Pushme Pull You! Lotsa beautiful mustangs that Clint and the boy "break" in mexico but (spoiler) when the henchman tries to re-capture Dwight's boy, macho the rooster attacks henchman! Three cheers for Cry Macho!"...….

Wednesday, September 29, 2021

"Til Tuesday 28 sept 21. My Somerville Theater tri-fecta for the week: PIG starring Nicholas Cage and his pet pig ("Porky"? alas Peter Tork's "Peter Percival's pet pig porky?"). $8 senior discount, coffee and popcorn $6 (Solomon Gruberger used to BRAG about the cheap or not cheap cost of things in 1974's O. Rextasy; "five dollars for a beer?" (NY Dolls, april '74) "I'm going to be nursing this!" I did same thing, same one beer, ramones '76!).

So cage WAS a chef at that high- class diner with "haw-tay coos-een" but his wife died and he became an Oregon forest recluse in a Unabomber shack: no shower/no phone; he played cassettes! He was also "unwashed and somewhat slightly Dazed"!

Cage's character sells truffles to a "dealer' and Brandy plays his truffle-huntin' pig (Brandy ALSO had an understudy, listed in credits! score; two hogs in this movie versus 11 roosters in Cry macho and the Partridge family in a pear tree!). One night, a "dirty robber" comes in and takes Cage's hog! HOGNAPPING! Obsessively, he goes into town from scumbag to scumbag Adam Antly: "I want my pig back". "I love my Pig"; hey Donovan "loved his shirt" but this porker is DAMN cute so forget about Babe! The pig is only in first 13 minutes, rest of movie kinda dragged and I did fall asleep. BUT coming up soon and/or "Coming up fast parts one and two" (John Dawson Winter III): the new Tony Soprano movie where, as a teen, he favours John Belushi! Support the Somerville Theatre, their films change weekly! Til then; brattle und Bratwurst! (it IS Oktoberfest!)"....

Thursday, September 30, 2021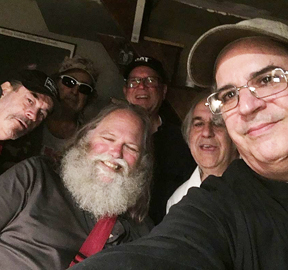 Kenne Highland's Airforce

"day of WODIN 29 sept 21. Yet another kenne Highland Air force practice and if you missed us at Frank Rowe's 70th at Midway, go 1130 pm Pete's grille, Quincy,mass Friday 15 October 21. So we practiced the Midway set and at end tried "The Family", a poem by dead Poet Society Christina Angellopolous and music by Lt larry Newman stealing from "hey Joe". larry had fixed my fake Les paul, gotten from patricia's ragan's husband whom was in northern Virginia punk band the Assbeaters. through that $60 amp and pickup turned to bass I sound like mark farner! (mine and Jim Morrison's distant cuzzin, memorial on Block island, Rhode Highland; Rathbun decendants, yessssss……)...SO the JAMS are 'why isn't the tape rollling?" (Sam phillips to elvis; 'what're you doin in there? well whatever it is get back in there!" Tapes rolled, Sun records shone!). "get this thing on the move", Captain easychord (now with lt Newman on bass plus Schmel Herbie Hind: Boston incest!) sang (predicatably) "Im your captain" and lastly, as I remember, just "messin' 'round' (but NOT at the mess Around!); I did a Hendrix meets beatles on "don't let me down" , Al Hendry drumming his Mitch Mitchell beats; SOMEBODY thought I was playing a Hendrix toon! (trying to channel "little wing": Arschlocks Bold as Liebe!). John Keegan recovering from knee surgery and limping like I do but still da ballz on sax and psychedelic wind percussion. DO book us! available for gigs! But the way keegan and I be walkin', folks'll say: "dudes! your band is,like, SO lame"...….

Friday, October 1, 2021

day of Thor 30 sept 21. Brattle membership passes were for 8 pm METROPOLIS! I even owned a Woolworths DVD that I left with Ma (along with Terror of Tiny Town!). So, for a movie I seen umpty-nine tymes: Ida May: about this tyme '76, Patricia Ragan's rocknroll basement in "My old school" Annandale Virginny: "have you ever seen Fritz lang's M?" FINALLY on a DVD at der Geothe Institut; danke to der fraus! Later on that month Patricia and I met the ramones, but yes! SHE turnt me onto Fritz Lang (and Kenneth Anger and Dianne Arbus; maybe we were like Patti Smith and Maplethorpe)...ITEM B: crashed out from day of Wodin practice, missed the first hour of this opus. Wikipedia says I woke up during freder (the industrialist son) "has a hallucination that the machine is a temple of Moloch and the workers are being fed to it". Moloch has me underscore or whatever is that; book of Leviticus in Old testament, "a Canaanite God"; no pillars of salt but he appears in Milton's Pair-a Dice lost (he lost at a crap game; SNAKEYES!!!), Flaubert's Salammbo and GIZBurger's HOWL. Plus "Goin' Down" was origninally done by Memphis Moloch, whom were probably as Southern Baptist as BLACK OAK ARKANSAS!!!! More of my vision from the Brattle seat doubling as a surrealistic Pillow: they have a fraulein dancing scantily in pre-Code Werimar republic and dialogue about "she has commited all seven deadly sins!" My college German (ala the intro to Royal Guardsmen's "Snoopy" 45!) learnt me about "Saint Johann", that being St John book of revelations etc. In other words: DER TEUFEL! Funny what one sees in this movie many tymes around, SO ahead of it's tyme/classic etc. This WAS Silent Movie Week, so glad I went and researched all this waitin' for the 10 pm 69 bus back to Inman Square on a LOVELY CHILLY DARK autumn night!"......

Saturday, October 2, 2021

Freitag 1 Octoberfest 21 7 pm, brattle theater, membership pass so let's check out DAYS (youtube link to trailer). Gee Julie that morn and I were discussing 'art films" and it starts, NO dialougue, NO subtitles of our Taiwanese hour staring out window at the rain. Another slow passage was a Laotian migrant worker in Bangkok (I had an Alex Chilton earworm after that) chopping up vegetables for supper; looks good that soup and salad! (I've eaten plenty of Thai food). Then another long episode of ennui (Lou reed taught me that word!) in an open-air market..."Looking tired and a little burnt" (dave mason interview, 1974 maybe, beyond our control which was a more hippie-fied version of Gulcher); "bodies need rest"....I wake up to the two dudes "massaging" each other (right next door to Brattle, I've read Dad's Puritan ancestor William Spencer owned the Cambridge center for adult education...1630s Puritan Cambridge rolling over in ye olde grave yard! ESPECIALLY Deacon Stone!). I forgot to mention the older dude going through some painful looking acupuncture. Rest of movie is the young Laotian merely sitting kinda at a bustop and my view of Bangkok: looks like those Lower east Side place I played with GLider and Baabes in 2019! New York busy...curiosity satisfied! Want to check out more of this director's non-dialagoue Harvard Film archives art films and DAYS is playing Brattle for next week; I DO recommend! I also recommend you see play bass in mad painter Thursday 14 oct 21 union Tavern Somerville AND Kenne Highland's air force pete's grille Friday 15 oct 21 1130 pm. see you there! 'see my friends"!"...