10/05/2015
Monday September 28, 2015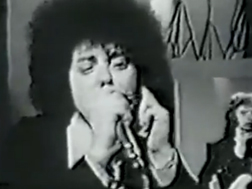 MC 5

football and rock'n'roll!! ALAN BAASE (RIP) predicted it in '73 with fanzine Heavy-weight Rock, mixing jock and rock! Ken and Gee Julie buy danish chest of drawers in stoneham (a count toon!), then watch WV football at Hugh O'Neill's in malden (named after RIP Runes/Queers drummer?). Hello World, it's Korps practice for Grex gig on day of Wodin! WHEN has "i'm a happy person" and/or "wild mouse" been performed live?! Followed by Club Linehan-a-go-go practice for rat beach party and my "new" song is "empty heart" off 12 x 5 (saw MC5 cover it on youtube!) i also mix in a mid-tempo "you're gonna miss me"). on the sabbath, that heathen couple Ken and Gee Julie went to stoneham and had truck deliver danish furniture (Iggy and Roky have danish roots! SKOL!), lissenin' to patriots game in construction guy's truck (so TOTALLY tom highland!); after moving chest up to third floor, walked down hill to flann o'brien's and watched the Bills kick ass....all this kick ass Bills/WV football (my roots)=GREAT. Grex on wednesday!....

Tuesday September 29, 2015

practice with Triple Thick for Pat Todd show at midway; Mitch has a superb band, two Gregs! Greg on bass has a Lyres danelectro bass, plays in an mj quirk style, was in CORNLORDS who played with goody goody gumdrops and a nick blakely band (pretty flowers?) '97; Greg on guitar was in ali baba and 40 thieves and ashera. MonoMitch had us learn three roky erkison songs in two hours and printed out lyrics for me. toons: "dont slander me"/"white faces"/"i think of demons"; johnny and jumper cables vocals on all; may have to practice for a month of Mondays but DONT miss this gig - or the rest i have in month of october (in '66 my dad left for 'Nam, so i obviously, as a "pampered" "proto-punk legend" have it a lot easier....

from Miriam Lina: billy miller (norton records!) looking for prosthetic leg, rusk institute in NYC, i get updates all the tyme, good health to him, read miriam's kicksville '66: "i met my future husband at a RECORD FAIR"...yep, that's love, L-U-V!...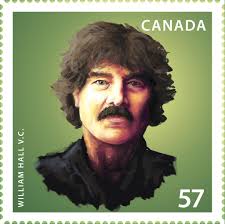 Burton Cummings

john surette of boy's life offered me 30 october at jacques; this is Kenny Korps Kaiser and Kompany again lineup; openers: charlie dont surf/brigands and The Courters who have a Facebook page, seem cool/old school punk or spawn of afrika korps...should be a fun night!....

Wednesday September 30, 2015

0430, coast to coast AM claims Noah's flood caused by global warming! and, a work surprise: won tickets to burton cummings at berklee performance center saturday! with the amount of canadians on the Ridge Road growing up, i've been hearing the Guess Who since 1969, saw 'em on tv and burton has a damn fine voice! sorry Fireking, but hoot, mon; this is MacFree!....

Thursday October 1, 2015

the lily pad was like the abbey or cantone's when ken kaiser and i charged the stage; lissen to afrika korps live at cantone's '77 or double love gizmo WMFU live cuts for lineup and energy of band! (matt burns of V on drums, MJ quirk on bass and john keegan of jiblantos on sax and percussion); i shan't review micelf but Miss Lyn said was good set (leave it for HER review) (ed- Actually read John Keegan's coverage of the night) and ed "moose" savage, whom i opened up johnny d's allston january '84, said it stuck out in his mind also; i was on On Fyre coz of new audience of course instead of "preaching to the choir" (though the choir IS triple thick mitch, so i tossed "dont slander me" into "ramblin' rose" and i sing roky with triple thick at midway sunday before halloween; pat todd, lazy cowgurls, remembers when J. cougar had glam-rock band called trash! missed GREX as gee julie and i had punjabi dhaba for our two year kenniversary but wicked nice people! there's a hype of "hendrix meets ornette coleman" or such and it's true! fable grazer is 6-7 pieces (gizmos/plan 9?) multi-instrumentalists (3 guitars, two basses) and mark drinkwater WILL be offering me more gigs and all his band members kept saying how much they enjoyed the kenne set. dichtomomy= gizmos/mx-80 live in bloomington but marc didnt know mx-80 so i got LESS obscure: dead boys/pere ubu (did this bill ever happen?) my take on fable grazer (and me clann agrees!) was miles davis trumpet with some mahavishnu goin' on between marc drinkwater and drummer (who told me billy cobham never stops!) remember, bad brains began as a return to forever-type combo til they heard the damned! that said, look for future gigs and right now, let's focus on rat beach party: coverin' lou with count saturday and sunday lead guitar with club linehan-a-go-go band!...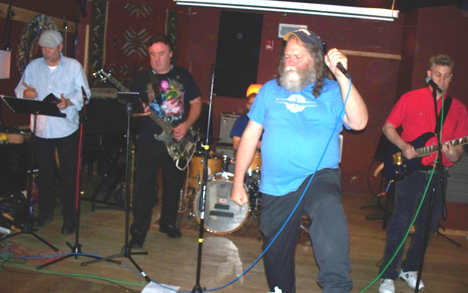 Highland Kaiser Band
Photo: Miss Lyn
Friday October 2, 2015
"took some vacation for my Gene Vincent leg BUT
ida may: ed "moose" savage (who saw hendrix twice and highland more than that!) said lilypad wednesday was a great show and "there was a Fugs moment";ok, $1 tom taber copy of golden filth=the Gizmos in '71-'72, me flippin' the bird dressed as a greaser in the brockport high yearbook! (wow, man, i was punk in '71, i'm so FUCKEN COOL!!!!)...
B: copley square had men protesting against male circumcision! i SHOULD have done a woody guthrie/bob dylan and sang "gimme back my foreskin" unplugged!
C: discovered Ma's Draper ancestor had an inn in 1650 in west roxbury; took bus from forest hills to dedham, went to their historic society, found "Mary Draper's house" on map ("moses draper jr. marched to lexington as second lt. in one of 3 roxbury minute-men companies";ok, THEY were singing "america first" and i (who have nothing) am a SIXTY minute man!
D: greek restraunt in dedham and dedham theatre is boss too, caught GRANDMA with lily tomlin as a pot-smokin' lesbian feminist granny and she's BRILLIANT! i only saw it coz it was the next one playin' but DO go, her road rage and her Tazzing are a brilliant performance! Just in case i'm offline, rest of weekend is: Ida May: through united way at work won BURTON CUMMINGS tix at berklee performance center saturday night (whilst everyone else goes to kraftwerk!) AND sunday is club linehan-ago-go practice for rat beach party and Bills kick off at 1 pm! "let's go buffalo"! (I DID;"a million miles away";that's why I ROCK in boston!)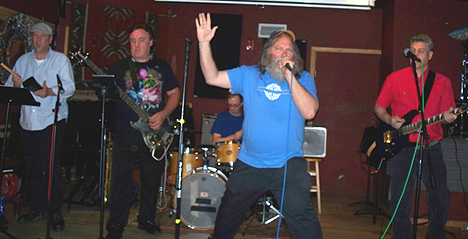 Highland Kaiser Band
Photo: Miss Lyn
Saturday October 3, 2015
Utopia = reading a book on salem witch trials in boston athenaeum (Gee Julie told me to check it out and yes! wicked awesome!) looking out window on rainy day on old burial ground...also read a book on cathedrals of England, my three grandparents had ancestors from Kent/Suffolk/Berkshire, so a fascinating read also...
workin' on Roky's family tree just to get into mood for that gig with Triple Thick: ok, so looks like his dad's grandparents went Norway to Iowa but Roky's grandmother Erickson was a MURPHY (and I'm doin' this gig with...Mitch Murphy! don't forget Samuel L. Murphy of gizmos or Paul Murphy of Lyres!) traced Murphy line back to Ireland, then Frederick county, Virginny; YES, had ancestors there, it's Winchester, home of Patsy Cline etc...another tie-in for the Kenne/Roky lookalike contest! ("highland quit looking for 39 when the 13th floor elevator is fable grazing there"...what Ken Kaiser SHOULD say!...

Lastly, Gee Julie at Highland Games at loon mountain, NH; I first attended Highland games 1989 after i discovered dad's father had scottish name of mcBee; julie's ma had scottish name so we may even attend some more games! i LOVE it! she found a plaid santa that looked like me, watched pats/bills game in a bar and bought me a McBheath tartan blanket that could double as a kilt! Drew JOHNSTON Townson usually goes but we had our fun at Bills game at bleachers and watch him wear HIS kilt playing with jody moore at rat beach party!".....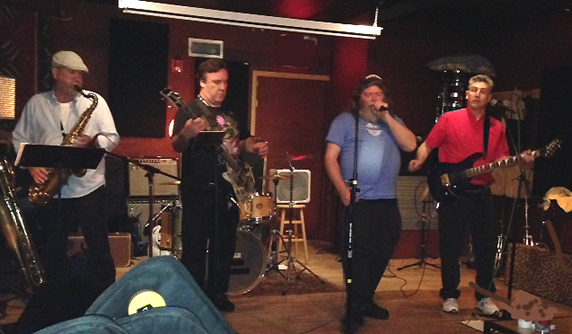 Highland Kaiser Band
Photo: Miss Lyn