10/08/2018
Monday, October 1, 2018

FREITAG 28 sept 18, went di-rectly to Midway cafe after work otherwise i wouldnt have had a "real cool tyme....tonight"....Uncle Johnny's band was doing the Dead's "Easy Wind" as i walked into Hippie Hour, so: "Ken Highland, THIS IS YOUR LIFE 1971!" saw Gene Dante and his NOT so Flamboyant band (still wearing "street" clothes) "down on the street" so went outside to "chat" with them (poor rotters)...When the hippie band started doing toons from allman brothers live at fillmore east Dead style BUT Gene Dante DID agree, they were "credible/note-for-note" whichever...I mean I had the 8-track BUT Hunky Dory came out that year! As did KILLER, please note that Hi End did alice cooper's "Be my lover" as good as Alice Highland at Midway 11-17-18! ("Future/Now"!)

Gene Dante was TRULY glamorous/rude/flamboyant/almost a glam Sinatra, HIS Spiders From mars one-tight ass band; bassist in Clockwork Orange bowler hat when he harmonizes with Gene sound SO "Soul Love". as an aside, monday 5 aug 74, pre-Gizmos me and eddie flowers saw Jobriath in Chicago and now eddie remembers Ed begley opened up with comedy! hmm...me, 18 drunk, eddie 16 and sobered....

FUCKEN The Gala! at the advice of Mister Dante (And Miss Lyn), i braved this inferno and how can the Dead "Come for your children" when these punk glam-rockers (circa 1973! the dead band: '71;Gene: first Ziggy american tour '72 OR Bowie on midnight special '73) ARE my Real Kids! Dolls-y guitar (april 74, bottom line NYC "kleiner Suzi" opener), a farfisa Compact that "came from "planet Claire" and having seen Stooges 31 dec 73, academy of music, kiss opening. Then Emily, Iggy's granddaughter via Wendy O. Williams, hollered in a tour t-shirt with some anti-emo rhetoric wrote plus a white feather garment district boa; when she collapsed on the ground, that was DAMN sure a Kodak moment! (half my kin was employed by them mofos).

Lastly, State of the Union kindly gave me their cd and let's move up to 1979, first Neighborhoods 45 (they DO cover the flip 'no place like home") tough if anything there was plenty of 1978 British pop-punk like generation X et al if i wanna play "name that riff'. I even heard chord-wise how these songs woulda sounded unplugged. Kickass rhythm section too, Sandy Summer told me she had country gigs in nashville, but this was shitkicking pogo music and not out of place with Thrills late '78 cantones. Thank you gene dante for talking into me stayin' 'round, now i know i'm only a ten dollar cab ride to be "closer to home"! (back to 1970 and grand funk railroad, though EVERT carries THAt crown!"....
| | |
| --- | --- |
| Gene Dante & TFS | The Gala |
Tuesday, October 2, 2018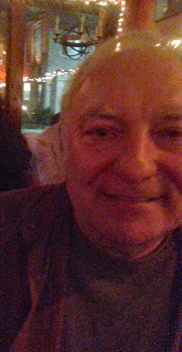 Geets Romo

saturday 29 sept 18 Plough and Stars MASS AVE, hadnt seen Geets Romo since Hopelessly Obscure played Bayside Bowl portland maine couple years back, though in seventies Ken Kaiser DID sell him Korps albums in his portland record shoppe where Zimmerman once shopped but didnt buy Hello World. A Cape Cod surf trio named Cordobas played, guitarist had a Mosrite, I saw this and Ken kaiser and Blowfish did NOT! Tiger Bomb's bassist thought I was my twin brother J Bruce Scott coz "i remember you from the Beachcombovers!" to quote Mick Jadestone and Rolling Boulders in my 1973 "heartbreaker' 45; "a case of mis-taken identity"...Tiger Bomb TRULY rocked, kickass rhythm section, you aint got that "you aint got nuthin yet", good pop harmonies from Chris Brood and Lynda mandolyn (Flaming Groovies on Sire maybe via Worcester's Crybabies?) but what "really got me" was how the guitars were in Chuck Berry-synch like wayne kramer/sonic smith; that did truly kick out MY jams and Detroit native Lynda mandolyn (moving from michigan to maine;she must like snow!) was ecstatic as Sonic was her hero! course i had Motor City on the brain at Harvard Coop reading Wayne Kramer's bio; he even attended my dad's alma mater Cooley High when he moved to NW Detroit with HIS ma (need to measure miles between that and my grandmother on 12708 Hartwell!)....BUT, havent yet seen Shiny Beast since Triple Thick backed me up on Roky erikson tunes at a midway Pat Todd gig...."Henry Shaker" doing a lot of the lead vocals plus maracca/tambourine though the other lads sang too but again what "really got me" was the guitars; Mitch Murphy DID give me a cd for review and in a nutshell: The Kinks. plenty of major barre chords and like the Gizmos credo (Mitch used to read eddie flowers in forced exposure!) of "raw riffing rock". so, in total, sorry, i always review the guitars, but we had reverb Mosrite surf; chuck berry-cum-MC5 "guitar weaving" (maybe add Brian Jones-era Stones to Tiger Bomb) and first five Kinks albums blasting barre chords with Shiny Beast and their ever-imploding drummers (they're still basically Triple Thick sans Jim Seery; crowds outside said "Jim forever! Nick (Blakely) never!" that didnt really happen but as Ozzy sang on sabbath volume four: 'was an illusion!").....JUST to be a scoopie, Geets Romo said album being finished in Glasgow scotland (some record store sold a comp with O. Rex's "shapes of things", yardbirds cover '76, so my music took the high road back to the lowlands!) and next LOCAL MBTA-acessible Tiger Bomb gig is in January at once. been watching chris brood and may bands since 1984 and she danced TO the hopelessly obscure in '83, also danced to shiny beast.
| | |
| --- | --- |
| Tiber Bomb | Shiny Beast |
Wednesday, October 3, 2018
"Sonntag 30 sept 18: Mad Painter news. Alex Gitlin, Hammond heavy keyboards, rang me up, drummer sick and bassist quit. "Where to Now Saint Petersburg?" queried Reginald Kenneth Johnovich, MADMAN acrost the water (boy did i relate to THAT title back in '72 coz i was already Krazee ken! Slade spelling too!). So we're "auditioning" a new bassist saturday before i play out of the blue; he produced Mad painter album on youtube and the main thing is "he wanted it to sound just like uriah Heep' which is raison d'atre i play with these katz (enjammers!). Recording HAS been discussed! So 2 nov 18 c note hull mass is reason for a month of sundays practice. after Alex and drummer Flynn Young are playing with Russian bands playing Russian festival! (Alex "Born in the USSR" two days after Jimi died and three months before my first guitar, Gizmas '70). russia WAS discussed; the Middle East puts on nights of like Russian metal bands and I am Curious, Georgia! my balalaika is ringing out! my comrade is warm! Comrade Gitlin also told me he likes 1974 costumes for band: "what bad Company or Uriah Heep were wearing in 1974"; maybe Miss Lyn can sew up some THUNDERTRAIN duds! So Ken and Gee Julie, like the Coasters, went "shoppin for clothes' at the Goodwill on Mama Cass (Melnea Cass Boulevard); actually found a 40 waist dress trouser plus colorless shirt, ALL BLACK!!!! so i can "be More flamboyant'. Items NOT purchased: (coz it IS all hallow's so shoppe there please!): a bear suit or was it a gorilla? all black; a wookie star wars suit (brown) which was too SHORT for me; an Ed Wood book (I should return!) and lastly; "Why Men love bitchy women"! a self-help book? Help! i need somebody! jukebvox jury; Deep Purple's version or the damned?".....
Thursday, October 4, 2018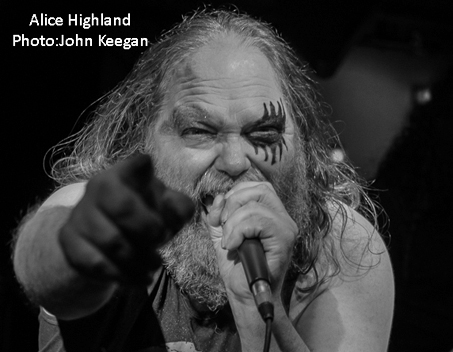 Alice Higland

Wodin's day,3 oct 18. purpose of practice; Hopelessly obscure in gloucester mass for chet's movie in couple weeks. we hadnt played in a year but all the ole hits were still awesome. Ken Kiaser felt like doing "smokin' in the boy's room" since cub koda woulda been 70 monday 1 oct 18; friday 11 march 77 kaiser stadium, teaneck NJ was ONLY tyme i think i ever played bronwsville's "wanted dead or alive". talk turnt to playing velvet underground covers with me, so sat 26 feb 77 the blank gneration all stars did "white light white heat" so the first tyme i EVER played on stage with Ken kaiser was in between slickee boys and the Look with skinhead me flippin' off the AU jocks. my joke of patrick masthe re Alpo of real kids: "every day it is either the jail or the hospital!" Kaiser: "yep, just like GG allin, wih you it was either the jail or the hospital!". By 1985, my debut of Matt Burns on drums, Rat balcony: WHACK THE VELVETS meaning two fanzine writers (Matt: whack the cat and batt droppings) and Matt says to fill out three hours of Rat balcony we added terry dactyl for Eaters Digest! (guess what band?)...Mj Quirk sun 4 jun 95 jam, lotsa velvets, brownsville station et al; is it coz he's left-handed like solomon gruberger? "is it my body" (alice highland midway sat 17 nov 18). i should toss in greek american social club, somerville saturday 3 nov 18, cal cali doing ramones cover band, MJ Quirk agreed to do his velvets cover thing that i'm in...why all these lou reed cover gigs? answer: my version of "my girl" done like "waitrin' for the man" was what got me married to my distsnt cuzzin Saint Linda Garreau Highland...her and saint lou BLESSIN' us with gigs and with the Grubergers, it's a mitzvah trhat I play with that nice boy from Joisey that drivers you around but WONT play with ed moose savage til he gives him 'another fuckin' nickle!""......

Friday, October 5, 2018

"Freitag 5 oct 18 THIS came acrost my newsfeed.. "does anybody remember this guy?" Lou Miami video! some "kid" doing a documen Terry (dactyl?) on local bands so I AM ready for my closeup plus my father died in Vietnam filming last reflections on a war (youtube). more details when i get them"......"Conner Reddan is the film student, i friended him, i will be helping him on this documenTerry as sure as my father was head of motion picture department,third marine division....when EVER will I have tyme for a shave or a haircut?"....

| | |
| --- | --- |
| Cordobas | State of The Union |